THE CITY WITHIN A CITY THAT NEVER SLEEPS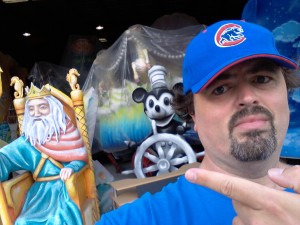 There is a relaxed, residential feel in Uptown New Orleans that I will miss. In fact, although eager to experience life in the bustling French Quarter, I'm a little worried at how my laid back constitution will handle twenty-four bustle of this compact yet ceaselessly cosmopolitan neighborhood. Thus, I spent my last days in Uptown wandering the streets lined with tropical cottages, revisiting favorite spots and trying a few that had so far eluded me.
IL POSTO: AN UPTOWN HIDDEN GEM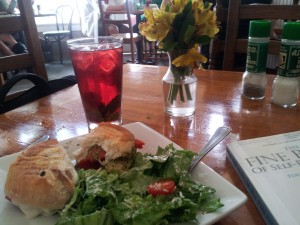 For months I passed Il Posto, a small Italian café tucked curiously away in my Uptown residential neighborhood, but never tried it until about a month ago after it kept getting recommended. The first time I stopped in, I even walked out since they don't have a full breakfast menu—only fruit cups and bagels with a combination of veggies, cream cheese, and lox. I returned another morning, however, with adjusted expectations and was surprised at how much I enjoyed the California Bagel–cream cheese, tomatoes, and red onion. It is the best bagel I've had outside of New York City. The coffee was slightly strong for my taste but still high quality.
Il Posto quickly became my favorite writing spot during my last month Uptown, so I returned for one last lunch last Thursday. Their lunch menu is limited as well, offering soup, a few salads, and paninis, but like breakfast, the choices are fresh and bursting with flavor. Their hearty pressed sandwiches have a thick, perfectly crisp crust (it's not a low carb paninin!) and I had mine filled with roasted red peppers, homemade pesto, and fresh mozzarella. It was amazing, as is the prosciutto, basil and mozzarella option. The romaine salad that accompanies it is simple but crisp and the homemade dressing light and tangy; their soups are also fresh and hearty. I certainly will miss living near this simple gem.
SURREY'S: BREAKFAST NIRVANA
That night I stayed in packing and writing, so after finishing up the next morning I took an afternoon stroll to Surrey's to try their lunch. I had walked by this spot multiple times, as well, but never noticed it, tucked away in a quaint Magazine Street house with an inviting but unassuming courtyard. During Jazz Fest, however, I was scanning Yelp! and stumbled on multiple claims that this place served the best breakfast in town.
I may have to agree.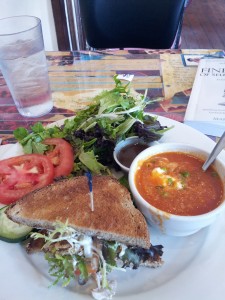 The Banana's Foster French Toast is one of the best breakfast dishes I've ever had. The thick French bread is cooked to a crusty, sweet exterior yet is soft inside, soaking up all the decadent flavors of this dish usually reserved for capping indulgent dinners. The crabmeat omelet my friend ordered was nearly as rich and impressive on the savory side.
I only made it back once more before trying lunch, but I wish I had tried it sooner. Although I love Slim Goodies, this is the spot I'd take someone in town for the weekend—for breakfast, at least. The sandwich, soup, and salad I had on this last day were fresh, healthy, and tasty, but I'd give a slight edge to Il Posto for lunch.
HANSEN'S: MAKE IT SNOW IN N'AWLINS FOR 74 YEARS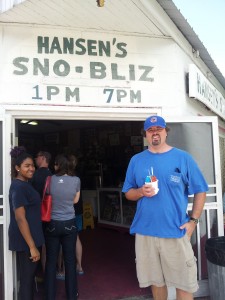 I'd been waiting for a while for a hot day so I'd have an excuse to try my first Snow Bliz. Fortunately my last day complied (if far from oppressive), so I wandered the three additional blocks toward the river from Magazine to Hansen's on Tchoupitoulas. While shaved ice is available many places and beloved in New Orleans and Hawaii, Hansen's has a singular reputation for the finest shaved ice and freshest flavors. Their unique Snow Bliz machine was designed by the original Mr. Hansen while Mrs. Hansen made the flavors daily. This was strictly a family business that was religious about quality and, though both have unfortunately passed on, the family carries on their legacy.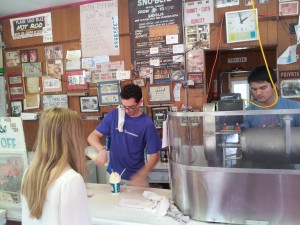 As I arrived to stand in line for a half hour on a Friday afternoon, the side of the building proudly declared this was Hansen's 74th year.  It was worth the wait. My chosen combo Wild Cherry and Bubble Gum with condensced milk was by far the most superior shaved ice  I've ever had, and that's because, many would argue, it's not shaved ice—it's a Snow Bliz! As I sat on the bench outside and enjoyed this summer indulgence, the man beside me declared: "If I had to choose just one food to eat in this city, this would be it!" And he's not alone. Folks are serious about their Snow Blizes around here!
MCKEOWN'S BOOKS: WARM RECEPTION AFTER A COOL TREAT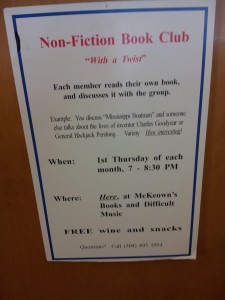 As I finished my frozen treat, I noticed I was sitting across from an inviting used book shop, McKeown's. I had finally gotten around to, in the past week, hitting local book shops to introduce myself and drop off cards for the blog. This place hadn't been on my radar, but I felt at immediate ease when I stepped inside. A good used book shop balances clutter with comfort, giving you lots of selection to mine without feeling overwhelmed, and this was the best I've seen in the city so far. The man working the counter was receptive and even talkative, unlike the suspicious responses I'd gotten in other stores. We discussed some local authors who come in regularly, one of whom I've reached out to interview for a book review and and another who's on my radar. Although I didn't buy anything—reading backlog—I made plans to return the following Thursday for their monthly book club where attendees discuss whatever non-fiction they happen to be reading.
MY YEAR OF MARDI GRAS—AN UNEXPECTED REMINDER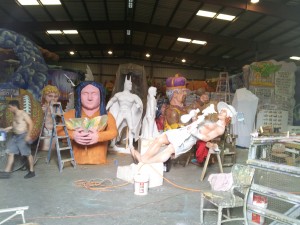 Serendipity was in the air my last day Uptown, and as I walked home to load my truck I passed a large, unmarked warehouse whose open doors revealed Mardi Gras floats under construction. It is only the start of June, yet the two artists inside had created dozens of sculptures including Steamboat Mickey, Batman, Poseidon, and a jester doing a handstand. It was slightly surreal seeing such revelry hanging out so nonchalantly this far from carnival season, though it reminded me of the basic premise of this blog: Mardi Gras is a year round production. I need to get busy joining a Krewe before the season creeps up on me. You'd think a year off would be plenty of time to realize a few simple goals but between blogging, reworking an old novel to re-market or self-publish, networking, studying blogging and self-publishing, and trying to make a freelance footprint on local magazines, I keep quite busy.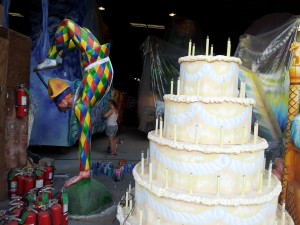 Oh, Thoth, where art thou?