LAST EXCITING EPISODE  . . . .
When I left off, it was Saturday evening, I had just moved into my apartment on Decatur Street, and I was heading out on a cocktail tour of the French Quarter with the extra ticket from a friend still not realizing that there were two Jakes in my building, one of whom was my new roommate.
LIVE LOCAL, ACT TOURIST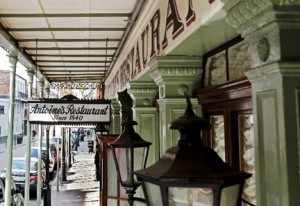 The tour itself was informative and entertaining, though fortunately free as it didn't warrant the sticker price. Our first stop was a small but apparently popular restaurant on Royal whose name escapes me. It was named after an old opera house around the corner though there was really no historic connection. The drink we were 'introduced' to here was a Moscow Mule, which my professor friend mentioned last article brings to every party she attends (and doesn't charge $9 for what is effectively a fancy highball!) At the popular but pedestrian Court of Two Sisters, I skipped the overly sweet cocktail altogether.
We only visited three places, but at Antoine's we embarked on a lengthy and detailed tour. Antoine's is an upscale Creole restaurant that is not only the oldest continually run family restaurant in New Orleans but the nation, consisting of over a dozen uniquely decorated rooms packed full of history and artifacts. I'd been on the free tour given by a waiter during my December 'scouting' visit (and despite accusations that it's just an über expensive tourist trap, the meal was fantastic), but the cocktail tour guide was a wealth of knowledge, particularly the rooms dedicated to and decorated by Mardi Gras krewes. There is so much history in Antoine's, in fact, you could probably tour it a dozen times with different guides and still be fascinated.
I was fatigued for my long day moving but, after grabbing a bite to eat found my second wind and, since I was having a tourist night, ended at my favorite tourist spot on Bourbon, Lafitte's Blacksmith Shop. Later I walked mostly a straight line home, having behaved myself a bit better than my last time. Jake was creeping around in the dark when I arrived and when he stepped outside, I wondered if he was returning to 'his apartment' downstairs. I soon settled into bed but slept fitfully, aware sometime during the night that my throat was getting sore.
INADVERTANT ROOMMATE, INADVERTANT SLOTH
By morning, my sinuses were stuffy and I felt drained. In addition to inheriting an unexpected roommate, I also didn't realize I was beneficiary of a roof roaming indoor/outdoor cat. I don't know if it was cat allergies, mildew from recent rain, 'Katrina crud' growing deep within the walls of this former warehouse well into its second century of existence, or a cold from rubbing elbows with the tourists, but rather than take the French Quarter by storm, it was storming me.
I had big plans and expectations for my first week, but, alas, as I keep saying with this blog, expectations always lead to lead to disappointment. I felt so bad on Sunday that I slept on and off all day. When Debra showed up around 4pm with a painter for the temporarily deconstructed kitchen, both Jake and I were out cold. I woke up embarrassed and feeling like a bum, but ventured in to ask about Jake. I was none to thrilled to finally discover this was not in fact Jake downstairs but a close friend of Debra's who had gotten sick in Africa and shown up without money or a place to go. I tried to tactfully find out how long he was staying, receiving a vague answer, but didn't have the gall or callousness to demand she kick a friend in need to the curb though it irked me the way it had fallen in my lap. Besides, as I'd just been awoken at four in the afternoon, I found it difficult to muster an objection to someone else's sloth.
HOMESICK FOR A HANGOVER SONG
Monday morning I had an interview scheduled with Robin Barnes for a feature in Offbeat Magazine, and, though I still felt ill I managed to perk up and muddle through. By the time I lumbered back home that afternoon, however, I was completely drained again and returned to bed.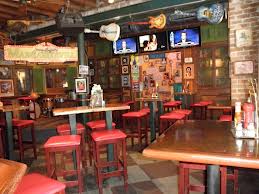 Tuesday I rebounded a bit so tried easing into the Quarter. Being sick in an unfamiliar place always makes me seek familiarity and I get depressed when I can't workout, so, rather than dive into all the authentic weirdness of the French Quarter, I crossed the street to the bar at Margaritaville for a little Florida nostalgia. Normally I'd scoff at choosing something so artificially manufactured over authentic local color, but I was craving the comfort of nostalgia. I'm a professed and unapologetic Parrothead, and derived perplexing pleasure from the strained renditions of familiar tunes by the nearly laughable singer/guitarist. Adding to my enjoyment was the small but appreciative crowd that was hooting like Buffett himself was on stage. I was rundown and homesick, but I don't know what the hell their excuse was!
PORT OF CALL: MAKING VEGETARIANS FALL
As much as I'm drawn to Buffett kitsch, I couldn't bring myself to eat at Margaritaville—if you're going to call something a 'Cheeseburger In Paradise' you better damn well deliver!—so instead headed to a local legend.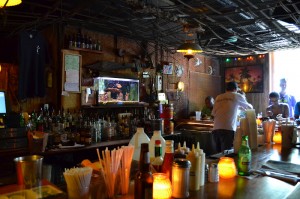 Port of Call is a New Orleans institution that specializes in fresh ground, perfectly prepared burgers served with loaded baked potatoes. Inside it looks more authentically and haphazardly Margaritaville than the slick actual Margaritaville with its fish netting on the ceiling and rustic boathouse décor. The lighting at Port of Call is dim, the radio is usually playing classic rock albums (not songs, great albums!) by the likes of Pink Floyd or the Beatles, and there's always a line. One advantage of being a loner, though, is that it's easy to find a place at the bar.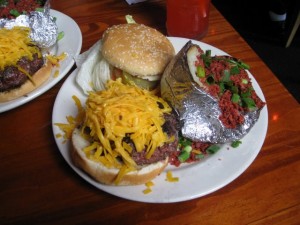 As I waited for my cheeseburger and loaded potato I read the reviews on Yelp! Several serious foodies went so far as to call this the best burger spot in the nation and I know someone who says Port of Call seduced her into ending decades of vegetarianism. This was only my second trip, but I felt that the thin double patties at Company Burger a few days prior had seemed to have a bit more flavor; still, the quality of the meat and preparation were undeniable so I definitely disagree with the minority of reviewers who complained they were coasting on reputation. My biggest beef, if you'll pardon the pun, is the cost. A loaded potato and cheeseburger cost me near twenty bucks. I remember when Hardee's  advertised their 'Six Dollar restaurant burger for 3.99.' Now a decent fast food burger costs six bucks and restaurant burgers usually top $10, often not including sides. Sometimes I long for the days when burgers were a few dollars, coffee a handful of change, and water something practically free that came from a faucet.
Unfortunately, after dinner I was feeling rough again and abandoned my plan of hitting Frenchman Street to head home and cough at the ceiling.
WARNING: GRUMPY BEAR LOOSE IN THE QUARTER!
By Wednesday I was not only stir crazy and grumpy from being ill, but my phone died suddenly and the editor at Offbeat emailed to say he was cutting my feature dwon to a 'Fresh,' a.k.a. small review (this following me recently picking up the new issue and realizing he'd used none of the Jazz Fest reviews he'd asked me to write). My pride and credibility were bruised as I informed Barnes and her publicist.
Five days earlier I'd been filled with visions of moving into rustic, historic digs and living like it was the Roaring '20s, but instead I had an unwanted cat, an unwanted roommate, raging allergies, a hacked up article, bruised credibility, no reviews, no phone, and no energy to venture into the dozens of dive bars and music clubs encircling me. It was not my best week.
THE HIBERNATING BEAR CAUTIOUSLY VENTURES OUT
Thursday night after I dropped my dead phone off at a T-Mobile store with assurances that they would overnight me a replacement (add canned laughter here) I found the energy to attend the book club at McKeowns. Although a tame endeavor, everyone was friendly and helpful and, being stuck in a new town with no phone, it was nice to have someone to talk to.
Friday, feeling mildly better, I drug myself to Frenchman Street hoping to see Ellis Marsalis, but the $40 cover for a one hour set nearly set me off on a 'high price of burgers, coffee, and bottled water' rant. I stumbled back down the street but wasn't going to pay full cover to set the last 1/3 of the sets underway. I was still too run down to hang around and wait for the late night hows to begin so I turned in early and watched movies on my computer, coughing and sneezing all the while.
CONFESSIONS OF A FAILED PARTY ANIMAL
And thus ended my first week as a French Quarter resident. For anyone who tunes in for titillating accounts of my lurid adventures in New Orleans, I apologize. I keep trying to engineer some grand adventure, and though I've had some great times, I seem to often find myself stumbling and bumbling along. On one hand, I've embarked on an enviable year of wish fulfillment so I don't want to complain. On the other, I want to write honestly and just because you aren't working nine to five doesn't mean everything will always come up roses. Besides, my misadventures seem to stir up more interest anyhow, so perhaps a year of stumbling will lead to a triumphant ending next Mardi Gras and publishing offers will flow in like the mighty Mississippi.
Okay, now I'm sure the mold in this place is making me delirious!
In the meantime, that weekend the Cajun and Zydeco Festival and French Market Creole Tomato Festival were both happening practically outside my door. Things were looking up. I sure am a sucker for a festival!