THROWING STONES AT FESTIVALS
When I awoke Saturday, commencing my second week as a French Quarter resident, my allergy symptoms still lingered but I was gradually coping. Nights were the worst, locked up in that space that seemed so rustically quaint a few weeks prior, and I slept little but still had regained some of my energy. Thus, I went for a short bike ride and cooked a big breakfast (now having the luxury of a kitchen) before heading out to the Creole Tomato Festival and the Cajun and Zydeco Festival, both of which were a stone's throw from my apartment.
CAJUN MOUSE, CREOLE MOUSE
The Cajun and Zydeco Festival, sponsored by the Jazz & Heritage Foundation, is held at the Old U.S. Mint where Decatur Street meets Esplanade at the French Quarter/Marigny boundary two blocks from my new place. Around noon I wandered over to the front lawn of the Old Mint where the main stage was ringed by food booths and vendors. On the opposite side of this large, red brick builidng Esplanade was closed for a second stage. A third small stage was tucked away at the Creole Tomato Festival in the French Market bordering the Old Mint.
Although I'm a fan of most New Orleans music, I'm not deeply into Cajun or Zydeco so I enjoyed myself but was never enthralled. For those who don't know the difference, both Cajun and Zydeco evolved amongst French Acadian refugees in rural Louisiana and are seem similar to the unfamiliar ear; however, Zydeco is a 20th Century invention focusing on the accordion and washboard. It tends to be frenetically paced, driven by blues and R&B beats. Cajun is more traditional and introspective, marked by slower beats similar to country two-steps and waltzes and often features the fiddle, although the accordion has grown in prominence.
Although associated with New Orleans, Cajun and Zydeco are actually music of the rural Louisiana. This is a good time for a history lesson, because to understand the difference in the music it helps to understand the difference between Creole and Cajun. Put simply, Creoles are city folk that were planted here and Cajuns country folks who were chased here. As with most things, though, it's a little more complicated than that.
RANDOM HISTORY LESSON
The first time I encountered the term 'Acadian,' the root of the word of Cajun, I was touring Nova Scotia a decade and a half ago. The connection to southern Louisiana, though, wasn't readily apparent. As I learned more of local history, though, I discovered Acadians were French settlers in Nova Scotia, Canada who no longer associated themselves with the French crown, viewing themselves as self-sufficient. The British viewed it otherwise and when they wrestled the territory away from the French they began a brutal, systematic removal of the French settlers, scattering them throughout Europe and the North America. Many of the French refugees unsurprisingly were attracted to French Louisiana and after the Revolutionary War a second wave of refugees left France to reunite with family and friends. Being farmers and country folks, they were suspicious of the 'citified' Creoles and melted into the swamps and bayous, forming Cajun culture.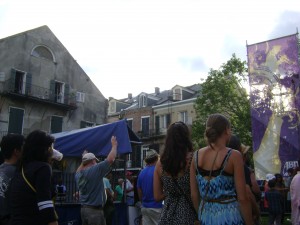 Creole, on the other hand, comes from the French term meaning 'born in a colony.' Thus, to be Creole is to be a descendent of original New Orleans settlers. Creoles were initially wealthy, white settlers who loved to dance and live lives of ease, prospering off the sweat and misery of slaves. However, because racial mixing was so widespread in New Orleans, there was a large free 'black' (i.e. mixed race) population and the term often became associated with persons of mixed race descent. Further muddling matters, New Orleans slaves who enjoyed privileges that other slaves weren't allowed–such as congregating in Congo Square on Sundays to sing, dance, and trade–clung to the term to set themselves apart.
Thus, although Cajun culture has bled into New Orleans, it is actually a Creole city. Upscale, traditional restaurants such as Galatoire's and Antoine's are considered Creole. Creole music, marked by a love of dancing and celebration, gave birth to jazz. Still, in modern times, like everything else here, these cultures have intermarried. Cajun cooking, particularly, has become part of New Orleans culture with its gumbos, crawfish, and red beans & rice.
YOU SAY 'TOMATO,' I SAY 'THANK YOU SIR, MAY I HAVE ANOTHER?'
Speaking of Creole, the Creole Tomato, harvested once a year, is a strain grown only in Louisiana locally heralded for its taste and freshness. The namesake festival at the French Market features food vendors incorporating the vegetable, food demonstration, sale of the tomatoes, and of course, music.
As I wandered over that way, I stopped to watch a chef from Muriel's prepare a pork tenderloin with spaghetti squash topped with a fresh 'Creole Tomato jelly.' I waited patiently afterwards for a sample as rude passers by pushed in front of me (the rudeness of people can at times shake your faith in the human species), but when I finally snatched one I was blown away by the flavor. It was one of the best dishes I've tried since being in town and I will have to make a point of checking the place out.
Later I returned to watch Galvez Restaurant's bartender make bloody mary's from fresh ground tomatoes. The sample was barely a sip, but the fresh tomato and horseradish gave the drink a bite and freshness I've never encountered. It was labor intensive, but will be worth the effort some lazy Sunday afternoon.
The food offerings by vendors were amazing, as well. The humidity had picked up after morning rain showers, so a luscious looking tomato salad beckoned. On top of fresh sliced tomatoes the vendor scooped onions and avocado marinated in a family secret dressing, topped it with fresh crab meat, and then dressed it with remoulade sauce. The flavors were crisp, fresh, and rich without being overwhelming. It was absolutely delicious and I would try to recreate it later with limited success.
At another booth I had a Creole Tomato Croquet, which was grilled tomato slices on French Bread croquets topped with blackened shrimp and remoulade. Though not as refreshing, it was still fantastic. My love affair with New Orleans festival food continues.
THE VIRTUES OF NOT PUSHING YOUR LUCK
Living two blocks from a festival allowed me to take a late afternoon break to recharge, and I wandered back around five to catch the headliners play until seven. Afterwards I wandered around the corner to Frenchman Street but didn't stay long. I'd had a full day and I had spent plenty of money and energy. Feeling content to finally have a day that wasn't a flop, I decided not to press my luck and headed home to chill with my cough, the cat, and my cryptic crashing comrade.