MANDINA'S: OLD STYLE CREOLE ITALIAN FOR AN OLD SOUL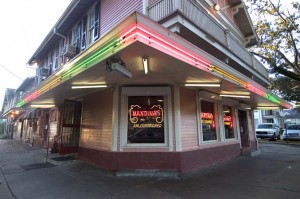 Since my visiting friend was proud of her Italian and Creole heritage, I headed immediately from the airport to Mandina's, an 80-year-old Creole Italian institution on Canal in Mid-City. There is a huge Sicilian population in New Orleans (see St. Joseph's Day) so Creole cooking has a heavy Italian influence along with its French (colonization) and African (exploitation) roots. Thus, it's common to see red sauces—or 'red gravy'—on the menu with fried seafood po-boys and gumbo, and the Muffuletta sandwich now ubiquitous locally was created by the Italian Central Market Grocery back when the French Market was an active and thriving Italian food and produce stand rather than the t-shirt and trinket bazaar of today.
I first tried Mandina's right after Mardi Gras when I was sick and staying in the CBD. At the time I could barely breathe and couldn't taste anything but the fried oyster po-boy I ordered there was the only thing I mildly enjoyed. Since their food tasted good when nothing did I couldn't wait to try it in good health.
Mandina's is an old open house with white table clothes on square tables and pictures on the wall—classic old style New Orleans. Our waitress had a thick 'Yat' accent (Brooklyn meets New Orleans West Bank) and affirmed out interest in the Soft-Shell Crab Almandine and the Eggplant Casserole from the special board. The latter came with a spicy red sauce that had a mysterious flavor that took some time for me to realize it reminded me of chipotle since the flavor was so unexpected in this setting. It didn't live up to my companion's high standards for red sauce but, though different, I found it an interesting change of pace. The Eggplant Casserole was not layered slices as expected, but mushed and mixed with bread crumbs, Creole spices, and plump Gulf shrimp. It was rich and addictively delicious. The crab was also rich and well-prepared, though I'm finding that though fried soft shells and oysters are two of my favorite foods, they seem to be about equally as delicious at dives and swank institutions so I need to save my money and only order at the former. Nevertheless, I enjoyed the meal thoroughly. I'm definiely finding I enjoy the old-line family restaurants over the trendy new hot spots. I've always been told I'm an 'old soul' so I guess it fits. (Everyone always says that's a compliment, yet I can't ever imagine anyone saying, "We can't wait for that old soul to show up and get this party started!")
FRENCH ITALIAN T-SHIRT BAZAARS
The fireworks were over by the time we made it to my apartment so we were content to open a bottle of wine, sit on my balcony, and watch the Independence Day tourists stumble by. This was the type of moment I'd envisioned when moving to the French Quarter.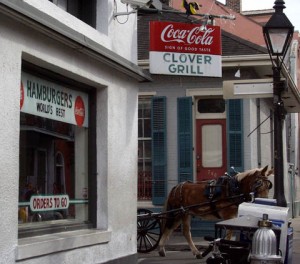 Friday morning we walked to Bourbon Street to the equally ancient Clover Grill, a 24/7 greasy dive a few blocks past the tourist rabble. It is one of two popular local diners, along with Camellia Grill, and I don't know how such greasy spoons make simple breakfasts so much better than your average spot, but they do. I was particularly bad and had the chicken fried steak and eggs, a sin I'll allow myself once or twice a year. It is always disappointing when a rare indulgence fails to live up to standards, but this was worth every bite. The only let down was that tangy rye toast would have perfectly cut through the salt and grease but no place in New Orleans seems to carry it. It's the only American city or town I've ever been in where waiters look at you as if you're insane or petulant if you ask for it. Curious.
Afterwards we spent the afternoon wandering the novelty shops on Chartres and Royal. There's something relaxing about browsing like a tourist even if I rarely buy. To me a good gift shop or cooking store is like a museum, just with newer stuff. It's okay to look at, just don't touch. Later in the French Market, though, (which is no longer 'French' nor an Italian 'Market') I did find a cover for my new cell phone and my friend picked up a few souvenirs.
STILLING HEARTS OF STEEL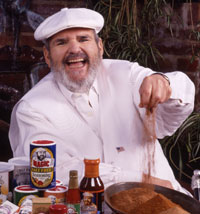 That night we were planning to catch Kermit Ruffins on Frenchmen Street but he suddenly dropped off every schedule in town—strange for someone who is always playing. Later we'd learned he got married over the holiday, so I guess he was a little busy. Since we now had a gap in the schedule I made dinner reservations at K-Paul's, the French Quarter stalwart owned by the chef who made Cajun cooking famous—Paul Prudhomme. (K was his wife, if you're wondering about the name.)

After cleaning up, we headed for cocktails at the Carousel Bar to catch Robin Barnes's weekly gig. As always, she put on a spectacular show and charmed my friend. In fact, her voice was so pure and control so impressive that we spent the rest of the weekend deconstructing every vocalist we heard in comparison. Nevertheless, this isn't the best venue to see her full range. Hotel Monteleone insists performers keep it soft and jazzy so when my friend requested her New Orleans favorite, "Heart of Steel" by Irma Thomas and Galactic, Robin had to seek permission from the manager to do even a toned down version!
CLICK ON THE IMAGE ABOVE TO DOWNLOAD ROBIN'S INCREDIBLE NEW EP 'Me'!!!
K-PAULS: THE ORIGIN OF UPSCALE CAJUN CUISINE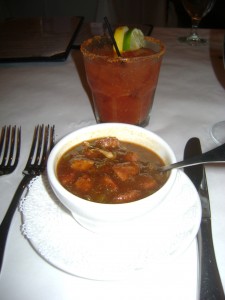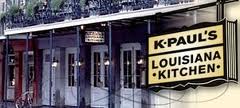 Heading around the corner to K-Paul's, the simple sign and unassuming exterior would hardly catch your attention if you didn't know it was the flagship restaurant of Paul Prudhomme, one of the original celebrity chefs who made 'blackening' a national sensation. (He also brought us the turducken, forever enriching John Madden's Thanksgiving telecasts!) I've earlier spoken of the difference between Cajun and Creole. New Orleans wasn't considered a Cajun city until Prudhomme rose to fame in the 80s and, while Creole tends to be the more 'upscale' cuisine, Prudhomme's imagination and culinary genius elevated Cajun cuisine to the same level. Now K-Paul's holds its own with French Quarter Creole jewels like Antoine's and Galatoire's.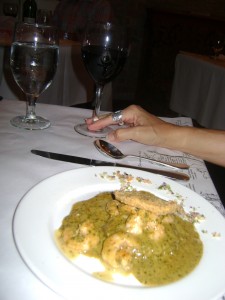 Inside the restaurant is refined without being stuffy—just what you'd expect from upscale Cajun—and the meal lived up to the hype. The Rabbit and Andouille Gumbo was excellent (though I still haven't found my ideal—I have crazy gumbo standards) and the Fried Green Tomatoes with Shrimp Caper Dill Remoulade was tangy, rich, and absolutely decadent. For an entrée I couldn't resist the soft-shell crab again—this one was stuffed with Cajun seafood dressing! The Almandine sauce was miles above Mandina's and the stuffing added a unique depth that justified my order. Moreover, it came paired with a tangy, spicy, sweet, fresh, and complexly layered Shrimp Creole that was by far the best I've ever had (the dish can often be surprisingly bland) and a roasted vegetable medley that was perfectly seasoned and expertly al dente. My companion ordered a pork chop stuffed with three cheeses in a rich Cajun gravy that was one of the best cuts of meat either of us have tried in this city and perhaps ever. The roasted potatoes accompanying it burst with so much flavor they could make an Irishman change religions.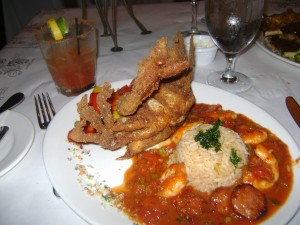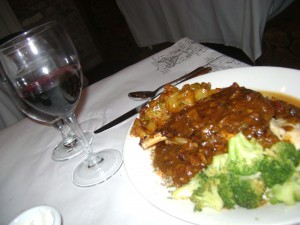 I really can't afford to eat like this, but what's the point living and blogging in New Orleans if you don't go for broke—quite literally—on occasion?! The ultimate frustration with eating upscale when you're of modest means, though, is that you often leave thinking of a favorite dive you would have equally enjoyed for ¼ the price. This certainly wasn't the case with K-Paul's. A decade ago I had what was then the best meal of my life at Commander's Palace but a return trip in December left me disappointed. It's also been a decade since my one meal at Galatoire's and my memory is vague. At this point, then, K-Paul's probably edges out Antoine's as the best meal I've had in the city. I've heard both dismissed as over-priced tourist traps, but I'm usually of that opinion toward the more modern, trendy money drains I've tried. I guess I'm an old Creole (and Cajun) soul. (BTW, that seems to be the New Orleans foodie mantra: Any place you like is the real deal and any place you don't survives by suckering unsuspecting tourists. Thus, very few restaurants escape the 'tourist trap' label!)
COOP'S PLACE IS THE PLACE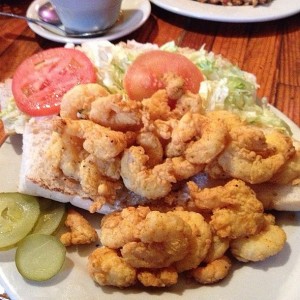 We'd planned on catching Soul Project NOLA on Frenchmen Street after dinner but, after succumbing to the bread pudding—a local must—we were both in blissful food comas. Saturday we resumed our wandering in that pleasant nether-region between tourist and local. I was finally starting to settle in and enjoy living in the French Quarter. We'd eaten a late breakfast at home so it was 3 o'clock before we wandered into Coop's Place, the popular French Quarter dive at the end of my block.
Coop's is regarded by many as the best cheap food in the French Quarter and this, my second time there, convinced me that not only was that reputation deserved, but that they were better than most of the high priced joints I've tried. The fried oysters appetizer were the best I've had, except perhaps the ones at Jazz Fest. (This declaration may just get me shot, for at book club the next week I would offend a local by saying Casamento's were great but no better than Dick & Jenny's or Ye Olde College Inn.) They were perfectly fried so that the crust was crisp, not greasy, and the meat moist and just starting to solidify. A hint of spice in the batter set them apart, though. The friend shrimp po-boy that followed (another double fried seafood meal, Lord help me) was better than the acclaimed one I tried at Domilise's and my friend's sampler platter offered some of the best red beans, jambalaya, etouffee and fried chicken around. She paid $15 for all that food and my sandwich was under $10. It could be dangerous living upstairs!
FRENCHMEN STREET. 'NUFF SAID.
After showers and a digestion break we wandered down to Frenchman Street where we caught Smoking Time Jazz Club at Maison (we both agreed their singer was no Robin Barnes), John Boutté at d.b.a. (I was thrilled to finally see this local legend of 'Treme Theme' fame but my friend was in the mood to dance and found him too subdued) and then Soul Project at Café Negril (who sound like the next generation Galactic—we're both recently converted fans.) Our late lunch had kept us full until late, but we found the taco stand inside of Café Negril to be both tasty and affordable. These are the kind of affordable finds I need to collect if I'm to maintain my French Quarter life!
ROYAL HOUSE OYSTER BAR: A FAMISHED FIND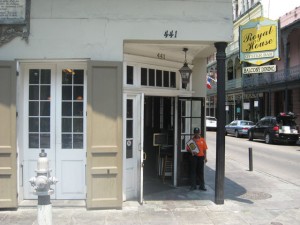 By Sunday we were both lethargic from the heat and two days of running around. Fortunately, my new place is in a nice spot to laze like a local so we ate breakfast in and later caught a movie. By late afternoon, though, my hunger roared to life—the movie and late breakfast wiping out lunch—and I was silently grumpy as we walked to Mr. B's where my friend was craving a bowl of their gumbo. Mr. B's is on the other end of Royal from my place and when we arrived we found it dark with a sign in the window declaring it closed for the holiday weekend. As we turned and wandered back down the street I didn't care where we ate. I just wanted food. The first place we passed was Royal House Oyster Bar just around the corner from Antoine's. It is a touristy looking spot near other such packed tourist houses as Napoleon House and The Chart Room and I'd passed it a hundred times without considering it. There were tables open today, though, and that was enough.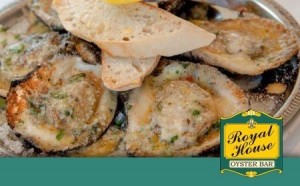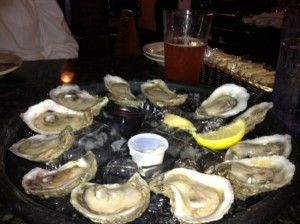 Our waiter was a local who claimed he came to work here after frequenting it for years, finding it to be some of the best food in the French Quarter. He suggested we try the chargrilled oysters, claiming them ever bit as good as another famous spot, so we ordered a half dozen along with a half dozen raw. After contemplating our ravenous hunger, we called him back over and upped it to a dozen each. When they arrived, the raw dozen were solid for being out of season and the chargrilled were delicious, though how can you go wrong with garlic, butter and parmesan?!  The juice, though, was perfect for dipping the fresh, crusty bread—a good sign that this wasn't just a tourist dump. My friend followed with a tomato and mozzarella stack—pretty much a caprese tower—that was covered in a balanced, tangy vinaigrette. Considering we'd just had oysters two ways I tried to steer away from seafood, particularly fried, but when the waiter urged I order an off-menu favorite of fried oysters, bacon, and blue cheese, I was too hungry to resist. This decadent caloric apocalypse was one of the best po-boys I've tried, but adding bacon and blue cheese is just plain cheating!
OYSTER ORGY EPILOGUE
This oyster orgy turned a lazy day into a lazy night, but I wanted to be up early the next, anyhow. The next day, her last in town, we were going to the National World War II Museum. I'd long been looking forward to visiting this local institution. I'd heard nothing by heavy praise and knew I'd need lots of time.
NEXT ARTICLE