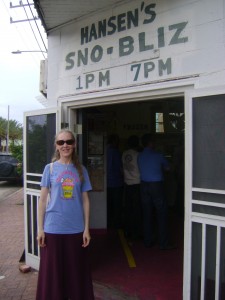 Last Monday I reviewed one of my favorite New Orleans books, Gumbo Tales. Last week author Sara Roahen was gracious enough to meet me at her beloved Hansen's Sno-Bliz shop so I could pick her brain while we indulged our frozen cravings. (She had Rootbeer. I had Cream of Nectar and Cream of Ice Cream!)
One of the things I love about Gumbo Tales is that, although it's about New Orleans food, you also talk a lot about its history and culture. When you started writing, what goals did you have in mind?
I wrote restaurant reviews for Gambit [Weekly] for about four years. That was really my first writing job. I was a line cook between college and then. It was a great way for me to get to know the city and learn how to eat here, but I was more interested in the historical and cultural stuff—the really quirky things about New Orleans that were so new to me and the unique relationship people have with food here. I was trying to figure out how to write more about that but wasn't finding a way to in Gambit. That wasn't Gambit's fault. It was my fault for not being able to do two things at once. I'm actually a really slow writer and horrible at multi-tasking. It's no way to make a living, but that's just how my brain works.
So I decided to make it into a book and had an agent who was working with me who pushed me in that direction. A lot changed in the course of writing but the structure took form in my head while I was still writing for Gambit. I knew there were these things that I wanted to write about in a more in-depth, first person, 'how cool is this' kind of way. I had all these legal pads full of ideas like how weird a crawfish boil is.  Having a 'Gumbo' chapter, having a 'Sno-ball' chapter, that sort of filing system was in my head from early on.
Also, near the end of writing restaurant reviews for four years and living here for close to five, I started feeling
myself become a New Orleanian. Things were becoming habitual and commonplace that used to be so weird and exciting. I really wanted to write about this city and its relationship to food while it was still weird to me. I couldn't write that book now. I've lived here too long.
You confess a lot in the book, such as stalking a friend when he rescinds an invitation to 'Red Beans on Monday.' Did you experience any trepidation about things you were revealing or some of the more personal aspects?
I didn't really have that many reservations about revealing stuff about myself. I think that's something that I do too much anyhow, but that's just who I am. I felt like a lot of that stuff like blacking out on the floor was part of my full-bodied experience of New Orleans that I wanted to write.
I did have certain people read the parts about them. For example Pableaux, the red beans cook, is a very good friend. He's very gregarious, outgoing, and giving but he's also very private and I wrote that whole chapter before I told him. I let him read it before it went to print and I was really nervous because I revealed how I'd been feeling about our friendship and things that he wouldn't reveal about himself. He gave me two little factual changes but other than that he didn't ask me to change anything. I was really surprised and grateful.
I had Ashley Hansen read the chapter about her grandparents because at that point it was still raw—her grandparents passing away. I also hired someone—I made no money on this book—to be my cultural copy editor. I would do that even today. Even though I've lived here a long time and feel like I belong, there are just so many things you don't know if you haven't lived here your whole life.
Can you think of any examples?
Nobody told me I was wrong about Ya-Ka-Mein but I had a lot of people who grew up here say they had never heard of it until they read my book. Then, of course, as soon as you become aware of it you see it everywhere.
Did anyone object to anything wrote or have you take it out?
I didn't have anyone that had big problems. I had written an extensive cover story in Gambit about that family that lost their house in Lakeview with the big [St. Joseph's Day] altar. One of the family members was uncomfortable with how intimate it was. I think she was expecting more of a news story than a feature about this family's relationship. They'd never been written about in that way. She was shocked and not very warm with me for a while but I sent them the chapter and they didn't have any changes. I was really grateful for that, too, because I don't know how I'd feel about being written about in that intimate of a way.
What has the reaction been from the professional food community?
No one has told me I suck! I don't know what the underground rumblings are, though.
When the book came out two and a half years after Katrina people still weren't criticizing each other. Everybody was just grateful for any amount of booster-ism—anything that reflected the city in a positive light. There was just this 'we can do no wrong' attitude when trying to promote our city. I hate that Katrina happened, but as far as my book was concerned, it was really good timing because the tone and narrative thread were not coming together and Katrina totally made that happen.
Now I will say there were people who were unkind because I wasn't living here. My husband, Matt, was in his medical residency for pediatrics and there were no children in the city after Katrina. Pediatric residencies took a hiatus so he went to Philadelphia ahead of me and I stayed and fixed up the house, wrote the book, and then joined him. The book happened to come out when I wasn't living here, but I was doing oral history work for the Southern Foodways Alliance and was spending a lot of time here.
I would see comments on the web, though, like 'That person's a traitor,' or 'She's someone who moved away after Katrina so why would we listen to her?' But not only did I have to move if I wanted my marriage to stay together, but it's such a narrow view. There are so many reasons someone may have had to leave after Katrina. I would never begrudge anyone who left, even if it's for sanity's sake. I believe that however anyone had to deal with that awful tragedy is acceptable. When the book ends I'm not here and people don't realize I've moved back. I've gotten a couple of hateful emails since and I get to very happily correct them.
Did restaurant or anyone you know feel left out?
I never personally heard from anybody, but I'm sure that happened. There are things that I left out because it just didn't fit in the narrative. Like I originally thought I'd write about bread pudding and hot tamales and meat pies. I thought I would have a chapter on sweet things in general, but I didn't have enough story. I'm kind of bummed that I didn't write about beef daube because I don't even see mention of it anymore. That went away after Katrina. But if it didn't fit tightly in the story, I left it out.
Of course I've gotten lots of emails—nobody being nasty—saying "I love your book, but you know where my favorite gumbo is?" or "You know what you left out?" Everybody has their favorites and they want to talk about it. They're disappointed that they didn't see it in your book.
As you said earlier, when the narrative left off you were in Philadelphia. How did you end up back in town?
We'd always wanted to move back but we didn't think it would happen that quickly. U Penn did a really good deed by taking in someone who was orphaned by Katrina but our style didn't translate in the Ivy League setting so Matt finished what he needed to in Philadelphia and LSU had a position open. They welcomed him back with open arms.
There were some similarities to New Orleans, though. We made some really good friends who were very tolerant of my constantly complaining about Philadelphia. In one couple the husband was hard-core Philadelphia Italian and there were so many similarities between his family and the Sicilian Italian families here. Some of the brickwork [was similar] and the feel of being in really old city where there's a lot of parochialism and civic pride—that stuff resonated but it was a bad time for me to make a life anywhere else.
You originally moved here because Matt, then your boyfriend, was doing his residency at Tulane. Had you thought of moving here or was it just chance?
I really wanted to move here. I'm from Wisconsin and went to college in Maryland and then spent a couple of years in New Mexico and a year in California. Matt and I were living in Wyoming when he was applying to medical schools. I was really happy living in the West but a couple of good college friends lived and got married here. Matt scheduled an interview at Tulane during that trip and I hadn't really been to the south other than Orlando.
Orlando doesn't count as the south!
Oh, my college roommate was from Chattanooga.
So it was my first real trip to the south and I totally felt a connection. The food, the air, the climate, the music, the life, the people. I desperately wanted Matt to move here though at that point it wasn't totally clear that I was going to be invited wherever her went—that was not a foregone conclusion! But A) I desperately wanted to be invited and B) I wanted it to be here. He didn't. This was not in his top 10 but it was the only school that accepted him and I totally consider it fate. It was semi-miraculous.
We talked a little before the interview about how there's been a food and restaurant explosion since Katrina. If you did an updated version of Gumbo Tales are there certain things you would add, change, or expand?
I'm really glad I wrote my book when I did. If I would have moved to New Orleans even five years ago I don't know that I would have had the same experiences because I think I would have gotten really swept up into what's new here because my more natural taste is the whole California farm-to-table way of doing things. I don't know if I would have opened up as much to the really traditional stuff.  In fact, I'm almost sure I wouldn't have and that would have been a big loss to me personally. Then I wouldn't have written a book.
So what are some of those new things?
Vietnamese restaurants infiltrating Orleans Parish—that's very cool. Inroads were made pre-Katrina but nothing like we have now. Suddenly I have three Vietnamese restaurants in my orbit.
When I first moved here it was hard to get a salad in this town but there are places serving fresh vegetables now. I also love the pop up trend and the food truck trend.
What is a pop-up?
For example, people bring the most delicious barbecue and pies you've ever tasted to PJ's Coffee on Magazine but you can only get it on Sundays in the courtyard. Pizza Delicious started at a pop-up. That business model is new. You can get a lot of good food from people who are putting all their energy into one dinner: 'For three hours a week we're going to blow you away.'
Sounds good. I'll have to check it out. But before we go, I have one final question. Because this is such a food city I'm developing a new 'signature question.' You get to be the first to answer it! Where are three places in New Orleans you would eat if you were paying, and where are three places that you'd go if Gourmet Magazine hired you, cut loose their expense account, and asked you to wow them?
That's a good question, actually. Mosca's is one. I love the food and I love the place. That's where we celebrated my husband's birthday in May and it ended up being my 3-year-old son's first big boy white tablecloth meal. That was a really big deal. That is a real special occasion place we go back to.
Mahoney's for po-boys. I love their roast beef. And Magasin for Vietnamese in my neighborhood.

If someone else was paying, for sure Galatoire's is #1.
I'd go to Revolution because I'm very curious about that place but it's just not going to be where I risk a rare night out and a lot of money. It was opened by a local chef with a big chef from New York or Chicago. It's really cutting edge and ambitious. I really want to go but that's not going to be where my money goes. It's just too out there.
And Cochon, not because it's super expensive, but because I always end up spending a ton of money there. It's one of my favorite places in the city.