MY MOST BELOVED HATED RESTAURANT IN NEW ORLEANS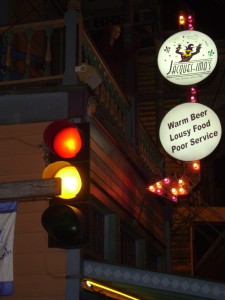 The problem with the 75 cent pork sliders and meat pies at the American Sector Restaurant is that when the adjoining National World War II Museum keeps you mesmerized through lunch until it closes at 5:00, 'you'll ruin your dinner' as mother warned. And we had big dinner plans.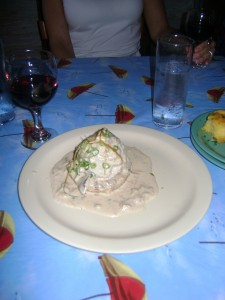 I fell in love with New Orleans via Jazz Fest, but Jacques Imo's may be the first local restaurant that stole my heart (though it could be Mother's—memories are fuzzy). I remember the first time my oldest brother and I visited circa 1999. We were blown away by its upscale eclecticism and adventurous cuisine. We returned a couple of times, but my life changed directions and it's been well over a decade since I've been back. I've become somewhat of a New Orleans foodie in the interim and, in the process, have discovered that Jacques Imo's is perhaps the most divisive restaurant in the city. I mentioned a couple of posts ago how it is hip to deride any New Orleans restaurant that doesn't fit your taste as a tourist trap, but nowhere does this battle rage so fierce as within the funky Jacques Imo's bedecked with color folk art such as bright blue goes or "Be Nice Or Leave" plaques. It's ridiculously off the beaten path, though, for a tourist trap, hiding on Oak Street on the complete opposite side of Uptown from the French Quarter so near the river bend that you could almost hit the Mississippi with one of their garlic cornbread muffins.
But you wouldn't want to waste one of these simple treasures.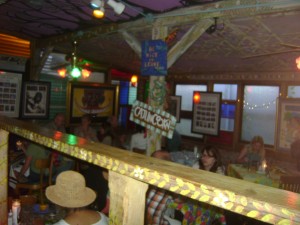 There is almost always a two-hour wait to get in (such as when I futilely attempted to go Han solo back in March) but ironically, although we were hoping for a little wait to let your happy hour digest the off-season lull left an open table waiting for us. As we were seated I was worried that a stunted appetite, a decade of distance, and a more refined palate (no laughing, please) would lead me to switch sides in this fight but I'm glad to report that Jacques Imo's retained its lofty status in my pantheon.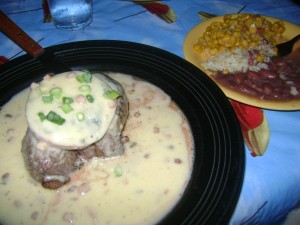 There's just something fun and festive about the colorful eclecticism of this overachieving river shack, and the menu is as colorful and all over the place as the walls. We started the eggplant with crawfish cream sauce, which was tangy, rich, and so good you knew it had to be bad. My friend is obsessed with crab cakes but is as picky as I am with gumbo so she enjoyed the ones she ordered but wasn't blown away. I ordered the carpetbagger steak—a filet stuffed with oysters and smothered in a light cheese cream sauce—and attacked it greedily, though I had no choice but to share!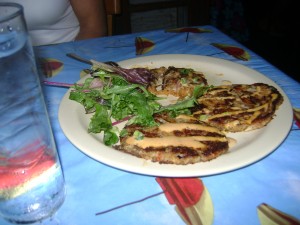 Jacques Imo's is a loud restaurant and the food is priced equal to an elegant spot with tuxedoed waiters, but, though it's as good or better than most of those places I can see why it's not for everyone. There are no white table clothes, jazz pianists, or puckered lips. But if you're looking for fun and creative inspired insanity, Jacques Imo's is your place!
MY DARK PASSENGER
The next morning I was up early taking my guest to the airport and then spent most of the day cleaning. Not that she was that messy, but after straightening up and sweeping the floors/dusting (a daily chore since this building is literally crumbling over head, leaving a daily coat of thin gray grime on everything I own) I decided to clean the filter for my air conditioner. When I pulled the cover off, though, the coils were a solid mass of moist, black mold. No wonder I was having so much trouble breathing! There went my whole afternoon.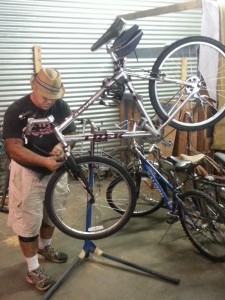 Still I was in good spirits. I'd had a wonderful visit and was starting to finally relax and feel like a French Quarter resident. I would have been completely content to spend a night or three at home but, at a quarter after four, just as I finished cleaning, my friend and cultural ambassador Pat texted and asked if I was interested in a guided bar tour of Mid City and Lakeview. Usually the only chance we get to chat outside of Facebook is when he bartends at II Tony's every other Thursday, but he'd had to stay behind for work when his wife and two young kids left on vacation. He'd be joining them over the weekend, but had a rare night of bachelordom on his hands so I couldn't say no. I jumped in the shower and called Neil at City Cycleworks to ask him to have my bike ready. I'd be able to slide in just before closing.
MY CAJUN YODA
Pat is best friends with Marquis de Metairie who now lives in Jacksonville yet helped talk me into moving here. Marquis vouched for me sort of like old fashioned 'letter of introduction' and Pat has been advising me ever since. And what a guide he is. Pat is a veritable encyclopedia of local knowledge. He works sound for Saints and Hornets games. He knows every band and every band member for decades. He was on the Youth Leadership Council and was a Hospitality Ranger (we had a few laughs comparing him to the Guardian Angels episode of It's Always Sunny in Philadelphia). He has dabbled in recording bands in his living room, moved all over the city, and done about everything there is in this town to do. He is the cultural Yoda to my young Cajun Luke, but instead of the swamps of Dagobah we hit some local watering holes.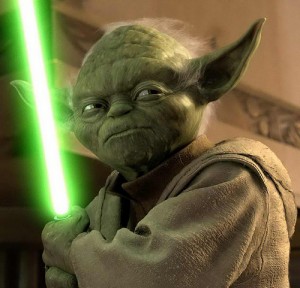 The bars we hit were typical neighborhood joints but a chat with Pat is anything but routine. Biking to the place was a hoot, though, but I blew the tire that Jake had replaced (or poorly patched?!) on the way to the third bar, so we were forced to dump the bikes in the bed of my truck.
Somewhere between Parlays (where Pat and Marquis showed up broke in college and walked out sauced and cash in hand) and burgers at Lakeview Harbor (oft compared to Port of Call, and, while good, was not in the same class) that I came up with my new signature question while picking Pat's brain: Where are three places you'd eat if you were paying and where are three places you would eat if I were paying? I don't remember his rambling answer (it's a tough question in a city known for food) but immediately found a flaw in my inquiry. Pat was reluctant to pick anywhere expensive if I were paying, though that was the tongue-in-cheek purpose of the question, for he knows I am a broke blogger! Although it's only hypothetical, I immediately realized I needed to tweak it and asked where he'd go if he had access to Ray Nagin's secret slush fund!
I have compiled sent back some of his Facebooked wisdom in hopes that he will refine it for a guest post. When he does, I'll be sure he includes his answer!
MY RISING STAR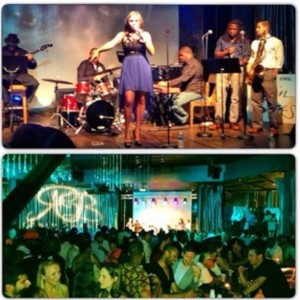 Wednesday was spent catching up on writing and blogging, though I had another obligation that night. The oft-mentioned Robin Barnes was having her EP release party and since I had fought to hard to get Offbeat to run a feature on her and the EP, I felt I should at least show up. Besides, I was hoping it would be a good networking opportunity, so I called my musician friend Vince and dragged him along. The Eiffel Club where it was held was dazzling, with Robin's initials projected on flowing blue curtains, and she put on a great performance, but it was just not our crowd. As Vince put it, most people were there to be seen rather than see the performance, so we jetted for a dive across the road and then had a couple of beers at his place where he perseverated on his anxiety at becoming a captivating performer. "I need to learn how to mesmerize my audience," he kept telling me, and now every time I see him play I can't help but imagine him putting down the guitar, donning a cheap tux, and using a gold pocket watch to make people cluck like chickens!
MY NEW FRIENDS
Thursday was my third day straight of staying in to work in the apartment and cooking healthy to atone for my sins of indulgence over the weekend. That night though, I had an invitation I couldn't turn down. The non-fiction book group at McKeown's Books is held on the first Thursday of the month but had been pushed back because of the Fourth. Everyone had been so welcoming when I'd attended last month, though, I couldn't skip it.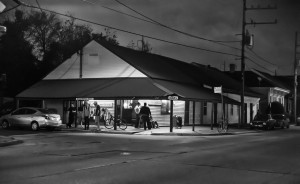 Since I was about to do two posts on Gumbo Tales it made sense to bring it as my book to share even though I was certain most people there had read it. (Imagine that—a book group where everyone reads the same book! That concept may just catch on.) The discussion as again lively and friendly except when I offended a lady from the North Shore by saying Casasmento's weren't the best fried oysters in the universe, and there was a new attendee who had just graduated from college and brought a youthful energy and enthusiasm to the table.  He had moved to town on a whim and was living with his sister, spending his days riding around on his bike, exploring local dives, and hanging out in McKeown's, working event jobs when he could get them. He shared a book he'd just read explaining the Theory of Relativity that was published in the early fifties. Intriguing.
Bart, the new grad, and I hung around for a while after the discussion broke up chatting with the shop's owner and namesake. Maggie wears thin wire spectacles and her gray hair is pulled loosely back in a ponytail. She speaks in choppy stop-and-go phrases oozing with enthusiasm and humor. She's a retired nurse, an avid reader, a gentle soul, and just the sort of person you'd expect to run a bookstore in New Orleans. As Bart and I shared and processed our experiences in this strange city she seemed at ease advising and guiding two inquisitive vagabonds. The full name of her store is McKeown's Book and Difficult Music (I keep meaning to ask about the 'difficult music'!) yet I laughed quietly to myself imagining her adding '& Home For Wayward Boys' to the sign.