WV GUMBO FROM DA BLOCK
It was satisfying to unpack and settle into a space of my own. Although temporary, I finally had a room and a neighborhood. When I stepped onto the front porch to greet a beautiful spring day, I felt like a local at long last.
Part of me wanted to rush out and explore my new part of town–excited to actually have a part of town–but I decided to relax and soak it in instead. I'm not a smoker but enjoy a pipe or cigar on special occasions, so pulled out my guitar, lit a pipe, and sat on the front porch waving as locals wandered by like I'd been raised on the block.
FORGET ETERNAL DAMNATION, WE'RE TALKING GOOD ROUX HERE, PEOPLE
I was tired and still unsettled so considered staying in, but I'd moved here to write about the city and felt compelled to get going.  I hadn't located an Offbeat or Gambit Weekly yet (free local publications that include music listings) but knew New Orleans well enough to know where to head on a typical Tuesday night: Oak Street.  Hiding all the way Uptown, as far from the French Quarter as you can get without swimming, this street houses one of New Orlean's most popular and controversial restaurants, Jacques-Imo's, beside one of its most popular bars, The Maple Leaf, where one of its indisputably most popular groups, the Rebirth Brass Band, plays every Tuesday night.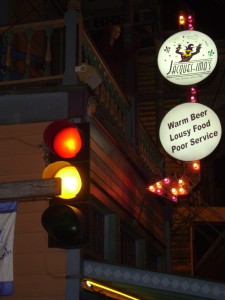 Jacques-Imo's, with its Mardi Gras-esque title, is an eclectic, loud and crowded Creole lightning rod that produces either some of the most exciting and inventive cuisine in town or the most vile, over-priced swill ever hoisted upon gullible tourists.
At the height of my pre-Katrina New Orleans obsession, I'd spent a year subscribing to a food themed message board, chowhound.com, that devoted a page to New Orleans.  This site was a resource for serious foodies to recommend places, ask questions, and swap tips.  The topic of Jacques-Imo's would invariably pop up almost weekly and always stir a fevered debate descending into name-calling, every bit as heated as contemporary religious and political squabbles.  One side was too ignorant to realize they were being conned while the other too pompous to pull the stick out of their ass and enjoy an authentic meal.  People here will argue as fervently about a good roux as the fate of their eternal soul!
My brother Jerry and I had discovered Jacques-Imo's at Jazzfest circa 1999 and it instantly became one of our favorite spots on the planet, though we only managed to return once or twice.  It has been a decade since I'd been there now and I am no longer an impressionable Cajun newbie, so I was eager to see if it held up to my more educated palate.  Would I switch teams or stay a loyalist?
AND THE VERDICT IS: WAH, WAH, WAAAAAAH
If you are in town on a Tuesday it's worth the trip to decide for yourself, but my review will have to wait for another day.  During Jazzfest the lines spilled out into Oak Street, but you expect lines during this hugely popular event.  This was a Tuesday in mid-March and yet there was still an hour or two wait for a table.  No problem.  I was planning to sit at the bar anyhow.  But the barroom was packed with waiting diners and the bar itself with people who had given up and ordered there.  It was going to be a long wait and I'd picked up an Offbeat on the way.  Dining alone in this chaos would be hell.
GOOD ENOUGH TO PLEASE DREW BREES AND MAKE CORN PORN
I pulled out my phone and noticed that Ye Olde College Inn was close by.  My buddy Marquis told me once that Drew Brees stopped by here weekly to pick up an oyster loaf (fried oyster po-boy) and the Captain, Marquis' dad,  had declared it the best oyster loaf in town. It sounded like a promising consolation prize.
When I arrived, the restaurant had cleared out and the bar was mostly empty.  I took a seat beside an old man who claimed he'd been coming here for decades. Between repeatedly leaning over to tell me he was a dirty old man, this pudgy, jolly imbiber kept hitting on the female Tulane medical student down the bar and her friend from Austria, who absorbed his bumbling advances with easy laughter.  A couple of men about my age sat in the far corner of the bar where they heckled light-hearted familiarity.  We all shared a good laugh when the geriatric Romeo asked the Austrian girl if she'd every seen a kangaroo—even if you confuse the words, how do you confuse an Austrian accent with an Australian?!  I suddenly felt like I was on an episode of Cheers.  I gradually felt at ease to join the conversation and learned one of the hecklers was the owner.  He had a flashing Cubs light in the corner, and it turns out he is a fellow fan who shows most of the games.  I promised to return, perhaps having found my local bar on my first night in town.
The half oyster loaf that I ordered was top-notch, though not distinguishable from other solid po-boys I've had; it could have been stuffed a little more heartily.  I'd order it again, but wouldn't pass by other shops solely for the sandwich.  The vegetable medley I ordered however, Maque Choux, was absolutely amazing.  In a town that tends to cook the texture and nutrition out of anything remotely healthy, the vegetables were fire roasted to perfection and bursting with flavor from a smoky seasoning blend that stumped my usually keen palate.  It consisted of corn cut fresh from the cob and blended with sharp cut green beans, mushrooms, cherry tomatoes, and brussel sprout leaves.  Fried oysters are one of my favorite guilty pleasures, yet I could have happily settled for a plate full of this concoction as an entrée.  The Cubs and corn were definitely enough enticement to bring me back and give the oyster loaf another chance to win my loyalty.
BRASS TO THE FUTURE
Some people accuse New Orleans food, music, and culture of being stuck in the past.  There's one word to describe these people: dumb-as-dirt.  Okay, maybe that's more than one word, but to think of this city as stuck in the past is to not understand the city at all.  New Orleans cherishes and celebrates its past. It references and resurrects it on a daily basis.  But what keeps this city vibrant is how it constantly moves forward without losing its heritage, incorporating and updating it rather than destroying it.  Actually, I've heard foreign friends criticize the U.S. because we are constantly plowing under the past for new growth, and this criticism rings more true.  Perhaps this is why some critics can't wrap their minds around a place that is able to innovate and renovate without total deconstruction.
A good example of carrying the past into the future can be seen in the modern marching brass bands.  Traditional marching brass bands have for over a century played old jazz arrangements such as "Just a Closer Walk With Thee" and "When the Saints Go Marching In" in second lines and jazz funerals.  In the 70's a group of kids who grew up in this tradition adopted the name The Dirty Dozen Brass Band and began expanding this sound to incorporate R&B and funk rhythms, and later rap and hip-hop.  They soon became the first and only marching brass band to score a top ten hit, "My Feet Can't Fail Me Now," and in the eighties inspired their greatest protégé's, the Rebirth Brass Band, who became the first and only brass band to win a Grammy last year.
BACK WHEN MOSES CROSSED THE DELAWARE
Rebirth, which was co-founded by Kermit Ruffins who would leave to become arguably the city's greatest musical ambassador, has been filling the tiny Maple Leaf Bar with their big, bold, hip and funky originals and reworkings of standards since Moses crossed the Delaware to give George Washington Marilyn Monroe's digits.  It's a long standing gig, missed only when they're on the road.
Rebirth is definitely in my local 'Top 5,' with Dirty Dozen not far behind, but I haven't caught them at their home base in a decade.  Around that time I'd bought their "Live at the Maple Leaf" album and the liner notes author spoke of how on your average Tuesday night music loving locals and a few hip tourists could be found dancing at the Maple Leaf, and when I had last been there was plenty of room on the dance floor.  There would be no dancing tonight, however.  Rebirth's popularity has exploded between their Treme' exposure, the city's own Rebirth, and winning a Grammy.  The place was packed all the way to the back courtyard.
Even in college I wasn't a night owl, and the downside of this gig is its 11p.m. start time.  It had been a long day and I was settling in so I only stayed for the first set, but the fault was not the bands.  They were busy bringing their typical energy to a joyous crowd that couldn't help but to wiggle their closely-confined tails to classics such as local brass band favorite "(I Used To Love Her, But It's) All Over Now," and a funked up version of Duke Ellington's elegant "Caravan."
Thanks to Dirty Dozen and Rebirth, you will run into brass bands all over town now, sometimes literally in the middle of the street, blaring out modern, danceable updates of traditional tunes and contemporary pop.  This melding of old and new is what makes New Orleans great, and while there are many great bands carrying on this mission, no one does it better than the originals.  So if you're new to town on a Tuesday night and don't know what to do, head out to Oak Street for dinner and (sorta) dancing.  Just plan on getting there early and staying late!