IT'S MIDNIGHT AND I'M NOT A FAMOUS PIRATE YET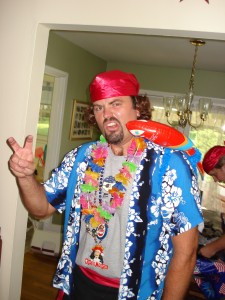 Well here I sit looking back on it all. One of my rationalizations for quitting my job and embarking on this adventure was to take a mulligan on my literary dreams and ambitions as forty approached. Now that it has arrived, I can't help but reflect upon all that's led me to this point.
My favorite song has long been "A Pirate Looks at Forty," and back when I lived in Virginia and attended Buffett shows three times a summer I'd dress like a pirate and stroll around with my guitar during the tailgating, which was as much the draw as the show. Soon I was recognized as simply 'The Pirate' by the returning faithful and pirate imitators started springing up in the Virginia/Maryland/North Carolina triangle. Yes, of all the crazy costumes at this annual bacchanalia I was the original pirate. Never, though, did it seem possible that someday I'd actually be that pirate looking at 40, and much like the subject of that song—a real Buffett compatriot in those early Key West days, not some escapist fictional conjuring—I feel like a man meant for another era floating outside the mainstream rather than marking the years with those typical adult mile-markers: wife, kids, promotion, retirement, regret.
Perhaps I don't feel 40 because I reinvent myself every decade. In my twenties I was a student and teacher of English literature and composition. In my thirties, I became a healthcare student and professional, and everyone laughed when I told them I was going from a Master's in American Literature to one in Occupational Therapy. You can read the about how working at a summer camp led to this paradigm shift in the blog's WHO section, yet the grand irony is that, a decade after endlessly explaining that radical departure until I wanted to scream, I've spent 2013 trying to endlessly explain how one leaves a career in Occupational Therapy to be a writer. The wonderful and numerous friends I've made over the past decade never knew me in that past life, and thus are equally perplexed by what seems a radical departure. To me, though, it seems an inevitability.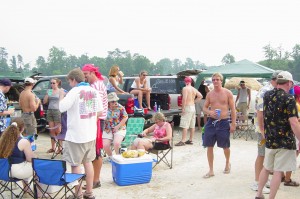 So here I am, reinventing myself again for a new decade. English teacher. Occupational Therapist. Famous author and blogger . . . okay, maybe I'm getting ahead of myself. This pirate is looking forty square in the eyes but success is still very much in question, bringing another Buffett song to mind: "It's Midnight and I'm Not Famous Yet!"
BACK TO THE FUTURE . . . JUST NOT NOW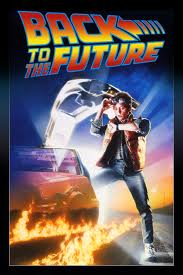 I thought I'd be securely settled in New Orleans by the time this landmark hit, but, if you've been following at home, things just started settling down in recent weeks. I am greatly heartened, though. I've met some prominent authors, initiated a great circle of literate and talented friends for Red Beans on Monday, stumbled on a voluntary editor for my novel with New York connections and experience who believes in the project whole-heartedly, joined the small DIY Krewe of Chewbacchus, and finally received interest from a major krewe parading Mardi Gras weekend, though I'll hold off on details to see if it works out. I'm also doing well cataloguing New Orleans Tourist Attractions, and soon plan to add articles on NOLA Brewery Tour, Audubon Zoo, and the Aquarium of the Americas. During summer's lull and turmoil I slipped to posting twice and sometimes once a week, but things are about to get busy. But that's all in the future. This post is all about looking back.
A KEY DREAM DEFERRED
My original plan was to turn 40 in Key West in true Buffett fashion, drive back to Jacksonville to celebrate with the fr-amily I've been blessed with there, and then drive north to visit friends and family in the Virginias while enjoying the autumn which I've missed since moving south. Chewbacchus, though, is having an all day Mardi Gras prep season kickoff party next weekend, so since documenting the experiene of joining a Krewe is the primary mission of this blog, I amended my plans. Instead I decided to bring the Keys to Jax with a Pirate Looks at Forty party—one last hurrah before clearing out my Florida condo.
Of course, this plan couldn't unfold without a story!
A SURPRISE BIRTHDAY PART-ING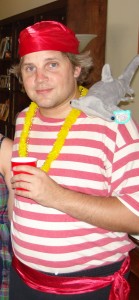 A close college friend moved to Pensacola last month and has been asking me to visit. I texted last week saying I was driving to Jacksonville on Thursday but could leave Wednesday night after The Soul Rebels' show at Harvest the Music if he wanted, stopping over for the night. We wouldn't have long to visit but he seemed game, though I had to ask for the address several times.
Usually birthdays don't faze me. It's just another day and another number. Turning forty, though, especially considering my non-traditional and rootless route, has triggered major reminiscence. Heck, I took the whole year off to reflect! Many have accused me of having a midlife crisis, but I prefer to think of it as a midlife correction. You only get one chance to be who you aspire to be (unless, of course, you're Hindu) so I'd rather be accused of having a meltdown than of giving up or, worse, never trying.
Thus, I was in a mellow and thoughtful mood as I left New Orleans feeling strangely invigorated. From my college years into my early thirties I used to love to just roll down the windows and drive, often till the sun came up, aiming for some random destination while losing myself in favorite albums. Somewhere along the way, though, driving became more a chore than an escape. I still make the 9-hour drive between Florida and Louisiana about once a month and often drive to the Virginias, so I haven't totally abandoned the habit—I just don't get that sublime thrill of the road that in my youth keeps me driving till dawn. Podcasts now pass the time where the Beatles once transcended it.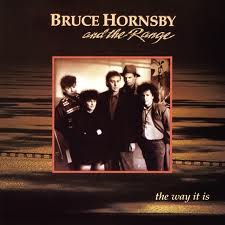 Driving down I-10 on Wednesday, though, contemplating my age ironically made me feel young again and I thrilled to some of the albums that once inspired me so richly: Don Henley, The End of Innocence, Bruce Hornsby & the Range, The Way It Is, Icehouse, Man of Colours, and Survivor, Vital Signs. As I approached Pensecola at 10:30 I didn't want to stop.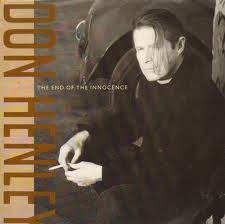 As I neared, though, my friend, who had been cryptic from the start, raced out to me meet me somewhere off the interstate, despite my assurance I could find his place with GPS. I had already passed his chosen exit, so after some backtracking we met at a Ruby Tuesdays for drinks.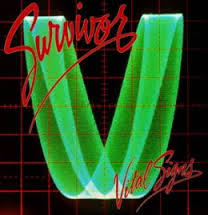 We embraced heartily in the parking lot like long absent but dear friend do, and then found the bar and ordered a round of beer while we caught up on life. It turns out it was two-for-one, so the bartender soon brought a second round without us asking. My friend's parents live in Jacksonville, so as I sipped my second beer I inquired if he'd been over to visit. "Yes," he said, "last weekend." He paused and shook his head. "Man, I don't envy you your drive."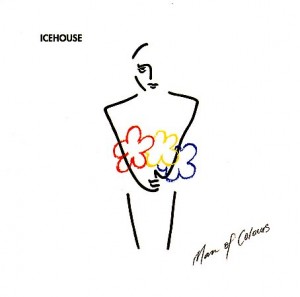 I did a double take. "It shouldn't be so bad in the morning. I'm used to doing it all in one day." Now he flinched. "Oh, did you need a place to crash?" I grinned awkwardly and admitted I'd hoped to crash with him. He apologized and said he was renting a room from someone who slept lightly and had a rambunctious dog. He didn't have a couch to offer. I just shrugged and said "I guess I'll get a room," thinking that the request had been implied but reminding myself to always be clear! I only wished I wouldn't have lost an hour and a half and drank two beers!!!
WHERE THE SUN ALWAYS SHINES…BEHIND THE CLOUDS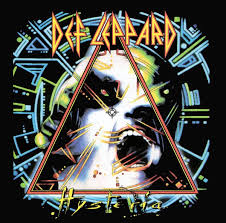 Realizing I had more driving ahead, I quickly settled up and said my goodbyes, laughing to myself and chalking it up to yet another unexpected adventure. I slid back onto I-10, and as midnight slipped away I slipped into my adolescence with Def Leppard, Hysteria, Toto IV, and Genesis, Invisible Touch.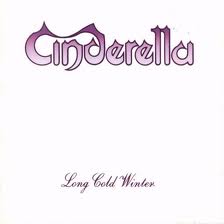 A couple of hours later I was feeling drowsy so pulled over, expecting to pay $40 for a room at 3 in the morning (I'd lost an hour changing time zones). Instead, the night attendant wanted $65 and dropped only ten with negation. The haggling simply rejuvenated me. I was just outside of Tallahassee and could be in Jax in three hours if I didn't stop. The magic had worn off the drive a bit as the night wore on, but, in my decade in Jacksonville I'd made it to the beach for only one sunrise and it had been obscured by clouds. The prospect of driving all night with a random mission—catch the sunrise—like in days gone by rekindled my youthful exuberance.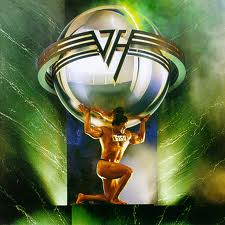 There comes a time when you shed drowsiness like yesterday's clothes and Tears for Fears, Songs from the Big Chair, Mr. Mister, Welcome to the Real World, Cinderella, Long Cold Winter, and Van Halen, 5150 guided me home. It was thrilling seeing the Main Street Bridge glowing blue in the dark night as I passed through downtown, and I drove straight to the beach where I stopped at McDonald's for a pit stop and decaf. It's easy to find oceanfront parking at 6.a.m and I took my guitar and coffee out on the beach as light started slowly bleeding in.
Behind the clouds.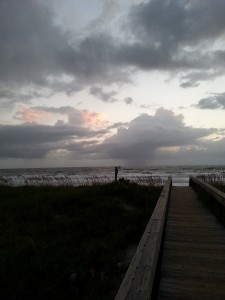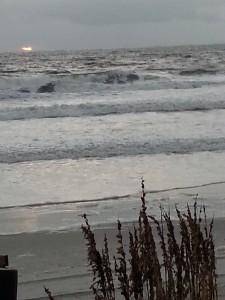 Again, I could only shake my head and laugh, wondering if there is ever a visible sunrise in Jacksonville. I grabbed my guitar and played "A Pirate Looks at Forty" to the ocean, then headed home to sleep till noon. Now that made me feel young!
HARD AT WORK CRYING & PEEING ON DOCTORS!
After spending the rest of Thursday in that haze that always accompanies an interrupted sleep cycle, Friday was equally surreal as I attended wedding in St. Augustine where I'd met absolutely no one except my date. I've always found this weird, being intimate witness to one of the most momentous moments in two people's lives when you couldn't pick either one out of a police lineup, especially considering how so many people integral to their lives don't make it. I'm always tempted to offer calling their aunt or college roommate and tell them how their wedding was!
Saturday, though, the real festivities kicked in and I spent the day preparing for my Pirate Looks at Forty party, though not with much vigor. I'd been on a productive streak since moving into my new Uptown digs, but now was falling victim of birthday entitlement. How is it that we've come to feel the right to be worthless and pampered one day a year because our mothers did something extremely painful and seemingly physically impossible while we just cried and peed on the doctor?! Yep. I earned this!
STICKING YOUR PIRATE BOOT IN YOUR MOUTH . . . OR SOMEWHERE ELSE?!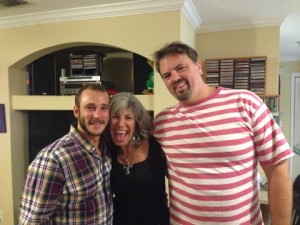 As I put on my Buffett concert/Mardi Gras pirate gear, I worried no one would play along with my silly gag. Suddenly I didn't feel like having a party and began to contemplate how childish it was to roll over the hill dressed as such. Malaise replaced entitlement, and when only two people showed up the first hour, I anticipated disaster. However, folks finally started trickling in, and most of them not only dressed up but put a bit of gusto into it. Two other dear friends arrived late after very long days, he getting off work at 9:00 and driving straight to the airport to pick her up at 10:00 from a business trip. How can you not be inspired by party troopers like that?!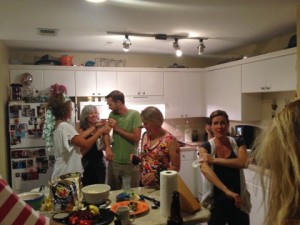 Thus, the party picked up late and meandered into the early morning hours. Being surrounded by such caring and hilarious people sent my spirits soaring again and led me to conclude if you're going to turn forty while jobless, childless, and never married, you might as well be dressed like a pirate, damn it!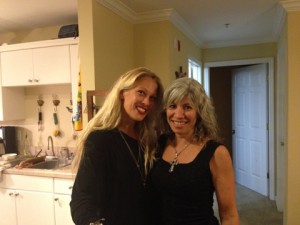 And somewhere during these late hours, although I've become careful with age about overindulging, I apparently got a wee bit tipsy. When my professor friend asked how it felt to turn 40, I said I'd been feeling 'reflectful' lately. Everyone loves to call the writer on making up words, I tried to recover, blurting out: "You know, like a mirror. I can see everyone in this room in me tonight!"
Yikes!
They warn you about drinking and driving, but sometimes drinking and pontificating can be just as dangerous. Time to put this pirate down!
ANGELS DOUBLE TAKE & RUNNERS LOVE CAKE
The festivities continued Sunday when I thought I was being treated to a birthday dinner by my wedding date. When we arrived at North Beach Fish Camp, the lady at counter said there was a twenty-minute wait, but my friend walked over to a table like she owned the place. As I followed, feeling a little puzzled, I spied Janae, the speech therapist from team I used manage, and thought: 'She's always out somewhere.' Suddenly Zach, the husband of the physical therapist from my crew, was in my face shaking my hand and it took a minute for me to realize that I'd walked into a surprise dinner with my former therapy team. It's funny how a surprise party leaves you embarrassed for a split second, but I was thrilled to see 'Eric's Angels,' as they dubbed themselves, for the first time since the going away party I blogged about in my opening posts. It was another amazing evening.
Being surrounded by such love certainly dulls the pain of realizing you've been out of college now for almost half your life, and tonight, on my actual birthday, the pirate tour concluded at Brucci's, the pizza joint my 'running group' friends have visited every Tuesday night since before I moved to Florida in August 2003! I won't tell the story about how I wound up in Jacksonville that summer (though some people claim there's a woman to blame), but after a contentious break-up I likely would have moved back to Virginia if I hadn't made such wonderful friends, many of whom were there Saturday night.
As per tradition (these are runners love any excuse for a cake) they trotted out a birthday cake, and I had to laugh when I saw my face superimposed on Captain Jack Sparrow's. No one can say I can't carry through with a theme! Now my face has long since been devoured. It's midnight and I'm still not famous yet, though I'm not about to give up now. In fact, things are just about to kick into high gear. We celebrate these milestones to give us pause to look back, but then it's time to barrel forward once again. Somewhere in the background I can almost hear the director's cue: "Eric's Twenties . . . Take three!!!"