SUPERMAN, MEET WONDER (& WEIRDNESS) WOMAN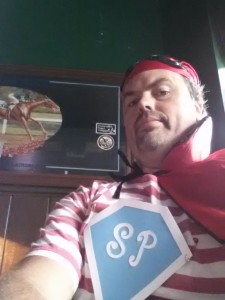 It's been a busy three weeks since my birthday though not much of this wonder and weirdness has coalesced into blog posts. Tonight, though, I finally met my Morpheus mates at Rock-n-Bowl and I'm excited for the true kick off to My Year of Mardi Gras (though that's how I felt about the Chewbacchus kickoff that turned out to be somewhat of a dud). In between turning 20 for the third time and tonight's Mardi Gras meet-up, I did have a weekend that seemed to encompass all the wonder and weirdness that makes New Orleans such a unique city all in one compact weekend. In fact, if this sensuous city had a an alter ego, it's be Wonder & Weirdness Woman.
SUPER PIRATES & ADULT UNDEROOS
It's always more natural to shirk productivity and explore your own town when you have a visitor. This was the case the weekend before last when my college friend Mike drove in from Pensacola. We have roots deeper than a bayou Cypress so when he apologized about our miscommunication during my pre-birthday stop in Pensacola I just laughed it off. It was just a catalyst for an unanticipated adventure, and I'll always associate that all night drive to an obscured beach sunrise with this landmark birthday.
Mike arrived too late Friday night for two old farts to head out, so we stayed up late chatting.  Saturday, after a late start and amazing breakfast at the famous Camellia Grill, one of the best 'greasy spoons' in the nation where the fast talking waiters are as much a draw as the canoe-sized omelets, we set off on a frantic mission. My writer and LSU professor friend Chris had for years shared pictures of the annual Super Hero Bar Crawl that one of his best friends hosts on his birthday, and now that I'm in town had sent me an evite which I managed to not read until Thursday night. A Super Hero Bar Crawl is what it sounds like: Everyone dresses like super heroes and bar hops around New Orleans. In other cities you might think twice about this, but this is a city where weirdness is expected, not rejected. But when I finally realized the crawl was Saturday I panicked. I had little time to get together a costume!
After sorting through multiple ideas unsuccessfully we ended up at Wal-Mart. Mike bought a Superman t-shirt with a lame cape that was barely a step above Underoos. The irony was in the understatement! Out of quick ideas, I bought a cape and goggles (the latter I would greatly regret–I don't embarrass easy but untagged all the S.P. pictures that popped up on Facebook!) as well as art supplies to make a Superman shield labeled S.P. Yes, Eric the Pirate was morphing into Super Pirate! After all, though I'd never met Hayes in my life, I couldn't let him down on his birthday!
TOAST OF THE TOWN
By the time I finished my costume it was already 2:30. A chartered bus was supposed to leave Balcony Bar at 3p.m. and it was a quarter till when we found a parking space in the Garden District a few blocks off Magazine. It was a beautiful sunny afternoon four weeks from Halloween and the bars were packed with college football fans. As I stepped out of my truck in pirate costume and cape, three athletic young men and someone's girlfriend walked past. In any other town, you would have gotten a sneer and probably a threat to impress the girl. Instead, one looked at my chest and said, "Super Pirate. Alright!" They all raised their to-go cups in a toast and stumbled on down the street. You've gotta  love NOLA!
BLAXPLOITATION, HEROIC CHEESE CHEFS, AND A GAGGLE OF CARE BEARS
When we arrived, a few curious people came up and asked what the occasion was but most turned back to the game as though we'd all arrived wearing plain white t's. I can't say the same for the bartender, who looked up and said, "I'm guessing you want a to-go cup." This Super Hero racial profiling will not stand!
Chris had already arrived dressed as Super Fly (you cheeky blaxploitation bastard, you) and his wife was a hero version of Girls Rock, the music camp for girls for which she founded the Baton Rouge chapter. My other LSU professor/writer friend Daren was Green Lantern, and we were introduced to Hayes, a.k.a Batman ("No Batman!" the invitation read. "I'm Batman!") and his wife, who was an effective Catwoman. I initially felt like I was cheating making up Super Pirate, but as I met a 'Government Clown,' a gaggle of Care Bears, a French inspired Captain Fromage, and 'Super Flo' of Progressive fame, I realized the definition of hero was a loose one.
THE LEGION OF DOOM STRIKES THRICE
It turns out I had arrived in plenty of time for, while one super villain was present, the Penguin, the rest of the Legion of Doom was busy trying to thwart our evening and sabotaged the engine to our charter bus. We walked to The Bulldog where we ordered a round and waited for a second bus, but it got a flat. Dastardly criminals! We ordered another round and waited for bus #3, but the Legion of Doom was relentless, and it broke down on route, so we cinched our capes and took to the air.
WHY SUPER HEROES HAVE SECRET IDENTITIES
After free samples at the Rum House where the girl working for the liquor company looked like she wanted to fly away and join us, we settled in at Tracey's, a famous Irish Channel pub that vies with nearby Parasol's for title of best roast beef po-boy in New Orleans. I'm sad to say that Parasol's sandwich in vastly superior, but we still had a great time watching college football, telling tales, and acting the fool.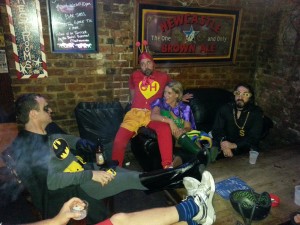 The crowd wasn't very motivated to walk, so even though the partly lasted until after 8p.m., the nearby Half Moon was our last stop. That was enough for me. I rarely drink much these days, but left Tracey's way over the tipping point, but it's hard to moderate, when you're dressed like a moron! You have to drink until your IQ matches your garb. Thus I drank a pitcher of water and hung out at Half Moon trying to sober up.
As we walked back people hooted, cheered, and took pictures. A Starbucks barista even left her post to pose with us. It was just another Saturday night in New Orleans, though when the pictures started popping up on Facebook the next day, I wanted to crawl under the cyber-bed and hide. Sometimes what happens in New Orleans, should stay in New Orleans.
SOMEWHERE—ANYWHERE—IN THE SOUTH
On Sunday, instead of being pelted by a tropical storm as predicted, the weather was even more sublime with clear skies and balmy air. ZZ Top was headlining the third and final night of the Gretna Heritage Festival across the river (the festival had been heavy on nostalgia—Earth Wind & Fire, Blood Sweat & Tears, Chicago…) and Mike was excited to go, being a music writer and blues aficionado. Local bayou blues master Tab Benoit was opening the day at 2:45, and Mike was eager to see him on his home turf after I'd turned him onto the blistering guitarist years ago. We set out early to catch the Saints game beforehand.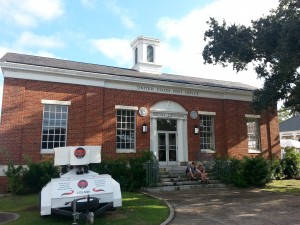 I've never crossed the bridge to the West Bank so, even though I'm told there's not much reason to, I was excited to see how the other half live. While New Orleans has a look and feel that's completely unique and unmistakable, once you cross the Mississippi you could be in any town in the American south blighted by urban sprawl. We parked at a mall and took the shuttle into tiny downtown Gretna, and town itself was quaint in that typical southern red brick way with a train on display, a few bars and restaurants, a brick post office, and a large block courthouse.
SAINTS ON THE INSIDE, SAINTS ON THE OUTSIDE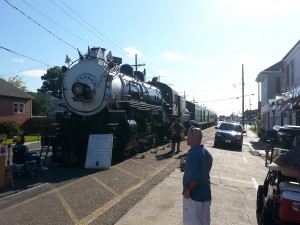 We nestled in a local pizza/Vietnamese restaurant (where else?!) to watch the game. This is the first time I've done football and spring rolls, but I've become quite addicted to Vietnamese since moving to town (I'm actually editing this post in a local Vietnamese bistro!) and enjoyed it greatly. Tab was set to go on early in the 4th quarter, though, so we walked down to the levee  where the main stage was located only to find the game playing on big screens lining the levee. A huge crowd had come early to watch.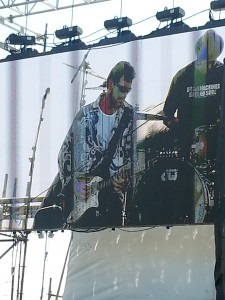 When Tab took the stage, the hanging projection screen kept the game running. Tab said he told them not to switch it off—he was a Saints fan too and didn't want to disappoint the crowd! He was mid-song several numbers into the set when the clock finally wound down on a Saints victory. The crowd erupted with applause, and he visibly flinched at the unexpected roar. When the song ended, he laughed and said: "I'm thinking either the Saints just won or you really, really liked that song. I'll take it any way I can get it though." Laughing again, he vowed that next time he encountered an apathetic crowd he was going to put up a video of something they liked, and then finished a blistering set of blues encompassing countless sounds and influences. For Mike it was a bucket list item: hearing Delta blues on the banks of the Mississippi.
Afterwards, we wandered the grounds and I found the same gumbo from Prejean's in Layfayette that made my Top Ten Foods of Jazz Fest. It was as wonderful as remembered. I caught a few minutes of local favorites such as Glenn David Andrews (Trombone Shorty's cousin) and Bag of Donuts before returning to the main stage for the Ben Miller Band. I love the roots string band revival sound, but their string bass and electrified spoons—yes, spoons run through an amp—sounded more gimmick than substance, so we retreated to a restaurant for burgers while we watched the end of that Broncos & Cowboys shootout that rang up 99 combined points! Afterwards, it was back to the levee for ZZ Top who didn't wow, but didn't disappoint. Their shows are as solid and predictable as their music: three chords, two beards, one vision. And lots of references to long-legged beautiful Texas babes.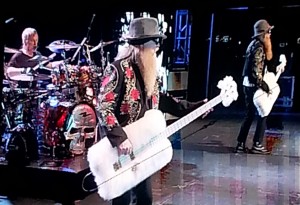 I've been to better music festivals, but this was a perfect day. I loved the mix of great music with exciting football, and the weather and food were just icing on the cake. The one thing missing was a single drink. During Jazz Fest this year I imbibed on only 1 of 7 days, having matured to realize my endurance for these marathon festivals is much better sober. Besides, after my super hero hedonism I'd had enough for a while. Feeling thus energized, we skipped the crowded bus and walked back to the truck, basking in the cool evening breeze. Although stone cold sober, I was buzzed on life. West Bank, you ain't so bad. At least not on the first weekend in October.