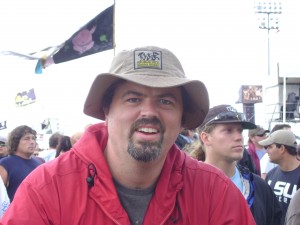 The food at the New Orleans Jazz & Heritage Festival is as much a draw as the music, especially for locals for whom much of the music is ubiquitous while this culinary collection is unique to Jazz Fest. In fact, Jazz Fest is the best restaurant in New Orleans. Standards such as the gumbo and jambalaya on this list are amongst the best I've had while favorites such as Crawfish Monica, Crawfish Bread, and Crawfish Sacks are rarely if ever seen elsewhere. Thus, I had a blast spending seven days trying new offerings, giving in to temptation to return for seconds only 3 times. Not coincidentally, these three items top my list.
I don't claim to have eaten everything at Jazz Fest–there are hundreds of options–but I kept a keen eye on what was popular with attendees, read other food blogs and articles to learn consensus favorites, and made sure I tried every uber-unique concoction as well as timeless staple. Ethnic foods such as many Asian and Caribbean options didn't hit my radar. You don't hold a clam bake on a mountain ridge or stew venison on the beach. When in Rome…. Being unique to Jazz Fest earns additional bonus points, though quality is equally important. Value, while a minor consideration, still factors in. For example, the Fried Soft-Shell Crab P0-Boy isn't outrageous at $9, but the crabs can be small and I've had better so it barely missed the list (#11?!). At $4, though, the Stuffed Artichoke will stuff you! It's a steal, leap-frogging the crab even though soft-shells are one of my favorite foods.  So whether you're a newbie looking for a place to start or a veteran looking to debate, here's my Top Ten Foods of Jazz Fest: 
10. Stuffed Artichoke
I was worried when the sign up close at the Stuffed Artichoke booth clarified 'half artichoke,' for I was hungry and get a little grumpy at small portions at big prices. No worries–they handed me hamburger-sized lump of goodness that, at $4, was definitely the bargain of Jazz Fest! The breading was moist and flavorful, rich with Italian spices, and the artichokes tender and fresh. An Italian friend said her grandmother would approve and, though not what I think of as Fest Food, it was the sleeper hit of the festival.
9. Cajun Jambalaya
My brother always used to get this and I remember it being good, but it has been at least a decade since we last attended together and memory is always suspect. Jambalaya is practically the french fries of Cajun cuisine so I was reluctant to waste precious money and appetite on something so common; I'm glad my friend insisted. There are jambalayas offered in both Food Areas I & II but we opted for the Cajun Jambalaya in Area I as it was the better looking choice. Sometimes looks aren't deceiving. This was one of the best jambalayas I've ever tasted and was my friend's #1 choice of Jazz Fest. This rendition was packed full of tender chunks of chicken and luscious andouille. Many Jambalayas end up dry and a little bland, but this was moist and richly spiced. I've tried the jambalaya in many revered restaurants, but none were as moist and succulent as this meat and rice perfection in  and a styrofoam bowl.
8. Fried Oyster Spinach Salad/Po-Boy
I had been eyeing the Fried Oyster Spinach Salad from day one but didn't get around to it until my last meal. It was quite a way to end things. I've been on a quest to find the perfect fried oyster, recently trying Dick & Jenny's, Casamento's, Ye Olde College Inn, and the Hermes Bar at Antoine's to name a few place.  These may have topped them all. They had a crisp cornbread crust that was not too greasy and were moist and meaty inside. If I had one complaint, they could have been more generous with the spinach and red onion and perhaps offered something other than ranch. The dressing complemented the salad wonderfully, but it would be nice if the oysters were the only indulgence. You'd like to think of a salad as a somewhat light option. Health concerns aside, though, it was delicious. The booth offered Fried Shrimp or Fried Oyster Po-Boys and I'm sure you can't go wrong with any option.
7. Crawfish Enchilada
Somehow I had never tried the Crawfish Enchilada but based on long lines at the booth and the tin foil trays of cheesy, saucy goodness infiltrating every corner of the fairgrounds it is a burgeoning favorite. When I finally took the hint, I found the corn tortilla to be soft, the sauce rich and tart on the tongue, and the melted cheese inside bursting with fresh crawfish flavor. What can I say? I'm a sucker for spicy, melted cheese mixed with crawfish (see below!) and ethnic mash-ups that put a new spin on Cajun cuisine. I'm sure you can find similar options outside Jazz Fest, but this Mexicajun treat hits the right note when paired the spicy musical mash-up pervading the fairgrounds.
6. Crawfish Monica
Crawfish Monica is the most popular and famous food offering at Jazz Fest. Its booth sets around the corner from Food Area II to give the perpetually long lines a space of their own, as this tempting, unique Jazz Fest staple seduces all onlookers with its creamy orange pasta spirals loaded with plump crawfish tails. Walk around with a bowl and inevitably some newbie will stop you and ask, "What is that and where do I get it?" It's nothing complex, just some Cajun spices with plump, fresh crawfish tails in a cream sauce, but it blends together perfectly. I do remember being more wild about it in the past, though, and have read elsewhere that the quality has decreased as popularity has increased, applying the pressure of mass production. In its heyday this may very well have topped my list but, even if it's not what it once was, it's still worth a try.
5. Pheasant, Quail, & Andouille Gumbo
I'm always reluctant to order gumbo because I'm nearly always disappointed.  Gumbo is the one thing that I cook–hell, probably the one thing I do period–that I feel I do better than anyone else, though I keep waiting to be bested. I know it sounds crazy, but I've had at least a dozen people from Louisiana tell me I'm nuts only to be won over when they try a batch. Fortunately, I was still a little hungry after my Fried Soft-Shell Crab Po-Boy so decided that the Pheasant, Quail, and Andouille Gumbo sounded decadent enough to serve as a worthy side. Instead, it stole the show. This is one of the best servings this gumbo snob has ever tried, ranking up there with Mr. B's as second to my own endeavors. The fowl was sweet and tender and the sausage as rich and decadent as you could desire. The roux was a rich blend of complex spicing and smokey flavor that improved and unfolded with every spoonful. Well played.
4. Crawfish Bread
If 'keep it simple, stupid' were a culinary call-to-arms, Crawfish Bread would be its Field General. Because of its simplicity, Crawfish Bread is the 'love it or hate it' hit of Jazz Fest. As I said earlier, though, I'm a sucker for fresh, plump crawfish tails spiced up and mixed with cheesy goodness, and I look forward to my serving every year. The key, though, is a soft, crusty loaf that is closer to Cuban bread than the local styrofoam-esque Po-Boy rolls. This excellent bread is pressed and stuffed with spices, cheese, and crawfish and allowed to steam in aluminum foil all day until the whole gooey mess congeals into an unstable lava flow of decadence. It's a Fest Food Favorite seldom seen outside the fairgrounds and I've overheard people at music festivals throughout the southeast wax whimsical, wishing it were offered by the cheap and greasy vendors.
3. Trout Baquet
In the past I had always overlooked the small food area tucked beside the Blues Tent, but the unheard of chilly, wet weather had me craving soup so I went for the Crawfish Bisque I'd spied there. As I stood in line, though, I observed that most people in line were buying some amazing fish filet topped with lump crab meat. The vendor offered a combo was $12, so I decided to do both. The bisque was solid and satisfying but the Trout Baquet, blew me away (and that phrase rhymes if you're wondering about pronunciation!) I grew up in West Virginia thinking there were only three types of edible fish–trout, bass, and catfish–and trout was by far the king, though the filets were always slight and bony. I know the unique flavor of trout, though, and these monstrous imposter filets turned out to truly be fresh and perfectly prepared trout. This is no Weight Watches option, though. The plate comes swimming in butter from a perfect crust that breaks to reveal white, moist and flaky flesh. As if not perfect enough, a dab of fresh, sweet crab meat tops it off. I met people in line who return for it every year but I couldn't wait that long, coming back for seconds on the last day of Jazz Fest 2013!
2. Cochon De Lait Po-Boy
For years I've known the Cochon De Lait Po-Boy tops a lion's share of best-of lists, but never wanted to waste money and dining opportunities on a mere pork sandwich, in the past having only attended one weekend. This year I was freed up by two weekends of attendance and a blogger's curiosity so I finally gave in and learned the error of my ways. I had just a week earlier tried the Cochon at the trendy restaurant by the same name, (this Cajun pork preparation involves roasting a suckling pig over a pit and then forming it into patties that are pan seared) and didn't find it too far removed from traditional southern pulled pork. I don't know if it was the magical setting, the soft French bread, or the sweet, mustardy bed of slaw, though, but the Cochon De Lait Po-boy was love at first bite as the vendor's name promises! It was succulent, juicy, flavorful and spilling out of the loaf, transforming a mere pork sandwich into a tempting siren song of swine flesh. Oh, what a fool I have been, ignoring your coos and whispers all these years.

1. Crawfish Sack, Oyster Pattie, & Crawfish Beignet Combo

It's almost cheating lumping these savories together but nearly everyone gets them as a combo and, like a great band, their different styles blend perfectly to rule the fairgrounds.  There is definitely an element of cheesy Cajun tourism in this dish. This seems like a concoction created to make tourists think of New Orleans rather than something people in New Orleans would regularly eat. I've never seen anything similar in town. But, hey, if all tourist traps were executed this well I'd move to Disney World! If forced to choose one option, the Crawfish Sack would stand out as the lead singer, grabbing your attention with its rich stuffing synched in a filo wrapper by a strand of red onion and flash fried. The stuffing is spicy, moist, and imbued with salty-sweet crawfish flavor that conjures up images of a Louisiana bayou. The Oyster Pattie comes in a strong second on lead guitar with its rich, herb-infused oyster stew nestled inside what appears to be a hollowed out biscuit but is actually a pastry of filo flakiness. Finally, the Crawfish Beignets, drowned in a spicy remoulade, serve as the underappreciated bass player holding a steady beat. They have a crispy crust and spicy, moist interior, and would be called fritters or hush puppies elsewhere. And they would be delicious anywhere. My seconds nearly turned to thirds as I later revisited this unique Jazz Fest trio that always draws me back.
There you have it. If you've never attended this wonderful event, I hope I've tempted you just a bit. And if you have been and disagree, leave a comment. Long live debate!