THE MOST FRIGHTENING THING OF ALL
Halloween has long been my favorite holiday, challenged only when I first came to New Orleans just prior to the turn of the millennium to become a Mardi Gras maniac. Christmas is the sentimental standard-bearer in most of American culture, but I've always said that Christmas is for kids, whereas Halloween is for adults to act like kids. Since I don't have children to help keep my Christmas spirit alive, Halloween wins in a landslide. Still, as I wrote in my last post about the Audubon Aquarium, as much as I nurture my inner child and fight becoming curmudgeon, it's difficult not to lose some to the wonder of the seasonal celebrations that hold so much meaning in my life. Perhaps that's why I hold on so fiercely, afraid that if I lose my attachment to that seasonal rhythm that I'll fade into yet another uninspired drone drifting towards death.
This year in particular, though, is my chance to rekindle the wonder since New Orleans is not only Mardi Gras central but a top worldwide Halloween destination with a history steeped in voodoo and haunts. The weekend before Halloween is as big as the holiday itself, and I had the chance to not only see the holiday but the city itself anew through the eyes of a child . . . err, teenage; after all, what can be more frightening than entertaining a moody teen?!
THRILLA AT THE CAMELLIA (OR CHILL AT GRILL)
Each time she visits, my friend Aimee brings back a Mardi Gras mask for her 13-year-old daughter, Gabrielle, to hang on her bedroom wall. This sparked a growing curiosity with New Orleans so she asked to come along on a visit; thus, they both arrived in town late Thursday night to catch the Krewe of Boo parade Saturday night. This was Gabrielle's first time in the city and she was very excited . . . or so I hear. She was fast asleep that night upon arrival, and, being a teen, slept late into Friday morning.
Upon waking I decided to take her to the previously mentioned Camellia Grill where the jiving waiters are as much a draw as the food. There's always a wait at this spot on Carrollton near St. Charles that is equally beloved by locals and tourists, and when we took our seat, the waiter came over and introduced himself though we all promptly forgot his name. As he laid out menus though, I said: "I brought you two newbies. This is Aimee's first meal at Camellia Grill and Gabrielle's first meal in New Orleans."
The waiter instantly swung around and grabbed a plate, slapping on gumbo, rice, and red beans, then plopped it in front of Gabrielle. "Here you go beautiful, if this is your first real meal you gotta do it right." Her face lit up as she dug in, raving over every bite. As we chatted, he did a double take to learn Gabrielle's name and age. "I have a 13-year-old son named Gabriel."
We all tried the 'Welcome to New Orleans' platter and were blown away. In my quest for perfect gumbo and red beans, both of these climb near the top of the list. The gumbo was rich and spicy, with an earthy flavor and thick roux like I prefer, while the red beans were creamy and smoky with just enough of a lingering aftertaste. When our waiter returned to tease and flatter Gabrielle he steered her to the muffaletta, which she also devoured. I'm a Central Market purist, but have to admit that this hot version served po-boy style was near perfection. I usually get breakfast here (though that is about to change after trying that gumbo and red beans!) so ordered the excellent Manhattan Omelet with corned beef and Swiss while my friend ordered their famous pecan waffle.
During his frequent stops to chat, we learned our waiter was a bass player who gigged with several local bands. He explained how no one notices the drummer and bass player, though they're the truly cool people in the band, with guitar players and singers being notoriously egotistical and difficult. Later, when Aimee asked his name again, the threw up his hands and stormed away. "See! No one remembers the bass player!" As we laughed and coaxed him back, he gave her three guesses. "Phil," Aimee said. "Close." After a second guess that was way out in left field, Gabrielle shouted, "Will!" He high-fived her enthusiastically.
THE SECOND MOST FRIGHTENING THING OF ALL
Absolutely stuffed and grinning ear-to-ear, the ladies exchanged hugs with Will and I gave him my card and told him to email, then we headed out into a sublime October afternoon.
"I love Will," Gabrielle said as we drove to the French Quarter where the ladies shopped me into submission, wandering the shops and French Market until I couldn't stare at another mask or piece of sterling jewelry. It's quite a frightening proposition, mother and daughter in full shopping mode, but finally they relented for beignets at Cafe Du Monde. After this practically legally obligated stop for first time tourists, we wandered in an army surplus and costume store were I found an awesome purple pirate coat to take my pirate persona to a whole new level, so everyone wins!
TRUTH IN ADVERTISING—NOT!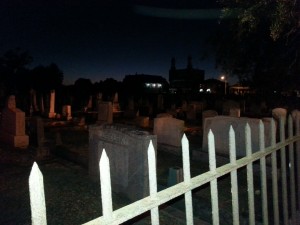 Arriving back home as evening approached, Aimee asked me to warm up some of my gumbo as the ladies changed. Gabrielle had two bowls, which made her mom laugh since pre-Will she claimed to hate the stuff. Dressed and refueled, we then headed to The Mortuary, a nationally featured haunted house on Canal Street. This two-story Victorian beauty bordering a large, creepy graveyard actually used to be a mortuary, and it turned out to be a perfect setting for the walking dead as this year's theme was 'Zombie Outbreak.' Soldiers were out front warning us to stay away  but the long line  refused to leave.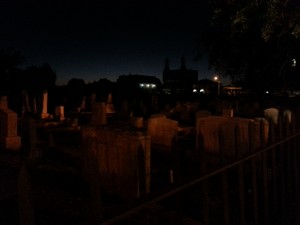 We had a lane reserved at 9:30 at Rock-n-Bowl (Gabrielle was excited to bowl and Aimee and I to see bayou blues great Tab Benoit, so it was a win-win), so needed to go through the express line which cost $35 a person. However, I noticed on the website that if a person gives blood, the get a free express pass along with 3 friends. For over $100 in savings, Aimee had no hesitation  volunteering, and fortunately so since I'm a huge coward when it comes to needles. My mother was a lab technologist and took our blood growing up every time we got the sniffles, thus all my siblings developed a phobia of needles. If we were sick and needed to miss school, mom drew blood. I never missed. At least once, though, I nearly passed out while in her clinic for routine blood work and had to be revived with smelling salts. Thus, I've never donated blood, though not so much because I'm afraid of needles, but because I'm afraid of passing out in a room full of young nurses.
I was feeling quite relaxed snapping pictures of the cemetery as my friend disappeared onto the bloodmobile, but after a while  Gabrielle, who was too young to donate but was waiting with her mom, walked out to inform me that only the person giving blood got a free pass. The three friends mentioned on the website could merely go with you through the express line for normal admission price. Gulp.
THE THIRD SCARIEST THING OF ALL (WHO NEEDS VAMPIRES?!)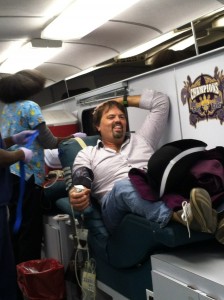 Gabrielle dragged me in by the arm as my face went blank, and a young nurse laughed at my dread as she led me into a small exam room. "But you look so big and brave standing out there dressed like a pirate." Thanks.
As I reported good health and safe behavior to 3 pages worth of questions, displaying normal blood pressure and pulse, the nurse kept laughing. "I keep giving you an out, and you don't take it." By the time I was reclined and ready to be drained like fang banger on True Blood, everyone in the bloodmobile, all women of course, had learned of my phobia and were watching to see if I passed out. I must have looked mortified based on the reactions, for Aimee chuckled as Gabrielle snapped pictures; the other donors just bragged of how relaxed they were. Somehow, though, I managed to stay conscious through a quick five-minute bloodletting. One lady who'd been reclined since before I was dragged onto the bus was still being drained. "I've got to quit being so relaxed," she said. "That's about the fastest I've ever seen anyone give a pint." My heart must have been pounding!
ZOMBIES, SMOMBIES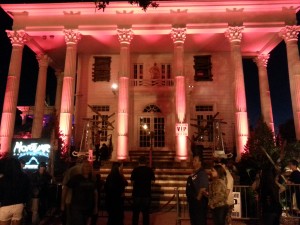 After my bout with vampires in scrubs, the haunted house itself was no big deal, though I did get a little satisfaction as we went through with the other taunting donors who jumped, screamed, and fled as well-costumed actors jumped out at all the right times. I mostly laughed as they screamed, but in the end it wasn't enough to reclaim my manliness for the night.
Still, it was well worth the bloodletting. I used to do such haunted houses all the time as a teen, and returning to one was a nostalgic romp. This old mortuary complete with a basement that would be creepy even without decoration was the perfect setting, and a few ingeniously constructed tight squeezes even creeped me out. It's not the best I've ever visited, but well done and worth the visit if you're into such things.
SCARIER THAN A BOWLING BLUESMAN IN A COMEDY CLUB
Afterwards Rock-n-Bowl proved to be a perfect way to cap the night. This unique New Orleans institution is a local favorite, and it was a blast to catch a master bayou blues guitarist like Tab Benoit while bowling (although my score might have been fourth most frightening thing of the night!)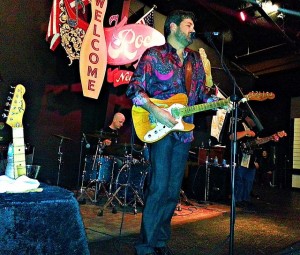 Always relaxed and joking with the audience, Tab told stories between songs about growing up in bowling alleys and seemed genuinely thrilled to play a show here. Throughout the night he kept commenting on how cool it was to play while people bowled in the background. He also admitted that the most frightening thing he'd ever done was stand up comedy. "I should have brought my guitar. It seems to make me seem funnier!"
Despite the bowling, quite a crowd gathered at the stage, and once our hour on the lane was up the grownups joined in while Gabrielle passed out on a bench, largely unimpressed. Nevertheless, she'd been wide-eyed and overjoyed all day long, from Camellia Grill to the French Quarter, and it rejuvenated me to experience to city again through new eyes. And outlasting a teenager, well, that definitely made me feel young again. So when she woke up and pointed to the door with a look of annoyance, I just laughed and teased that she couldn't hang with the old folks. And we were even running a pint low!