IF I'VE TOLD YOU ONCE . . .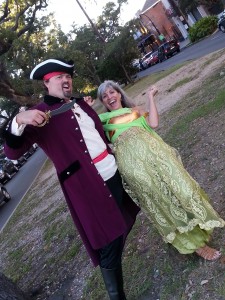 Growing up, I often remember my parents saying: "If I've told you once, I've told you a thousand times . . ." before reiterating some life lesson. Well, New Orleans might as well just come out and say, "If I've told you once, I've told you a thousand times, you can't plan things in this city, you just have to let the magic come to you."
And Friday had been a magical day with Camellia Grill being an experience my 13-year-old guest will long remember, later followed by an unexpected to bloodletting to add a little real life fright to our night. The day had been more sublime than I could have hoped to engineer, but Saturday I wasn't leaving things to chance. I had our night at the big Krewe of Boo parade planned out perfectly.
I should have known I was screwed.
7 HOURS—NOW THAT'S SOME WELL-FRIED CHICKEN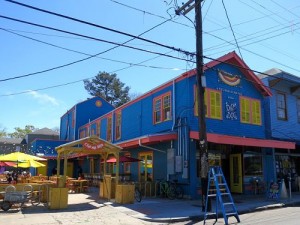 After breakfast at home and a trip down the funky shops on Magazine Street to round out our costumes, I took my guests to Dat Dog, which serves perhaps the best sausage I've ever had. You can get a traditional gourmet hotdog or German Bratwurst, but choices include hot, locally smoked, crawfish, turkducken, Slovenian (?!?), alligator, and other crazy varieties of sausage you've never heard of, and the toppings are equally as plentiful and surprising. Aimee was admittedly not a huge fan going in, but her daughter was excited when I suggested the place, yet, though the crawfish dog I had on a perfect sourdough bun was decadently scrumptious, both ladies were unimpressed.
Never fear: I had the rest of the day set.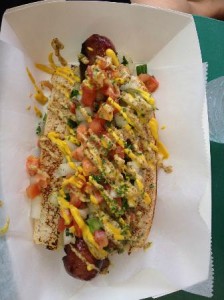 We returned home where I loaded a folding table, chairs, coolers, and all the necessary sundries for a picnic in the neutral ground Mardi Gras style and had called Fiorelli's to order red beans and their 'famous fried chicken' earlier that morning. You see, during my summer in the French Quarter Fiorelli's was visible directly below my balcony and every time I walked out the first thing that always caught my eye was their painted door bragging "Famous Fried Chicken." Despite being assured by locals that it was quite good, I never made it across the road. Fried chicken and red beans from Popeye's, though, is the prototypical take-out for those without time or talent to cook before Mardi Gras parades, I figured this would be a perfect twist on tradition. Surely seven hours was enough advance notice.
THE FAUX PAUS OF BEING A POLITE PURPLE PIRATE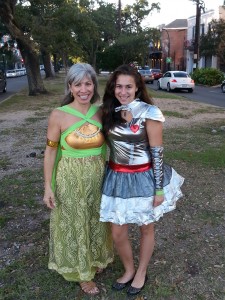 I'd arranged to meet some friends with kids at the foot of Esplanade in the neutral ground (grassy area between lanes) before the parade, which was set to start at dusk/6:30. We arrived at 4:30 and dumped our stuff in the neutral ground by where the parade would past. As Gabrielle and Aimee set up, I drove back up Esplanade and parked beyond the French Quarter. Dressed in full pirate garb, I then hopped on my bike and rode back, taking a little detour through the Quarter and down Frenchmen because the weather was too sublime to pass up the chance to stretch my legs.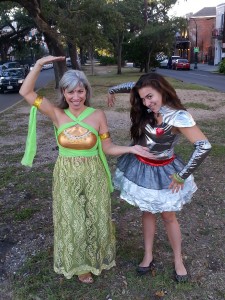 Daren, one of my LSU English professor friends, had arrived with his two children by the time I returned, and his young Mario was a particular hit with passer's by. The beauty of meeting friends was that we could take rotations watching the spot while others peeked into the shops on Decatur filled with fascinating Halloween props and costumes.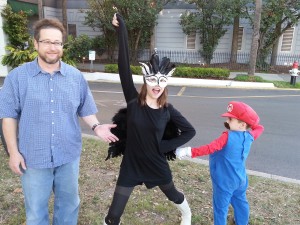 Aimee and Gabrielle took the first foray with Claira, Daren's daughter, while I had a beer, battled with Mario, and caught up with Daren. The ladies soon return and at 5:30 I set off with Aimee and Gabrielle. Fiorelli's was only a block away and I'd put the order in for 6:00 so we hit a few shops first. I thought about stopping by on the way out and reminding them, but didn't want to appear obnoxious. Stupid pirate.
FIVE MORE FIVE MORE FIVE MORE MINUTES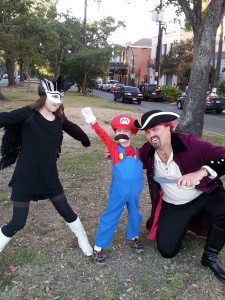 At two minutes till six we walked in and I plopped onto a barstool as the ladies retired to powder noses. The shift was changing and when I asked for Naomi who'd taken the order, the young girl too busy reconciling receipts to tend bar looked up. "That's me." When I explained who I was she looked surprised and typed something in the computer. "I'm going to be honest, a couple of people had the same idea as you but you're next in line. It's going to be about fifteen minutes." Not a damn person was in the place to order anything, let alone pick anything up, so I knew she was lying. She'd just forgot.
When the ladies returned I suggested we return later, but they shrugged and said we'd wait. I'm still kicking myself with my brand new pirate boots for not putting them down and leaving.
Fifteen minutes passed and we were told five more minutes as the new bartender came on. When I asked for a free drink while I waited, she looked disgusted but gave me a free refill of Bud Lite in the Peanuts party cup I'd carried with me. Time dragged on and five more minutes was uttered at least three more times. Aimee and I ordered a shot, and even that took forever.
Normally I would have been worried and agitated, but thought I'd learned my lesson about expecting things to function in this city and stayed relaxed. Nothing here starts on time, parades run slow, and you just can't expect timely service, so I chilled rather than storm out in a stew. It figures that the one time I show patience would be the one time it would screw us.
A PURPLE PIRATE JUST CAN'T WIN
It was at least twenty till seven when the food finally came, and when I explained to the new bartender that I'd called in before noon with a 6:00 order so we wouldn't miss the parade, her face lit with understanding. "Oh, then definitely let me give you both another drink."
As we rushed back with our chicken and free refills, I thought surely this parade would be late and move slow like EVERY FREAKING THING IN THIS CITY.
Do I even need to continue?
Poor Gabrielle, who had her heart set on catching a voodoo doll, was furious and next to tears as she rushed into the crowd while the fifth or sixth float passed . . . which means we'd missed a good half of this short parade. Aimee flashed me an angry look, and I felt like a pirate who'd lost the booty. Patient or pushy . . . a purple pirate just can't win.
WHY DON'T WE DO IT (HAVE A PARTY, THAT IS) IN THE ROAD
My friends Tom and Margaux had arrived in our absence with their daughter, and pointed out we'd missed half the parade already. They just looked disgusted when I told my story, agreeing that that's just how it goes in this town.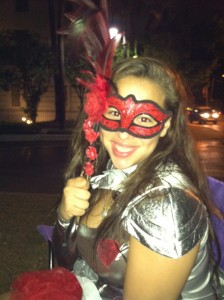 As Gabrielle pushed up front with the other kids, the adults tore into the chicken and red beans which were good, but certainly not famous enough that I'll ever return after this major Krewe du Boo Boo. With blood sugar leveled, though, Aimee and I both relaxed, catching a few throws making the most of what was left. Meanwhile Gabrielle, being a cute girl who gets mistaken by young guys for being much older, caught more in ½ a short parade than I do during dawn to dusk Mardi Gras successions!
Once the parade wound up, the grown ups and Gabrielle, who is outgoing and witty around adults, circled up while the children played in the neutral ground. Despite the Fiorelli @#*!-up, it was a beautiful night and we had wine and plenty of food. As everyone chatted and indulged, we observed how there's no other city where you can open a bottle of wine and hold a picnic in the middle of the road as cops pass by without noticing. It was a quintessential New Orleans moment and my guests seemed to pick up on this, so by the time we packed up to walk down Frenchmen Street to look at the crazy costumes all was (nearly) forgotten.
FRAMING CHEESECAKE: AN EPIC ENDING
The next morning, any lingering disappointment faded when we took a bookend trip to Camellia Grill. Although we didn't and end up in Will's section, he came over to chat and Gabrielle was so pleased when he brought her a complimentary slice of cheesecake that I thought she might frame it. That's a smile I won't soon forget.
Meanwhile, the equally spirited Marvin, who is known to anyone who's ever graced these doors, served us. When I asked for his word of the day, he said he hadn't chosen one yet so left the honor to Gabrielle. "Epic!" she said. Marvin frowned. "It's gotta be a word we can use to describe another person or how the day is." We all laughed, realizing he wasn't up on his teenage slang . . . or outsized movies and novels. "Epic means larger-than-life," I explained. "You, Marvin, are about as epic as they come." He grinned. "Epic it is!" Getting the attention of the entire restaurant, he announced the word and made everyone turn to someone epic and let them know. It was an epic end to an epic Halloween weekend in New Orleans.
NEXT ARTICLE