I always get excited like a little kid when Halloween decorations start popping up all over town and, knowing New Orleans' reputation for going to extremes, I knew I'd be in for a treat my first year here. Perhaps the best Halloween city I've lived in prior was Richmond, Virginia where people in 'The Fan,' a triangular neighborhood of turn-of-the-century row houses that would fit in Uptown architecturally, culturally, and even physically (New Orleans is composed of pie pieces rather than blocks, like a Trivial Pursuit marker in a Salvador Dali painting!), decorate with abandon, particularly on Hanover Street (I believe) where practically every resident gets in on the act creating unbroken block after block of creepy fun.
Although the decorations in this town are some of the best I've seen, I was disappointed to find they weren't concentrated anywhere such as Hanover Street. In fact, I only came across one intersection where all four house are decorated. So I took off on my bike and spent the past few weeks scouring Uptown so I could share the best Halloween decorations with you to help with your holiday hunting.
But first, a few clarifications. My definition of Uptown was broad. I biked down every street running along the river between and including Tchoupitoulas and St. Charles from riverbend to Callipoe/CBD. Although I didn't hit every cross street (though I did hit the major ones where I noticed decoration density) I did pass every intersection and peer down every block. I'm sure there's something I missed, but I was pretty thorough. Above St. Charles, because of street geography, I hit every street running towards the river from the riverbend past Carrollton to Napoleon, all the way up to Claiborne.
I provide a location so you can find all these places, and use directional terms not according to the compass, but New Orleans style. Thus, East mean toward Downtown, West Uptown. North is towards the lake and South towards the river.
Some decorations went up late, and I later passed through areas that I'd scouted earlier to find new displays. While I included these, I didn't purposefully double back through all areas. Also, peering down side streets isn't a perfect method, though most good decorations stand out from a distance. The biggest drawback were night decorations. I did most of my biking by day, and unnoticed places turned into masterpieces at night. Once I realized this, I scouted again by truck and bike again, though less thoroughly. Fortunately lights are visible at great distances so I did the best I could though I'm sure I missed a few prime spots.
So that being said, please enjoy the MYOMG 2013 Uptown Halloween Decorations Guide & Awards and be sure to scroll to the end for the 7 Must See Haunts!
BIGGEST HEAD IN UPTOWN, St. Charles & Audubon Place
Owning a big Uptown mansion on the corner of the most exclusive neighborhood in New Orleans would surely give you a big head, but the owner of this house made it literal. They even displays his and hers big heads, and though there's a graveyard and a cool hanging witch, the owner could have afforded to go all out be kept the focus on his big heads. Freudian?
I WANT MY MUMMY, State north of St. Charles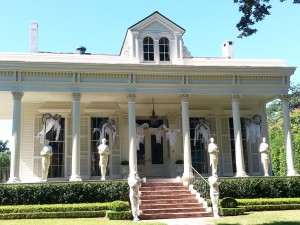 Simple, but the well-spaced mummies somehow make the revival architecture creepy!
MUMMY RAN OFF WITH ANOTHER HOUSE, State north of Perrier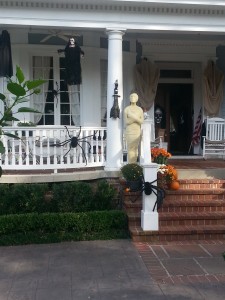 Well, that has to be embarrassing, especially when she moves in just down the road!
MOST ENTHUSIASTIC APPLICATION OF COBWEBS, Prytania & Valmont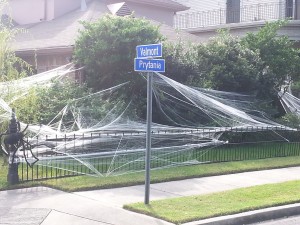 Cobwebs are by far the favorite decoration in this town, and for a lot of houses they were the main effort. Nearly every spirited houses incorporated them. This one, though, caught my eye. Some husbands get in trouble for spending too much on golf or beer, but I could just imagine an angry wife forbidding any more trips to Wal-Mart for more web!
BEST ACCESSORIZED GRAVEYARD, Palmer & S. Robertson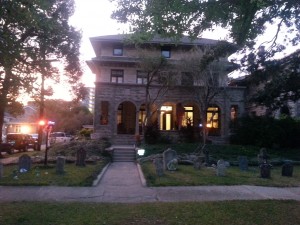 There were several quality front yard cemeteries (though the ubiquitous real deals were the creepiest parts of my night rides!) but this one barely edges out the others, if just because the stone in the house matches the headstones perfectly.
BIGGEST  UPTOWN SWINGERS (OR BEST INVITATION TO DRUNK TULANE STUDENTS), Palmer north of S. Robertson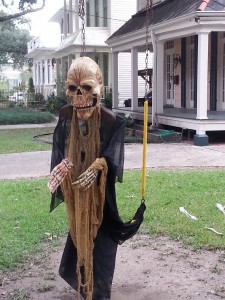 This was ingenious use of a yard toy . . . or not! Being located so close to Tulane, I bet they've had to chase off more than one drunken co-ed taking a late night ride!
EASY DOES IT, Hurst east of Calhoun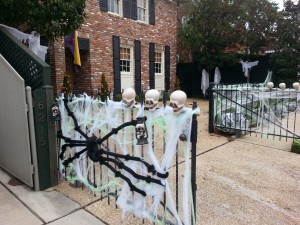 Although this doesn't match the broad coverage of Prytania & Valmont, it instantly caught my eye peering down a side street. It looks like they gobbed it on with a paint brush!
UNINTENDED IRONIC JUXTAPOSITION, Benjamin east of Burdette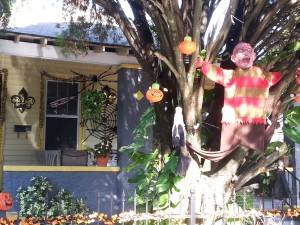 Although simple, I loved this juxtaposition of Freddy, the ultimate demon, with a Saints motif. Saints & Demons. Freddy vs. Drew Brees. I'd watch that movie!
CHEAPER BY THE DOZEN, Hurst & Milaudon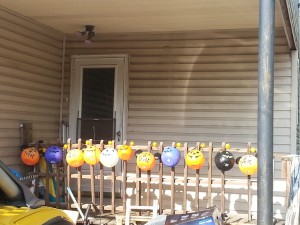 I don't know what they were going for here, but it made me literally LOL! I could almost see Steve Martin and Bonnie Hunt walking out Halloween night trailed by a gaggle of children picking up their candy pumpkins in succession.
TOO BIG FOR YOUR BRITCHES, Broadway & Prytania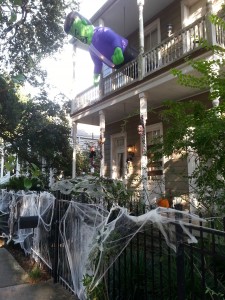 This one made me LOL too. Small yard, big ambitions. I love that Frankenstein didn't fit, but they just had to have him so brought him home and just hung him off the porch. If your Halloween spirit is bigger than your house, you'll always get a thumbs up from me!
THE GREAT PUMPKINS OR SLASHER HOUSE, Camp & Webster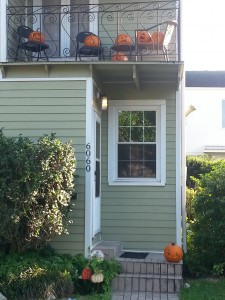 This was a couple of weeks ago, so they're probably already spoiled, but considering the owner's gusto for carving, I'd be willing to bet they've been replaced with fresh masterpieces.
MOST LIFE-LIKE DECORATION, Camp east of Thalia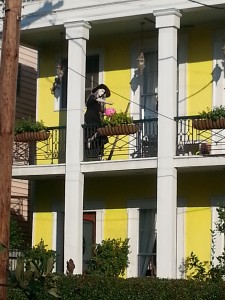 This one didn't catch my eye. I literally felt a chill creeping up my spine like I was being watched. Simple but effective!
THANKS FOR NOT DUSTING, Calhoun south of Benjamin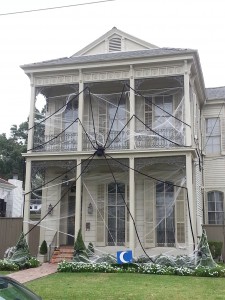 Giant spiders were popular, but this one takes the cake . . . err, candy corn. It shows commitment to cover the entire house, even blocking the front door! Do they jump the rail to the left or limbo underneath?!
RUNNER-UP, Coliseum & 8th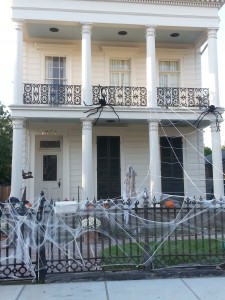 THANKS FOR PLAYING (IN THE PARK), Audubon Park path along Calhoun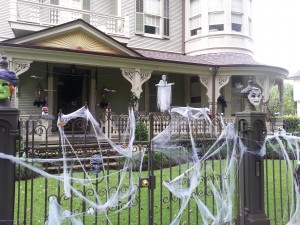 A house facing a giant park is a perfect holiday showcase and, you'd think, a sign of a playful soul, but only one home along the park truly decorated. There were a couple of half-hearted efforts, but this is the only one with true gusto. I recently read that decades ago homeowners on this park tried to block upgrades to Audubon Zoo for fear it would draw black families to 'their' park. Thank you, spirited homeowner. Make jack-0-lanterns, not jackasses.
GONE BATTY, Walnut & Benjamin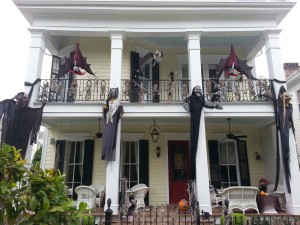 This house wasn't on the park, but just across the street. Gotta love the consistency of theme. Grand, balanced, and altogether spooky.
DRIVEWAY OF DOOM, Annunciation & General Pershing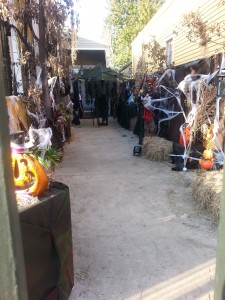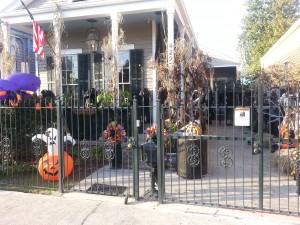 This looks like one of those places that has friends over Halloween night for an amateur haunted house or  makes kids walk the gauntlet for candy, hoping to make a few pee their pants. I'd like to take a walk down that driveway . . . so if you stumble on this blog, call!!!
CREEPY COZY COUNTRY COTTAGE, General Pershing north of Coliseum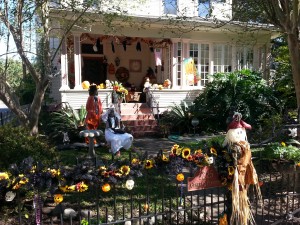 In a city full of the best homes and creepiest gardens, this place is just Better Homes & Gardens.
UNSAFE ASYLUM, Nashville & Pitt
The difference in this creepy asylum is literally night and day. This one could be the entrance to a professional scare factory!
4 HOUSEMEN OF THE APOCOLYPSE, Prytania west of Eleanore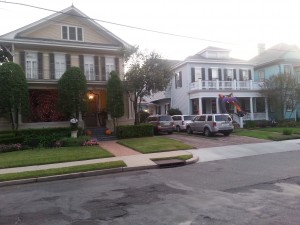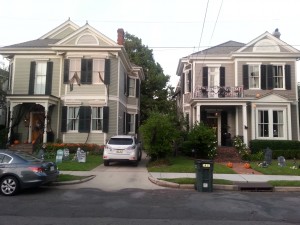 None of these four houses facing each other were outstanding, but I give them props for having a little community spirit. Unfortunately, it was rare to find a cluster like this.
HEADLESS HORSEMAN IS JUST FULL OF HOT AIR, Pitt east of Octavia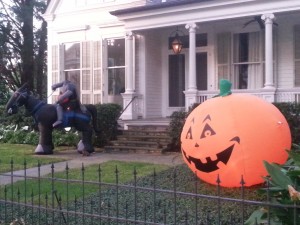 And if you're in the neighborhood, kids will enjoy this not-so-scary headless horseman. Hey, he's no cornier than his new TV show on Fox!
CASPER AWARD, Pitt & Valmont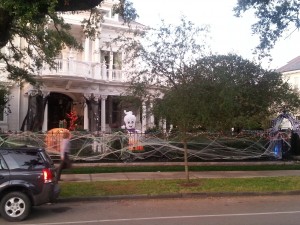 Another kid friendly stop. This one just made me smile. Simple but nostalgic.
FORMIDABLE FORMER FLASHER, Neron Place & Adams
Another LOL! Not to be crass, but she must have had some big'uns in the flesh to earn those beads. And silicone doesn't decay, so they were the real deal!
PROJECTION AWARD, Panola & Burdette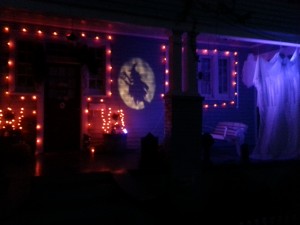 There's a double-meaning here. Yes, I love the motion projection witch in yet another simple but eye-catching display. The glowing ghost and lighted door balance it nicely. However, this is close to my house and was the first decoration I saw go up, so perhaps I'm just projecting significance through proximity. But you have to admire the spirit, getting it up so early.
SOUTHERN DENIAL, Jeanette & Fern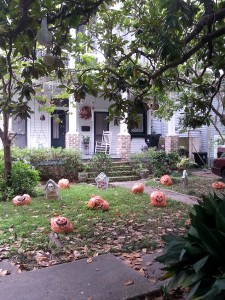 Not so much a LOL as an ironic chuckle. I grew up in the mountains where October meant piles of multi-colored maple leaves and frequent raking ala It's the The Great Pumpkin, Charlie Brown, which is forever my archetype of autumn. This strikes me as a northerner who can't let go of such an archetype. I'm not sure how they found enough leaves to fill these bags, but bravo!
UPTOWN TOON TOWN, Burdette north of Plum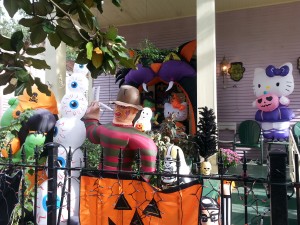 This was my last find of the season, but what a humdinger! This homeowner is full of hot air, but in the best possible way. Governor Bobby Jindal was a particularly nice touch. A blow-up blowhard. It's a yard packed with ghosts, monsters, cartoon characters, honest politicians and other mythical creatures.
A FAMILY AFFAIR, Nashville & Willow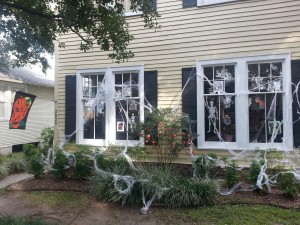 This was one of my last trips out, yet the first I saw of children's artwork being incorporate. Cute.
RUNNER UP, State south of Chestnut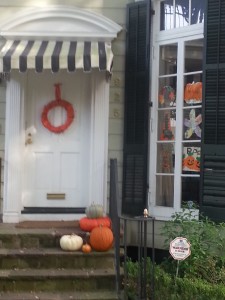 And then I promptly stumbled on this place. Ain't it always the way?!
WHY BOTHER AWARD, Prytania east & west of State
 Many houses chose not to decorate, and others had only a couple of ornaments and maybe a pumpkin or two leaning against the door, but these two houses, a block away on the same street, cracked me up. That's all you got? I hope you didn't wear yourself out! I can just imagine them in Wal-Mart, eyeing that one and only decoration that they can't resist. Anything more would be unseemly. "How much for just one ornament?"
ARACHNAPHOBIA, Webster & Perrier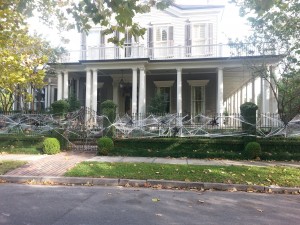 Most places had a spider or two. This place was overrun! Good thing John Goodman lives in town.
BLOCK PARTY, 4th south of Laurel
Again, nothing overwhelming, but 5 houses, 3 on one side and two on the other, was the best unbroken streak I found.
THICKLY UNSETTLED, Upperline & Daneel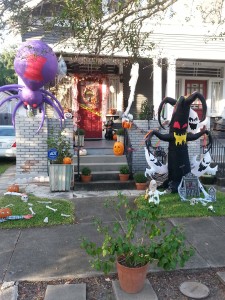 Visiting my sister once in Bedford, Massachusetts I was driving around when I saw a sign at the entrance of a neighborhood warning: THICKLY SETTLED. I laughed and snapped a photo (which I sadly can't find), wondering if it meant the houses were close together or it was just a street filled with dumb Massholes, as my native brother-in-law says. Anyhow, when I saw this house, I thought of that sign. They fit a lot in a little space.
HAUNTED HOUSE MINI ME, St. Charles & Constantinople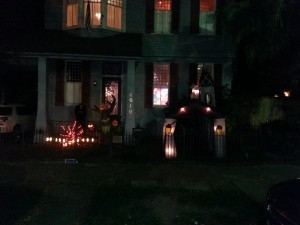 A lot of old Victorians on St. Charles Ave. could be haunted, but this one added a blowup haunted house for good measure.
WELCOME TO HOGWARTS, Coliseum & Octavia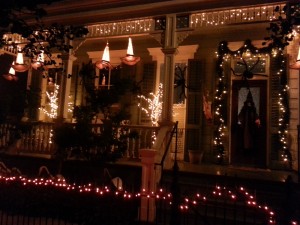 The glowing orange wizard hats lining this porch give it a tasteful, magic glow. I was tempted to put one on and see which House I'm in, but was afraid it'd be Hufflepuff.
SPOOKIEST WIDOW'S PEEK, Octavia & Atlanta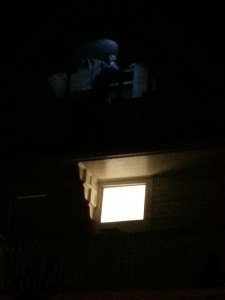 This spooky flashing skeleton didn't photograph well so you'll just have to check it out yourself.
BEST PLACE TO MAKE AMENDS FOR MISSING THIS LIST, Jackson and Magazine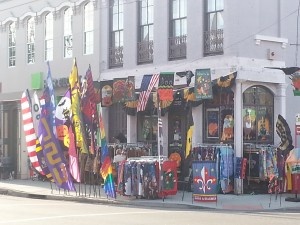 If you were a party pooper who didn't decorate it's not too late to hit this Garden District flag store that offers much more than just flapping fabric. It has one of the best decoration selections in town and I had to stay away for fear of budget busting. But it makes me smile every time I ride past.
7 FROM HEAVEN (OR HELL): MUST–SEE UPTOWN HAUNTS!!! (and lagniappe!)
THERE ONCE WAS A HOUSE FROM NANTUCKET, Chestnut & 6th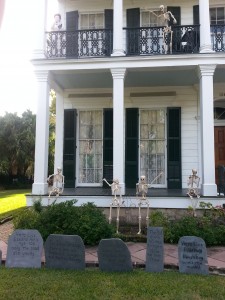 Whose lawn was so deep you could . . . fill it full of rhyming tombstones. Complete with posed skeletons, it's sure to strike your funny bone. And if you can't read the tombstone from the pictures, you'll just have to visit yourself
(Bonus) HOA HAUNT, Chestnut east of 6th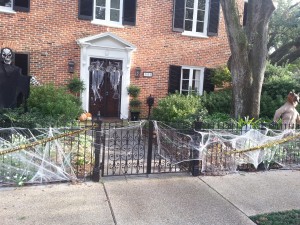 While in the neighborhood you might as well check out this display by the local homeowner's association. After all, as a condo owner I can say nothing is more frightening or encroaching than an HOA!
NEIGHBORHOOD MOST IN NEED OF EXTERMINATOR, Rosa Park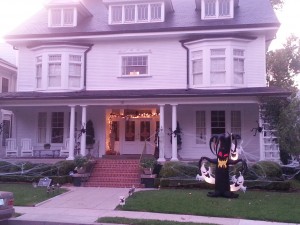 Nearly every home in this uber-wealthy cul-de-sac not only decorated, but apparently consulted on the spider theme. This entire neighborhood is overrun, making it worth a drive through.
CORNERING THE MARKET ON HALLOWEEN SPIRIT, Octavia & Pitt
Day or night, this intersection rocks! It's the only place I passed where all four homes on a corner were decorated. That definitely wins a top prize!
GARGOYLE ME WITH A SPOON, St. Charles & Jena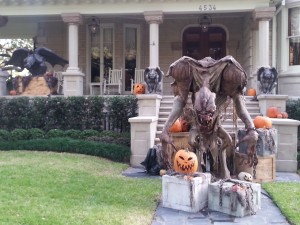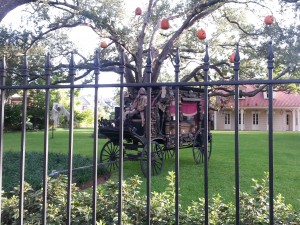 It's hard to capture this spread out spooktacular display in a picture, but the hanging jack-o-lanterns are a particularly nice touch and the gargoyles especially creepy at dusk. The crazy thing is, as impressive as it is, it's not the best on St. Charles.
NIGHTMARE ON ELEANORE STREET, Eleanore south of Pitt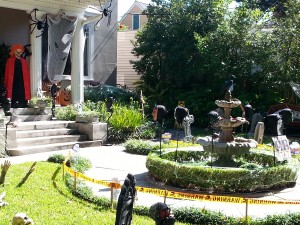 I might have missed this side street showcase if it weren't for all the festive decorations hanging in a tree over the road . . . but they even decorated the tree hanging over the road!!! I didn't even have to name it–they took care of that. This yard is packed with gawking fun, my favorite being the Halloween tree. All I could think as I rode up is, "Now that's what I'm talking about!"
EYE IN THE SKY, SCREAM IN THE SCREEN & PROJECTION PERFECTION, Magazine & 2nd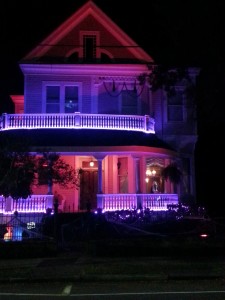 I missed this moderately decorated house on my day rides, but fortunately the Crescent City Cruzers pointed it out on a ride last week. All I can say is WOW! I'm not quite sure how they do this, and it's hard to capture on 'film.' The moving eyes were big enough to snap, but the ghosts zooming from window to window, lighting flashes inside the house, and blood running down the glass have to be seen in person. There's some kind of projector that hits the screen from behind, but who cares exactly how? This place is a hoot!
THE PUNNEST HOUSE IN NEW ORLEANS, St. Charles & State
What can I say that this punny family doesn't say for themselves?!? This popular house has become a tourist attraction causing traffic jams on St. Charles. It's the center-piece of any Halloween decoration expedition!