THE ACCIDENTALIST BICYCLIST
My last post (excepting the book review) detailed my experience with local bicycle club the Crescent City Cruzers, and the first Thursday I had planned to meet up with CCC (before being discouraged by the weather) they were doing a joint ride with the NOLA Social Ride's 'Happy Thursday Ride.' Yes, there are two groups of bikers that dress in theme and hit the streets on Thursday nights yelling "Happy Thursday!" though I would later learn, not surprisingly, they started as one. For the sake of comparison and contrast, I had vaguely planned on joining the NOLA Social Ride sometime, but it turns out planning wasn't necessary for Halloween night I ended up riding with them completely by accident!
PEER PRESSURE IS A (BALD) BE-YOTCH
As my first Halloween in New Orleans dawned I so excited that I shaved my head.
Literally.
For the Halloween weekend I'd updated my pirate costume after stumbling into a cool costume shop in the Quarter, but had previously ordered a pork pie hat intending to go as Heisenberg of Breaking Bad, Walter White's drug lord alter ego. The pirate costume saved me from shaving my head, for I didn't want to half-ass it with a bald cap, but I knew the Breaking Bad costume would be cold if I waited until next year. By landing on a Thursday, Halloween was almost a week removed from the weekend parade, and as I contemplated whether to re-pirate or do the full Heisenberg the night before (All Hallows Eve-Eve) I headed to Lafayette Park to catch Raw Oyster Cult's set (awesome!) at the season's last installment of Harvest the Music. I happened to into Ritchie of the Crescent City Cruzers during the show, and as we discussed plans for Halloween night's ride I confessed my dilemma. Ritchie chided that it was only hair and would grow back. I caved. Damn you peer pressure!
THE FREAKS (AND BREAKING BAD FANS) COME OUT AT NIGHT
The Crescent City Cruzers were meeting at Armstong Park one last time for the fall's final Jazz in the Park concert. It was a dream line-up—Bonerama, Kermit Ruffins, and Rebirth Brass Band—so I wanted to get there early and maybe check out the French Quarter first; however costume prep, including making a sign that commanded: "Say my name!" took most of the morning, so it was 3pm before I hit Dat Dog for a late lunch.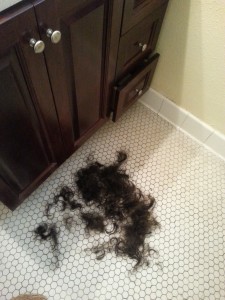 Forecasts were predicting rain and dropping temperatures with a bit of optimism that it would hold off until after the night's festivities, but it was still warm outside as I donned my Walter White jacket, eager to assume character. The few glimpses of recognition I got at Dat Dog, though, were hardly worth the sweat.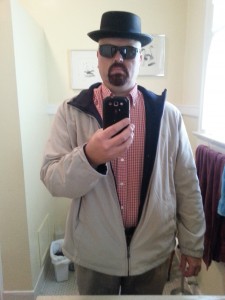 Because I was planning to see Galactic with Dirty Dozen for the former's annual late-night Halloween show (that would be 5 of my local top ten in one night!) I didn't want to bike all the way downtown, so I parked in the Lower Garden District, just beyond the overpass, and biked to the French Quarter. Locking my bike on Canal, I walked up Bourbon Street where the party was already kicking up but the best costumes not out yet. I was surprised, though, by how few Breaking Bad fans I encountered. Most people looked at my sign and said, "I don't know: What is your name?" or, worse: "My name!"
THE REAL DANGERS OF COOKING CRYSTAL METH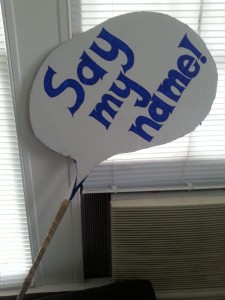 After stopping for a half dozen oysters, I wandered back to my bike only to find I had a flat. Feeling irrationally paranoid that someone had tampered with it, being this close to Bourbon were bad things just happened, I pushed it to Armstrong Park, eventually peeling off my jacket, drenched with sweat. The Crescent City Cruzers wouldn't arrive until later, but I was praying one would have a tube or patch kit. I usually carry such supplies in a backpack, but it didn't fit with my costume! Oh, the dangers of being a crystal meth cook.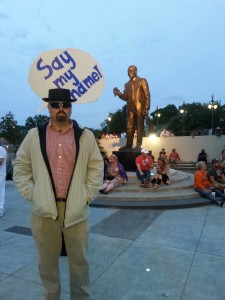 The walk took longer than a quick bike jaunt and Bonerama had went on earlier than I expected, so Kermit was already into his set when I arrived. I tried to enjoy the Good Times King of New Orleans, but was hot, soaked with sweat, and annoyed at my flat. Once again, New Orleans had went Gremlins on my carefully-laid plans.
HAPPENSTANCE WRAPPED IN SERENDIPITY SURROUNDED BY RANDOM CHANCE
It took a while, but slowly I relaxed, and when the Cruzers arrived I flipped my bike over in preparation to patch the tire (Ritchie had a kit); however, when I stepped away for a needed adult beverage a drum circle of street performers materialized in front of the Louis Armstrong statue where we congregate. I returned to find my bike lost in a sea of humanity.
In a moment of weird New Orleans happenstance, I glanced over at a park bench as I waited only to spy friend and Krewe of Rocckus alumnus, Sue Yarastis, waving. Since she lives in New Jersey, I was a tad bit surprised. As we caught up, I learned she  was in town for Voodoo Fest and visiting her cousin whom she introduced me to. In an even weirder bit of serendipity, a few weeks later I tracked down a Saints fan who goes by the alter ego Who Dat Chef on Facbook, haven taken his picture at a Black & Gold Rally back in September. I posted it on his wall, asking for permission to use it on another project, and up pops Sue on the post, saying that she was related to this guy by marriage. In fact, he was married to the cousin she'd introduced me to in Armstrong Park. I guess it is a small world after all (though the song is still annoying as hell). Of course, as I waited for the drum circle to disperse I didn't yet realize the full depth of random chance in this meeting. Nor did I realize that more randomly fortuitous introductions lay ahead.
STUMBLING ONTO THE REBEL BASE
The circle didn't disperse until a couple of songs into Rebirth's set, rudely drowning out the band that people had actually come to see. Soon, with black, greasy hands, I moved closer to the stage to actually pay attention, but within two songs the skies opened up in a downpour.
Everyone jumped on their bikes and fled to shelter on the porch of the nearby Mahalia Jackson Theater, but I wasn't entirely re-assembled yet so lost the Cruzers in the crowd. Although there were less than a dozen Cruzers present, I arrived at the shelter to find close to a hundred bikers huddled under the awning. As I mingled, I saw no one familiar and soon realized I'd lost the CCC but stumbled into the NOLA Social Ride. Everyone, though, assumed I was part of their group and when a unicorn and a sexy devil offered me a drink, I decided to stay.
After about forty-five minutes the rain let up and we took off through the French Quarter into the Marigny. The reprieve was brief, though, and soon a chilly rain returned. I was now thankful for my heavy jacket though it was soon soaked.
Needing shelter, the ride organizer led us to the Den of Muses, a large Marigny warehouse where DIYs Chewbacchus and Krewe du Vieux build their floats, costumes, and throws. It turns out that one of the ride's leaders, Bill Katzenmeyer, is a ranking member of Chewbacchus. In fact, I got the feeling there's a lot of crossover between the NOLA Social Ride and the Chewbacchus bike parade I'd joined in September.
As we entered, shaking off the rain like a herd of cats, a few artists were actually working on Halloween night but were interrupted by what quickly became an impromptu party. I took the opportunity to check out the crude, irreverent, and hilarious floats under production before striking up a coversation with Bill and a female Overlord he was chatting with. I was immediately excited to learn I was mingling with Chewbacchus leadership, and as I told my story Bill agreed that the Masion event was rather chaotic and perhaps not the best opportunity to network. Over the next couple of weeks, we chatted a bit on Facebook and he provided me a ton of good tips and ino. After all my scheming and planning, here I was on Halloween night drenched to the bone, hiding out in a warehouse with a group I hadn't even set out to participate in, and I was finally making the connections I needed. Once again NOLA obliterated my plans yet came through in ways I couldn't have expected.
LATER, HIPPER, BADDER
After an hour or so the rain let up, and though the party was just getting started, I biked back across the French Quarter and CBD to move my truck near The Civic on O'Keefe Street now that the meter maids were tucked in for the night.
I arrived a few minutes late and Dirty Dozen soon finished a surprisingly short set. Galactic was great as always, but didn't jam all night as I'd hoped. I guess the legend of their Halloween jams has been exaggerated. It was interesting to note, though, that the later it got, the more my costume resonated. I guess Breaking Bad fans are a hipper, later crowd. By the time I reached the show, several people congratulated me for 'owning' the costume, and a few people introduced themselves awe as if I really were Walter White.
WE THREE KINGPINS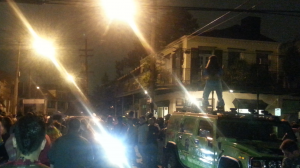 It was only 2am when the show let out and I was mentally prepared for a late night so headed off to see if the legendary party on Frenchmen Street was still going strong. By the time I found parking it was closing in on 3am, yet the street was still packed and a few girls were even dancing on an SUV that had foolishly parked on the corner. In fact, any car that had parked on Frenchmen before the flood of costumes arrived was covered with cups, bottles and other litter, my favorite being a station wagon with a Baptist license plate in the window that looked like a desecrated beer pong table. Oh, the ironic juxtapositions.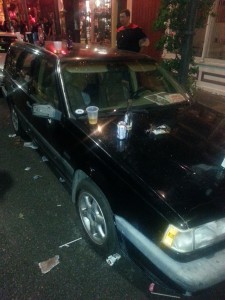 The costumes were extravagant as expected, though didn't match Mardi Gras on Frenchmen, and I ran into 3 other (inferior, of course) Heisenbergs as I mingled. Still, it's hard to connect with a mob when you're a lone drug kingpin, so at 3:30 I wandered home as the party still raged. I figure most of these vampires lived to see All Saints Day dawn.
INVITING DREW BREES TO YOUR FLAG FOOTBALL LEAGUE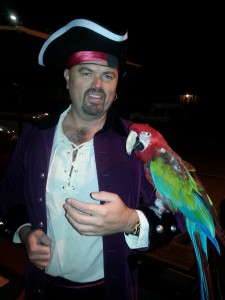 After my Halloween happenstance I was eager to join the NOLA Social Ride again, but the following Thursday I had another flat (the third Thursday in a row!) plus my monthly book club was meeting at McKeown's. The following Thursday, though, the NOLA Social Ride's Happy Thursday Ride (like Hooter's, that's More Than A Mouthful!) was storming Mid-City with a pirate theme. How could I pass that up?!? I had feared my awesome new purple pirate coat would hang in the closet until Mardi Gras, so was thrilled to don my pantaloons and pirate boots after only a couple of weeks and head to Finn McCool's to join the NOLA Social Ride—this time on purpose!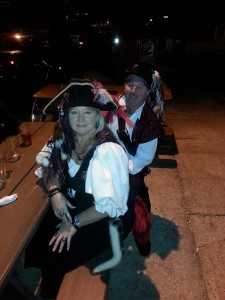 When I arrived, though, I didn't see Bill or anyone else I recognized, so I grabbed a beer and mingled with the other pirates. (Not all riders dressed, but the ones that did seemed more apt to mingle with a fellow rapscallion.) One authentic pirate, Robert Swain, was there in a persona apparently he adopts frequently (Wind & Sails?) sporting a real and apparently locally famous parrot named Romeo. I thought it was awesome when he let me pose for a picture but later when he won best costume and $20 in free beer despite jeans and tennis shoes, the parrot suddenly seemed less cool. Damn parrots.
Bill had arrived by the time of the judging and we shared a laugh, agreeing that you just can't beat a real parrot. It's like bringing Drew Brees to your neighborhood flag league!
TWO WHEELS, TWO CLUBS, TWO STORIES, ONE GOOD TIME

Soon we hid the streets of Mid-City, weaving in and out of neighborhoods yelling "Happy Thursday!" as people rushed out on their porches, thrilled by the passing parade, and I wondered which I loved more about this city: That riders will gather to dress up as pirates to simply celebrate a Thursday or that witnesses still act amazed and appreciative as if they are witnessing something rare and not, well, a typical Thursday in New Orleans.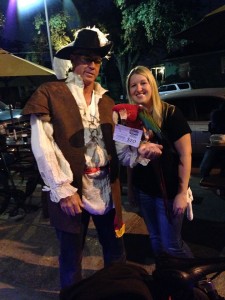 We soon stopped under a giant oak on the lawn of the Museum of Art, and as I chatted a bit more with Bill. This is when I learned that the Crescent City Cruzers and NOLA Social Ride started together but soon took different paths. I won't get into details, as both are great groups, but just note my amazement that even when it comes to dressing in costume, decorating your bike, drinking, and shouting Happy Thursday, politics will creep in sooner or later. Oh human nature, you perplexing beast.
After another jaunt we stopped for a second mingling session along Bayou St. John before ending at Bayou Beer Garden where, like with the end of a Cruzers ride, things just sort of fizzled out. Still, I had a great time and enjoyed getting to know riders in both groups. I see having two such groups riding as an advantage, so if you're around on a Thursday night look up the NOLA Social Ride (who sponsor rides other nights as well) or Crescent City Cruzers on Facebook and come out to celebrate this monumental day of the week! Happy Thursday!