EXPECT THINGS NOT TO GO AS EXPECTED
Although my vision of My Year of Mardi Gras has always been to paint a broad, layered portrait of New Orleans and its food, music, people, and culture, the heart of my mission upon embarking was to join at least one Mardi Gras Krewe and document that experience. Since arriving in town on February 6th, though, my path has taken many unexpected twists and turns.
My dramatic housing search, in particular, lasted over half the year. Attempts to reach out to other blogs, volunteer at WWOZ or the Jazz & Heritage Foundation, or promote the site though handing out cards and pure force of personality at local events paid little dividends. On the other hand, I've had much more success than anticipated connecting with local authors and encountered unexpected enthusiasm with resurrecting an old novel. Now working with someone to resubmit this book for publication has been a major unexpected endeavor. I have also met a small but growing group of talented and intriguing artists and intellectuals that have made 'Red Beans on Monday' an emerging success. So there have been surprises and disappointments, and I should have known that the only thing you can plan on is that things won't go as planned. Still, somewhere amidst these triumphs and tribulations I began to fear I'd lost sight of that core mission.
Until I received one of the best birthday presents ever!
EYE OF ON THE CHEWBACCHUS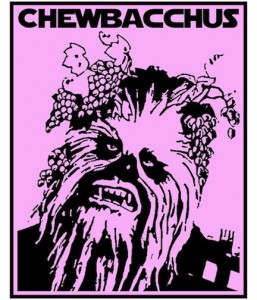 I've also made good progress documenting New Orleans Tourist Attractions, and thus my trip to Mardi Gras World in August inspired me to renew my efforts to join a Krewe. As my plan slowly evolved with a little input from Cajun Yoda Pat, I decided the best approach would be to join a small DIY ('do it yourself,' for the acronym challenged) walking Krewe that marches earlier in the season and then a larger Krewe with traditional floats, big crowds, and gaudy throws that rolls Mardi Gras weekend. Yoda Pat's cousin is a member of Chewbacchus, the small walking science fiction—and absolutely best named—Krewe and I had been emailing with him since before moving to town. It is an 'open Krewe,' meaning anyone can join, but making contact took a little effort.
OH THOTH, WHERE ART THOUGH?
I had no such contact in a large Krewe and began immediately reaching out upon arrival. During this past Mardi Gras I was staying in the Hilton at the foot of Poydras for Krewe of Rocckus. That turned out to be the parade home for Thoth. This was always one of my favorite parades and they seemed like a fun group. Moreover, with my healthcare background, I liked the fact that they purposefully paraded by hospitals and nursing homes. By all reports they were one of the more social and charitable Krewes, and through serendipity I met a float lieutenant in the elevator the day before they rolled. We struck up a conversation and he and his wife seemed fascinated with my mission, so I gave him my card and he said he'd be in contact.
The next day, as Thoth dismounted, I introduced myself to dozens of members and a few other float lieutenants, passing out more cards. By chance, I met a few other members in coming days.
I never heard back from a single one.
NOT SO OPEN—OR SUPER—KREWES
In the following months, I constantly discussed my mission with people I met hoping to stumble onto a Krewe connection. No luck. I checked out various websites, particularly of the supposed open 'Super Krewes' but none listed contact information except Orpheus.
During my visit to Mardi Gras World, though, I saw several Orpheus floats and footage of the Orpheus Ball I attended in 2011, so I decided this was a good target. Over the next month I called and emailed repeatedly per information on their website, but to no avail. Finally, the day after my 40th, I received a one-sentence reply:
Thank you for your inquiry, your request was passed on to the Board and they are not interested in this angle.
On any other day this would have been a crushing blow, but I was too busy doing a happy dance to care. Good news had beaten them to the punch.
THE FULL WOOKIE TREATMENT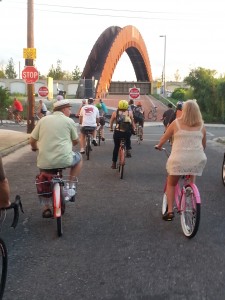 But first back to Chewbacchus. An air of secrecy shrouds Mardi Gras Krewes that reminds me of fraternity initiation all those years ago. Although Pat's cousin assured me that joining was simple, it took a while to get through to membership and, even then, in this open Krewe that is four years old as opposed to a secret society of money elites stretching back generations, there was hesitancy. I was told to sign up, but warned I would get the full Wookie treatment if I embarrassed anyone.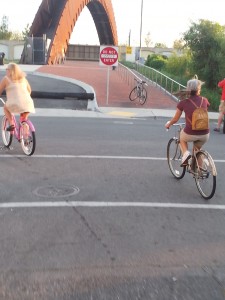 This is understandable. The Intergalactic Krewe of Chewbacchus's motto is "Saving the Galaxy . . . One Drunken Nerd At a Time," so foolishness surely ensues and they don't want me embarrassing anyone on the internet. That is clearly not my purpose, so no worries. In the age of sexting scandals and 'got ya' cell phone videos, though, the idea of a blogger in the midst seems to make most people nervous. So I sent in my $42 bucks (which was nice since, reportedly, dues to some Krewes can be $4000 . . . before paying for throws!) but the invitation to their season kickoff event wasn't quite the warm welcome I'd hoped for.
GROWING OLDER BUT NOT UP
I had originally planned on heading to the Virginias after my birthday to soak in some much-missed autumn color, but Chewbacchus's day-long 2014 kickoff was on September 28th so I scrapped my plans and returned to fulfill my very serious mission.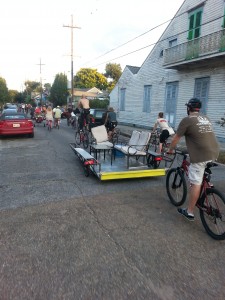 Arriving back in town late that Thursday night, I was towing a U-Haul trailer now that I had a stable home. I'd brought back a lot of kitchenware, my Halloween decorations, a couple of bookcases, an old desk, my gas grill, and some porch furniture, but—drum roll please—I was most excited that for the first time since moving to New Orleans I would have an actual bed to sleep on! No more futon. I'm becoming such a grown up!
BELGRADE BLUES & BUILT-UP BICYCLES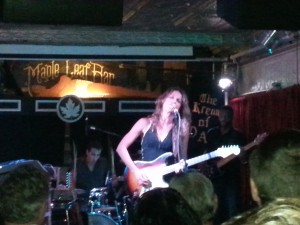 Thus, much of Friday was spent unpacking and settling in, though that night I went to see amazing Jazz Fest Blues Tent discovery Ana Popovic at the Maple Leaf. She was born in Belgrade and lives in Amsterdam, an odd pedigree for a blues guitarist, but she has deep ties to the city and absolutely amazed a friend and me back in May. She didn't disappoint Friday night, either, but the Maple Leaf definitely caters to the late night crowd so the set didn't start until after 11pm. This led to me sleeping later Saturday than planned and in turn was late getting errands run, including picking up my bike for the Chewbacchus community bike ride at 6pm that followed the Bike Contraption Contest which began at 2pm.
I have no idea why it takes four hours to judge a handful of tricked out bikes, but I guess I'll never know as my tardy morning caused my friend and I to miss it altogether. We rolled up a street away from the Den of Muses in Bywater where the event was being held just in time to fall in with the tail end of the bike parade.
RANDOM ROAMING ROADSTERS—YOU'RE NOT IN TEXAS ANYMORE!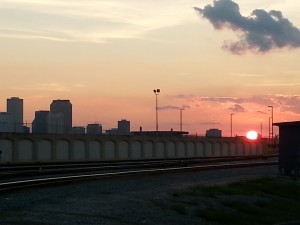 It was a beautiful, cool autumn evening and though I didn't know anyone, it felt good to melt into the crowd and weave through the quirky streets of Marigny and Bywater as riders yelled to curious bystanders: "All hail the sacred drunken Wookie!"
As we sauntered, my friend joked that at this rate we could bike two hours and not cover a mile, but the slow pace allowed me to stop and snap an amazing picture of the sun setting on the city, as well as giving us a chance to weave in and out of the ranks to check out the contraptions from the contest. My runner-up was a recreation of the Serenity of Firefly fame, but the winner, in my book, had to be a bike pulling a flat-bed decked out with garden loungers and a coffee table. At one point another biker tossed his ride on board, grabbed a beer from the cooler, and reclined with his feet propped up on the table. Ah, the NOLA life.
Although I wasn't yet part of this group, simply following along made me feel connected to city. I recently wrote about the proclivity of New Orleanians to join crazy and diverse societies to stay connected with the community, and there are several biking clubs that sponsor such communal rides weekly (and I hope to check a out a few.) Because of this constant interruption of bike parades, second lines, and other random roaming gatherings, motorists were well-schooled and waited patiently as hundreds of bikes passed through major intersections. "This would never happen in Texas," my friend quipped.
WHERE'S THE PARTY?
The bike parade ended on Frenchmen Street after an hour of weaving and backtracking for a CD release party scheduled from 8pm to 2am at Maison. We were an hour early, though, so I joined my Texas friend at the bar to watch A&M vs. Arkansas. When the game ended it was well past nine, yet I saw no traces of the local bands that were to play the songs they recorded for this benefit album for the Krewe. Members were still gathered outside in the street, but I saw no cluster inside. Although this was billed as an open event, there was reportedly a five dollar cover. Maison, however, was doing business as usual.
Heading back outside I realized the Chewbacchus party was in a private room upstairs with a separate entrance that hadn't been open upon our arrival. I made my way upstairs where an eccentric punk band in costume was playing—not unexpected for a sci-fi Krewe—and I mingled a bit, though it was hard to strike up a conversation in this setting. I did finally manage to track down my email contact, but didn't make much progress beyond that.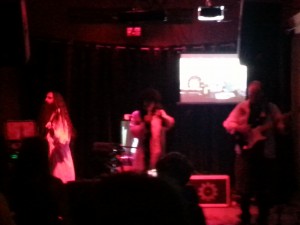 I wasn't in the most outgoing mood and was having trouble finding a cold approach to this group that was already clustered into cliques, for there are multiple sub-Krewes within the larger organization. Workshops would start soon, though, and I figured that such goal-focused gatherings would be a better approach. This Krewe makes its own costumes, floats, and throws, and that has to be time-consuming. Toiling over a common task seems a better place to bond than a loud bar with sci-fi punk music blaring, so I called it an early night.
JAZZ TRUMPETS AND THE MARDI GRAS WALL OF JERICHO
Although my entrance into a DIY Krewe had been a bit shaky I was unfazed, for the absolute wall that I'd hit with joining a traditional Krewe had suddenly crumbled like some Old Testament trumpet player second lining around the Wall of Jericho. A few weeks prior, a local friend and fan of the blog (thank you!) had sent a link to a Krewe that was seeking members. I had started an email conversation with the membership director, easing into the revelation that I was a writer. Things had been silent for a week and I feared I'd hit another wall.
Going in, the most I hoped for was to be admitted to a Krewe and have my blogging tolerated, but when the membership director emailed me back the morning after my birthday, it was a better response than I could have ever dreamed. She said she'd spent my birthday (well, the prior day that she didn't realize was my birthday) reading the blog on and off and loved it! Not only did she want me to join, but to list her as my float lieutenant so she could help me makes connections and ensure I had an "aweome" experience to write about.
At the time this message popped up, I was in Panera Bread in Jacksonville working on my birthday post and my loud, spontaneous whoop startled the entire breakfast crowd. I jumped out of my seat, pumping my fists. "Yes! I'm joining . . ."