KITSCH CRACK FOR A MARDI GRAS JUNKIE
Our January Morpheus meeting, like the October meeting mentioned previously, was held at Plush Appeal—a Mardi Gras warehouse that supplies the costumes and throws for Morpheus and other krewes. Imagine those corner party stores that have a tiny section for every holiday imaginable but come to life for Halloween, only expanded to the size of a warehouse and dedicated solely to all things Mardi Gras. Yikes! A Mardi Gras junkie like me could go broke here in a hurry. No wonder riders spend thousands of dollars every year on throws. There are beads of every theme imaginable, stuffed toys, plastic instruments and novelties, decorative eye glasses, hats, masks, cups, goblets, light-up and bouncy balls, Saints cowbells, LSU plush footballs, Frisbees, whistles, penis whistles, boobs in any form that can accommodate two mounds, signs, decorations, and anything else you can imagine in a Mardi Gras theme.
While it's a blast making your own throws, I must admit that I'm a sucker for the plush and plastic kitsch that flows like Abita Springs during Carnival. Any other time of year I'd decry such mass-produced Chinese trinkets as cultural and environmental catastrophies. During Mardi Gras, however, it's high art. ("Do I contradict myself? So I contradict myself. I am vast. I contain multitudes." –Walt Whitman)
THE CALCULATING CARNIVAL CUNUNDRUM OF BUY BAGS OF BEADS
Food is provided at meetings to lure in members (there used to be beer until liability concerns ended that—damn lawyers! [Sorry sis!]), so I grabbed a heaping plate of surprisingly tasty Cajun spiral pasta and longingly browsed the aisles. The prices are fairly cheap—masks that would go for $6-10 in the Quarter were 99 cents, but when buying in bulk to throw to thousands of pleading revelers, those wholesale prices can add up to a retail nightmare pretty quick. The cheapest bag of beads (10 dozen, I believe) runs around $25, and I would later stroll these aisles after the meeting with my float lieutenant, Kim Morgan, who'd recommend I buy a huge bag of plush toys and 11 bags of beads. I almost swallowed my tongue, though calmed down a bit when she said she fills the bags half with bead and half with the plush toys, dropping my bead bag count to 5 ½–but it still seemed a lot. The krewe offers a specialty package for $360 of Morpheus throws that includes, amongst a ton of cool novelties like night caps, sleeping masks, and stuffed sheep and moons (Morpheus is the god of dreams, remember), 5 bags of specialty beads. This sounds like it would suffice, but, ouch, that's a big price tag and includes limited stuffed toys, which are popular with kids and pretty girls.
After my last post, krewe member and longtime rider Brad Naquin reached out and we chatted on the phone a bit more. He was doubtful that the Morpheus package would last the whole route and told the story of some riders from up north who showed up to ride with only two bags of beads a piece. Other float members eventually took pity and all chipped in some beads so they didn't have to stand there impotently the whole ride! Per his recommendation, even 5 ½ seemed low, though he did add that having a lot of stuffed animals like Kim recommended can stretch things out because you can 'tease' the crowd with specialty items, whereas you tend to fire off beads like a shotgun. In fact, last Mardi Gras I described how the floats receding down the street looked like they were shooting off rainbow sparks in rapid succession. 10-12 bags gets him through a parade, and he offered some tips on points along the route to watch for so that you can pace yourself. It looks like I have some decisions to make, but I'm in this far so no use doing it halfway!
FRONT RUNNING & SEXY STREETS
During the meeting itself, John announced the order of the floats. This year's theme is Morpheus Cruises The Streets Of New Orleans, with every float representing a different street. The parade starts with several specialty rides like the Captain's float, the King's float, and our Make-A-Wish float (which I'm stoked to write more about). Member floats then follow and are lined up in order per which every rider had their dues in (it's apparently better to be early in the order before the crowd starts to lose interest). Kim is a stickler for shepherding her flock so we're locked in at 6 as the first member float. Go us!
Along with our placement, we learned which street our float would represent. I was hoping for something sexy like Bourbon or Tchoupitoulas or Desire. We got Jefferson. Of course, this is my first time and it's not like I'm going to be looking at the damn thing, but nothing says Mardi Gras like a quill pen and a Federalist debate! Powdered wig…well, that's very Mardi Gras!
KREWE HEWE GREWE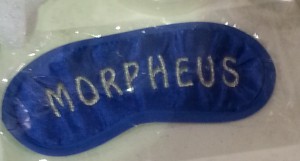 There was a mood of celebration and accomplishment to the meeting (punctuated by King Phil's pep talk, as previously mentioned), for we learned that
Morpheus
has now grown to 18 floats, ten of which are 'super floats' or multiple connected chassis. The first year in 2000 we began with five modest floats.  Such growth is made possible by a membership that has mushroomed to nearly 600 riders in an era where many krewes are struggling to maintain and some even shrinking. The Friday night slot on
Mardi Gras
weekend surely has helped, as has an active and veteran BOD, and these numbers put
Morpheus
in the neighborhood of all but the 3 'Super Krewes' whose competition to host the longest and most outrageous floats and parades is off the chain. I think Endymion is sponsoring a 367 chassis float this year. I could be wrong. It could be 362. I'm certain sure, though, that the first section pulls into Superdome before the last section leaves City Park!
PURPLE, GOLD, & GREEN RUBICK'S CUBE OF COORDINATION
Before the meeting wrapped up, we were reminded to show up on February 15th to pick up your packages and costumes if local and to load up the day before we roll if you didn't pay the $50 for Plush Appeal delivery. Also, costumes must be worn into the pre-party at Generations Hall as these will be our proof of membership, although admission tickets can be bought for $75 for guests.
The parade doesn't roll until 7:00, but doors open at 2:00 and local costumed cover band whom I've previously raved about, Bag Of Donuts, hits the stage at 3. Apparently the pre-party is the big draw, with food and an open bar, and the celebration extends onto the floats where we can bring the food but must provide our own beverages. Loading starts at 5:00 for our 7:00 roll time and even if things go smoothly it will likely be 11:00 before we return. The party continues at Generations Hall afterwards with breakfast and a cash bar, though I hear most people are partied out by the time we return. This also adds another level of planning. What do I advise my guests to do between 5:00 and 10:00 or so when the parade starts arriving back? There are two parades preceding Morpheus, of course, but that's still a long stretch of time. Mardi Gras is in many ways a giant purple, green, & gold sided Rubick's Cube of coordination!
HARNESSING CITY GOVERNMENT'S LOGIC
As things wound down, a question arose about harnesses. Several years ago the city passed a regulation dictating that all krewe members must be harnessed in so that (you can imply 'enebriated') riders don't tumble off of floats and get crushed under the wheels. After requiring these harnesses for years, the city this year had the bright idea to test to see if they work. Shockingly, most designs were inadequate so modifications were required. For example, the length has been standardized so that if you tumble off you will hover just above the ground. Actually, that sounds kind of fun.
Just kidding, guys!
Anyhow, members with old harnesses were instructed to bring them in for repair as they were likely pointless in the first place. That's so New Orleans!
SEASONAL SEMANTICS
So Mardi Gras Season is in full swing (I've been told to call it Carnival Season, but they don't call them 'Carnival Krewes,' now do they?!) and I couldn't be more psyched. As a kid I loved Christmas. In my young adulthood I was a Halloween man. But over the past decade Mardi Gras has become my time of the year, and I can't begin to describe my excitement at being able to attend all three weekends of parades and to see the crowds from the other side.
It's 'go time' for the throws, however. Plush Appeal is staying up late for Morpheus members tomorrow night, so I need to decide on a budget. There's a ton of cool stuff in that warehouse, though. Momma: Pray for restraint!