TIME IS MONEY, MONEY TAKES TIME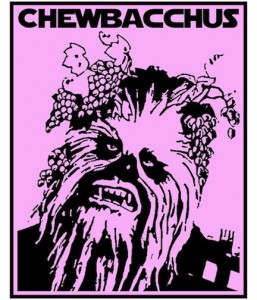 Last post I compared and contrasted the DIY approach of Chewbacchus, a walking krewe with homemade throws and costumes, with Morpheus, a modern krewe with super-floats and pre-fab beads and novelties. Participating in these radically different organizations is a great way to experience Mardi Gras in two popular manners, though there are a thousand different ways to celebrate Carnival.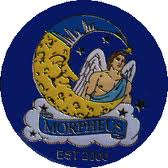 Of all the differences, however, the issue of throws is one of the biggest and has concerned me most. Both approaches require a substantial investment: of time with Chewbacchus and money for Morpheus.
FAUX FUR FLYING FAIRLY FREELY
I previously discussed cutting up burlap sacks into bandoliers—the sash worn by Chewbacca—and following this 'open build night' at the Den of Muses I have attended two K.R.A.P. craft nights hosted in members' homes. The first night I helped cut and attach Wookie fur to the bandoliers, but spent most of my time with another member,Bryan,'Rocksteady,' gluing Wookie fur onto koozies to throw. Seeing as I'm not a crafty person, I wasn't familiar with glue guns and would frequently burn myself. Each time I screeched in pain, though, I inadvertently engaged in an unspoken initiation ritual, for crafting is at the heart of K.R.A.P. and apparently burning the holy K.R.A.P. out of yourself with hot glue is a part of crafting. Thus, each time I'd drop the gun howling like a Wookie the rest of the group would chant, "One of us! One of us!" I'm a little afraid I joined a cult. Come to think of it, our hostess, Rachel, was drinking purple LSU 'beer' that looked suspiciously like Kool-Aid! Yikes! Kult of K.R.A.P.
Despite the decimation of my hands, however, the biggest challenge of the night was fur flying as we cut strips for the koozies and bandoliers as well as to make tribbles and decorate panties. Yes, panties. (More on that later.) The Sacred Drunken Wookie apparently demands gifts of fur be thrown to the reverent masses that come to pay him tribute, so fur particulates covered our clothing and coated our lungs. As Zennie, our resident seamstress, sewed small strips of fur into magnet-filled balls for tribble refrigerator magnets, we all joked that we were going to soon be coughing up little tribbles of our own. (For the nerd-challenged, tribbles are small fur ball creatures from the original Star Trek that once onboard the Enterprise reproduced at humorously alarming rates to overrun the ship in a rare comic entry into this typically melodramatic space soap).
CAUTION: MAY RESTRICT OXYGEN FLOW TO BRAIN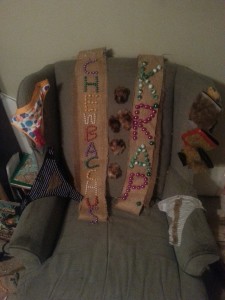 Apparently all this free flying faux fur affected the flow of oxygen to my frontal lobe, for the Monday before this past one I rushed nine hours–one stop–back from a Florida visit to do it all again at Chrissy's house (previously featured with her Wreath of Khan). There was less fur flying this night as we focused on decorating the bandoliers, and I even impressed myself by writing CHEWBACCHUS and K.R.A.P in beads. (Remember that I possess no practical real-world skills, so give me a break!) Across the room however, Bryan was engaged in a slightly more risqué task, making me shake my head and laugh that I'd driven back so urgently for this. He had moved on from the Wookie koozies and was now gluing triangular fur patches onto panties to form Wookie merkins to throw to the crowds. Only in New Orleans!
PLEASE SKIP THIS SECTION, MOM
If you're unfamiliar with merkins, well, so was I until about a year ago. For those easily scandalized (that means you, mom) go ahead and skip to the end.
About a year ago in Jacksonville my running group friends were at a party where all the ladies gathered in animated conversation, for one of them had just encountered the term 'merkin' and was explaining to the rest of the group that this is in fact a pubic hair wig used by actresses for 'dignity' (insert sarcastic chortle here) and prostitutes for hygiene. There's nothing snarky or sarcastic I can say to improve upon the humor of the merkin's very existence! Yet, in four decades on this planet that was my one and only encounter with merkins. Until NOLA.
In my year in New Orleans, in addition to making Wookie merkin panties to throw at Mardi Gras, I've become friends with a girl who marches in The Bearded Oysters, an all girl marching group that, she explains, wears granny panties with merkins attached under their dresses so they can flash the crowd. In fact, I must have had a dozen merkin-related conversations by now and everyone in New Orleans seems to know what you're talking about. There's no whispering in hushed giggles. It's just "Yeah, merkins . . . what about 'em?" in a loud, brash voice. Oh, NOLA.
To say the Morpheus meeting I attended the following night was a stark contrast would be an intergalactic understatement…