THE TRUE START OF MARDI GRAS CARNIVAL SEASON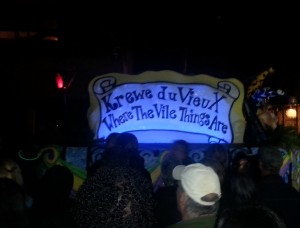 Although Carnival season begins on January 6th, the celebration truly kicks off just over three weeks before Mardi Gras when the bawdy and satirical Krewe du Vieux rolls through Marigny and the French Quarter, the first of nearly sixty processions that will roll through greater New Orleans area by Fat Tuesday. Thus, the excitement was palpable as my oldest brother (who'd flown in for this event) and I drove downtown Saturday afternoon through creeping traffic. Betweeen Krewe du Vieux and the NBA All-star Game nearly everyone had somewhere to be!
When we finally reached the far side of the French Quarter, however, Esplanade above Rampart was packed, as was all of Marigny, so we parked deep in a sketchy neighborhood past St. Claude and wound our way towards Frenchmen.
Jerry had decided to come this particular weekend after becoming intrigued by the satirical side of Mardi Gras through HBO's Treme. Although he accompanied me to a couple of those early Jazz Fests in the late '90s and early 2000s where I fell in love with the city, he hasn't been back since, so I was excited to play tour guide (though he doubted me for a moment). "We're making a lot of turns," he observed as I wove a stair-step pattern towards our destination. "There are no straight lines in New Orleans," I reminded.
WHAT HAPPENS WHEN YOU PUT THE ENERGIZER BUNNY'S BATTERIES IN BACKWARDS?
As I explained in a previous article, nouveaux DIY krewes actually hearken back to the origins of Mardi Gras when floats were made by riders, not professional artists, and costumes weren't homogenized. Krewe du Vieux (for Vieux Carre or French Quarter) was founded in 1987 when the artist-driven Krewe of Clones 'went respectable' and moved Uptown (where it petered out). KdV stepped in as the torchbearer for hand crafting floats and keeping Mardi Gras' NC-17 rating in tact during this increasingly PG 'Chamber of Commerce' celebration. Despite drunken college girls on Bourbon Street flashing their boobs for beads they could get for free if they ventured a few blocks Uptown, most of Mardi Gras is an all-ages affair with picnicking families lining the neutral ground of St. Charles.
Not so for Krewe du Vieux, which has survived to become the granddaddy of grass roots parading. Last year they featured two masturbating cows with erect 'cocks'—literally…chickens—beside a sign instructing the crowd to 'Choke More Chicken,' as well as an Engergizer Bunny with a large erection. (Apparently he keeps cumming and cumming and cumming.) We won't even mention what became of Roger Goodell! Yet despite such adult themes, I was surprised to find so many children perched upon their parents' shoulders as we pushed into the throng on Frenchmen Street.
MARDI GRAS IN ETHIOPIA(N)
We arrived with an hour cushion, so fittingly, I began this Mardi Gras where my last Mardi Gras nearly ended. After walking from Uptown all the way to Frenchmen Street last Fat Tuesday, my last stop was The Spotted Cat where I chatted with a group dressed like characters from Alice in Wonderland. Right at 5:30, though, they all rushed away to to get a table at a little Creole Italian dive next door called Adolfo's. Alice, though, (otherwise known at Ann) wasn't thrilled with the choice of her supporting cast. Still, she followed, and I doubled back to the Quarter, met a few Krewe of Rocckus alumni, and ended up eating in a disappointing Ethiopian restaurant on Royal because it was the only place we could get into, ending a crazily eventful day with a thud.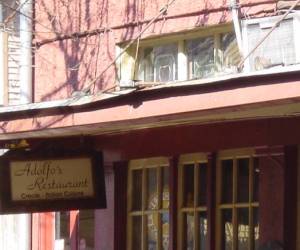 Out of the thousand people I met that day, though, Anne alone has stayed in touch, following the blog and attending most Red Beans on Monday gathering. To this day she continues to decry Adolfo's as a typical 'butter and crabmeat on fish' Creole Italian joint. Ann and I, though, seem to be culinary opposites. Once I added a YELP! review for Mother's encouraging visitors to ignore local accusations that it is a tourist trap only to see that Ann had posted two reviews below me about how it's a tourist trap!!! Thus, I figured it was worth a try. Besides, it was stuck in my mind from that Mardi Gras night and had to be better than bland Ethiopian chicken and rice.
A SATISFYING FULL CIRCLE
Adolfo's is a tiny little rustic nook above the tinier Apple Barrel. Its only marker, an easily missed plain sign, hints at the entrance via narrow stairway. Once upstairs it's so cramped and quaint you almost feel like you're in a Hobbit hole. And that is half the appeal—it feels like a find. Fortunately, though, the food delivered.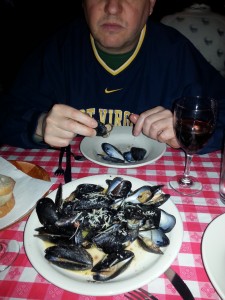 The mussels we ordered as an appetizer were superb and my red drum with 'ocean sauce' (two cream sauces, one with shrimp and the other crabmeat) was excellent. Jerry declared his lamb chops the best he's ever had. There are so many great places in this city that I wouldn't declare it my favorite, but I also wouldn't turn down an invitation, especially if you're paying! It was a satisfying full-circle, beginning Mardi Gras 2014 where my 2013 not-quite ended.
BOOBS, BUTT, & BALLS—OH MY!
As we exited, the crowd at Frenchmen and Royal had grown to at least a dozen people deep on each side of the route. (A friend who marched in the parade with the sub-krewe C.R.U.D.E. later told me it was the largest crowds he'd seen for KdV.) We pushed into the crowd and found a spot where Ann and her boyfriend soon joined us, having declined Adolfo's for mysterious reasons. At last a blast of sirens and blue lights marked the arrival, and the boisterous crowd cheered the start of the season.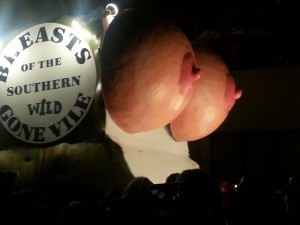 The first float announced the theme,'Where the Vile Things Are,' and a steady stream of political satire and sexual farce followed. Part of the fun is trying to figure out what the floats are poking fun at, but as Jerry quizzed me I realized I was a little behind on local political scandals. (I don't have cable or get the paper!) Although I didn't know all the specifics, I still enjoyed the jokes which targeted the legalization of marijuana (The Big Bong Theory); prison corruption (Jailhouse Rock); rats infestations at local grocery stores, the NBA All-Star game (The Ball-star Game), the Winter Olympics via an ice dancing penis twirling in front of Olympic rings with one circle burnt out (Sphincter 2014) and another with Putin being made a gimp by a bear (Winter Olymp Dicks); Louisiana reality TV homophobia (Dick Dynasty); and various other displays of boobs, butts, and balls. I'll just let the pictures speak for themselves:
There are plenty more parades to come (though none like Krewe du Vieux) so stay tuned………