CHERRY POPPIN' IN A RED DRESS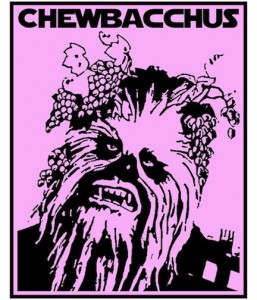 So my Carnival cherry has been popped, and in a red dress and support hose, no less. After seeing dozens of Mardi Gras parades in my life and having fallen in behind a few second-lines (next best thing to joining a krewe!) I rolled through the Marigny on Saturday night with the Intergalactic Krewe of Chewbacchus for my first ever Mardi Gras parade as participant rather than spectator. Like the movie trilogy that inspired Chewbacchus (I'm still in denial about the three prequels), it was an epic production of thrilling and inspiring grandeur.
Rolling with the oft mentioned sub-krewe of K.R.A.P. (Krewe of Really Awesome Parodies), I embraced their theme of Star Wrecks whole-heartedly…everyone seemed to agree that my costume was a glorious wreck of epic proportions. We're talking Edmund Fitzgerald worthy Star Wreck.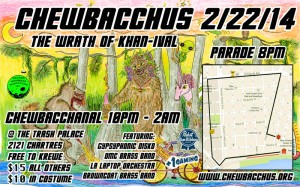 YOU HAD ME AT HELLO
At last writing, I was hastily posting prior to rushing to K.R.A.P. member Danielle Wheeler's house for some early afternoon pre-gaming as we donned our cringe-inducing parodies. Although my costume idea had popped into my head the moment I read the 2014 Chewbacchus theme on their website: The Wrath of Khan-ival, it took me a while to identify an opening to assimilate into the group. I'd been handed a K.R.A.P. recruitment card, though, at the kick-off party back in September, and the name caught my interest. Thus, I rushed back from a Florida visit in October to attend a sub-krewe meeting where Rachel Unger and Chrissy Gross—our fearless leaders—announced the theme of Star Wrecks; and the grumbling began. Folks said they didn't understand it or that it gave them no ideas. Hell, it made perfect sense to me: A hung-over, disheveled, half-drunk, morning after, walk-of-shame parody of your favorite sci-fi character. Baby, you're singing my song.
It wasn't that my costume fit K.R.A.P.'s theme, but that their theme fit my costume. You had me at 'hello.'
SERIOUSLY SILLY VS FRIVILOUSLY SERIOUS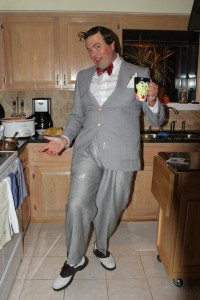 As an adult, Halloween reigned as my favorite holiday until I caught Mardi Gras fever, but sexy, suave, scary or authentically replicated costumes bore me. My philosophy has always been that life will demand seriousness from you often enough so be silly and have fun when it isn't @#$*ing with you. I'm a person people tend to call on or fall behind when the chips are down and the shit hits the fan, and I think that's because I don't use up my seriousness frivolously. Over-serious people, I find, tend to fade in a crisis when seriousness is suddenly necessary.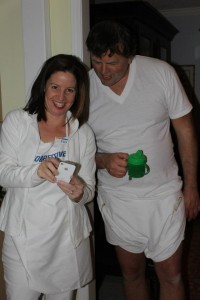 With this embrace of the silly and absurd, past Halloween jewels have included history's most massive pee-wee Herman with popcorn in one hand, rag in the other, and fake dangler below; a 'tropical depression' the year Florida was hammered by three successive hurricanes (a prozac hat and sad clown face contrasting against a Hawaiian shirt and cluster of leis); the e-trade baby with bed sheet diaper and crayon stock portfolio/rattle; and my tribute to Chris Farley's Chippendale skit complete with dance routine. It was an accidental triumph, however, that inspired my Star Wreck.
WHEN A DRESS IS THE MOST MASCULINE OPTION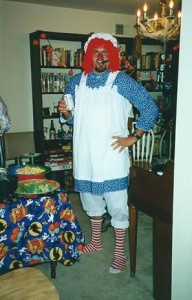 While working my tail off in my grad program for occupational therapy, I didn't have the time or creativity left for costuming, so my (ex) long-time girlfriend and I went to Party City a few days prior to attending my friends Alex and Paul Erickson's annual Halloween party. However, the store was cleaned out upon our arrival, and the only outfits that would fit us both were Raggedy Ann and Andy. "I'm not going to be Andy," I objected. "How gay is that?"
[Not that there's anything wrong with that!]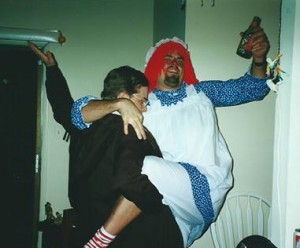 An ironic Raggedy Ann felt much more masculine than a sincere Andy, so I quit shaving my beard and chewed on a cigar the whole party. The costume was a cringe-inducing hit and I was a surprise winner in the "Scariest Costume" category. Score!
With this past success in mind, I knew from the moment I saw the Star Wars theme what character I wanted to be: Lieutenant Uh-the-horruh!
A SPIKE LEE JOINT, BAPTIST STYLE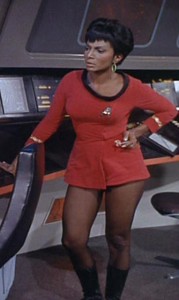 Like so much of post-civil rights white America, I wasn't overtly taught racism but rather absorbed the message more subtly through schoolyard nursery rhymes that make me cringe looking back and whispered comments in public when all the color drained out of the room that soon grew to tick me off. Growing up a sheltered and sincere (probably another reason for my rejection of unprovoked seriousness) rural Baptist teen, I had no clue what sex was when I hit puberty—only that it was something bad that you didn't do if you didn't want to go to hell. I did pick up enough to know, though, that it was even badder if you did it with someone of a different complexion; yet nature has its way.
As I child I was a Star Wars fanatic (like all kids at that time) but as a teenager became obsessed with Star Trek, and this just happened to coincide with puberty. Thus, Nichelle Nichols's prominent bust and skimpy go-go Starfleet skirt sparked my very first case of Jungle Fever. I knew I wasn't supposed to want to do whatever it was that I didn't understand yet still wanted to do, and especially knew I wasn't supposed to want to do it with her, yet for reasons unknown I would have sailed her starship into dangerous Klingon territory right past the Neutral Zone without blinking an eye.
I'm fairly certain that I would have otherwise matured to recognize and reject such hateful nonsense, but Lt. Uhura was my gateway drug. Thus, it was with love and respect that I prepared to strut it like a drag queen in need of a waxing and let it all hang out as the Star Trek character that replaced Dr. McCoy as my favorite once my hormones hit warp speed!
GROUP STUFFING DOUBLE D
Despite an enthusiastic reaction to my ideas from Rachel and Chrissy, I was still nervous going in. Any reservations I had,though, were squashed when I arrived at 3 o'clock—five hours before the parade—to find Rachel and her fiancé' leading a group of mock Miley Cyruses in nudie full-body tights. Lt. Uh-the-horruh would fit right in.
After dropping off the food I'd prepared that morning in the kitchen, I grabbed a drink and mingled as everyone took turns getting dressed in the modest shotgun home that had no room for modesty. My friend Ann had joined at the last minute, and soon retreated to don her awesome (if less risqué) Lord of the Rings parody: One of Sauron's 'ring wraiths'  holding a pan-handling sign that read 'Mordor: Destroyed By Filthy Hobbits. Anything Helps.' There's always two sides to every story…
Hilarious!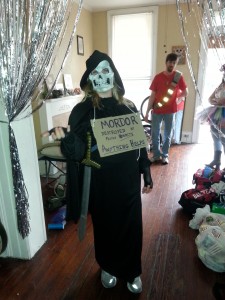 Soon, though, she began pressuring me to put on my drag as I continued to put it off. I was very proud of the concept, but was dreading the execution. None of this looked comfortable, from the cheap Amazon wig, to the red XXL but still tight dress that member Zennie Shrank pointed out on ThinkGeek.com, to the black hose I'd purchased at Wal-Mart, to the 50DD bra I'd tried on over my t-shirt at Wal-Mart scaring away the female shoppers.  It turns out, though, we needed to get an early start so I relented.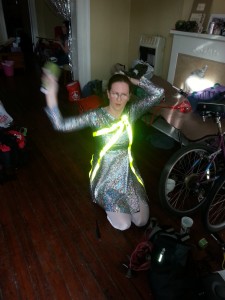 Although the parade didn't roll until 8:00, it started lining up at 7:00 and they quit handing out wrist bands at 6:00 (Ann hadn't picked hers up in advance), so everyone was leaving shortly after 5:00. Danielle's house was in walking distance from the Den of Muses and (beyond that) the Trash Palace where Chewbacchanal was being held, but only in the sense that any land mass unobstructed by water is in walking distance if you have enough time and supplies (I would greatly regret not driving closer by night's conclusion).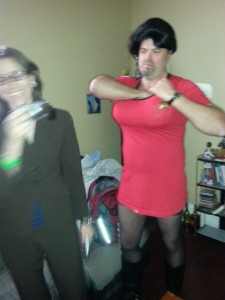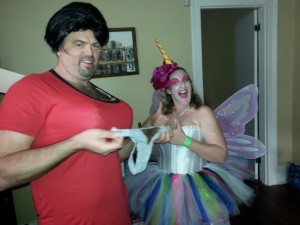 When I emerged from the bedroom where I dressed pretty much in view of the kitchen and living room (the afore mentioned lack of modesty), the laughter and looks of shock were instant. Everyone got in on the act, taking pictures and helping me stuff my 50DD with bandoliers, koozies, tribble magnets, merkin panties, and beads to throw during the parade.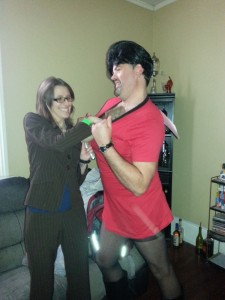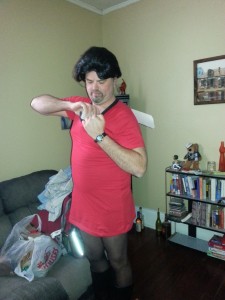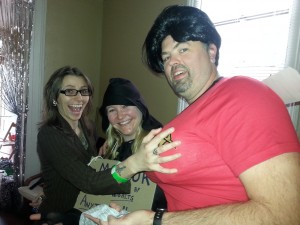 After committing so much cash to this outfit, I figured the big black pirate boots I already owned would have to suffice. (No one was going to be looking at my feet, after all.) For comfort, though, they might as well have been high-heeled hooker boots. Two blocks of lugging my cooler of beer and two bags of throws for replenishing my boobs and I knew it was going to be long night.
BUSTING OUT OF EVERY SEAM (THEY'RE MORE AFRAID OF YOU)
As we wove through the 9th Ward and into Marigny the looks I elicited were priceless. Some of the blocks we passed looked pretty rough and I don't think they knew there was a sci-fi parade that night. I didn't feel threatened, though. People seemed more afraid of a 6'4" 250lb dude in drag than I was of them!
As we neared the Den we encountered more and more people preparing for the parade or gathering to watch. Soon the breast gropes and catcalls began. I don't know if it's a 'see how it feels' thing or that women are as fascinated with boobs as men, but four times as many women as men cupped or motor-boated my fake bust that night.
Since most of what I'd seen in Chewbacchus ranged from party-themed parody to serious and complex Cosplay ('Costume play' for those in need of a geek thesaurus), it took me time to get to know the krewe and get up the nerve to plunge so lustily off the deep end. As I arrived at the Den, though, my reservations melted. My procession through the crowd was slow as I stopped for high-fives and photos. Lt. Uh-the-horruh was a hit.
I an an earlier Chewbacchus post I wrote about how I felt I was having my nerd credentials checked, and there were some members whom I'd met several times that continued to blatantly keep me at a wary distance. I now encountered several of these same people and their cold shoulders instantly melted. I suppose it was clear that I wasn't a posing hipster, after all. All my chips were on the table . . . except for those that were busting out of every seam!
MAY FORTUNE FAVOR THE FESTIVE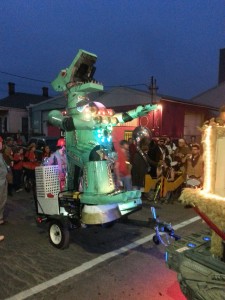 Star Treck IV: The Voyage Home was my favorite movie as a teen, and before traveling back in time Kirk revised a line from the Aeneid,  opining: "May fortune favor the foolish." On Saturday fortune was certainly on our side. Sunday would turn out rainy and overcast but Saturday was the most gorgeous day so far this year. The air was warm yet devoid of humidity while retaining a hint of crispness and capturing that clarity of light that makes you feel like you're living a John Denver song. This beautiful day was melting into a sublime dusk with pastels seeping from behind the silhouette of the Mississippi River Bridge in the distance as we walked along the slowly-organizing parade (two hours before rolling) looking for K.R.A.P.'s place in line. Electric excitement crackled in the air as hundreds of revelers lined up in costumes covering every aspect of sci-fi, fantasy, and fandom imaginable. While a lot of costumes like mine were silly and thrown together and a lot of contraptions simple like K.R.A.P.'s decorated grocery cart holding a mini keg and throws, there are a lot of professional artists, seamstresses, welders, and electricians in Chewbacchus so costumes and contraptions could get quite elaborate.
Behind us a trike was decorated with a sign that read "Darth Vader Got Custody." The father driving this contraption had a professional quality Darth Vadar outfit, and his son and daughter rode in back as mini-Vaders, the daughter in a pink flowered helmet. Not far behind this were The Rolling Elliotts—a sizeable bike krewe with ETs stuffed in their baskets. Somewhere ahead of us roamed the large steel fire-breathing dragon that was founder Ryan Ballard's brainchild for the year, though the city fire marshall wasn't thrilled and I don't believe they got to light it. The golf cart Millennium Falcon he'd previously built (and pictured previously) zoomed past at some point.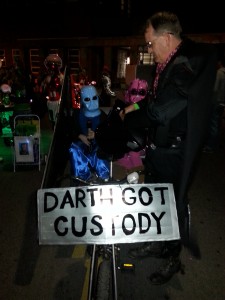 Since everyone there were fans, we all seemed to be talking about how the only thing that sucked about rolling with Chewbacchus was that you didn't get to see the parade. Still, we used our multiple pit stops back to the Den to survey the ranks and take photos. Star Wars was a frequent theme, of course. There were countless Leias, a score of Ewoks, several storm troopers, a squadron of rebel x-wing pilots (the pint size ones were particularly precious), a cardboard two-legged 'scout transport' with fighter perched atop, and an occasional Han Solo (usually female—I was one of the few male cross dressers but a lot of women chose to be a male badass.) I don't recall seeing a Luke, however, but there had to be one out there. Contraptions inluded the Death Bar and a return appearance by Bar-2 D2.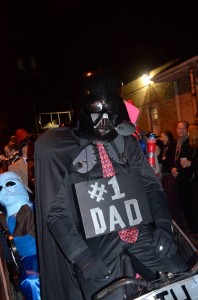 Per the Wrath of Khani-val theme, Star Trek was also popular, and several female Uhuras grabbed me to get a twin-style photo. There was also a whole sub-krewe I could have melted into: The Women of Star Trek. And of course red shirts were everywhere.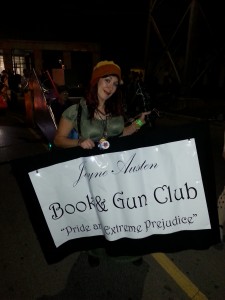 Another popular show for emulating was Firefly, the President Kennedy of fandom (forever mythologized due to its early demise after such a promising start!), even making an appearance in K.R.A.P. via Jayne Austin Book & Gun Club (a mash up between the Victorian pen wielding Jane and the futuristic gun-wielding Jayne). LOTR was also prominent, including our indigent Nazgul in K.R.A.P., and comics were well represented, including a Spiderman I kept bumping into and ended up working the door with later at Chewbacchanal. In fact, if it's unrealistic and been on screen, it was somewhere in the crowd.
STRONG-ARMED BY PUBLIC TELEVISION
Oh, and of course there was Krewe of Who that has grown so large it's almost it's separate krewe in and of itself. If only there had been so many Dr. Who fans around in fifth grade when I'd made a $20 pledge to PBS because of their pledge drive threatening to cancel the show, only to have the other 2 members of the fan club I founded quit. I couldn't pay the loot alone and for months lay in bed sweating as letters from PBS arrived at my grandparents house—I didn't dare use my home address—thinking I was going to jail for fraud!
CORNY, LOUD, GAWDY, & ABSOLUTELY FABULOUS!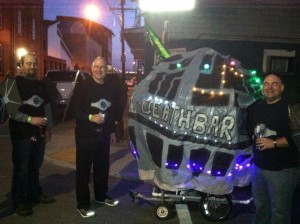 Two hours flew by as we chatted, imbibed, snapped photos, and soaked in the love and effort that went into putting on this spectacle. This was the true spirit of Mardi Gras—a loving tribute put on by the people for the people, and the dedication was on display in corny, loud, gawdy, and glorious splendor as far down the streets as you could see in either direction. The sidewalks were crowded with eager onlookers. It was a community united in celebration, and that's always a beautiful sight.
Suddenly the announcement rippled down the line, and slowly this army of revelry and resplendence groaned to life. We were rolling!