SHOCKS & STRUTS: SWINGING LIKE A STEAM-DRIVEN PENDULUM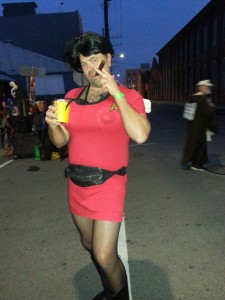 As Chewbacchus slowly groaned to life along N. Peters Street a few onlookers gathered along our forming line. K.R.A.P.'s segment of this weaving serpent nearly 1000 people strong (800 paying members, over a hundred red shirts, and several marching bands) was smack dab in the middle, but finally followed the head in motion. After taking an awe-struck moment to soak it in I started experimenting with my crowd flirting technique, throwing a few beads and an occasional furry koozie or some merkin panties. (The bandoliers were the big guns, so I was saving those.)
It took me a few minutes to warm up, but I'm as much an actor as a writer at heart and may have missed my calling. Performers tend to be quiet and introverted, but give them a stage and your attention (ie. permission) and they spring to life in bold Technicolor. Thus, by the time we rounded the corner to travel the block up Esplanade by the French Quarter before turning on Frenchmen Street, I was fully in character and struttin' my stuff. This quiet, reflective writer that had tentatively poked and prodded at the Chewbacchus ranks trying to find a pocket of quiet inclusion suddenly became a loud and flamboyant character actor in drag.
I'm not much of a dancer, but as the crowd whistled, catcalled, and yelled "nice boobs," it fired me up and soon I was swinging my hips like a steam-driven pendulum while blowing kisses to the crowd.
CONTRIBUTING TO THE DELIQUENCY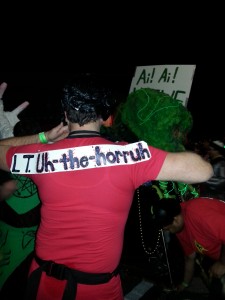 I've been advised to 'see who you throw to' which should be easier in a walking parade, but it's amazing how much you miss in the rush of excitement. The fact that my beads and bandoliers were tangled up in my brazier certainly didn't help matters, and I spent much of the first leg staring down at my own cleavage. I'd thought it would be a good idea to hang my beer around my neck with a suspended koozie, but big boobs truly do get in the way and soon I spilled so much it appeared I was having major lactation issues. Hey, it just added the Star Wrecks aura.
When I did manage to marshal my attention and scan the crowd, I looked for the most enthusiastic response and rewarded him or her with a throw. Having suffered through many parades as the big guy who can hardly get targeted I tried to be an equal-opportunity sharer rather than heavily targeting cute girls and children. In fact, I mostly ignored children because other than the tribbles—which most kids though were dryer lint, anyhow—I didn't have much that was kid appropriate. At one point some parents sent a five-year-old out to hug me and then hold out his hand. I wrestled with my double D stash for five minutes that was really only five seconds or so but all I could wrest free was a fuzzy beer koozie. I handed it to him and shrugged at his folks. Enjoy that in sixteen years!
MOTORBOAT MAYHEM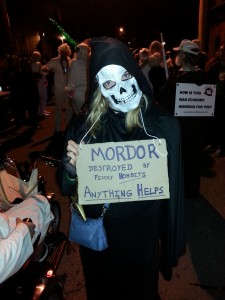 As we passed by the music clubs of Frenchmen Street revelers were packed as thickly as the sidewalks could hold. Folks continually shouted and waved for my attention so they could compliment my outfit (I ate up the flattery like any gussied up lady would) or have me pause for a picture (and you bet I hammed it up!) Some people would call me over to pose with them, and I'd always reward such attention with a good throw.
The more encouragement I got from the crowd the more emboldened I became. Some guys and more women would point to my fake bust and ask to 'touch them,' while the more bold women (though I don't think any men) would spontaneously motor-boat me. As my courage grew, I soon became proactive and developed a favorite gag. Searching the crowd for a conservatively dressed (relatively speaking—not a lot of Pentecostals in this crowd) older couple, I'd walk over, wink at the wife, and then grab her husband behind the head and push his face into my bust, giving my upper torso a wiggle. The wives ate it up, cackling with laughter, and I'd always drape a bandolier over the embarrassed husband's shoulders or crown him with some merkin panties. Soon, though, someone turned the table on my shenanigans. One woman waved me over as if to give me a hug, but when I leaned in she planted a big wet one on me. The crowd around her cheered as I felt my face burn red.
HOW UHURA GOT HER GROOVE BACK
As I fell back in line, Chrissy came up and gave me a sideways hug. "You're doing awesome working the crowd," she encouraged. I laughed. It actually reminded me—shockingly enough—of the summers I spent at Camp Easter Seals-East where the adult 'program staff' would put on evening interactive skits for the child and adult attendees with disabilities. On X-Files night I got to be Mulder and Scully's boss, on Murder at the Mall night I was a sketchy shop owner, and during A Night at the Fair I was the bucking bull. Seriously. Kicking up off your knees trying to buck kids (and, worse, teens) off your back for three hours is the most exhausting thing I've ever done—jiu-jitsu combat included!
Of all the gags we'd pull, though, the favorite was always when the male counselors strutted out in dresses. It's such an obvious gimmick, but fart jokes and men in drag will forever remain evergreen comic gold.
I grew up a quiet sci-fi geek who made it through days (and maybe weeks) of school without speaking to anyone. Then I reached college where I graduated president of the largest fraternity on campus. It was quite a transformation. Those camp summers while I was in grad school, though, were when I really became a reckless extrovert. Those were the years some camp friends and I convinced a thousand stodgy Brits to do the Hokey Pokey in Trafalgar Square in London on New Year's Eve and I started dressing like a pirate at Buffett concerts, strolling the parking with my guitar as a growing crowd trailed behind despite being a bad musician and horrendous singer. Inside, I'd lead conga lines and waves through the grass 'seats,' causing my oldest brother once to laugh and point out that more people were watching me than Buffett.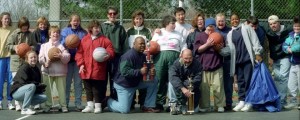 Those years will likely always remain the most fondly remembered of my life.
The older I've gotten, though, the more that platform and permission has faded. Although I haven't regressed to the wallflower I once was, my thirties saw a slow but steady comedown from the rampaging extrovert I became in my twenties, and I've settled somewhere in the middle.
As the appreciatively roaring crowd egged us on, though, it felt fantastic to strut down the street and recapture the inner physical comedian that usually only gets to rear its head now on Halloween night amongst a few friends.
I had an audience, and I wasn't about to let it go to waste!
K.R.A.P. IS KING
Not to say I was the only one drawing attention. There are so many awesome costumes, contraptions, and personalities in this parade that I can only imagine what was going on elsewhere. The crowd, though, was at fever pitch as we passed in the middle (14 out of 28 sub-krewes) so everyone ahead of us was clearly delivering. To the left of me, Ann's Indigent Nazgul costume was hailed by paparazzi-worthy blasts of flashes and loud declarations that it was the best they'd seen yet. At one point she bummed a pair of merkin panties to give to her waiting boyfriend. When she laid a big wet one on him, the crowd went crazy thinking it was a random drive-by-kissing.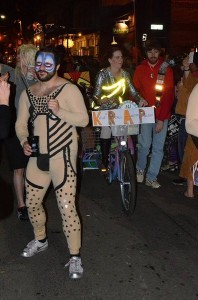 On the other side of me, the Miley Cyruses in their nudie body tights took advantage of every pause in the parade to grab onto our shopping cart, bend over, and twerk furiously to thunderous applause. (Fortunately I was too caught up in the moment to notice "Wrecking Ball" and "Achey Breaky Heart" playing for the hundredth time…though the twerks were impossible to tune out!)
Yes, there were a lot of good costumes out there but I was drawn to K.R.A.P. for a reason. Everyone loves a good parody. I'd like to think we ruled that route.
THE ZEN OF DRAG QUEEN ENLIGHTENMENT
As we rounded the corner on St. Claude the crowds were still healthy but thinning. I was now worried about rationing my throws, and foolishly had not memorized the route so I wasn't sure how much further we had to go. Through sheer luck it would work out almost perfectly.
By now, though, I was a royal wreck. Both breasts were soaked, I'd been so caught up in things on Frenchmen that I'd dropped the lit cigar that was a costume coup de gras from my mouth without even realizing it, my breasts were depleted and lopsided as my throws ran out, and my feet were developing blisters the size of tribbles.
I was having a blast.
The further we got, though, the more frequent and longer the stops became. Without the energy of the crowd to absorb, I became just a tired and beer-soaked dude in a too-gight dress and uncomfortable shoes. Plus I'd almost dropped my phone several times and nearly lost my wallet. I'd solved this by stuffing them in my bust, but now my bust was nearly gone. Oh, the life of a woman. At camp we used to do empathy exercises such as walking around in blindfolds or buttoning a shirt with socks on our hands. Similarly, every man should have to hit the town one night in a tight dress, wrenching shoes, meddling bust that shifts your center of gravity, and no pockets. It's quite enlightening!
SHOWER THE SCI-FI NERDS YOU LOVE WITH LOVE
I was running on reserve battery by the time we took a long pee stop at the Hi-Ho and was almost out of throws. The final leg, though, down Franklin towards the Den, was sparsely attended so we could fortunately select our final targets carefully.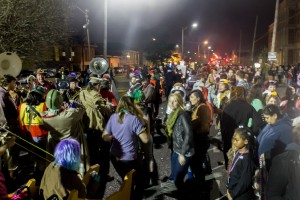 To be honest, things were getting fuzzy by this point and I don't totally recall making that last turn to the Den of Muses and disbanding. I do remember, though, looking at my watch and noticing it was 10:20. I was supposed to work the door of Chewbacchannal from 10:00-11:00 so dove into the crowd, swimming against the stream. Fortunately, this allowed me to glimpse a bit of the tail of the parade as I pushed along. At one point I remember seeing King Chester passing and giving him a high-five, though usually the king leads the parade so take that with a grain of salt and flask of spiced run.
Nevertheless, it was fitting that one of the common Chewbacchus members was raised to king, for with the cheering crowds and universal love showered upon our months of preparation, we were all royalty in the Marigny that night.
All Hail the Sacred Drunken Wookie!
Here are some Flickr links for awesome parade pics by far better photographers than I:

Franzia Ellers Chewbacchus 2014 on Flickr