LEAVING A GOLDEN OPPORTUNITY TO SAY GOODBYE TO A LEGEND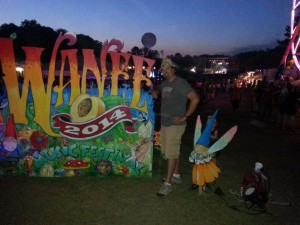 Ten years ago The Allman Brothers Band founded Wanee Fest at the Spirit of Suwannee Music Park in Live Oak, FL as an opportunity to showcase their band near their Florida and Georgia homes as well as their multiple side projects. The initial year included a modest supporting cast, but in the decade since Wanee has grown into a huge event with impressive supporting star power; however, the future of the band and perhaps the festival is now in question, so I skipped the opportunity to attend only my third French Quarter Festival just minutes from my new New Orleans home to make the seven hour drive back to my old Florida home to pay tribute to a favorite band and an outfit that changed rock-n-roll, particularly in regards to guitar harmony and extended jamming.
A LIVING LEGEND'S LAST STAND…OR NOT?!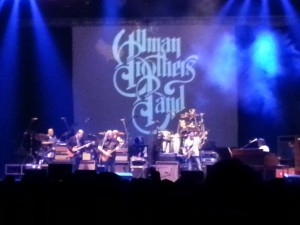 The Allman Brothers Band has certainly suffered staggering losses before. Just as they were reaching national notoriety in the early '70s they lost co-founding brother Duane Allman, legitimate contender (and my vote) for greatest guitar player of all time. A year later they lost bass virtuoso with a rare-for-rock jazz flair, Berry Oakley. Despite such devastation, they soared to superstar status in the mid-70s only to see it evaporate due to addiction and scandal. They reformed and limped into the 80s with a pair of lackluster releases, but a career retrospective 'box set' in 1989 (when box sets where all the rage!) reminded the world of their relevance and re-energized the band. The quickly returned to making excellent and relevant new music. Soon, however, they lost yet another critical founding member, parting ways with Duane's partner and fellow all-time great guitarist, Dickey Betts, as his continued substance abuse wore thin with the remaining founding members. Next in 2000 they lost another bass player, Allen Woody, to that Great Gig in the Sky. Somehow, though, they'd managed to replace two of the greatest guitar players of all time with two of the greatest guitar players of all time in Derek Trucks and Warren Haynes forged ahead, not only surviving but excelling to new heights both commercially and musically.
For the past fifteen years this dynamic duo has returned The Allman Brothers Band to the top of the jam band and summer festival heap with their flaming fretwork, yet when these two guitar gods announced in January that they were leaving the band to focus their energy on their other bands—The Tedeschi-Trucks Band and Gov't Mule, respectively—it set off rum ours that after a 45 year run of greatness the ABB would call it quits.
Gregg Allman recently came out trying to squelch the retirement rumors, but it's hard to fathom that he will be able to replace the two legendary guitarists who replaced his two legendary guitarists. Thus I made the tough decision to leave New Orleans this weekend and forego covering French Quarter Festival to drive seven hours to camp out in a field to see what may (or may not) be The Allman Brothers Band's last stand.
LIKE A FARM ROAD WITH A BUSTED FENCE
The forecast for the weekend was low 80s and 0% chance of rain, a blessing after the deluges that have plagued the past two years and three of the last four. (2009 was my first Wanee, so I can't attest to conditions before that!) Although the line up this year was not as strong as past years when legends like Robert Plant, Buddy Guy, Bruce Hornsby, Widespread Panic, and The Steve Miller Band held court, the perfect weather and prospect of a blistering farewell performance had me palpitating with excitement as I shuffled through my entire Allman Brothers catalogue during the drive.
It turns out I wouldn't be disappointed.
Obligations from my other job (the one that actually pays "any legal tender with a white man in the center," to quote Galactic) necessitated my missing the Thursday show where Hot Tuna and Royal Southern Brotherhood highlighted the bill. By the time I arrived Friday and picked up my media pass the countless sprawling acres of the Spirit of Suwannee Music Park were jam-packed along every twisting and winding path with campers. I spent nearly an hour driving back in the woods looking for an open spot to no avail. Not that it mattered because I was so lost in this web of roughly cut dirt roads that I would have never found my way back to my tent once I left it, anyhow!
Still, it warms my heart to see how popular this festival has become. Fans now return year after year with elaborate setups to hang homemade Wanee banners around their primitive campsites. As I searched in vain for a small patch to pitch my tent the roads were so thick with fans making their way to the festival area that it was like driving down a farm road after the fence has been busted by cattle! Finally I ducked out a side exit and re-entered the park, pitching my tent in the giant open field mostly reserved for day parking. A hundred or so other attendees had chosen this option which was an easy fifteen minute walk to the stages. Note to self for next year…if there is one!
CLICHÉ FOR GOOD REASON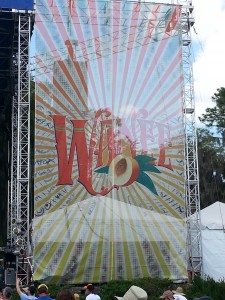 I finally wandered over to the festival grounds in time to see Lynyrd Skynyrd play before an enthusiastic hometown crowd, as we were camped just an hour and a half from their Jacksonville home. As both they and the ABB were formed in Jacksonville and are the two most popular and successful purveyors of what has been dubbed 'Southern Rock' (though Gregg Allman points out that rock originated in the south, making this designation a silly redundancy) they are often lumped together, but the similarities end with these surface similarities. The Allman Brothers Band has survived tragedy to reinvent itself several times while remaining a vibrant collective making relevant and evolving music, reinterpreting the past while continuing to forge into the future. Lynyrd Skynyrd, on the other hand, has never truly recovered from the tragic loss of the heart and soul of the band. Legendary frontman Ronnie Van Zant's brother Johnny has taken the helm and is keeping the group in capable hands (and voice) as it continues to tour with only one founding member ,and they have assembled a fine collection of musicians; however, as they made their way though faithful renditions of the band's classic hits, it was clear that this is more a nostalgic act more than an actively evolving ensemble despite a pair of recent releases.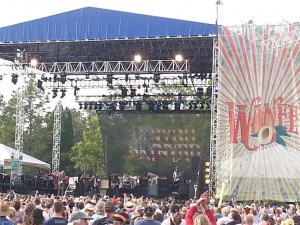 That's not to take away from the performance. Friday was a fine sunny southern day for a collective sing-along, and Lynyrd Skynyrd led the congregation with heart and skill. Everyone in the crowd, myself included, basked in the pure joy of singing along to faithful renditions of these timeless songs. Yet these faithful renditions held no surprises. In live jukebox fashion, their strength was in revisiting the past rather than forging into the future. But it is a rich past they are mining and I didn't hear anyone complaining.
And besides, "Free Bird" contains easily one of the top five guitar solos ever recorded and guitarist Rickey Medlocke has it down to perfection. Just hearing this goose-pimple eliciting encore was worth the price of admission. Yelling "Free Bird" at concerts may be cliché, but it achieved this dubious honor for good reason!
THE TREY KOOL-AID
Lynyrd Skynyrd was followed by the Trey Anastasio Band, and Trey was in fine form. His solo band is jazzier and funkier than the quirkily mechanical Phish, whose strength is precision over passion. It was an entertaining show and the funk rhythms he laid down were conducive to festival lawn chair dancing, but I never drank the Trey Kool-Aid so I won't delve deeper. He's a skilled and intelligent musician but there's little blues in his guitar so I don't ever feel his solos. That's not a criticism—he's just not my cup of tea. I respect him. I just don't love him. But I don't fault you if you do.
SWAN SONG FOR THE GREAT AMERICAN BAND, NIGHT 1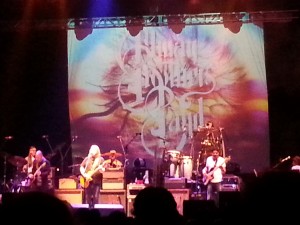 After Trey left the stage I had plenty of time to relax and unwind from my frantic drive and setup, for there's always over an hour break between the last opener and The Allman Brothers Band during both nights they headline Wanee. Their elaborate setup takes some time to put together and they're thankfully meticulous about sound quality, so it's time well spent.
When they finally took the stage and hit the opening notes to their famous version of the Blind Willie McTell classic, "Statesboro Blues" it was immediately clear we were in for a treat. From the opening note, the band was on point. Two years ago Gregg Allman, fresh from his liver transplant, fell off his stool and was rushed from stage after wheezing through three songs. This year, his voice was as strong as I've ever heard, and that gruff but soulful growl is one of the few irreplaceable components of the band.
Both guitarists were on fire as well. Trucks in particular was visiting some alternate plane of furious musical possession that perhaps his obsession with Eastern music opened to him. He announced in the media his intention to go out in a blaze of glory, and his frenetic soloing right out of the gate signaled that he intended to follow through. The beauty of Trucks is that, like idol Duane Allman, his playing is as beautiful, emotive, and distinct as it is precise and blistering. He is both a world-class stylist and technician, and, for my money, the best guitarist on the planet under the age of 60.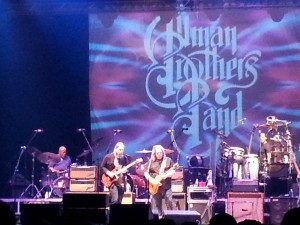 Warren Haynes is no slouch either. He would hands down be the best guitarist in nearly any band touring today, yet he is only fourth greatest guitarist in this band's history behind Duane, Trucks, and Betts. That is staggering string of talent, and all four easily fall within my top 50 of all time.
Haynes also brings a needed vocal counterpunch to Gregg since the departure of Betts, and his bluesy and heartfelt vocals add a fresh perspective to their music, both old and new. The beauty of The Allman Brothers is that they continue to expand upon classic songs that have ingrained themselves deep in the American psyche while producing additional excellent originals over the past two decades in addition to exploring rare and unexpected covers to keep their shows fresh. That first night they displayed the former with a blistering version of "Jessica," perhaps the most joyous and infectious rock instrumental ever recorded, and the always irresistible and oft-covered defiant rebel theme: "Midnight Rider." From their more recent catalogue (though now two decades old) sprung a raucous rendition of "Nobody to Run With," Gregg's lament on losing friends to domesticity ala "All My Rowdy Friends Have Settled Down," and the inspirational "Soulshine" in which Derek and Warren did a masterful and gorgeous rendition of the dual lead harmonies with which Duane and Dickey revolutionized popular guitar.
A percussion solo in the middle of their other über-famous instrumental, "In Memory of Elizabeth Reed," featured their rhythm ensemble channeling world beats, announcing to skeptics that the two remaining founders in addition to Gregg—Butch Trucks and 'Jaimoe'—can still blaze a sonic trail after 45 year.
As the band came out to an encore of the sunny "Southbound," I was overcome with a bittersweet rush. I was grateful to witness part of the final chapter for what is, in my estimation, the Great American Rock Band. Even if the band goes on, it won't be with this legendary lineup.
Here I have to agree with Gregg Allman's assertion. Labeling the ABB 'Southern Rock' is an attempt to dismiss their unparalleled contribution from the mainstream by people who don't understand. This isn't southern music. It's American music. I believe you have to look to the British Invasion to find a collective of rock musicians that surpass them. Their music is much more diverse and complex than the Eagles, CCR, R.E.M. or Bruce's E Street Band. They have better songs (and more soul) than other 'jam bands' like Phish or the Grateful Dead. And they have the best guitar interplay of any group ever. In fact, no other band—British, American, or otherwise—ever struck such a perfect balance between rock, blues, jazz, and country. All these elements were in full display at Wanee.
The band sounded as fresh and vital as I've ever heard them. Maybe they'll find adequate (though I can't imagine equal) replacements for their two legends-in-the-making on guitar and soldier on, but if this is the end of the road then they're certainly going out in style.
GET THE LED FUNK OUTTA THE DUMPSTA
One of the unique joys of Wanee Fest is the midnight shows at the Mushroom Stage, a smaller secondary venue tucked at the bottom of a tree-lined hill strewn with Christmas lights and hammocks. On Friday night up-and-coming New Orleans funk masters Dumpstaphunk were back for one of their popular specialty shows during this coveted slot. In the past they've done the music of James Brown and recreated a classic Parliament concert note for note,amongst other themes, and tonight were doing the music of Led Zeppelin.
Dumpstaphunk was founded by Ivan Neville and boasts a fellow Neville on bass, so their musical pedigree is strong. They are great musicians but their original material is not yet up to par, so they truly shine when doing interpretations of great songs. Their Wanee 2014 set was no exception as they cherry-picked amongst this legendary band's best including "Dancing Days," "Black Dog," Rock-n-Roll," and "Whole Lotta Love."
Dumpstaphunk did a superb job of maintaining the hard rocking heart of these songs while adding a heaping helping of funky soul. Unfortunately, it was late and I'd gotten up early to drive too far. The fresh and excellent renditions of these spectacular songs made my feet want to dance, but while the spirit was willing the flesh was weak. I felt more than a little disappointed, but I'd spent the last of my enthusiasm to stay buoyed during the Allman's set. Had I arrived Thursday or this set had fallen on the following night it would have certainly been a highlight of the festival. As it was, I fought to stay awake long as I could—mesmerized by the fantastic light show—but wound up leaving halfway through the set to crash like a truckload of peaches.