GOOD GUESS, YANKEE
Except for the handful of weekends it hosts large-scale music festivals, the Spirit of Suwannee Music Park is primarily a campground nestled along the river immortalized by Tin Pan Alley songwriter Stephen Foster (who never actually saw its shores but rather plucked its name from a map for its poetic cadence). Saturday saw the dawn of another beautiful day on this gorgeous expanse of river-fed pine and Cypress forest, so after heating up some coffee on a camp stove, grabbing eggs and bacon at the on-site restaurant (God bless my low carb Lent), and saying farewell to the friend who had joined me for Friday's shows, I hopped on my bike and rode down to the river which I'd yet to spy during my three previous Wanees in 2009, 2011, and 2012.
Suwannee Music Park is a bucolic place to ride, and I have friends who return here annually for the cleverly named I-Did-A-Ride trail race. So with map in hand, I tried to make sense out of the maze of tent-jammed roads that had confounded me the previous afternoon as I wound my way to the banks of the Suwannee. When I arrived after a twenty minute ride, this dark, snaking stream proved as picturesque as Foster imagined (good guess,Yankee!), and the thousands of tents, camping vans, shipping crates and other improvised sleeping arranges along its shores were a feast for the eyes, decorated with handmade signs, Wannee banners, and tie-dye sheets that added a festive communal sense to the event. It seemed a lot of work for two or three nights where you'd largely be away from the tent hearing music, and made me suspect some folks come more for the giant campout and only hit the festival ground for a favorite band or two.
Not me! I could have explored these trails checking out quirky campsites for hours, but The Chris Robinson Brotherhood, the first band I wanted to see, started at 1:00 and there wouldn't be a break in the action until the Allmans left the stage at midnight, so I rushed back to the tent and loaded up to hang out all day under the hot southern sun listening to a joyful noise.
WHAT'S IN A NAME? (A SIBLING JAB?!)
During the 90s the Robinson brothers of the Black Crowes competed with the Gallagher brothers of Oasis for highest profile sibling feud in rock-n-roll. Both bands featured a brother on vocals and one on guitar, forging shaky but brilliant songwriting collaborations for as long as they could keep it together. I once heard an interview with Chris Robinson, the vocalist brother, in which he said the way he and brother Rich kept the peace was by living on opposite sides of Atlanta, recording their ideas, and mailing the demos to one another to expand upon. The Black Crowes still tour and record albums so apparently this arrangement is working, but it's hard to view Chris's reference to this band as a 'Brotherhood' as anything other than a swipe at his real brother.
Rich need not worry, though. The Chris Robinson Brotherhood isn't the Black Crowes.
The CRB wasn't bad, they just weren't overly engaging. The Black Crowes have written and recorded tons of great, high-energy songs but can be guilty of stringing together too many mellow jams in concert. The CRB was even more chill without the high energy blasts in between. Nor did they possess the quality of the Black Crowes songbook. It was pleasant music to sway to on a sunny spring afternoon, but like a cool drink of water on such a warm day it was pleasant going down but left little lasting impression.
A LOST & WANDERING BLUES TRAVELER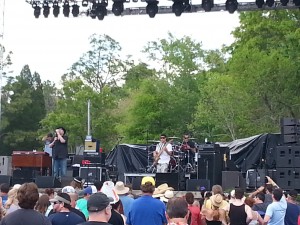 John Popper brought his own side project to the first Wanee Fest ten years ago and has been a frequent visitor since in various ensembles. This year, however, he returned with the band that made him famous: Blues Traveler. I was never a huge Blues Traveler fan at the height of their popularity but had heard good things about their live shows and was eager to check them out. Unfortunately, they did little to change my mind.
The numbers I heard held little distinction and felt more like continuous unstructured jamming.  Worse, the band didn't sound tight. To have such an avid live following I assume they must sound better at times, but even when they broke out their biggest hit, "Runaround," mid-set it came across flat, jagged, and uninspired.
When the schedule came out I was torn by conflicting 90s interest since Rusted Root hit the smaller Mushroom Stage fifteen minutes after Blues Traveler hit the main Peach Stage. I'd caught Rusted Root for only the second time and first in a decade at Wanee 2011 and they had put on a spectacular show. At least I found a quick resolution to my conundrum. After twenty minutes I abandoned this disappointing set for a proven winner.
CAN'T A MUSHROOMED ROOT EAT A PEACH?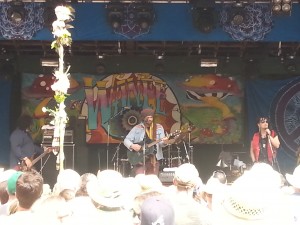 I arrived a couple of songs into Rusted Root's set, and the band was already on fire churning their tribal, mystic, world-rhythm inflected alt-pop (there's a mouthful, but the band is nothing if not unique.) Lead singer and guitarist Michael Glabicki was busy as always shaping the band's sound with his chortling, birdcall vocals and percussive acoustic strumming punctuated by artful solos that perfectly complement the swirling rhythm section backing him.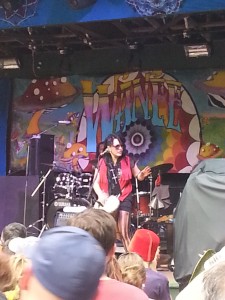 Rusted Root was close to superstardom in the 90s but never quite turned the corner. Their annual relegation to the Mushroom Stage seems to indicate that they have managed to hold onto only a modest fan base, but it is a loyal and appreciative one. Once again the nouveau hippie crowd that populates Wanee was packed in and fired up, dancing and twirling to the complex rhythms wafting like reefer smoke from the stage. Unlike the band I'd just left they were tight and engaging, making me wonder why the festival hadn't swapped these two acts, for Rusted Root sounded much more worthy of a large stage, though part of their strength is their intimate connection with the crowd. This was as about as packed as I've seen the Mushroom Stage, so apparently they're back on the upswing.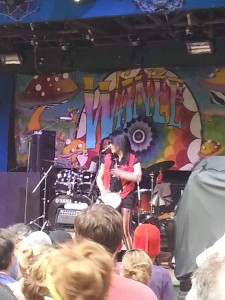 Despite the inspiring music the heat and humidity was starting to wear on me, and I hadn't slept well as several loud generators hummed all night outside my tent. Fortunately I found one of the hammocks that ring the outskirts of the Mushroom Stage vacated and settled in to enjoy this trance-inducing music in sweet repose.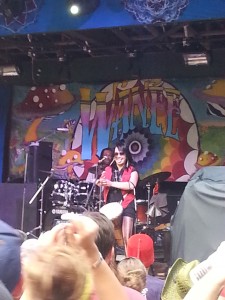 Closing my eyes while lying down actually allowed me better focus on the instrumental interplay, and their chanting and incantation style is just as conducive to relaxing as dancing. Near the end of the set, however, I pushed back into the crowd upfront as the band launched into their one major hit, the bouncing and uplifting "Send Me On My Way." They then closed with a dual percussion solo where the entire stage and rigging became the instrument that morphed into a high-energy rendition of "Ecstasy" that had the whole crowd bouncing.
It was an appropriate end, for I was in ecstasy and mesmerized watching background vocalist Liz Berlin who is as animated as she is attractive. By the loud cheer she got during introductions, I don't think I was alone.
TEDESCHI-TRUCKS BAND: LEGEND IN THE MAKING
I was sad to see the Rusted Root exit, but after the Allman Brothers Band, my most anticipated event of the festival was a second chance to see The Tedeschi-Trucks Band who I'd missed in 2012 due to rain. For those who don't known, Susan Tedeschi and Derek Trucks were leaders of accomplished blues rock bands when they met and married. They kept their careers separate for years but different touring schedules further complicated by Trucks' commitment to the Allman Brothers Band took their toll until finally in 2010 they merged their groups into a giant 11 piece ensemble. Trucks is a brilliant and soulful guitarist. Tedeschi is a brilliant and soulful vocalist (and no slouch on the six string!) They frequently collaborated on one another's album but when they finally combined forces the resulting two studio albums and tour-de-force live shows had all their fans—myself included—wondering "What took you so long?!"
With the Allman Brothers Band dissolving, I take heart that Tedeschi-Trucks is not only willing but one of the only bands around able to carry that torch. Like the Allmans, the band boasts stirring and memorable vocals, complex and accomplished rhythm sections, brilliant songwriting, and, of course, virtuosic guitars. While the ABB keeps their shows fresh by always bringing in new material, songs like "Blue Sky" and "Melissa" have become so ingrained in the collective psyche over nearly half a century. Rather than grow tiresome, these classic songs continue to mature and grow richer in meaning.
The TTB is still in its infancy so their songs don't stir you on this same level, but rich, poetic, complex, and evocative numbers like "Midnight In Harlem," "Bound For Glory," and "Love Has Something Else to Say" are a thrill to hear live and have the potential to plant roots that grow as deep as the aforementioned numbers over time. I have both their studio albums and though this is only my second chance to see them, I feel certain I'm seeing a legend in the making.
GOV'T MULE SHOWS A LITTLE KICK
I'm so enraptured by Warren Haynes's contributions to the Allman Brothers Band that I desperately want to love his small ensemble, Gov't Mule, for which he is leaving the ABB to devote more energy at the end of 2014. Haynes has written some fabulous material for the Allman Brothers Band, but unlike Tedeschi-Trucks, Gov't Mule hasn't unveiled material that grabs me and lingers long after the show. The diversity in their sound is also lacking. A friend of mine got lambasted for his review of a Gov't Mule show for a West Virginia newspaper for simply observing the set got a little monotonous after a while, but I too have found that Gov't Mule can lose their melodic way over the course of a show.
That being said, they're definitely an enjoyable act and Haynes is always worth watching. This show was the strongest set I've seen the band play. It's taken some time, but the songs are starting to resonate with me a little bit more, and closing with a  Led Zeppelin classic never hurts. (In addition to Dumpstaphunk's devoted set, Trey Anastasio also played a Zeppelin song, so everyone seemed to be getting in on the theme!) Each time I see Gov't Mule I warm up to them a bit more, but they sadly haven't grabbed my heart and captured my imagination like The Tedeschi-Trucks Band.
THE ALLMAN BROTHERS BAND SWAN SONG: SECOND SET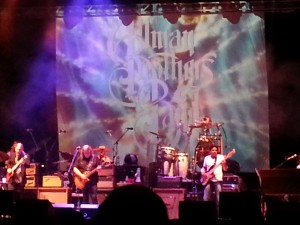 The first night of the Allman Brothers Band two night stand at Wanee Fest had been weighted heavy on instrumentals so I was excited when Saturday night Gregg spent more time growling out selections from his classic catalogue. Perhaps that's why I didn't notice he wasn't doing much on his B-3 organ. Apparently Gregg injured his wrist the night before (rumor in the crowd afterwards was that he'd fallen out of a golf cart even though he is now allegedly clean and sober) so Kofi Burbridge of the Tedeshci-Trucks Band (and brother of Allman bassist Oteil Burbridge) came out to help. Guests musicians are  common on stage with the Allmans so I didn't even think about it, but perhaps the constant drama and interruption with Gregg's liver transplant, Hepatitis C, recent bought of bronchitis that caused them to cancel their last four nights at the Beacon in New York, and now an injured wrist is why Derek and Warren have decided to move on.
I'm glad I didn't notice, though, because I wormed my way up close to the stage and let these glorious tunes wash over me without distraction. Despite any backstage tension that may or may not exist, the band was in fine form again Saturday night.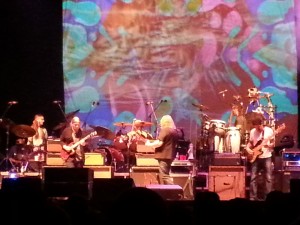 Opening up with solid versions of the two songs that opened their career and debut album, "Don't Want You No More" and "It's Not My Cross To Bear," they then launched into the first two tracks form their follow-up album in reverse. I was particularly thrilled when they busted out "Revival" and gave it the long treatment it deserves. I believe it is one of the most neglected songs in their catalogue and, for a band that can stretch a three-minute blues into a twenty-five minute epic, every recorded live version I've heard of this joyous jam has been disappointingly short. The gospel style vocal harmonies of Allman and Haynes gave me chills as the dual guitar gods delivered a worthy nine minute rendition.
Other highlights of the night included new Haynes composition "Dusk Till Dawn," a haunting minor key blues full of wistful longing, and spirited take on the frequently covered Dr. John number: "I Walk On Gilded Splinters."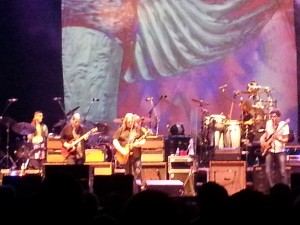 Since Dicky Betts left the band in 2000, the band has not played their two highest charting hits, "Rambling Man" and "Crazy Love," both his songs, so I was pleasantly surprised when bassist Oteil Burbridge stepped up the mike and began singing the Dickey penned title track from their 1990 comeback album, "Seven Turns." Burbridge did an excellent interpretation of this breezy reflection on finding your way through life, particularly a life on the road, and the band then followed with "True Gravity," a Betts penned instrumental from the same album. A little research showed they began revisiting these songs just this year. It felt great to welcome them back like old friends.
The band has also been revisiting another Betts classic, "Blue Sky," in recent years and did a stirring nine minute version here as they crafted a second masterful setlist that ended with the band's ultimate jam and crowd pleaser: "Whipping Post."
The band soon returned for an excellent but brief encore of "One Way Out" with John Popper on harmonica. If there was one disappointment from the night it's that the band came out a little late and ended a little early. It was a quarter till midnight when they left stage and fans hung around thinking they would come out for one more extended jam in that fifteen minutes. (I was desperately hoping for "Dreams," my second favorite ABB tune after "Jessica.")
Alas, the end was upon us though no one wanted to leave. I had a long drive back to New Orleans the next day so skipped the midnight show, though I did wait in line for twenty minutes to purchase CDs of both nights sets. At $25 a piece it seemed a little steep for shows that fans have already paid to hear, but the sound quality was excellent and if this was the last time I got to see the Trucks/Haynes led Allmans, I wanted to take it with me for posterity.