A BARGAIN DON'T MATTER WHEN YOU'RE PINCHING PENNIES
I've attended Jazz Fest for many years now, but for 2014 I had a chance to peek behind he scenes and earn free admission in the process. Although the daily price continues to climb–$70 at the gate as opposed to $20 when I first came in 1998—it's still a bargain when you consider that not only do you get to see headliners like Bruce Springsteen who charge over $100 these days for nosebleed seats, but you get a full day's worth of music on eleven stages beforehand as opposed to some lame opening act you didn't even choose. Still, I've been pinching pennies the past year so when a friend suggested I volunteer in exchange for free admission I jumped at the chance.
THIS IS NEW ORLEANS, THOUGH
The orientation material I received a week before Jazz Fest sounded very strict: you must arrive fifteen minutes before your shift or you won't be admitted, you must return your signed slip and volunteer pin to the trailer immediately upon the end of your shift, no loitering at your station afterwards and drinking the water provided for staff and volunteers, your bag will be thoroughly searched, etc. Uncertain if they were serious, I worried about being late—a bad habit of mine—as well as completing four five-hour shifts on both Saturdays and Sundays; I didn't want to wear myself out working in the sun before my day began. I should have known, though…this was New Orleans! No rule is strictly enforced, no organization is efficiently run, and no laborer works too hard!
Both Fridays and the Thursday of the second weekend I was scheduled to work on the 'Kooler Krewe.' This is where my friend Michael worked on the days he volunteered and he assured me it was a good gig whatever it was. Upon arriving, I introduced myself to the aging hippie running the station. She was a very kind and funny lady but was easily overwhelmed. She told me to sit and wait because she couldn't handle anything else right now. (Usually the arrival of help alleviates stress, not adds to it?!) After loitering for a while I was finally dispatched with two long-time volunteers to drive across the fairgrounds and deliver two pans of Crawfish Monica and two containers of iced coffee. If you're doing math at home that's three guys delivering four items. That killed a good forty-five minutes.
My Kooler Krewe shift was scheduled from 10:30 to 1, but upon returning from my delivery my supervisor told me she needed a break so asked if I would go off and play and get something to eat until after noon as though asking me to not work were an imposition. I still had no idea what I was supposed to do, anyhow, so gladly complied.
A STAMPEDE OF BUTTERFLIES
Upon returning I discovered that our main job was to fill orders for paid employees. Every staff member at the fairgrounds was allowed two soft drinks a day (but not volunteers—they get water except on Kooler Krewe who helps themselves!) A storeroom in one of the horse barns held crates loaded with about twenty varieties of diet and regular soda, so three of us had to loaded plastic crates to fulfill about a dozen orders based on staff requests. It came out to about 20 sodas per station. Once finished we'd mark the crates 'Kid's Tent,' 'Mystery Street Gate,' 'Med Tent II,' etc. A single person could have completed the task in an hour. We were afforded two and a half hours and three people. God bless NOLA.
I was told the weekends were slightly busier as there was a bit more food to deliver to the hospitality tents rented by major sponsors, but the following Thursday and Friday were much the same so I brought my Kindle and read in the shade until called into action. Although it was an easy gig and I mostly went with the flow, I did get a bit stressed on that second Friday. Cowboy Mouth was playing at 1:00 on the main stage and the festival had been lackluster thus far so I was desperate for these always-dependable local rock evangelists to inject a bit of energy and enthusiasm.
When my kind-hearted supervisor overheard my plans she stated with sincere determination: "Then we need to definitely get you out of here on time today." Her intentions were beautiful, but her attention span was hostage to every passing butterfly…and the universe sent a stampede of butterflies at the very moment I wanted her to focus. Suddenly her phone started ringing. It was a friend trying to find the fairgrounds, but the call kept dropping. She asked to use my phone so I pulled it out and held it ready, but as I'd ask for the number she'd call him back only to have the call drop again. Then unexpected orders began arriving and a few past volunteers stopped by to chat, one with a kid—the biggest butterfly of all. With each distraction she'd completely lose her place and ask me where we were in the orders. When I attempted to take her clipboard and fill the orders myself, she snatched it away. Touching the clipboard was the one thing she was strict about!
ALL'S WELL THAT ENDS WELL
I've seen Cowboy Mouth over twenty times so being late or missing the set entirely wouldn't have been a big deal if I weren't so desperate to jumpstart my faltering Jazz Fest. I was definitely overreacting, but facing the prospect of missing the only 'sure thing' of the day had me pulling my hair out. I could have easily filled the order by myself and been done before noon, but the one time I wanted to get out on time I couldn't get forty-five minutes work done in our two-and-a-half hour window. All's well that ends well, though. I kept prodding my guru back to action until she decided she wanted to take time to visit so signed my slip and sent me on my way vowing to finish herself (there were only two or three more). I made the show, Cowboy Mouth whipped the crowd into an ecstatic frenzy, and the last three days of Jazz Fest 2014 were fantastic. Silly me.
A CLEVER EUPHAMISM FOR PUSHING A BROOM
Because of the long hours and intensive labor required of the Kooler Krewe it is an in-demand shift and priority goes to past volunteers based on seniority; thus, I spent the busier Saturdays and Sundays helping at Access Tent for patrons with disabilities. When speaking to the Volunteer Coordinator a couple of months prior to schedule my shifts, she sheepishly mentioned that they needed big, strong guys that are comfortable with wheelchairs to help people at the ramps and clear impediments out of the way. I could tell by her reluctance this wasn't a highly desired shift, but I cheerily responded that I'm not only 6'4" and 250 lbs, but an occupational therapist who has worked around wheelchairs my entire adult life; however, I thought the term 'Pathway Cleaner' was an odd designation on the volunteer schedule she emailed afterwards.
It turns out 'help people in wheelchairs' is a euphemism for pushing a broom!
I showed up that first Saturday promptly at 9:00 for my five-hour shift, but no one in charge arrived until after 10:00. (I gradually became lax about my arrival time and was still the first person working!) When someone finally did arrive they handed a shovel and two brooms to the three volunteers and instructed us to clean off the four temporary plastic walkways stretching across the sandy horse track to the infield where most of the stages are. Every day tens of thousands of pedestrians drag sand onto the ramps, and at night after they water down the track delivery trucks pick up gobs of wet sand in their tires, depositing it on the ramps and packing it down over what 80,000 attendees had packed down earlier. You end up with a hard-packed mess which is hard to break up because of the crosswalks are textured for traction while in actuality these nooks and crannies just create gaps to wedge sand in nice and tight.
Because of this ridging neither brooms nor shovel is effective. The shovel was good for scraping sand off top but couldn't get down in the crevices. The brooms could eventually loosen the sand from the grooves, but because it was packed wet and trampled you had to jack hammer it free before you could sweep it away.
FIVE TO ONE, BABY, ONE TO FIVE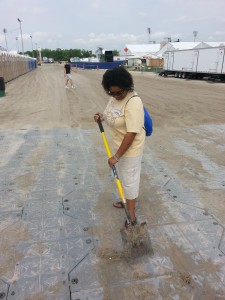 That first day I was a little grumpy as I pounded at the walkway. I'd signed up to help people in wheelchairs, not push a broom…let alone work a manual jackhammer! Not expecting to be sweating it out, I'd gotten up early to go for a run that I quickly regretted. It took over an hour for the three of us to get the four walkways done and I was afraid that at this rate I was going to be exhausted before my day began. Again, I should have known.
Once the gates opened at about a quarter till eleven and fans stampeded in trying to stake out a spot close to the stage the staff directing traffic didn't want us sweeping the busy crosswalks. There was little need to anyhow. Occasionally we'd be dispatched to check for major impediments or clear a particularly problematic area, but mostly we hung out in the Access Tent and chatted until our shift ended. We were in the Access Tent to answer questions, of course, but that there were always three to five of us present to assist the occasional individual who stopped by.
OH, I'LL CALL YOU LATE FOR DINNER ALRIGHT
Sunday I arrived in a better mood having skipped my morning workout and mentally prepared to sweat it out early in return for free admission. A staff member brought the tools out at a quarter after nine, so though the supervisor hadn't arrived I grabbed the broom and a new guy, Jeremy, grabbed the shovel. The third volunteer—we'll just call him Late For Dinner—plopped down in a chair, folded his arms, and said he wasn't going to do nothing until someone told him too.
The pathways were worse that day and it was more work with just two people, but Jeremy was a Legal Aide lawyer who'd grown up here and had all kinds of great stories. I'd hit it off the day before with his girlfriend, Maggie, too. She's a long-time volunteer who loves Jazz Fest as much as I. I overheard that she was a speech therapist and when I told her I was an occupational therapist we immediately began to swap sick and disturbing stories that no one outside the medical profession seems to find funny. Her shift never started until after the sweeping was done, though, (the wisdom of a veteran) and even when Later For Dinner was sent to help he swept the same spot we'd already cleared for fifteen minutes until we moved onto the ramp. We didn't see him again until the work was done.
I was a bit annoyed again at having to do all the jackhammering by myself and eventually it wore a blister into the palm of my hand. Although just a minor annoyance, when you work in healthcare—especially going into people's homes as I'd begun to do—you have to take care with any open skin lesion. Next weekend I would bring work gloves!
Even down a man, we finished just as the gates opened up for the stampede as people rushed in like fleeing Godzilla to get their spot for Phish as security tried in vain to slow them. Today the Eric Clapton crowd was even crazier, and I was ready, snapping photos and video. I wasn't alone. Several staff members and volunteers had gathered to chuckle at the insanity and snap a few pictures.
Video of the Mad Dash To Stake A Spot For Clapton
Once the initial chaos subsided I wandered back to the tent for water and shade. Late For Dinner was already there lounging about, and as I glanced at the open blister he puffed out his chest and snidely said more to the others than to me, "You must not do a lot of manual labor." If I didn't have blisters on my hands I may have throttled him.
HUMAN TRAFFIC CONES VS FILLING A HOLE
The next weekend armed with gloves and reserve energy I was ready. Sure enough, Late For Dinner was back and followed us out to sweep a single patch for twenty minutes. No wheelchair was going to get stuck there, damn it!
Eventually I stripped the bolts attaching my broom handle beating at wet sand and when I went to ask for another, Late For Dinner followed to take a break though we had only finished one cross walk. I offered to take his broom and he made a loud fuss in front of the supervisor about how he'd have nothing to do if I took his tool.
Despite his words, he didn't put up too much of a fight.
I relish the New Orleans aesthetic that encourages you to take time to enjoy life and not make things unnecessarily difficult. Some people make tasks harder and create more work for themselves, thus always stressing themselves out. On the other hand, I can't stand lazy people who are too worthless to do the things that need to be done.
There are a lot of wonderful things about New Orleans, but there is also a twisted sense of pride in the holes in the road and the overall inefficiency. Surviving it…rather than addressing it…is a local badge of honor. Thus I had to chuckle when volunteers to stood all day by a hole in the concrete near a steep lip to the crosswalk warning people in wheelchairs. I took the shovel, got some wet sand, filled in the hole and built a ramp onto the lip, packing it down the best I could. It just struck me as very New Orleans to have someone stand all day like a human traffic cone rather than fill in a hole.
As for the ramp, I know it wasn't a perfect solution since the wheels would sink into it, but it was better than nothing. Well, unless you listened to Late for Dinner who was standing around advising and complaining: "That ain't gonna work."
It'll do more to help than the constant exhalation of hot air.
(And it did help so other volunteers rebuilt it the next day.)
A REWARDING EXPERIENCE WITH SOME WHACKY LOCAL COLOR
The coolest thing about volunteering was getting to wander the fairgrounds in the early morning before the crowds arrive. There was a palpable excitement in the air  and a surreal to the calm absent the crowd as workers rushed about preparing all the things that make this festival so special. Despite expected hiccups Jazz Fest runs surprisingly smoothly, especially for New Orleans.
Volunteering was a great way to get on board, and even though I was surprised by how much down time I had I'm sure they are cognizant of not overworking free labor and getting left with dwindling volunteers. Leaving for the fairgrounds at 8:30 a.m. and arriving home at 8:00 p.m. made for long days despite the down time, and the sun definitely wears you down over nearly twelve hours.
In the end, everything got done and I genuinely enjoyed meeting everyone I worked alongside except for one who found a way to strain my ample patience. The opportunity to volunteer and work behind the scenes was intriguing and rewarding, adding a new depth to my appreciation of Jazz Fest. There are a million tiny moving parts and it felt gratifying to be a tiny cog in the giant machine for a while. The whackiness just added a little local color, and I look forward to returning to the family next year.
Unless they read this post.
Then I shan't be asked back!