PICKLES & DRYER LINT
While visiting my sister, Kelli Sarrett Moors, over Christmas I raved so much about the curry pickles she and my mother canned last summer she sent me home with a jar. I later raved on Facebook about how I put them on a sandwich and enjoyed it so much that I forgot to add meat. Alas, they are sweet pickles and full of sugar, so when I embarked on My Low Carb Lent I pushed the half-finished jar to the back of the refrigerator. As I emptied out my apartment, however, I couldn't bear to leave behind the best pickles ever.
Between maintaining my diet—which I've eased up on a bit per design—and cleaning out my fridge, I left New Orleans with two coolers full of food. Last Thursday as I transferred this mass of groceries into Jesse's refrigerator, he and Amy were stunned. When I pulled out the half-finished jar of pickles, though, it was too much. "That's just ridiculous!" Jesse declared, shaking his head.
Two days later as we headed north to Duluth, a frigid college/tourist/mining town perched on a hillside on the southeastern tip of Lake Superior, I realized in a huff that I'd left my wallet in Jesse's basement. Later, as we pitched our tents along the shore of the lake, Jesse and Amy again marveled as I pulled out elastic jewelry string and began to repair my tent poles whose innards had dry rotted. Then, when Jesse realized we'd forgot trash bags I declared, "We can just use my dryer lint bag." When I pulled out a grocery bag of dryer lint their jaws hit the green grassy ground.
A friend from Jacksonville, Kevin Ingwersen, is a bit of a survivalist and had mentioned once that he harvested dryer lint for his emergency kit because it is such an efficient fire starter (thus the dangers of clogged dryer vents in homes), so I began adding dryer lint to my camping kit. In my bizarre brain, it seemed perfectly logical!
"You've got to be kidding," Jesse said. "You brought everything…even dryer lent."
"Everything," Amy added, "except a wallet!"
Doh!
"Man, your blog has to begin 'So I drove all the way to Minnesota with a jar of pickles and some dryer lint,'" Jesse added, rolling with laughter. But you can't say I didn't come prepared, and—to be fair—once I got him to try the pickles he too admitted they were the best he's ever had and as been talking about them ever since, even threatening to come visit to get a jar. So sis, if you're reading: Send more pickles!
YOU DROVE HOW FAR?!
I'd been talked into the drive north for a music festival featuring four Minnesotan artists, and the forecast called for lower 80's and sunny—perfect for an outdoors concert. As we headed downtown, though, the skies turned gray and a chilly wind blew in from the lake. Fortunately this didn't dampen the view, for the busy harbor had the lively buzz of industry without being crowded or drab like so many modern working ports. The end of the jetty was particularly appealing, marking either side of the harbor's entrance with lighthouses, one block style and the other a stubby traditional tower. After snapping a few pictures I finally caved in and donned a sweatshirt over my long sleeve shirt and t-shirt, realizing I'd drive so far north that I'd reached late November. Not that's a hell of a drive!
But, as we've established, I was well prepared…unlike Jesse, who had brought only t-shirts. Thus, we left the harbor to scour the souvenir shops and outdoor outfitters until Jesse found a cheap sweatshirt he was not too ashamed to wear—a gray behemoth with a large picture of the harbor and DULUTH in large lettering.
"I look like a tourist from Michigan," he joked in his Vikings hat. "Or a Packers fan."
Bazinga!
FIST OF THE HEAVENS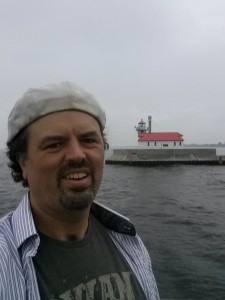 We soon headed back to the parking lot to grill brats and tailgate before entering the picturesque park by the bay with its unique stage that had Nordic spires rising up from all four corners. We were mainly there to see headliners Trampled By Turtles, an old style string band from Duluth of rising popularity, but the music began at 5:30 with about as diverse a lineup as you could imagine. First came folksy singer/songwriter Haley Bonar (who surely had a lot of angst to share, growing up with that name), followed by mellow alt country rockers Low, and then Minneapolis hip-hop outfit Doomtree Collective. It was certainly the first time and likely the last that I'll see a hip-hop band open for bluegrass and string music!
Fortunately the weather held out long enough for me to climb out on the rocks by the harbor like a kid and gape at the sentry of pines surrounding the clear northern waters. Just as Doomtree took the stage, though, a giant gray cloud that curled under on bottom like the bumper of a car charged up the water at highway speeds. I stood mesmerized as this foreboding but beautiful fist from the heavens swiftly swept over us, drenching us with rain.
(SINCERELY) DANCING LIKE YOSEMITE SAM
I'm not a hip-hop fan, but donned a poncho and listed to a few songs before seeking shelter in the car, hoping the storm would pass as quickly as it arrived. No such luck. The rains remained heavy through the end of the set, so I put my poncho back on and rejoined my friends. Despite the weather, the crowed had joyously undulated to the pulse of Doomtree. Now as Trampled By Turtles emerged, the reception was even more enthusiastic. The audience lept up and down while several particularly gleeful fans clogged in the mud with Yosemite Sam-eque cartoonish aplomb, swiveling legs at 90-degrees while slapping their knees. The crowd cheered even louder when lightning split the sky behind the band, once serendipitously illuminating the stage as they sang about 'lighting up the city.' By the third flash, though, they were forced from the stage, the lead singer jerking the chord out of his guitar in frustration.
A few minutes later the band reemerged as the crowd chanted for their return. The singer explained that they'd reached an agreement with the crew, who were not eager to stand on a giant metal rod during a lightning storm: They'd take it song by song, stopping again if the lightning resumed. As he hit the opening chord of the next song, lightning crackled behind him. He shrugged and unplugged.
An announcer quickly took the stage instructing us to seek shelter and assuring us the show would go on. We were directed into the University of Minnesota Duluth hockey arena next door where we dripped for an hour before being ushered back out into the still-steady rain. Only a couple hundred people remained, but the band clearly appreciated the loyalty of the soggy enthusiasts and attacked their banjos, fiddles, mandolins, and guitars with extra gusto as diehard fans resumed clogging in the mud.
SUMMER IN DULUTH (DON'T BLINK)
Although a fantastic show, I was too chilled to even clap along and by11:30 was relieved when it wound down. Soggy, chilled, and exhausted, I returned to camp only to find my tent damp and my pillow, which I'd foolishly left touching fabric, soaked like a sponge and leaking onto my sheets. I curled up in the driest spot in the middle of my air mattress and slept soundly through the coldest and wettest summer night I've ever endured.
The next morning the sun had returned to help dry things off as we packed. I then spent the morning and afternoon curled up in a quaint coffee shop as mentioned last post while Amy and Jesse played tennis—a tradition when they come to Duluth. Their game was cut short by rain, but by the time we had lunch on the rooftop patio at Grandma's—a famous bar that sponsors Grandma's Marathon which several friends have declared the best in the country—the rain stopped again and summer arrived in earnest.
It was a beautiful spot and a wonderful lunch—highlighted by wild rice soup, a local specialty—but by the time we headed to the car to drive back to Minneapolis another cold rain had rolled in from the lake. My friend Marilyn Rumancik (who is wrapping up a bike tour from Seattle to Jacksonville but grew up near the Great Lakes) had earlier responded to my Facebook post about driving into winner by quipping that summer only lasts a few hours up here. I felt fortunate that I was there to catch it during lunch.
WOVEN INTO THE SOCIAL FABRIC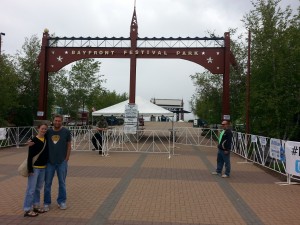 Back in Minneapolis the night was spent blogging, packing, and doing laundry as Jesse and I prepared to head for Itasca State Park and the source of the Mississippi River the next morning. Before I resumed my river journey, though, I was pulled into one more detour, and we hopped the light rail downtown to where I'd wandered Friday night. During Frisbee golf Friday afternoon, Amy and Jesse had been needling their friend Janio about a girl he was talking to online whom Jesse knew. They were intent on making the match happen, so when Amy declared ice cream key to a perfect first date, they'd arranged a double date (plus traveling 5th wheel) at Izzy's Ice Cream.
After an rather awkward meal outside the shop basking in the return of summer, we walked past the Guthrie and onto the stone arch bridge. When I commented that I felt like this spot was old hat by now, they all joked that after being Baptized in the cold summer rain and swarmed while camping by the state bird—mosquitoes—I was an official Minnesotan.
"Heck," I shot back, "I'm so woven into the social fabric of Minneapolis that I'm going on other people's first dates." Minnesotans truly are some friendly, welcoming people!