A MOST EPIC MUSICAL DAY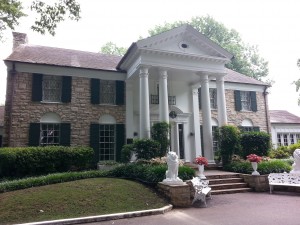 The Elvis themed dive just outside of Graceland informed me they were no longer serving breakfast. What kind of diner quits serving breakfast after 10:00!? Considering I'd spent a soggy night curled up in the middle of a leaky tent I'd pitched by headlights after driving a half hour from Memphis and then wandering lost for a half hour in a sprawling state park, I didn't accept the news with grace. The king would not approve.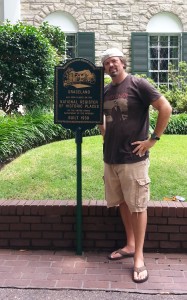 After swallowing an unsatisfying hamburger I scurried away, but upon learning they wanted $10 just to park next door I returned to my parking spot and walked–the cheapest admission package to see a dead man's house ($34) seemed stiff enough. Despite the rocky start, passing the gates of Graceland via shuttle from the visitor center marked the start of what would be one of the most epic musical days of my life. In Hannibal I'd walked in the footsteps of Mark Twain, but today I would tread the sacred ground that gave birth to dozens of musical legends who forever reshaped American culture.
I'm going to Graceland, Graceland: Memphis, Tennessee

My traveling companions

Are ghosts and empty sockets

But I've reason to believe

We all will be received

In Graceland          –Paul Simon
A HOME WORTHY OF A PODIATRIST
Unlike the mass of enraptured pilgrims being herded through this self-guided audio tour like cattle prodded through the slaughterhouse (only with camera phones), I've never held Elvis in the same reverence as the Beatles or Bob Dylan. I am, however, fascinated by the kitsch culture surrounding Elvis, so figured a visit would be entertaining. Besides, how can you come to Memphis and not visit Graceland?!
I'd been warned, though, that the 'mansion' might not look grand by modern standards. True enough, from the outside it struck me as a an unremarkable two-story 70s brick home. Inside, the succession of downstairs rooms we were hustled through were dated yet not lavish by modern standards. Even the jungle room hardly seemed the picture of excess I had envisioned. The tour only includes the ground floor and basement, though, for proctors explained that Elvis never let guests see his bedroom so they were respecting his privacy. This just gave the sense that there was something tantalizingly kinky hiding there. Bummer.
Perhaps such a peek would have enriched the mystique, for as I exited it struck me that by today's standards this could be the home of a podiatrist who'd graduated near the bottom of his class. It could be just a sign of the changing times or conclusive proof of how spoiled we've become, but it was hard to believe this was emblematic of one of the greatest pop stars in history. Miley Cyrus probably frequents hotel suites more lavish. (Though I wonder if she just licks the bellhops in lieu of a tip?!)
GOLD (RECORD) WALLPAPER & A NEW APPRECIATION
After stopping by the carport (really—a carport?!) we entered the detached offices that had been converted into a museum charting Elvis's career while housing his gold records and memorabilia. This was the true gem of the tour and gave me a deeper appreciation for Elvis's career trajectory. I've always wondered why the collection of hits I own is called Elvis '56, so was interested to learn how in this breakout year after Sun sold his contract to RCA he exploded onto the national stage with a staggering string of hits that included 16 #1s! In a single year!!!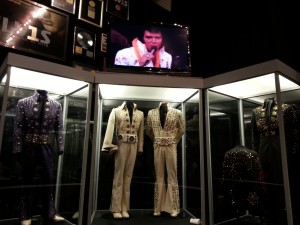 The museum covered all phases of his career (the comeback special was also quite intriguing), but the most impressive sight was the high-ceilinged room wallpapered with gold records—and this wasn't counting the ones that lined the halls.
The tour ended with musings on Elvis's tragic early death before we were instructed to exit to his gravesite. I stopped to pay respects to the man amongst a crowd hushed in reverence. I now had a new appreciation of the man even if his music didn't ignite my soul.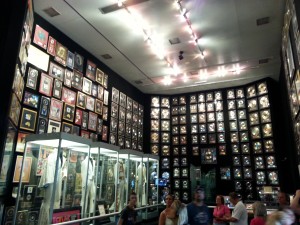 Upon returning to the welcome center I couldn't resist poking through a couple of the half-dozen or so themed gift. It was kitsch heaven. I didn't linger long, though, for I wanted plenty of time to explore Sun Records where Elvis (among others) got his start. It wasn't Elvis, though, I most wanted to learn about. I was wearing my Johnny Cash shirt.
THE JOYOUS WEIGHT OF HISTORY (ROCK-N-ROLL GROUND ZERO)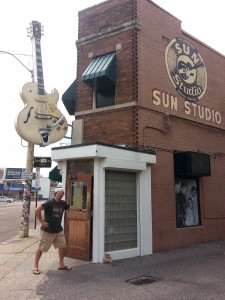 Just a tiny brick building on a backstreet of Memphis, Sun Studios looms large in 20th Century music. Sam Phillips's tiny record label didn't invent rock-n-roll, but it did unleash this smoldering musical virus—previously percolating in small pockets—onto the nation and then the world.
I purchased a ticket at the tiny café and gift shop up front (this tour was a quarter the cost and a fraction the size of Graceland, yet infinitely more intriguing) where I chatted with a rockabilly drummer on a similar pilgrimage while on a military transfer from San Diego to Fort Polk, Louisiana. The girl behind the counter—a new employee—soon jumped in as we marveled at the joyous weight of history that hits you the moment you walk through the door.
The actual tour spanned only two rooms, starting with the office upstairs that had been converted into a museum with artifacts illustrating the history of the tiny studio that Phillips—disenchanted with pop music—founded to capture the new sound called 'the blues' that was migrating up from the Mississippi cotton fields. Along the way he stumbled onto an even newer sound and introduced rock-n-roll to a broader (i.e. white) audience. Yet though he'd be the first to record Elvis Presley, Jerry Lee Lewis, Johnny Cash, Carl Perkins, Ike Turner, and Roy Orbison, he first recorded B.B. King and would always consider Howling Wolf his greatest discovery.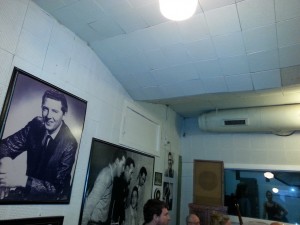 Interestingly, it was Phillip's secretary who originally recorded Elvis while Sam was out of the office, but she urged him to listen to the demo Elvis had paid to make. She was enamored. Sam was not. Over the next year she took every opportunity to prompt Phillips to bring that Elvis kid back in, and when he finally relented he remained unimpressed by the kid's saccharine crooning. Then, while goofing around between songs, Elvis started into an upbeat version of a beat down blues called "That's Alright." Phillips instantly realized he was onto something and rushed the rough cut over to a local radio station a few days later. The request lines lit up over the next two hours demanding the song be played over and over. (The sound booth were this broadcast was rescued during renovations and is now preserved in Sun Studios.)
After a half hour overview of fascinating back story we headed downstairs to the recording studio that is once again active, still using many of the original instruments and equipment.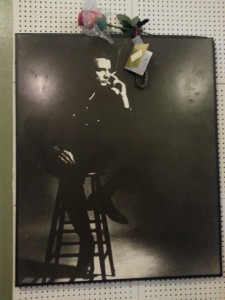 After explaining the room's significance and setting the scene ("That is the door Elvis walked through as an unknown) our knowledgeable tour guide (who'd complimented my Johnny Cash shirt!) shared more stories while playing rare sound clips; the most fascinating was of Sam Phillips fussing at a young Elvis and Carl Perkins as Carl began goofing off as he entered, trying to make Elvis laugh while recording. It was a stark reminder that, though legends in the making, these were just kids.

Another highlight was the story of the day that Elvis, Carl, Jerry Lee, and Johnny Cash converged for what is now referred to as the Million Dollar Quartet. Our guide then touched on Johnny Cash's arrival—though not enough—and commented that Jerry Lee Lewis was considered the most talented but was trouble from the start.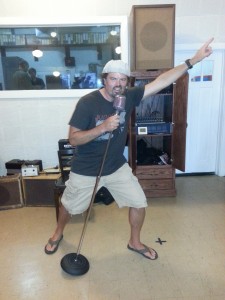 She closed by sharing some of the modern artists who have recorded here such as U2, who has a strong connection to Memphis. During one of their first tours of America U2 visited Memphis where they were inspired to record The Unforgettable Fire, an album named after a MLK exhibit that included a tribute that remains one of their most enduring songs: "Pride (In The Name Of Love)." Several years later they returned to Sun to record three tracks for Rattle & Hum including "Angel of Harlem" with local legend B.B. King.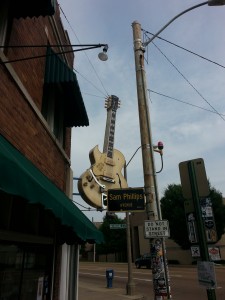 As the tour wrapped up we were invited to pose with 'the actual microphone' Elvis and company had once used. Although I doubted the authenticity (would you let a bunch of clumsy tourists fondle such an artifact?!), I didn't care. I was floating in rock-n-roll heaven and repeated my pose ad nauseam until I got it right.
OASIS OF INTEGRATION IN A DESERT OF SEGREGATION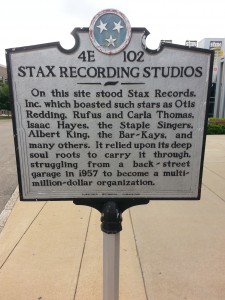 I was starving by the time I left, but 'museum hours' were fading and I was too busy feeding my soul to nourish the body and had an unexpected extra stop to make. Although I knew Booker T & the MGs were from Memphis and had discovered Otis Redding here, I didn't realize the significance of Stax Records until Yoda Pat piped in on Facebook and urged I visit the Stax Museum of American Soul Music.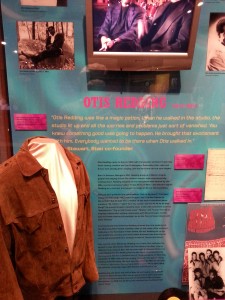 Although I'm more a rock-n-roll, blues, and jazz guy I love Otis Redding and Booker T, so was fascinated to learn that there was a reason why I gravitated to these Memphis artists, for the introductory film explained how in this oasis of integration amidst the desert of the segregated south, this studio (unlike Motown, which was pumping out lushly orchestrated soul meant to appeal to white audiences) pumped out gritty soul steeped in the local blues aesthetic. Although many northern DJs at the time turned up their noses, history has recognized the originality and innovation of Redding, Isaac Hayes, Sam & Dave, The Staple Singers, Rufus Thomas, Albert King (perhaps the biggest influence on Clapton, Page, etc.), Wilson Pickett, and James Brown. (The latter two only recorded sporadically with Stax but typify the sound they popularized.)
While focusing on Stax artists, the museum is dedicated to all soul music so spends time on Motown and other variations (my favorite exhibit being a life-sized Soul Train video screen with a dance floor where visitors are encouraged to dance along!) Of my three stops that day Stax had the most extensive displays yet I had less than two hours to rush through. Fortunately, it was enough time to gain a deeper appreciation of these artists as I realized I had a major hole in my i-tunes!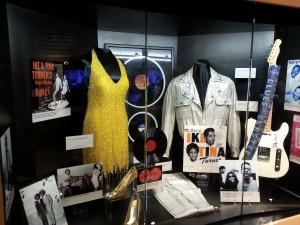 Unfortunately the studio only lasted from the beginning of the sixties until 1975, and its golden age ended in '69. In a room featuring interviews with artists discussing the stories behind some of the studio's most famous songs, one of the MGs discussed how in 1967 Otis Redding—who was loved by all and recognized as heart and soul of Stax—had brought in a strange new song called "Sittin' On The Dock Of The Bay." Stax executives, though, vowed they'd never release it because it was too different.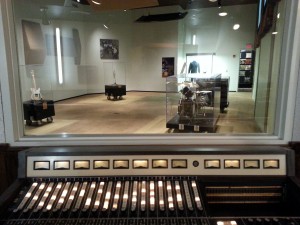 Two weeks later Redding's plane went down, and the musician/producer stated that everyone in the studio was devastated; then he got word that these same execs wanted to rush out a new Redding song ASAP. They ordered him to mix "Sittin' On The Dock Of The Bay." I consider this one of the great songs of rock-n-roll, yet was sad to learn of its callous birth, for the narrator said producing that song as tears fell on the mixing board was one of the hardest things he'd ever done.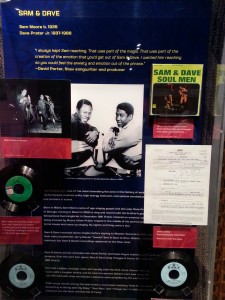 While still reeling from this blow, Martin Luther King, Jr. was gunned down at the nearby Lorraine Motel in 1968, and both black and white musicians recalled how this dealt the final blow to the utopian colorblind oasis; suddenly white artists didn't feel so welcomed as the black artists wrestled with a backlash of pain and anger. The studio would continue until 1975 (and still lives on in various ways) but it's true magic died with Redding and King.
A SUDDEN SHIFT IN TONE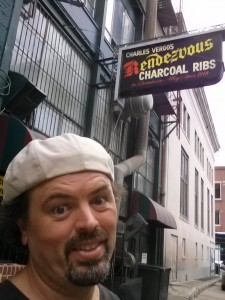 When I exited at 5:00 it was too late to visit the National Civil Rights Museum that had been founded in and around the Hotel Lorraine. After grabbing some Memphis BBQ at the famous Rendezvous (sorry, but not as good as Mojo's in Jax), I felt compelled to at least pay my respects, for it felt somehow wrong to soak in the beauty of history and ignore the ugly blemishes. This simple walk, though, turned out to be the single most poignant moment of my trip and struck a radically different tone than my uplifting Memphis musical ménage á trois, so I'll leave it for the next post.
Don't get me wrong, though: nothing—not even that somber coda—could dampen my enthusiasm after such a rich and wondrous day delving into the past to witness the birth of the music that I so love.