MOTHER NATURE-1, GENERAL GRANT-0
By the mid 19th Century, Vicksburg was a flourishing antebellum cotton exchange with surprisingly cosmopolitan amenities. Located atop the highest bluff on the southern Mississippi, it was both an important river and railroad junction, so when the Civil War broke out it became arguably the most fiercely contested position of the conflict, its fortress-like perch a defensive blessing that lingered into a curse. Instead of falling quickly to the Union like other river communities, Vicksburg easily frustrated all attempts at capture for over a year, but this would only prolong its suffering.
Up-and-coming Union general Ulysses S. Grant (who inherited the failure of the previous command) was so frustrated by Vicksburg that he tried to dig a bypass canal through the horseshoe bend where the city lay at the apex—a colossal failure. Out of desperation, he finally sent his troops on a risky overland maneuver through swampy wilderness in enemy territory cut off from supply lines to lay siege from the city's rear. The gamble paid off, and over the next few months he starved out the city's genteel residents while forcing them to live underground like rodents to avoid the ceaseless shelling.
Aware of Vicksburg historically prominent perch, I rolled into town anticipating spectacular views of the mighty Mississippi, but instead discovered I could barely glimpse a narrow, stagnant channel through the trees below.
Vicksburg's prosperity was fueled by its founding at the Mississippi's confluence with the Yazoo River, but—in an ironic twist of fate—a dozen years after Grant's failed detour nature accomplished what he could not. Before its 20th Century taming the Mississippi River was famous for cutting new channels literally over night (in an earlier post I explained how bends in the river were constantly in the process of flip-flopping), and one morning Vicksburg awoke to find itself landlocked. Its economy was so crippled that in 1903 the Army Corps of Engineers diverted the Yazoo through Mississippi's old channel, but this is a meager substitute for the mother of all American rivers.
CHARMINGLY FROZEN IN TIME
Despite the diminished view below, Vicksburg itself remains charmingly frozen in time. Whatever damage done by Grants shelling has long since been repaired, and the town retains its quaint antebellum charm…without all that human bondage and whatnot. A stately columned courthouse is perched high on the hill amongst the live oaks, magnolias, and dogwoods, keeping watch over the preserved buildings below housing an array of inviting shops, museums, and restaurants. Many local historic homes are preserved and are open to the public, and there is a lively arts and theater scene as well. I was so instantly charmed that Vicksburg immediately ranked alongside Hannibal as the most lovely and inviting towns I'd encountered since leaving Minnesota.
As I drove along the hillside soaking in the charming ambiance, I Googled local B&Bs, window shopping along the way. Eventually I found an affordable room in the carriage house of the Anchuca, a lovely antebellum home up the hill from the courthouse that was once owned by Jefferson Davis's brother; its balcony was the site of the final public address by the former President of the Confederacy.
HAPPY HOMES & DISTANT RELATIVES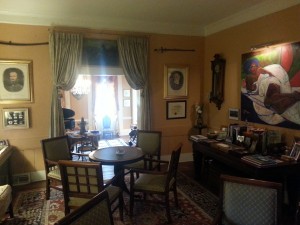 I had plenty of time to look around the stately home upon arrival, for the lady working the desk was doubling as hostess in the crowded dining room. She was friendly and apologetic upon finally breaking free, however, and glancing down at my credit card asked if I was related to Bill Sarrett who runs the Visitor's Bureau.  I was shocked, responding that my last name is rare. She gave me directions to his office, urging me to stop in the next day and see if there was a family connection as I took the key.
Anchuca is Chotaw for 'happy home,' and this lovely inn lived up to its name, though I felt a little like a rube, dragging sopping camping gear into the daintily decorated room while hanging my tent to dry in the bed of my pickup truck. All my gear was sopping wet, so by the time I unpacked everything and hung it to dry, it was past seating hours in the dining room. The hostess took pity, though, as I assured her I was only ordering the summer salad (which was exquisite).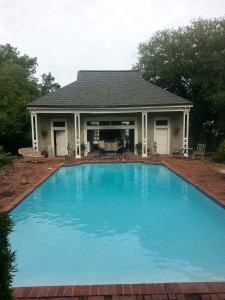 Despite the late hour I splurged on coffee, confident I was too exhausted after two soggy sleepless nights to be thwarted by caffeine. It was served in nice china which (which shouldn't matter to a dude traveling in a beat-up pickup, but it did) and was perfectly brewed with a hint of cinnamon. The meal was so refreshing and atmosphere so relaxed that I splurged on dessert—my second sweet of the trip. The three layer flourless chocolate cake I chose (ganache, cream cheese, and mousse) was rich enough with a hint of tartness from the cheese to be satisfying in modest proportion. More gratifying, it wasn't overly sweet, for my diet has made me sensitive to our modern need to over-sweeten everything, turning innocuous dietary splurges into diabetic nightmares! Just like my donut in Red Wing, it was well worth the indulgence and I asked for another cup of coffee to sip as I luxuriated.
After dinner I soaked my feet in the pool and retired to the garden to jot down my impressions of Memphis before retiring around midnight.  After my foolhardy decision to camp outside of Memphis, the soft, plush bed was blissful. Still, a melancholy pervaded the room for tomorrow evening I'd be pulling into New Orleans, marking not only the end of my Mississippi River trek, but of My (extended) Year of Mardi Gras.
BATTLEFIELD RECONNAISANCE (A GEEK & A GEEK-IN-LAW)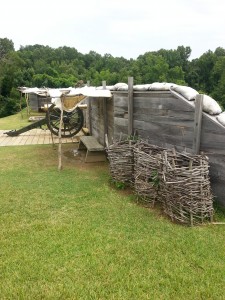 After two weeks chasing rain and flooding south, I awoke on the final day of my journey to blue skies dotted with wispy cotton. After an excellent breakfast (I've never had a bad one at a B&B) I headed for the Vicksburg National Battlefield Park.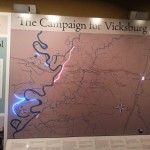 Located uphill from the city, it is a huge and gorgeous park that stretches down to the river north of town. After paying at the gate, I watched a short film about the siege in the visitor's center and perused the small exhibit that included a model of the caves residences and one of those helpful narrated maps with lights that show trop movement. (It also had particularly nice gift shop.)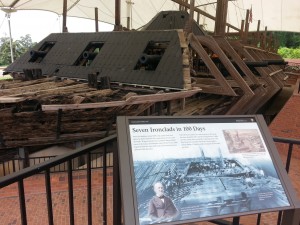 The main attraction, however, is the drive through the former lines, which are much too expansive to walk. Because the engagement lasted a year, soldiers on both sides retained clear recollections of where they were positioned and how battles unfolded and for decades returned to mark these positions; thus Vicksburg is one of the most thoroughly marked battlefields in the world. The first half of the drive is thick with blue plaques marking Union positions and the back half, near the river, is covered with red ones for the defenders. Every state north and south who lost soldiers in the skirmish contributed a monument to their fallen, the most impressive of which was the dome built by Illinois.
I downloaded an audio app for my phone but couldn't figure it out, so only stopped at a few key sites including the iron-clad ship that had been salvaged and partially restored. Even stopping infrequently the drive took several hours, and true Civil War geeks like my brother or brother-in-law could spend days there. The park was stuffed with an overload of information and I wanted to see more of Vicksburg, so I rushed along with poor understanding of all I was seeing. For $40, though, a park ranger will ride along and narrate. If I ever return with my geeked out siblings I'll definitely consider it!
A SARRETT BY ANY OTHER NAME (AND KIDS BIG & SMALL)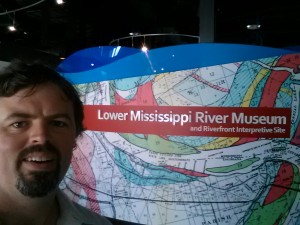 My next stop was the Visitor's Bureau in a converted brick depot by the river where the director graciously welcomed my intrusion even though it turns out he spells his name 'Seratt.' As we chatted, we determined that while I was descended directly from Mary Surratt, who was hanged (most certainly wrongfully) for involvement in the Lincoln assassination, he was descended from her husband. (I guess he remarried!) Because of the shame of associating with Mary Surratt, many people changed the spelling to distance themselves, so there are many variations out there.
Next I stopped by the Lower Mississippi River Museum, an impressive facility hosted by the Army Corps of Engineers whose river management office is in Vicksburg. The museum is free—a bonus—and does a good job depicting the river throughout its history, focusing on major floods and ecological disasters as well as the Corps's efforts to contain them.
Because of our protection of the central Mississippi planes—which would be uninhabitable without flood controls—we are losing lower Louisiana and the museum at least acknowledges the duality and consequences of their action, even providing a station that polls visitors on what they would choose when faced with competing interests.
Perhaps my favorite exhibit, however, was a sand pit with a water spigot where 'kids' were encouraged to dig a course for the river with their fingers and then observe the effects of flowing water. Having read about and described the reversing river bends, I dug a wavy course, turned on the water, and watched in fascination as the flow reversed the turns, taking sand from the faster flowing wider outside of the bend and depositing it on the slower moving interior. Sometimes it's good to hold onto the fascination of a child.
ROLLING, ROLLING, ROLLING ON BY THE RIVER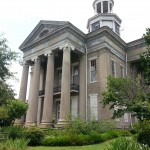 It was late in the afternoon by the time I stopped by the old courthouse, and since I needed to get on the road I passed on paying admission and instead walked the grounds where I ran into an elderly lady searching for her cat. As I joined her quest (unsuccessfully), she pointed out the best views and asked what I thought of her town. I told her I couldn't be more impressed, and was a little sad to be moving on so soon.
I could easily spend several days here. (Or a week lounging around the B&B if I could afford it!) I wanted to reach Natchez, however–my last stop before rolling into New Orleans—with time to explore. As I continued south on Highway 61, though, I felt confident that someday I would return.