PYTHON THAT SWALLOWED THE THREE LITTLE PIGS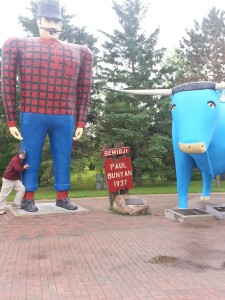 The town of Bemidji lies about 20 miles northeast of the Mississippi's source and boasts dual claims to fame: first town on the Mississippi River and birthplace of Paul Bunyan and Babe the Blue Ox (and I'm not sure they realize the latter aren't actual historical figures!) During its initial wilderness leg the modest Mississippi balloons into three of Minnesota's largest lakes in quick succession like a python that swallowed the Three Little Pigs. Bemidji, a surprisingly robust college hockey town (home of The U of M-Bemidji), hugs the first of these lakes that dominate the Mississippi's initial northern arc and is the only one developed beyond small fishing camp and boat resorts.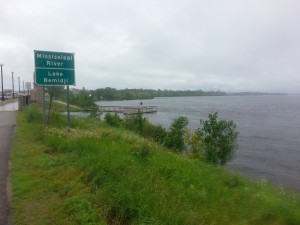 Upon entering town, it's near-mandatory to stop by the welcome center and allow the giant statues of Paul & Babe to photo bomb you by the lake. Just around the corner, though, is a nearly completed lakefront arena of grand scale and design that promises to draw legends and giants of a different ilk. Whereas the lakefront is the main draw, there's a string of alluring coffee shops and cafes mixed amongst the souvenir shops running perpendicular from the waterfront like a spoke. Venture a little further and you run into a cheerily cluttered antique mall perfect for visiting packrats and a small operational wool mill that sells the socks and gloves it produces next door along with an assortment of heavy wool clothing from other manufacturers to help you through the frigid northern winters.
The primary reason visitors travel this far north, though, is for hiking, biking, and boating. A well-maintained bike path closely circles the entire perimeter of the lake and intersects with the northern end of the Paul Bunyan Bike trail that travels through 100 miles of wilderness from Brainerd, a fellow vacation destination along the river to the south. There is also countless hiking options and opportunities to kayak or canoe the river or lake…if you don't arrive during one of the periods of heaviest rainfall in recent memory!
ICY BULLETS (SHIVER TILL DAWN)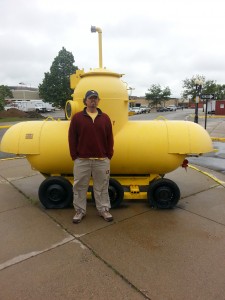 The rain, wind, rising waters, and bitter chill nixed any notions of getting on the water, but upon leaving the welcome center there was a pause in the rain so Jesse and I hopped on bikes and tried to take advantage of the lull. We initially missed the bike path proper and got caught behind construction for the new arena. Barely ten minutes into our journey—before we even reached the lakeside—a chilly drizzle began to fall. This was no 'minor annoyance' shower, but rather a steady gale blasting icy bullets into my face. It was July 1st and yet I was shivering uncontrollably and my fingers ached and froze in position on the handlebars. I yelled that I was done and turned back to the truck, wincing and moaning the entire trek back (which seemed a lot longer than ten minutes.)
We had planned to watch the U.S. World Cup match against Belgium at three o'clock, but still had time to kill so wandered the shops in town (and stumbled upon an oddly out of place yellow submarine) before retreating into the surprisingly excellent Cantabria Coffee Company where the barista whipped up a near-perfect cappuccino (the true litmus test for a good coffee shop.)
Later, despite a disappointing elimination by the Stars & Strips, the excellent food and serene lake views at The Green Mill—a regional pizza and sports pub chain—kept our spirits buoyed. As the rain continued we headed back to the coffee shop where I worked on the blog until time to crawl back in the tent and shiver until dawn.
GREAT RIVER ROAD & ABOLITIONIST RIVER
Before settling into Cantabria the previous afternoon, Jesse and I had tried following The Great River Road past lake Bemidji, but found the maps and signs inadequate. After getting turned around several times we gave up.
The Great River Road is not a literal road, but a web of state and county routes running along both shores of the Mississippi to New Orleans once it leaves Minnesota. Although a Federal Scenic Byway, each state is responsible for its own route—and none do a good job mapping or advertising it!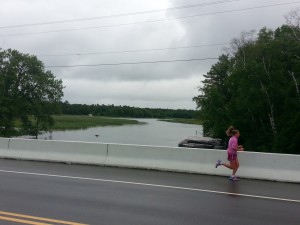 The 'road' does have a website providing information and suggested itineraries but not accurate maps or description of routes. I'd hoped to get something more specific from the Itasca Welcome Center, but the puzzled park rangers were only able to provide a slightly less vague map of Minnesota's portion that I couldn't even follow with Jesse driving.
Thus on Wednesday I departed alone to give it another try. There was still a chill in the air but the rain had stopped and sun was shining; it was a gorgeous day to roll down the windows and speed past rolling hills of rustling pines and 10,000 glistening lakes. (Though with 1/16th of the state covered by water, I suspect they're selling themselves short at 10,000!) After getting lost twice on route to Cass Lake—the next of the triplets—I threw up my hands in exasperation and began forging my own path. I'd often stumble back upon The Great River Road, but quickly realized how impractical it was as it lured me into long, winding detours that paralleled the river without it ever coming into view.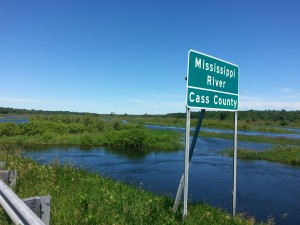 Because the Mississippi is not founded in bedrock, it cut a winding, ever-changing course too erratic to follow with a highway. This endless succession of S curves once changed on literally a daily basis, as detailed in Mark Twain's accounts of his years as a steamboat pilot in Life on the Mississippi, until 20th Century engineers stabilized it's course to aid navigation and end the river's annoying habit of reshaping state borders. (Amongst its many nicknames is The Abolitionist River because of its habit of shifting plantations from slave to free states.)
Although the flow is too modest in these northern wild to change course so rapidly, the river still cuts a path too jagged to follow. I decided the best way to catch occasional glimpses was to choose roads that crossed the river and aim for the major towns along its shores.
[GEOLOGIC & HYDROLIC ASIDE FOR THE NERDS IN MY AUDIENCE]
Formed by melting glaciers, the Mississippi lacked a bedrock base beneath rich topsoil or mountains to channel its course; thus, the river was free to cut a path of least resistance, and curves actually require less energy to maintain a flow. Because the water on the outside of a curve moves faster it eats away at the banks while the shorter path on the inside moves more slowly, depositing silt. It doesn't take long for this process to completely flip bends in the river.
MY WALLET GETS SCHOOLED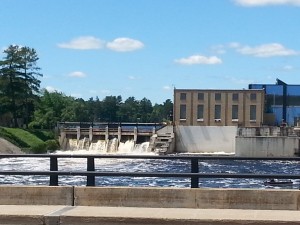 Past the triplet of lakes, the river grew slightly wider and marshy in places before it finally turned south at Grand Rapids. Already the river was taking on a muddy hue, yet there were no major tributaries dumping in sediment for hundreds of miles. Though it's known as the Big Muddy, the Mississippi's color used to very greatly and early river men could tell their place by the color, ranging from green of the northern pines to a clear, crisp blue to red with clay from the Missouri River. It wasn't until after the Ohio that all these colors swirled to form a muddy brown, but modern lawn and industrial runoff have 'muddied' the entire length. But surely there wasn't that much industrial runoff in this sparsely populated (though, granted, heavily logged and mined) wilderness?!
Soon I exited the wilderness past Grand Rapids' small dam built to create energy from the town's namesake. Although the falls and whitewater at Minneapolis leave St. Paul the northernmost navigable point on the Mississippi, the waters flatten out again to the north until Grand Rapids, and the city sprung up as local lumberjacks hauled their harvest here to load onto steamboats bound for mills to the south. Today, tourism is the economic mainstay and Grand Rapids has grown into a quaint town of small brick shops and homespun restaurants.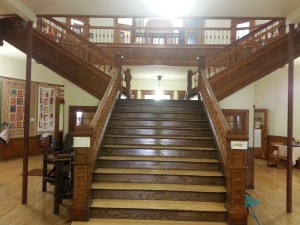 As I passed through the center of town I spied an old 19th century school building that had been converted into a local crafts mall and had to stop. As I walked through the doors I was greeted by the smell of polished pine and oak, and the upward curve of the simple but elegant woodwork was staggering. This wasn't like any school I ever attended!
The stores themselves were as unique and intriguing as the building , one specializing in rustic lake memorabilia while another was filled with such an array  of clever and inspirational plaques and ornaments that I parted with way too much money for gifts! As I cheerily handed over my card despite the voices in the back of my brain screaming for me to drop the loot and run, I chatted with the owner who grew up in Minneapolis and didn't mince words as she described the culture shock when her husband moved her up here over 40 years ago. Fortunately, she explained, the town has grown and matured with the recent tourist boom, though I sensed dreams of fleeing back south still cross her mind.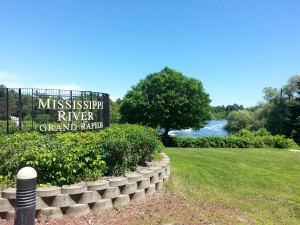 Outside her shop I quizzed the elderly volunteer manning a visitor's booth about the building's history, still having trouble believing this was once a school. He steered me to a river trail behind the library in town, though I arrived to find rising water had flooded the dock around back. A few hundred later my progress was completely impeded by flooding. I walked the opposite direction and crossed the river bridge to snap some photos, but it was already after 2:00 p.m., and I wanted to get out of Minnesota before dark so I pressed on.
Oh, silly me.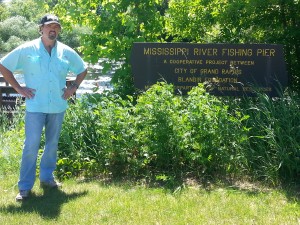 A NO BRAINERD
It had taken four hours to drive to Itasca directly from Minneapolis, but between the extra winding river miles and my frequent stops it would take me more than twice that to get back, and Minneapolis was still a couple of hours from the border. Later, I'd look back at my helpful Great River Road-Minnesota brochure and read that the route covers 580 miles in Minnesota; my 9-hour drive from New Orleans to Jacksonville is only 530! I had grossly miscalculated the initial leg of my return!
I was still clinging to a peaceful easy feeling, though, for the first couple of hours following my delightful stop in Grand Rapids, and was relieved to finally being heading south instead of north and east. The river now followed the highway for long stretches, but grew increasingly elusive as I passed through Aitkin, a former mill town where those steamboats from Grand Rapids often headed. I was now hitting a stretch of small blue-collar towns where quaint main streets meant to attract tourists gave way to modern utilitarianism. Suddenly I felt a pang of sadness at leaving the wilderness behind.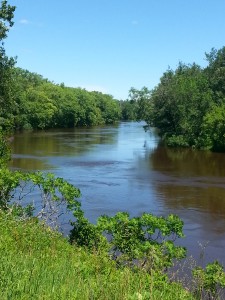 For the next couple of hours I passed through rural farmland without seeing the river again until reaching Brainerd, the vacation epicenter for the Twin Cities. Brainerd itself was nothing special—just a lot of concrete and corporate chains. Apparently, though, the surrounding area is packed with lakes teeming with fish and perfect for watersports. Brainerd, though known as a resort town, is more of the supply line for a recreational region, and the river flows through the middle of downtown sprawl practically unnoticed.
Brainerd also marked a distinct change in the river, both geographically and culturally. It was starting to widen and from here cut a mostly straight line south and slightly east to Iowa before starting to snake back and forth in earnest. These straight shorelines and moderately clean waters transformed a sparsely settled stream into the centerpiece for a steady succession of recreational parks and bucolic mid-sized towns. A winding wilderness waterway was becoming a recreational river.