GETTING METER MADE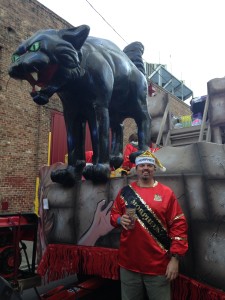 Arriving back in New Orleans for the first time since summer, I did what most returning pilgrims do: went to eat. Although my heart was set on Slim Goodies—my favorite breakfast dive—prudence advised otherwise. It was already late morning and I had to load the beads I'd brought from home, stop by the store, and check into the hotel, all before Morpheus Bash at 2:00. Besides, NOPD shuts streets down early on parade days and I didn't want to get caught Uptown; thus I exited onto Poydras and headed to my oldest NOLA culinary love, Mother's. (Yes, critics, it's overpriced with declining portions, but I stand by her quality!)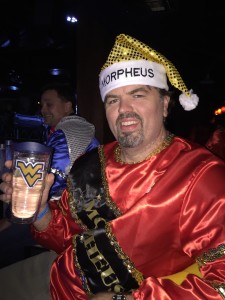 Aimee was accompanying me for her second Mardi Gras (though sadly her nephew and his girlfriend couldn't make it after their infectious exuberance in 2014) so I dropped her off to stand in line and found parking nearby. Digging in my pockets I realized I didn't have change but fortunately had parked in front of Barcadia so ducked inside to use their change machine. Returning with $2, I pumped it all into the meter advertising $1.50 an hour and watched it register 56 minutes. Grinning, I shook my head. Welcome back to New Orleans, where even the parking meters are on the take!
PUTTING THE FAT IN TUESDAY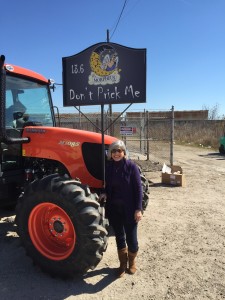 Although I recently wrote that I didn't miss New Orleans food, I only meant as a full-time dietary staple. I fully intended to put the Fat in my Tuesday while in town and give myself a reason to commit to another Low Carb Lent. Therefore, my weekend of excess began with a big fat biscuit and bowl of grits accompanying a loaded debris omelet, washing it all down with rich, oily chicory coffee—black, bitter, and tasting like home.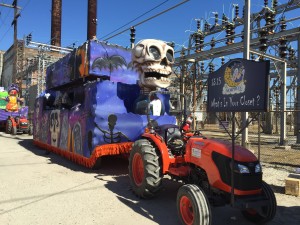 Buzzing from dietary sins, I plunged down Tchoupitoulas seeking the float that would be my home that night, though as I crept Uptown I passed a peculiar site. The left lane was blocked for miles with idling semi-trucks waiting to enter the docks bordering Lower Garden District and Irish Channel. Wondering if it had something to do with the dockworker strike in L.A. that threatened shipment of Mardi Gras throws, I cut through to the deserted street where our parade lay dormant, tractor drivers perched and waiting to coax the glorious procession to life.
In an interesting twist, our parade fell on Friday the 13th  this year, and this was my first peek at our 'Freaky Friday' theme. Last year I felt our 'Cruising the Streets of New Orleans' motif was okay. In Jefferson Ave., though, my gang had drawn a rather vanilla float (not that I cared once aboard.) This year, though, I was eager to see what the God of Dreams would make of the Friday of Nightmares. Stepping from my truck, I stood with mouth agape. I had missed Halloween and Krewe of Boo, but Morpheus had hired a new float builder this year and they'd turned Mardi Gras into Fat Boo-sday. It was a grand slam, at least to a Halloween junkie! Beside me, Aimee gave voice to my tongue-tied admiration and I immediately pulled out my phone to urge local friends to get their asses in motion!
A BLACK CAT COMES UP SEVENS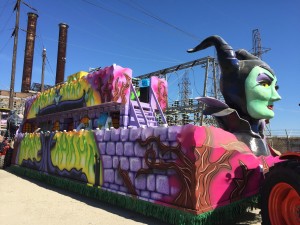 After a quick jaunt to Wal-Mart for Abita and King Cake vodka (why not?!), I returned to toss a cooler atop my stash and stroll around for photos. This year my group would ride on The Black Cat. Again, this was probably one of the least visually striking floats, but a confluence of factors made it—in my mind—the premiere ride of the evening.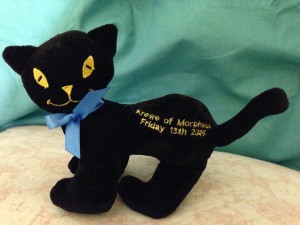 Instead of throwing plush moons along with our stuffed sheep, we would be tossing black cats modeled on our float and embroidered with the date. Further, our dread inducing black cat was lucky #7 in line. In honor of the theme, all numbers began with thirteen; thus we were #13-7, which I found a pleasingly subversive numeric oxymoron. (Say that five times fast!)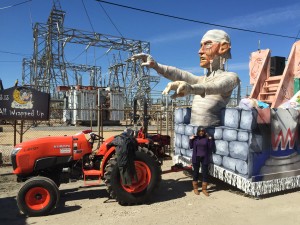 From our storage spot it wasn't far back to the Hampton Inn-Convention Center, a lovely restored brick warehouse with a tiny tropical courtyard. Check-in wasn't officially until 3:00, but I strolled up at just past 1:00, explaining the Morpheus celebration started at 2:00. The desk clerk didn't share my urgency, however, stating the 4th floor was still being cleaned. I didn't need a FLOOR, just a room, but pulled out book and tried to wait patiently.  When Aimee spotted others—who clearly weren't riding—receiving keys, I returned and found a sympathetic clerk who simply moved me to a different floor. Unfortunately not the 7th.
FERTILE ROLLING FLOWERPOTS & LAST YEAR'S DONUTS
Last year I was so excited for my first ride (and per my float lieutenant's warning of long lines) I'd been one of the first members arriving at Generations Hall, a lovely, cavernous banquet facility tucked away in the Warehouse District. This year, however, as I unpacked a couple of block away my motivation evaporated and I flopped onto the bed. It had been a mad dash to Biloxi after working a half-day, and then another mad dash this morning, though I quickly rebounded to arrive fashionably late.
Last year I'd mostly stuck with the friends I'd invited—most of my float krewe still strangers—but this year I rushed to embrace all the friends who'd remained in touch. We'd only spent a single evening together, but the buds of friendship had taken root in that fertile rolling flowerpot.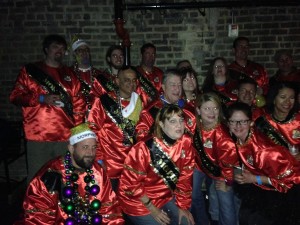 Once we'd caught up (and I'd reiterated threats to throw Don from Boston overboard if he mooned over the laminated Tom Brady photo I was sure he'd secretly stowed away), I got some food and settled in to watch the band. Last year's mischievous Bag of Donuts had been replaced by Category 6, even older guys (BoD are around my age) who ironically (I hope) wore spandex glowing beneath a black light with neon paint smeared in various patterns, including their hurricane logo.  They played an eclectic mix ranging from Depeche Mode's "My Own Personal Jesus" to N'Sync (no idea) with an obligatory "I've Got a Feeling (Tonight's Gonna Be a Good Night)" and "Don't Stop Believing" thrown in. The crowd was having a blast, but I have a soft spot for Bag Of Donuts so tried not to pout.
BLAME IT ON MILLI VANILLI
With the thrill of reunion past, my energy again dipped, and I silently worried that perhaps the thrill was gone (though I recalled a similar lull last year). When the bar opened, I grabbed a beer—an occasional treat since going low carb—and returned to socializing. Before long everyone was laughing and dancing in that the corny and carefree manner that comes with being too old and buzzed to care. I slowly if grudgingly warmed up to Category 6 as my energy and excitement gradually returned.
As the afternoon progressed and the king, queen (a father-daughter combo) and BOD was introduced, I avoided liquor and rationed beer. Last year had been a blur and this year I had no intention of repeating my mistake.
Too bad Category 6's novelty repertoire didn't include Milli Vanilli, for at least then I could blame it on the rain!
A KID ON CARNIVAL CHRISTMAS MORNING
Sometime after 5:00 float #13-7 congregated to depart, primed by another excellent party. Aimee paused snapped a few photos before returning to the hotel to await our slow return and I settled in between Don—who I'd stayed in touch with—and Marco—who I briefly recalled meeting last year. Within a few hours, though, we'd be a tight trio.
Being a season veteran, I knew the waiting had just begun, so while some riders had already painstakingly arranged their throws, I waited until we boarded before opening the first bag. Not that I had much space to stow things away, anyhow. Last hear I'd stood under the upper deck so tucked toys between the ceiling beams. This year I was second from the front and out in the open. Considering I couldn't stand up straight before, max headroom was a welcome tradeoff.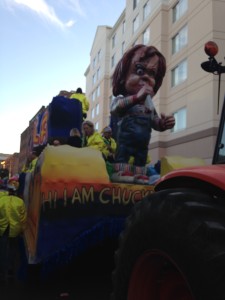 Besides, last year I'd been able to sort through my packages at home, spreading out the loot for photos before evenly distributing it.  Now, as I dug into the bags Plush Appeal had loaded (for a fee), Don teased: "Look, he's got no idea what he bought!" "He's like a kid on Christmas morning," responded Marco, whose stash was four times mine, leaving little room to stand. Rather than ordering a Morpheus package he'd went on a shopping spree and was loaded down with foam spears, bouncing balls, and specialty beads of all sorts. This guy had the fever!
WAITING KREWE DEJA VIEUX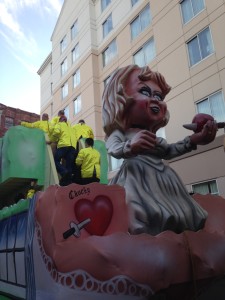 As we crept down Tchoupitoulas in fits and spurts, our float lieutenant and resident den mother, Kim, pulled out her annual cooler of Jello shots. She had shepherded us to near the front again (for position is awarded based on how early member dues are paid), and now declared: "It's my turn to get drunk!"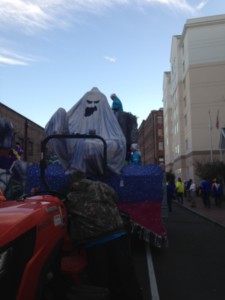 As the cooler made its round I only took one (as opposed to ??? last year!), though I'd brought a six-pack of Purple Haze and a WV tumbler filled with king cake vodka and club soda. Then, as Marco explained he was an elephant trainer at Audubon Zoo and invited me and Don out to feed the elephants (that could be an interesting post), he pulled out the first of many Cokes and Captain Morgan's to pass around. Of course I had to participate for the sake of unity, though took small sips. The only problem was, Marco brought a LOT of bottles!
Meanwhile, the Carolina ladies from upstairs came down to jaw as the hours dragged by, just like last year. Kim's niece soon popped up—just like last year—to accept a large bag of primo throws, and Marco grew so eager to unload his booty that he tossed at any stray wandering by. Several riders stepped off each time we paused (mostly to smoke), and, just like last year, each time I grew restless and disembarked someone yelled that we were moving again. It was a festive sortof déjà vu, and I half expected someone to show up again with a random tray of crawfish. Fortunately, there was no hijinks like the VH1 cat-fight, and a little after 7:00 we all cheered aloud as we rounded the corner from Tchoupitoulas to Jefferson for a few blocks before heading downtown via Magazine. "Let's do this!" Don yelled.
And then we stopped. And waited.
KREWE de'TWAT
Exasperated, I checked the parade tracker app on my phone. Just like last year Krewe d'Etat had broken down leaving us stuck. Déjà screw all over again.
GENDER FENDER BENDER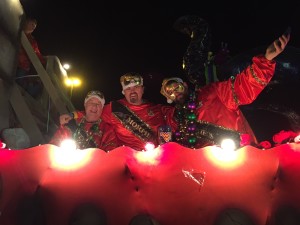 Mardi Gras trees are one of my favorite sights of the season—bare limbs along St. Charles Avenue and other routes laden with beads dangling like rainbow tinsel—Carnival's response to the Christmas Tree. (I've written before about how Mardi Gras conflicts with my eco-sensibilities so won't go into the tinge of guilt I sometimes feel seeing these laden trees nine months later.) This trimming of trees usually results from errant throws, but we had stopped in front of a tree sporting only a few lonely beads, and as we languished in purgatory I decided to see how high I could hook a throw. Marco and Don soon joined in, spurring an unspoken competition. Guys!
After a while I turned to Kim, opposite Don, and chided: "Your turn—show us you can throw like a girl." I was trying to prompt her best shot, and by the look she gave me I'd definitely riled her. Narrowing her eyes, she turned and tossed a bead that gently arced beneath the lowest branch. Shooting me another look, she grabbed another. And another. Her friend to her other side soon joined in and they quickly littered the sidewalk. Whistling nervously, I looked away fearing I'd accidentally incited a gender war!
ANNUAL EXTENDED ADRENALIN SURGE & STEROIDS FOR THE EGO
Mercifully, Black Cat #13-7 soon sprung to life. It was dark, frigid, and approaching 8:00 when our procession finally lurched into motion, but a grand procession it would be. It may seem odd to the uninitiated to literally throw away so much time, effort, and money away on strangers in the street, yet miles and miles of frenzied, jubilant people crying in desperation with outstretched hands is the closest most of us will ever come to being rock stars or monarchs. Riding in Mardi Gras is an annual extended adrenalin surge and steroids for the ego. Some folks strive for their 15 minutes of fame. Krewe members get several hours worth with the promise of doing it all again next year.
So—for a while—we were all about to transform into kings and queens as the God of Dreams ruled the Day of Nightmares. Freaky Friday had arrived….
NEXT ARTICLE