FREEBASING JAZZ
The New Orleans Jazz & Heritage Festival encompasses all that is great about this region's music, food, culture, and hospitality in a confined, accessible area, and thus was my gateway drug to the city as it is for so many. Although it name-checks jazz, Jazzfest consists of 11 stages hosting artists from every imaginable genre and ranging from obscure local climbers to superstars from around the nation and world–every major rock artist that I can think of has played except U2 & McCartney. Yet, although Dave Matthews, Billy Joel, and Fleetwood Mac will be there this year, I always advise people to avoid the 'superstar' stage; it's the unexpected discovery that is the beauty of Jazzfest.
And this is the perfect metaphor for New Orleans. While there are certain famous spots tourists will flock to–rightfully so–there are more wonderful restaurants, clubs, musicians, artists, and personalities clustered here than any one person could fully embrace in a lifetime.  While everyone's life is a 'Choose Your Own Adventure,' there's just a ton more choices in New Orleans.
LA FIN DU MONDE: A BRUNCH DISCOVERY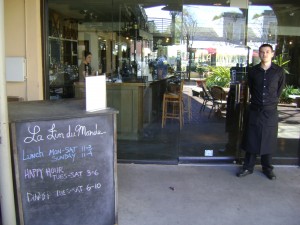 Such a moment occurred at breakfast Wednesday morning. I headed to a Magazine Street cafe The Captain had recommended. It's set in back of a quaint little courtyard away from street, so I didn't notice until I walked up that it was now a French restaurant called La Fin du Monde. I was looking for a cafe or diner, but the hostess implored me to come in as I started to retreat. It was already 11 and they were serving brunch so, without other options, I relented.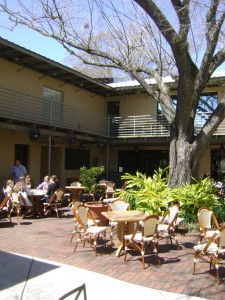 The ambiance inside was a nice balance of elegance and comfort, and the menu was small but offered just enough tempting options. The waitress steered me to the steak and eggs and, while a little pricey, the quality justified the expense. The steak was cooked to a perfect medium rare in a rich wine-red sauce that spilled into hearty, large-cut creamy cheese grits that were some of the best I've ever had. The poached eggs swirled their rich yolk into this delightful stew and I ordered toast to sop up the remnants.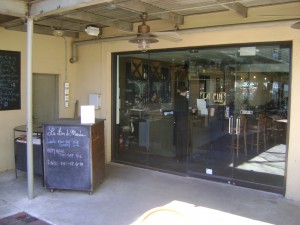 The chef also roasts his own coffee beans and I cautiously ordered medium roast–these days even medium can mean overwhelming. I love coffee but hate the trend of roasting beans to a char and then brewing it so strong and bitter that it feels like the offending sludge is divorcing your taste buds rather than romancing them. This, however, was the best cup of coffee I've had in New Orleans yet–or anywhere for quite a while. It was rich without tasting burnt and full-bodied without being cloyingly intense. Not a bad find for a typical Wednesday.
WEDNESDAYS IN THE SQUARE (ROCK OUT IN OBLIVIOUS ECSTASY)
I spent the rest of the afternoon writing and strolling my new neighborhood until it was time to head to Wednesdays in the Square. For 12 weeks every spring The Youth Leadership Council (YLC) hosts this popular event  in Lafayette Square downtown. Every Wednesday features a different free performances by a favorite local musician and, by starting and ending early, 5-8, it attracts a huge crowd of young professionals just leaving work and families with young children.
I decided to be eco and urban friendly and take the St. Charles Streetcar, but it was running extremely slow.  I waited over half an hour, wishing I had driven, and missed the opening act, arriving nearly an hour late (the streetcar lumbers slowly along once it does arrive). It must not be too difficult for most to get there, however, because the park was packed.  Close to the stage people crowded every available space with portable chairs while further back families spread out blankets and clusters of friends mingled. The perimeter was flanked by vendors from popular local restaurants offering upscale festival fare such as freshly made crepes, wine-braised beef sandwiches, and the  cognac shrimp with stone-ground goat cheese grits that I later ordered. (It was a grit kind of day and this variation was rich, satisfying, and stuffed with four times as many plump shrimp as the $5 price warranted!)
As I wandered the grounds, the Bucktown Allstars took stage and dancing commenced. This popular 70's and 80's  funk and R&B outfit is a local favorite frequently voted best cover band. This is the second time I've seen them and they're skilled performers who focus on fringe hits rather than the standard covers done by every wedding band in the land. The crowd clearly loved them, as do my local friends, though they've yet to bewitch me.  Nevertheless, I enjoyed circulating through the crowd chatting with locals and capturing photos and video of jubilant dancers such as a grandmother and granddaughter twirling and tumbling and a young boy rocking out in complete oblivious ecstasy. It was a beautiful spring day and a perfect place to be.  The music was free, the crowd receptive, and the vendors offering creative food at fair prices.
DANCING IN THE (FRENCHMAN) STREET
By 7:30 I was getting restless and considered heading home early after my late night at The Maple Leaf. Instead, I decided to wander over to Frenchman for only an hour or two–Scout's honor! I had to walk a mile or so across the Quarter, but I'm grateful I made the trek. My day that had begun so serendipitously was just beginning to gift me with that unexpected magic that the Big Easy conjures on a daily basis.
Last post I wrote that marching bands inspired by Rebirth and Dirty Dozen Brass Bands have become so common you run into them all over town, sometimes literally in the street. Well, upon arriving at Frenchman, that's exactly what happened. A collection of local young musicians were playing for tips to a growing crowd that was captivated by their youthful energy and vibrant talent. You frequently hear music in the distance in New Orleans and as I approached, I could tell something special was unfolding.
As I paused to watch, two band members jogged across traffic to drag spectators from the sidewalk into the street to dance. When they kicked into a hot number entitled "D-Boys," (which I learned chatting with them afterward), intuition whispered that this was a video moment. As I filmed, dancers began to pull their friends into the fray and the musicians took off like racehorses rounding the final bend. Soon they had the dancers swaying in unison while a few bold souls broke off to freestyle like the improvising soloists.  Before long adults were twirling children in giddy circles as taxis squeezed past.  This was just an average Wednesday night and yet people were literally dancing in the streets (although, as my friend Barbara from Switzerland pointed out on Facebook, in most cities they'd call the cops!) For a taste of the magic that lured me here to write, watch the video below. It's long but great viewing.
STUMBLING ONTO THE HONEY POT  (HONEY ISLAND SWAMP BAND)
As the dance ended, I handed out cards encouraging viewers to check out the blog for footage, and then walked on to scan the band listings on chalk boards outside of bars.  I'd checked Offbeat already and wanted to see Walter 'Wolfman' Washington at 10pm, a local staple on guitar for blues, soul, funk and R&B, but it was only 8 and there's always last-minute acts that don't make it to press, particular during early sets where artists play mainly for tips and exposure. Honky Tonkin' Donkey at Apple Barrel caught my attention in name but not execution so I walked across to the street to d.b.a. where Washington would play later. Glancing at the board I did a double take. Honey Island Swamp Trio was playing. Honey Island Swamp Band is an incredibly talented songwriting and performance dual threat whose star is skyrocketing. A roots rock and blues outfit, they temper their gritty swamp jams with an R&B and funk edge. Being listed as a trio probably meant one member was out-of-town or had a conflicting gig, and I entered to find the driving rock quartet playing quiet acoustic renditions of their repertoire sans drummer: piano, acoustic guitar, and stand-up bass. This was striking gold–or Honey, Pooh Bear–on Frenchman.
A couple from Minnesota took a seat beside me at the bar and I eagerly filled them in on the band's amazing story. The two singer/songwriter/guitarists (one of whom was on piano tonight) knew each other casually pre-Katrina, having gigged together a few times. Exiled in San Francisco after the storm, they ran into each and began writing material together. Excited by the creative synergy they discovered, they had the idea to start a New Orleans swamp rock style blues band. As they talked it over, they walked into a bar frequented by hurricane refugees and by happenstance sat down beside a drummer and bass player from New Orleans looking for a blues band. Fate was not only looking out for them, but apparently for all lovers of authentic rock and blues.
Their sound is best compared to JJ Grey & Mofro with a peppering of Dr. John. They weave homespun tails with soulful, scratchy vocals over a chunky,  rhythm section and catchy, skilled lead guitar, all peppered with a dose of humor and local flavor. To hear one of the funkiest, hip-shakingest rock riffs you'll ever hear check out "Chocolate Cake" or for a humorous tale of bayou backwoods business download "300 Pounds of Columbian Gold" (just don't go into the swamp looking for it!)
After the set wrapped up , I purchased their first CD which I didn't own yet and chatted with one of the singers. He was friendly and grateful to hear their message was spreading, though I was disappointed to realize that I'd passed out all my blog business at the street performance. A golden networking opportunity missed.
THE WOLFMAN COMETH (WALTER 'WOLFMAN' WASHINGTON)
Soon my Minnesota friends departed and a couple from Vermont sat down. This short jaunt was their first trip to town, but they were both extremely knowledgeable of regional roots music and we eagerly swapped favorite hidden gems while Walter 'Wolfman' Washington took the stage. Having started gigging in the '70s, Washington is a seasoned veteran with a crisp, clean, bright tone on guitar. Instead of the meaty, rough-edged Mississippi blues you often hear in the south, his fingers fleetly danced through soul, jazz and funk inflected blues backed by a smoking horn section, pouring out cascading rivers of sound with ridiculous ease. The best association my mind could conjure was T-Bone Walker style jump blues with the local soul and R&B flavor of Johnny Adams or Irma Thomas. My new friends and I couldn't help but dance on our  bar stools while commenting on at the entire band's impressive chops.
It seemed like my night couldn't get better after that spontaneous street performance but this was one heck of a one-two punch.  I could go six months in Jacksonville pining for such musical display. This is a standing gig for Washington so if you're in town on a Wednesday night, head to d.b.a.
TAKE THE LONG WAY HOME (HELD IN PLACE BY 'GRAVITY A')
Washington's set didn't end until midnight and the music was too good to leave despite my promise to myself of an early night. With the music over, I bid farewell to my new Vermont peeps, inviting them to contact me for advice on who was playing the next time they were in town. I only made it a few dozen feet, however, before the sound of a young acid jazz band caught my attention as their pulsing rhythm spilled out of Blue Nile.  I checked the sign: Gravity A. Never heard of them. I asked the bouncer if there was a cover and he shrugged and waved me in. Some of the trippy, indulgent jam bands popular today bore me to tears with their droning, stoner-friendly solos but this outfit mesmerized me, adding a danceable groove and engaging creativity to their trippy meandering, sounding like they grew up on Phish while spinning Miles Davis's Bitches Brew. The lead was all done on a soprano saxophone–a brave instrument to rock after the Kenny G reign of terror–that wound and snaked around funky, driving bass. Psychedelic keyboards swirled in the background while the guitar maintained a bright, funk rhythm of near-reggae consistency. After a half hour I forced myself to move on.
I ended up stopping in two or three more doorways before I left Frenchman. There's so much exciting and diverse music being played in this town, it's hard to go home. Finally crossing through the French Quarter to get to the streetcar, I stopped by Fritzel's Jazz Club, one of the few actual places on Bourbon that plays jazz, to see if my new roomie was working. Maybe I could catch a ride and skip the slow public transport. It turns out she had the night off, but the traditional New Orleans jazz combo on stage was playing an endearing, clarinet-thick version of "Sunny Side of the Street," so I had no choice but to buy a beer. As I had 'a quick one,' the siblings at the bar beside me struck up a conversation.  A brother and sister from Finland, they were traveling from Key West to California. How could I not stay and swap tales with Finnish pilgrims on Bourbon Street?!
We ended up closing the place down and my new friends strolled with me to my Canal Street streetcar stop on their way back to their hostel.  I waited nearly a half hour again for  a car by the time we lumbered Uptown and I walked the eight blocks or so home, it was after three when I tumbled into bed. Oh, the dangers of New Orleans!