IN HARDSHIP, THE BIG EASY COMES UP BIG
In April 2005 I attended my first French Quarter Festival at the urging of locals who prefer this local-centric event to the out-of-town crowds and superstars of Jazzfest. It was an amazing weekend, and though I didn't think it bested Jazzfest, I was sure I'd soon return. Then, just four months later, Hurricane Katrina hit and I along with most of the nation feared New Orleans and its wonderful culture was down for the count. I stayed away for six years as my life went in a different direction, but a city known as The Big Easy got Big Tough, showing it's drive and resiliency, and the music continued. On Thursday I attended the festival's 30th uninterrupted opening.
OF THE CREOLES, BY THE CREOLES, FOR THE CREOLES
The French Quarter Festival was founded in 1984 to draw locals back downtown and has succeeded wildly, winning praise as locals' favorite event. It has grown into the largest free music festival in the south, drawing over half a million visitors last year to it's 21 stages spread throughout the streets of the Quarter and the riverfront lawn of Woldenberg Park. Additionally, this event's mission is to support local music, food, culture, and business. Local bands fill every slot except for one stage of Louisiana influenced music, the food comes from local restaurants ranging from the finest in dining to popular dives, and there are lectures, films, dance lessons, and other events reflecting and promoting local color. All the labor contracts also go to local workers. FQF is truly of the city, by the city, for the city.
So, with that introduction, let me take you straight to the music–I have lots of photos, videos, and stories to share.
IRMA THOMAS: THE SOUL QUEEN OF NEW ORLEANS (WHEN YOUR PREGNANCY TEST COMES BACK NEGATIVE)
Thursday started out with a downpour, washing out the early acts, so I spent the morning writing, exercising, and actually eating at home.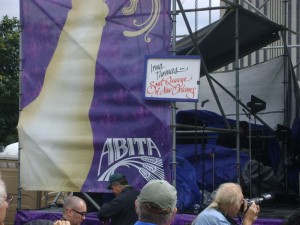 Once the rain lightened I jumped in my truck and drove to the Lower Garden District, viewing the half hour walk each way as penance for the food, beer, and daquiris I would consume. Besides, even though this is a free event, I'm still on a budget and there's no free parking closer to downtown.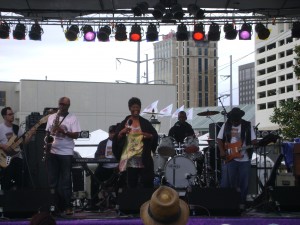 I rushed down the road to the main riverfront stage, afraid of missing local legend Irma Thomas whom I've only seen once before. Dubbed the 'Soul Queen of New Orleans,' Irma has enjoyed moderate success and recognition outside of the city but in New Orleans she is a living R&B legend–the closest female counterpart there is to local R&B god Fats Domino. With a rich voice, a deep catalogue of stirring originals and claimed-&-conquered covers, and plenty of sass and banter on stage, Irma Thomas has ruled this town since the '60s when her song "Time Is On My Side" became a national hit.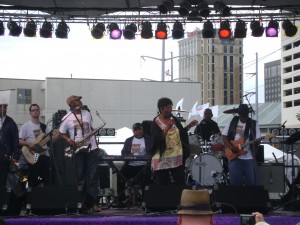 Based on reputation and a few compilation tracks, I sought her out at Jazzfest a decade ago. She delivered a soulful and rollicking show, defying her age as legendary performers tend to do. Most memorably, when introducing "Time Is On My Side," she told the crowd defiantly: "When people come up and tell me I did a good job on that Rolling Stones song, I always tell them, "That's my song. Mick Jagger asked if he could record it and did a good job with my song."
Perhaps though, the best auditory introduction you could offer a stranger to New Orleans culture is Thomas's legendary recording: "Second Line Medley: I Done Got Over/Iko Iko/Hey Pocky Way."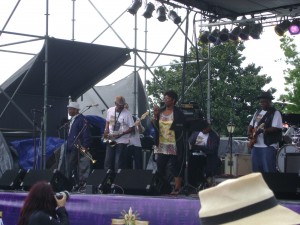 Not only is this song a 9:51 tour of the legendary local songbook, but she pauses in the middle to explain, "The 'second line' is the dance we do in New Orleans when there's a reason to celebrate," going on to sum up New Orleans culture as succinctly as I've ever heard, "And, as you know, in New Orleans we celebrate anything and everything. We celebrate frogs, roaches, mosquitos, alligators, red beans and rice, gumbo, okra, corn, a headache, di-vorce, separation, and when your pregnancy test comes back negative." Next, she instructs the crowd how to second line–by waving their handkerchiefs in the air and getting their "backfields in motion," assuring them "it's not how well you do this, but the spirit that you do it in."  Finally, before launching back into this tour of local music history, she makes it clear that participation is not optional: "It is very difficult to get your backfield in motion when you're sitting on it!" Look up this recording and you'll know why Irma is queen.
Today, however, Irma came on for a shortened set, apologizing if you missed anyone's favorite. She now shows her age a bit as opposed to when I saw her a decade ago, but her voice and delivery are still in top form. But don't take my word for it. If a picture is worth a thousand words, then a video must be worth 10,000 pictures so check out these samples with all apologies for sound and picture quality. I'm due for an equipment upgrade!
WALTER 'WOLFMAN' WASHINGTON & THE ROADMASTERS: GETTING FUNKY BY THE LIGHT OF DAY
I previously glowed about Walter 'Wolfman' Washington in  A Typical Wednesday In New Orleans, so click here to catch up if you missed it. Then click on the above video and let the music do the talking.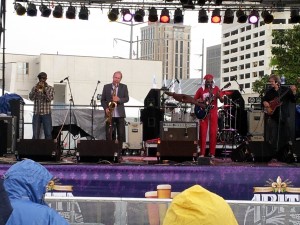 Walter 'Wolfman' Washinton and the Roadmasters took the stage between downpours to pour out soulful funk and R&B that kept the crowd moving, pausing only for a brief rain shower. Washington is a skilled veteran and knows how to keep the crowd's backfields in motion!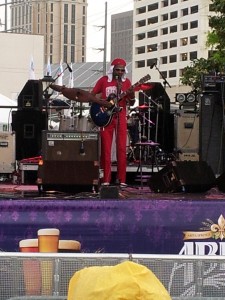 I don't know if it was the festival setting or just that the 'Wolfman' usually plays by the light of the Frenchman Street moon, but in the hours leading up to midnight at d.b.a. he plays more searing 'jump blues' and retro swing, tearing up the fretboard with ease, whereas today he played more of an R&B and smooth jazz set, spending more time at the microphone while relying on his excellent horn section to provide the instrumental fireworks.
As I scanned the crowd, enjoying the undulating energy of a receptive audience, I took advantage of a pause between tunes to chat with perhaps the most jubilant dancer in the crowd. Although from Australia, Tara Whallay had come from Guatemala where she worked as a free-trade textile designer. She is a big fan of the local music, and said she had to literally drag her chemist friend, Gabriel, off the couch to accompany her. I laughed, assuring him there's worse places a woman could force him to go. They both professed a large love but limited knowledge of the local music so I made some recommendations before wandering off to see a band I'd never heard: The Soul Rebels.
THE SOUL REBELS: PLAYING FAIR IN THE MUSICAL SANDBOX
The Soul Rebels, a modern marching brass band of Dirty Dozen and Rebirth Brass Band lineage, were playing on a smaller stage behind the main Abita Beer Stage where I'd been all afternoon.  If you haven't already read about how marching brass bands modernized traditional jazz to incorporate funk, hip-hop, rap, and R&B, check out my article A Typical Tuesday Night In New Orleans. As a lover of this updated tradition, I was eager to see how these guys ranked.
When asked what type of music I like, I always say 'good music' since I generally focus on the performer over the genre. I love listening to skilled musicians playing passionately and sincerely, and believe you can find both good and bad performers in rock, blues, jazz, funk, cajun, country, bluegrass, etc. My exceptions, though, tend to be rap, hip-hop, and modern R&B, where the music relies on looping, sampling, and electronics, de-emphasizing converging instrumental voices to elevate beat and vocal performance above all.Thus, it's not that the genre doesn't appeal to me (though I know it deeply moves many people and I'm all about choice and expression) but the lack of music in the genre.
When brass bands such as the Soul Rebels, though, take these modern urban beats and lyrics and weave them into a band performance where they play fairly with the other instruments in the sandbox, it always sends a chill up my spine. Suddenly I 'get' the power of this form of expression. Although I only caught the tail end of their performance, the Soul Rebels impressed me as ranking highly on the brass band foodchain and I'll definitely look them up soon. Be sure to check out the above video for an example of this blend of hip-hop with traditional brass.
Oh, and if the pictures and video look smoky, it's because apparently the Soul Rebels are popular with the young and, ahem, hip crowd. I was literally standing in an herbal haze the entire performance!
A BAG OF DONUTS: YOU KNOW THEY'RE BAD, BUT THEY TASTE OH SO GOOD!
If you've already seen a rock band whose members are dressed up like Gene Simmons, The Joker, Captain Caveman, and the Greatest American Hero in leather pants and a boa rocking out to Michael Jackson's "Billy Jean" before diving into a disco medley, then go ahead and skip the above video and below descriptions. Everyone else: I hope I have your attention.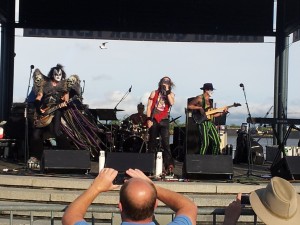 My oft-mentioned buddy Marquis had mentioned Bag of Donuts before but,when I saw them on the schedule I couldn't recall what he'd said so I called him up. "Just go. You'll have a good time, but you'll want to drink a lot." Feeling good after my morning workout, I was abstaining for the day but no worries–from the moment these guys took the stage I was drunk on cheesy, fun rock-n-roll kitsch.
After the show, I went to II Tony's, a Lakeview Italian restaurant where Marquis' good friend, Patrick Thompson, bartends every other Thursday. Although we've only met a couple of times, Pat has been acting as my local liaison through Facebook, phone, and email and is a walking encyclopedia (that's a hard-bound volume of Wikipedia's, kids) of local cultural knowledge, particularly when it comes to music. Both he and Marquis grew up with the guys in Bag of Donuts and he eagerly filled me in on their history.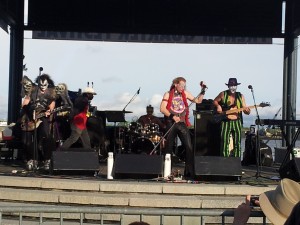 According to Pat, the Donuts actually started as two bands. Marquis has always claimed, with Pat emphatically concurring, that Metal Rose was the best metal cover band ever. They made a steady living in the 90s touring regionally and packing moderate sized venues, mastering their instruments and genre. On the other hand, Bag of Donuts, with whom Metal Rose were friends, stayed local and focused on humor and entertaining, earning a reputation as a party band that liked to party. They played a mix to please any crowd: metal, disco, oldies, modern hip-hop, cheesy wedding band funk, etc. Because one of the members owned a cool Gene Simmons costume, the whole band started dressing up and, according to Marquis you never knew what the lead singer would show up in, be it a tutu or on roller skates or whatever else he could think up. One thing was constant, though, he always brought a bottle of Jack Daniels to share with the crowd.
Over time Bag of Donuts became surprisingly popular and huge crowds started showing up while Metal Rose folded as bands often do, some of their members going on to gigs in the bands of prominent stars. Meanwhile, as the Donuts' crowds grew and the venues became more sophisticated, the inconsistent performance of the whiskey swilling lead singer lost its luster. Several remaining members of Metal Rose fled to the Bag of Donuts franchise, with only the original drummer left, and the underdog band with the quirky sense of humor became the tortoise that won the race.
As Pat relayed this history, a regular and 'musician' sitting down the bar grumbled that these 'hacks' were taking jobs away from legitimate musicians. It sounded like sour grapes to me. These guys weren't Irvin Mayfield or Kermit Ruffins, but I had a blast watching them and they had the whole crowd into it, cleverly choosing songs that were popular enough to help us aging rockers reminisce while throwing in enough surprises to keep it fresh. I love and cherish art, but there's nothing wrong with just plain partying sometimes. Besides, in the preening music business, it's always appealing to see a band that can laugh at themselves and the histrionics of performance.
And ham it up they did in grand fashion, poking fun at the flamboyance of performers in all genres while injecting Cajun classics such as "Iko Iko" and "Big Chief" with metal solos, lying down on the stage to 'gator' during Animal House oldie "Shout," and getting the whole crowd dancing to cheesy wedding favorite, "Play That Funky Music." They kept the tension going by following straight up classic rock like "The Joker, " with something humorous and unexpected, such as the "Billy Jean" cover mentioned earlier. They even rocked it "Gangham Style," lord help us all. The crowd ate it up.
As the sun set glistening off the river behind the stage, making it appear more beautiful than it is (there's a reason they call it the Muddy Mississippi!), Bag of Donuts came out for an encore, announcing. "Since we've got a member dressed like Gene Simmons, don't you think we should do a song by Kiss?" As they launched into "Rock-n-Roll All Night" the whole crowd was on their feet. The lead singer, who had been beating a cowbell all night, suddenly tossed a drumstick into the audience and this guy: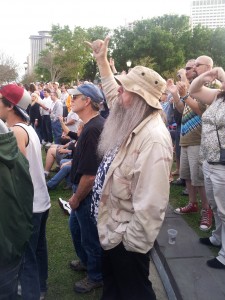 nearly knocked me down trying to catch it. Fortunately I'm stout enough to hold my ground and instinctively blocked him as he plowed into me. Seriously? Are you an aging burn-out or a teenage groupie??
When the singer tossed out another stick, I now purposefully blocked this guy: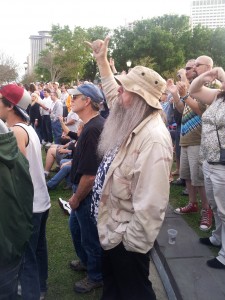 So this gal: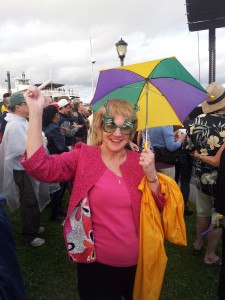 could catch it. Landing her prize, she danced around joyously, waving her drumstick in the air as she spun in circles, thrashing to Kiss. I was jealous. As much fun as I was having, she seemed to be having triple. Rock on, granny, and thanks for giving me such a memorable last image to an awesome first day of French Quarter Festival!