TO FREELANCE OR NOT TO FREELANCE
I woke up Sunday morning feeling fine but, after a day of daquiries, I decided to keep it dry again, especially since I needed to be semi-professional. I'd been in contact with Better Than Ezra's publicist, Ashley, since doing my interview for Krewe of Rocckus and there was a young new singer she wanted me to check out, hopefully landing another story in Offbeat. Ashley wouldn't be in town until the following week, though, to make a formal introduction but her client was singing today and I wanted to know what I was getting into. If her style completely left me flat, and since I'm not the biggest modern R&B fan that was a very real possibility, then I'm not sure how I'd feel about doing a piece. Thus I rushed to make sure I had time to park and take my daily walk before she took the stage at 12:30. Halfway through the first song, it was clear that enthusiasm wouldn't be a problem.
ROBIN BARNES: ANIMATED & EMOTIVE DIVA ON THE RISE
ABOVE: Robin Barnes tackles Adele with ease.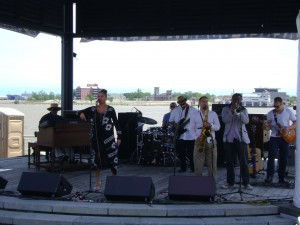 Although a relatively young performer, Robin Barnes already has two regular gigs in upscale hotels: The Windsor Court and The Carousel Bar at the Hotel Monteleone (and I'm sure if I interview her I'll find she's been singing in church or the like her whole life, as the story tends to go.)  This experience, along with a wellspring of personality, serves her well–she has a natural presence on stage that belies her years.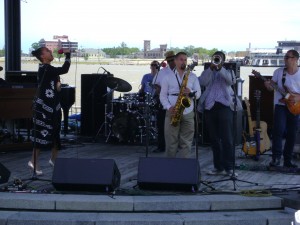 Robin Barnes walked out and smiled at the audience with innocent and captivating eyes, instantly engaging with the intimate familiarity only a truly skilled performer can pull off without seeming glib.  She was dressed elegantly in a black dress with a wrap-around that flapped dramatically in the unrelenting wind on this day following a night of sudden, fierce rain and thunder.  When she addressed the crowd, her lovely and demure appearance struck a sharp contrast to the power and animation that filled her entire being when she belted out a song–growling, twisting, and emoting with the power of an aging, obese operatic diva.  (Although animated, she lacked the histrionics of Sharon Martin–see Day 2).   Then, once she'd owned a song with the fierceness of a conquering lioness, the petitie and demure lady would place a hand to her chest and look surprised as if to say: "All this applause for little ole me?"  She had drawn a sizeable crowd for such an early slot and they ate it up.
Above: Unhappy that the crowd isn't dancing, Robin Barnes takes matters into her own hands during a "Treme/Hey Pocky Way/It Ain't My Fault" Medley
Constantly during the show she would stop to ask the audience if they were having fun or to elicit a reaction.  At one point she called up a frenetic dancer from the audience to join her on stage.  When the audience failed to stand up and join in, she led him back to the crowd and made her way through the audience, engaging her fans personally and not taking the stage again until the crowd had taken to its feet.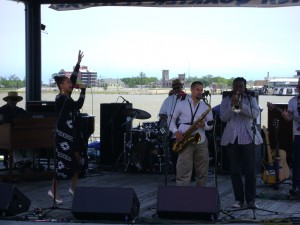 During my review of the Soul Rebels on Day 1, I mentioned that much modern Soul, R&B, and hip-hop turns me off because of the de-emphasis of the band dynamic to isolate beat and vocal performance.  I should have known, though, coming from the New Orleans tradition, that that wouldn't be the case with Barnes.  She was backed by an excellent band that included her father on bass and, as is common with local performers, it's hard to categorize her sound.  There were clearly traces, especially in the excellent originals she offered, of modern soul and R&B–I enjoy Adele but don't love her, yet was thoroughly moved by the two numbers Barnes covered.  Beyond that, though, the jazz songstress tradition had its fingerprints all over her style and she was equally comfortable with classic New Orleans R&B, a genre unto itself, such as weaving the Neville Brother's ubiquitous "Hey Pocky Way" into a Medley of local standards.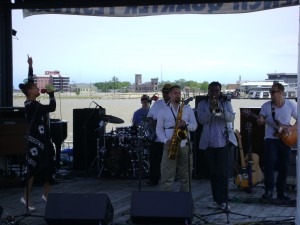 She thanked and referenced her father multiple times, having benefited from growing up in a musical family, but dedicated a song to her non-musician mother for always supporting her dream.  Nevertheless, she confessed that they always made it clear that she could sing after school, and thanked her father for sending her all the way to her Master's in Business.  So, when Robin Barnes looks innocent and suprised by the spell she's casting on an audience, don't believe it for a second.  This rising diva knows where she wants to go and has a course charted to get there.  Talented, lovely, lively, and intelligent: I see a bright future for this  rising star and look forward to some day saying, "Well, I interviewed her when . . . ."
PAUL SANCHEZ & THE ROLLING ROAD SHOW: MOUTHING OFF WITHOUT THE COWBOY
ABOVE: Paul Sanchez performs "Hurricane Party," a song he originally recorded with Cowboy Mouth, during a humorous hurricane trilogy.
I know Paul Sanchez from his days as straight man to Fred LeBlanc's manic tent revival stage persona in Cowboy Mouth.  In its heyday when folk singer and songwriter Sanchez was on rhythm guitar and vocals and Rob Savoy, former lead of Cajun band The Bluerunners, was on bass, Cowboy Mouth was one of the best live band I've ever seen.  It was a potent mix of diverse styles with Paul's folksy, introspective song writing and Savoy's Cajun rhythm and French rapping mixed with Fred LeBlanc's infectious punk energy and John Thomas Griffith's glistening guitar refined in 80s progressive band The Red Rockers.  You couldn't find a more diverse mix of styles, but that's what makes a perfect gumbo.  Cowboy Mouth is still worth catching (my friend Pat Thompson would disagree) and the power of their performance saved my Lundi Gras, but with only the latter half of that classic quartet remaining, they are a shadow of the unit once famously reviewed: "On a bad night they'll tear the roof off the joint and on a good night they'll save your soul."  Fred LeBlanc's infectious insanity (between his lyrics and stage persona, I'd bet my next paycheck he's bi-polar), is still enough to entertain, but without Paul it loses its three-dimensional depth.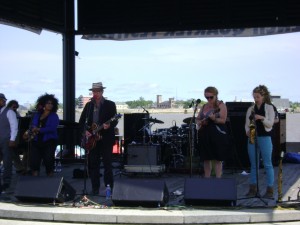 My friend Pat, who I visited to pick his brain's vast repository of local musical knowledge after Day 1, grew up with Cowboy Mouth and wrote them off when they wrote off Paul. His theory 'back in the day' was that they should be the 'Paul show' on record, as he was the superior songwriter, and the 'Fred show' live. I, on the other hand, thought they struck a great balance. Fred was a better songwriter than given credit for and Paul a better performer when acting as Fred's foil. The Beatles will always be the greatest band ever in my opinion, and when people ask if I'm a Lennon guy or a McCartney guy I look at them like they're nuts. It's like asking if you're a peanut butter or a chocolate guy.  While good apart, they're great when put together. John gave Paul an edge but Paul smoothed out John's rougher edges and the results were magic. To me, Sanchez/LeBlanc are the local Lennon/McCartney.  Good apart, but great together.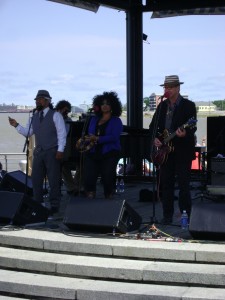 That being said, Pat's theory seems to hold a bit of water.  Although I love Fred's contributions on past albums, nothing they've done post-Sanchez has grabbed my attention. On the other hand, I grabbed Paul Sanchez and the Rolling Road Show's latest CD at Jazzfest last year and it's excellent. On stage, though, Paul's straight man act failed to engage without Fred's Muppet 'Animal' caricature as a contrast. I'm sure Paul would hate me if he read this review (though there's little danger of that!), but even McCartney can't escape the spectre of the Beatles. I would hurdle pots of boiling crawfish to catch classic Cowboy Mouth; I'd catch Paul Sanchez and the Rolling Road Show again if they were playing close by and I didn't have better plans. Sorry, Paul. The CD's great.
FESTIVAL FOOD: A DAY OF INDULGENCE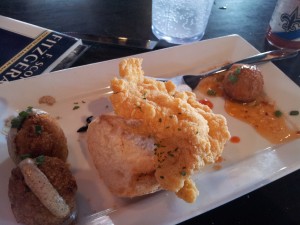 It was a lovely day in the French Quarter and, since this festival is meant to draw customers back to local businesses as well as food vendors, I walked into the invitingly open New Orleans Hamburger and Seafood Co. who advertised famous thin-fried catfish. I ordered the trio with the fish strips, boudin balls (fried balls of sausage and rice) and alligator fritters. Although not earth-shattering, it was a solid treat and I enjoyed a quiet moment reading and cooling off with a Sprite.
I was still a little munchy so wandered into Jackson Square where I bought a mirliton stuffed with crawfish dressing from the Tujaque's booth, a venerable Quarter restaurant. The mirliton is a highly regional type of squash I'd read about in Roahen's Gumbo Tales. Baked, it had a soft, smooth consistency and, while having little flavor, was great at absorbing the rich Cajun spices. For dessert, I purchased a solid Baked Alaska from Antoine's.
FRENCH QUARTER STAGES: AN INTIMATE EXPERIENCE
As I wolfed down dessert, I wandered into the heart of the French Quarter where small stages are erected on the sides of the street, never lingering long at any one. Each stage promoted quality local music largely by house bar bands playing mainly traditional Dixieland. If it were me, I'd put these stages up Tuesday and Wednesday before the main stages start. It's a very pleasant and picturesque scene and I'd love to spend a day wandering about, but when there are legends and favorites down by the river it's hard to browse obscurity. Still, it's a lovely and inviting scene and I'd like to share a quick pictorial tour.
JEREMY DAVENPORT: A COMFORTABLY QUARTERED CROONER
ABOVE: Jeremy Davenport's rendition of the New Orleans classic "Bourbon Street Parade"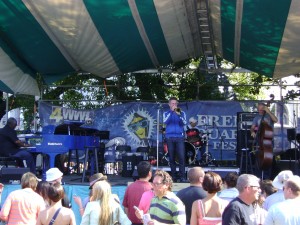 I've heard of Jeremy Davenport–the lounge at the Ritz-Carlton is named after him for heaven's sake–but hadn't seen him before. A crooner in the classic style, possessing not only a regular gig but the bar named after him must give Davenport a comfortable perch in a competitive music scene where many struggle to make ends meet.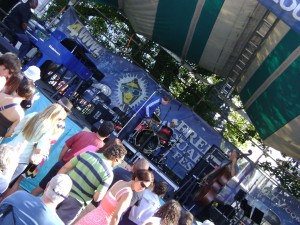 I returned to Jackson Square to catch a bit of his act, surprised to see him in a wind-breaker and jeans. I guess he was enjoying not putting on the Ritz for a change. Being a trumpet playing crooner, the first comparison that comes to mind is Louis Prima, but Davenport plays it much to straight to echo than classic clown. His vocals fall stylistically between Michael Bublé and Harry Connick Jr., leaning more towards the former with his safe, smooth delivery, though I did catch strains of Jamie Cullum at times. His setlist was as safe and smooth as his style. Davenport struck me as perfect for a high-class lounge–classy and professional but safe and more a conduit for various styles rather than a melting pot for blending them into something unique. I'd bring a date to the Davenport Lounge, but wouldn't go there alone to hear him. Then again, what single man besides the Great Gatsby with fortunes to buy the house's drinks and charm to court wealthy heiresses would hang out at the Ritz?!
HONEY ISLAND SWAMP BAND: 300LBS (& 3CDS WORTH OF) OF COLUMBIA GOLD
ABOVE: HISB weaves a catchy tale of gritty 'off-the-books' back-woods business in "300 Pounds"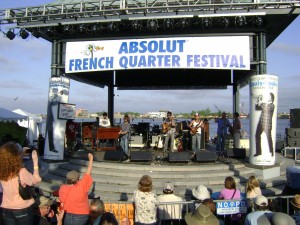 I told Honey Island Swamp Band's amazing story in my post A Typical Wednesday In New Orleans where I sung the praises of the best bands I've heard coming out of New Orleans since Galactic nearly two decades ago. That's high praise, but they've already been showered with blues awards and growing recognition. If they aren't headling at least the Gentilly Stage at Jazzfest and prominently featured at Bonnaroo in the next few years, I'll lose all faith in the public's taste for music.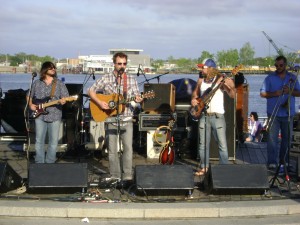 HISB's music has been labelled 'Bayou Americana' and I guess that label is as good as any. I'd also throw in swamp funk, New Orleans roots rock, and infectious blues-rock. Whatever genre you toss them in, these guys can write, play, and perform. Their songs are so infectiously catchy that many seem instantly familiar, but unlike trendy pop that grabs your ear and fades fast, these song have the depth of songwriting and musicianship to stay with you. That mix between instant accessibility and harmonic staying power is a balance most bands never strike, and these guys make it look easy.
ABOVE: Honey Island "Never Saw It Coming"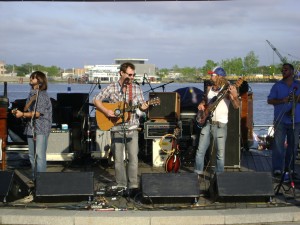 I stand by my assertion that the main riff in "Chocolate Cake" is the catchiest I've heard since rounding the corner at my first Jazzfest in 1998 and hearing some band called Galactic funking it up on baritone sax to a melody that burrowed into my brain like those creepy worms in The Wrath of Khan. "Hamp's Hump" is still one of my favorite songs and I expect Honey Island Swamp Band to have similar staying power. Their third CD lands at Jazzfest and since they've been playing tracks from it since last year's festival I can already say it's going to be great.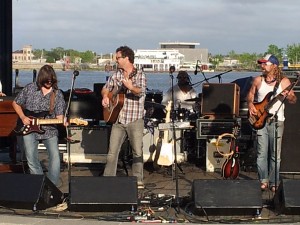 As the sun set on the water behind them, these guys delivered a rousing ending to an amazing weekend as the entire crowd bobbed up and down to their bayou blues. The ony disappointment was that they didn't play "Chocolate Cake," so you'll just have to download it. As they ended their set, the stage announcer worked the crowd up into a frenzy for an encore. He said he'd specifically requested these guys close out his stage at French Quarter Festival 2013 and I applaud his foresight.  It was a great ending to a great festival and I'd be sad if only I had time to mourn, but Jazzfest starts in two weeks!