HANGOVERS ARE A BEACH
Although I'd been out until 4:30, I was up by 10:00. My friend Aimee was down to accompany me to the wedding but wanted to hit the beach first. As I packed up, I grabbed my phone to invite Todd; instead, I discovered an incoherent text from Meg:
It is 5:16 am and Todd is spiking puking galore. What the duck did you fee and give him to drink. In 6 years I have never seen him this drunk! Good thing we have 12 hours because he is al yours and chad's in the am.
I sensed a veiled 'get him right and get him there' ultimatum in this slurred text and, considering Chad had just arrived and had hardly been around, I sensed this train wreck falling on my shoulders. There was no beach in my future.
LEGENDS OF THE FALL(ING DOWN DRUNK)
Around 11:00 I texted to see if Todd was awake:
He is up but not much. We are still here.
Like some mob movie fixer, I went into disaster mode. First we stopped by the convenience store next door. They were out of coconut water (the miracle hangover drink) so I bought two ginger ales, an Alka Seltzer, and a large Gatorade. In the lobby of the Hampton Inn, I picked up a strong black coffee.
When we reached the room, Todd was in the shower. I fixed the Alka Seltzer and passed it through the shower curtain. Once Todd downed this, I passed him the soda, urging him to take slow but steady ships. As he languished in the shower, Meg filled us in and the legend grew.
Although her text dated his puking 5:16 'am,' she now claimed Todd and her dad were out until 6:30, and that Brian was in worse shape than Todd. At least Meg had been present and complicit, so couldn't be too angry; apparently her mom was furious.
THE WALKING DUMB
Todd emerged from the shower looking like an extra on The Walking Dead, took a sip of ginger ale, and threw up. I handed him the Gatorade and commanded he sip slowly, but he was reluctant to drink. As he dressed, I headed downstairs to check on Brian.
I walked in to find Meg's dad, in fact, looking worse than Todd. His face was pale, his eyes pink and bloodshot, and his expression blank as he lay staring out the balcony at the vast ocean. I handed him the other ginger ale and brought him a coffee, but he turned down breakfast. Unlike Todd, his zombified face actually held the menace of an AMC 'biter' so I beat a hasty retreat.
A GAME GAMECOCK AND A LOST BOY GROOM
Todd and Meg were moving to the plush and historic Casa Monica downtown for their wedding night so, compounding matters, it was time to check out. Meg, Aimee, and I packed up the room as zombie groom stumbled about, then I carried the luggage down to his rental. Along the way I ran into Meg's awesome cousin Russ. A young guy on a Navy scholarship at South Carolina, Russ had fit right in to the group and was always eager to lend a hand even though he and Meg had seen each other scarcely growing up. He helped pack the car and went with me to retrieve Todd while Meg went to do icky bridal stuff.
Before Todd checked in, he needed food but it was approaching 1:00 now and most places had quit serving breakfast–seafood wasn't an option! After some brainstorming, I remembered Georgie's Diner on the outskirts of downtown, so Aimee and I led the way with Russ driving Todd with the luggage. As we ordered, we were all famished but in good spirits except for groom Lost Boy whose pale, blank vampire face hid bloodshot eyes behind dark sunglasses. We were all now having good fun at his expense and enjoyed spirited conversation over a huge breakfast. Todd ordered dry toast and bacon that he stared at for half an hour. He finally ventured a few nibbles then promptly went to the restroom and threw up.
CHICKS DIG THE SUPER 8 . . . OR NOT
After boxing up his barely-touched meal, Russ and I carried Todd's luggage into the Casa Monica and checked him in. After calling up the reservation, the attractive blonde attendant asked if I were checking in as well. "Nope. I'm at the Super 8." She stared at me blankly. "Chicks dig the Super 8." She never cracked a smile so we headed to the fancy elevators that had to be activated with a room key. Okay, so they didn't have those at the Super 8.
It was well past 3:00 when we dumped Todd into his room with strict orders: Nap, nibble, sip, and start getting ready at 4:30; we'd be back shortly after five. With one final laugh at his expense, Russ and I headed down to Aimee's car to shuttle back across the bridge.
OUTRUNNING THE BEAR
Aimee returned Russ and I to Hotel Fancy Pants at a quarter after five. Todd was slowly stirring to life, though moping around muttering things like, "We should have done that Thursday night." Um, or never! He was disappointed to feel so bad for his wedding, lamenting that he wouldn't drink anything stronger than Coke at the restaurant afterwards, but I was just relieved he was standing.
As we prepared to leave, Chad called and asked Todd if there was a shirt he was supposed to wear–an hour before the wedding!?! Todd told him he'd bring it to the beach while I quickly ironed it. Good thing he wasn't on hangover duty!
As we rustled Todd downstairs to the car like a security detail, I was feeling strangely competetive and an old joke occurred to me:
Two men are out hiking when a hungry bear appears over the ridge, charging their way. They both take off running but the bear easily gains ground. One of the hikers suddenly drops down, takes off his hiking boots, and puts on tennis shoes. "What are you doing?" his companion asks frantically. "You can't outrun a bear!" His companion looks up and shrugs. "I don't have to outrun the bear—I just have to outrun you."
We were supposed to arrive at Anastasia State Park by 6:00 but Meg's texts that morning had sent Mission Impossible music running through my mind; I would have bet on at least forty-five minutes late. Yet, miraculously, we arrived at 5:48. More importantly, Meg, mother and sister had yet to arrive. We'd beaten the bear (the beautiful, ethereal bridal bear, of course!) I did a victory dance in the parking lot.
LOVE IN THE AIR & MTV HAIR
Soon people began to arrive and walk down to the beach where the wedding planner, who was also the officiant, had set out a wood-frame trellis supporting a simple orange curtain with starfish lining the top. Beneath it set a rustic little table holding shells and a bottle for the sand ritual. It was simple but tasteful and, with the ocean backdrop, a beautiful spot for a wedding.
It was slightly overcast and a chilly wind was blowing, but this merely added dramatic 'Whitesnake video' hair to all the photos. The wedding rehearsal then commenced, which was merely a five-minute explanation by the officiant.
The 25 or so wedding guests were then told to gather in close, parting to form a narrow aisle that Meg soon floated down with the sound of crashing waves as her wedding march.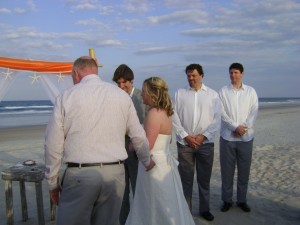 Meg's smile was radiant as she hung on the arm of her beaming father who looked sharp and remarkably un-hungover in his beachy dress-casual garb. After handing her off with a hug, she and Todd joined hands for a reading by the officiant and then one by Sarah, who's daughter, restless like young flower girls tend to be, fled to her father.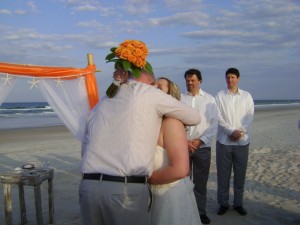 Before exchanging rings, Todd was ordered to kneel and cup up some sand that he shared with Meg. Together, they poured it into a jar to signify their union. Soon they were pronounced man and wife and, after they shared what can only be described as a lamely brief kiss, we were all given stones and led to the water's edge to toss them in, told that each ripple would represent their endless love. Afraid of getting outfits wet before pictures, though, the officiant stopped us a football field from the receding tide and most of the rocks hit the sand with a soft thud; nevertheless, I have no doubt there were more than enough ripples out there to carry them along.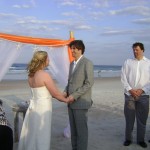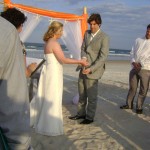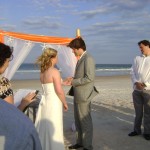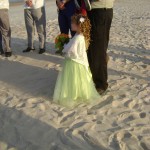 THE JOBLESS BLOGGING HIPPIE SEAL OF APPROVAL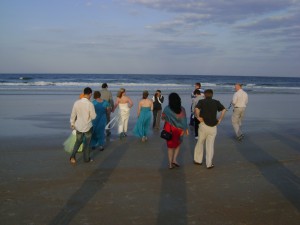 To wrap up this most informal of weddings (and as a jobless blogging hippie, I mean that as a complement) the couple had simply made reservations at local favorite Mojo's Barbeque. As this is far and away the best BBQ and soul food I've ever tasted, it got my seal of approval, being much preferable to the dried prime rib and reheated mashed potatoes of your typically sit-down reception.
For some reason, though, they'd made the reservation for 8:30 so we had time to mingle. I sidled up to the bar for a drink, later flagging down the bartender for both Todd and Meg's mothers. Todd ordered soda.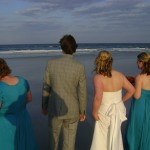 Soon we were seated and served. After a week of celebrating, though, dinner ended quietly. Both Todd and I spent Sunday with our respective parents, my friends from Virginia arriving to join my folks for Easter dinner, so I didn't see Todd and Meg again before they took off to Key West on their honeymoon where Todd was not only metaphorically leaving me behind in bachelorhood, but quite literally leaving me behind.
PIRATES BEFORE WENCHES
Music has always been the greatest tie binding Todd and I together, and we have built a parallel appreciation over the years for what I consider my holy trinity of rock-n-roll.
I was just discovering the Beatles, whom he grew up with, when we met in high school. We were so excited senior year when McCartney released an album and toured for the first time in a decade (then half our lives!) and, though we never saw the show, Tripping the Live Fantastic is still one of my favorite live albums for capturing the nostalgia of senior year.
Then, when Todd left college to join the army, he returned a few months later with a mix tape of Dylan songs. "Dylan can't sing!" I protested as we drove around Beckley, but soon we were crying with laughter at the surreal scenes Dylan painted such as "I knew [grandpa] lost control, when he built a fire on Main Street and shot it full of holes," or of the imperialist general who points to the sky and declares, "The sun's not yellow, it's chicken!" I've been a fan ever since
I don't quite remember when, though, Todd got hooked on last of my trinity, Jimmy Buffett, though we attended our first Parrothead tailgate together in the late '90s when the internet finally enabled me to learn when and where the shows occurred. That first long-awaited show north of D.C. was a blast and I still have a framed picture of the two of us decked out in the parking lot. Though I've been to over 20 Buffett concerts, that one stands alone.
Todd was also the one to first urge me to visit Key West, the town Buffett so thoroughly documented in his early albums. My all-time favorite song, set in Key West of course, is "A Pirate Looks At Forty," and I long ago adopted a pirate persona for my annual Buffett blow-outs. Thus, years ago Todd and I decided that we'd split the difference between our fortieth birthdays and take a 'Pirate Looks at Forty' trip to Key West. He turned forty in November. I will in September. It's halfway in between and he was headed to Key West. I was not. Pirates before wenches, bro. Pirates before wenches.
FAMILY FRIENDS & FRIENDS THAT ARE FAMILY
After Easter Sunday at my parents' motor home in St. Augustine, I headed to my condo for the night with my Virginia friends, Carson and Heather Hale, before we rejoined my parents Monday for two nights of oceanfront camping at Fort Clinch State Park north of Jacksonville so the kids could sleep in a tent. Some friends are so close that they become family, and the Hales are such friends. Their kids call me Uncle Eric and my parents Grandpa Roger and Grandma Betty.
I met Heather my second summer working at Camp Easter Seal-East in 1996. She had worked for the West camp for years prior and had a gift working with persons with disabilities like few I've met. She had talked her boyfriend into working that summer and kept telling me, "You'll like Carson when he shows up." But his arrival date kept getting pushed back so by the time he arrived, Carson was almost a mythic figure. We've remained close friends ever since.
A STAR WARS WEDDING, A JEDI BIRTH, & A DIRTY UNCLE
I was closely involved in their wedding, as well, having moved in with them the summer I started OT school. This placed me in the position of surrogate wedding planner—a weird spot for a guy if their wedding hadn't been more laid back than even Todd's, having been held on camp grounds.  Heather marched to the Stars Wars Theme, for crying out loud, and the happy couple's recessional exited beneath a honor guard creating a trellis with crossed light sabers.
We still laugh at how I had the audacity to clean their old farmhouse before family arrived (to call it cluttered would be an understatement!) When their wedding certificate later turned up missing, delaying the wedding, Heather's country grandfather angrily pulled me aside, accusing me of losing it with my damn cleaning. (It had actually slid under the floor mat of Heather's car.)
From those day in Virginia, I've know their kids since birth. Corran, a Jedi name they read in a book, was 3lbs 1oz upon his premature birth. Visiting in the NICU, I was terrified when Heather urged me to hold him. He fit in the palm of one of my hands, and she and Carson still laugh at how I looked down at him in awe and said, "Hi. I'm your dirty Uncle Eric."
Ironically, considering all our work with Easter Seals, Corran was born with Cerebral Palsy. Although he doesn't walk, his spirit is bigger than the sky and, with his blonde hair, blue eyes, and bubbling personality, he charms everyone he meets. When we are out in public people trip over themselves to talk to him and give him free stuff. Even as an infant, he'd somehow manage to get the hottest waitress in the restaurant to come over and flirt. Good boy.
BRACKET GENIUSES, PUKING MACHINES, & HUMAN JUNGLE GYMS
Corran's always been my #1 fan. When he was five, he crawled into his father's lap as he filled out his March Madness and, although he didn't quite know what that was, asked if he could do one. Carson read out the names for him to choose. When Carson read out Florida, Corran got excited. "Florida! We're going to Florida to see Eric!" He picked them all the way to the title. That was the year Florida came out of nowhere to win the national championship. Corran won the pool.
Corran is now twelve and sad that I'm looking to part with my condo, but he is getting difficult to carry up the stairs. My next purchase will be accessible.
While he has always been my buddy, Caroline was terrified of me as a child. On her first visit to Florida she walked into the tiny apartment I was living in then, screamed, and proceeded to throw up in every corner. She and her brother augmented this by spilling chocolate milk over every puke-free spot of carpet and sticking a thousand stickers all over my bathroom. It took me a whole weekend to clean afterwards, and thus I began dubbing their annual visit Hurricane Hale.
For over a year once she could walk, Caroline would creep up to me, a little closer each time, then suddenly turn and run away screaming. Then when visiting after Thanksgiving one Corran asked me to lift him up so he could help hang ornaments on the Christmas tree. Caroline picked out a bulb and walked over to me. "My turn." I looked at her suspiciously. Was this a trap? I continued taking turns lifting them up the rest of the night, instantly going from scary ogre to giant human jungle gym. For years after, she wouldn't quit climbing on me!
AN ASSHOLE BOSS: THE SECRET TO SELF-EMPLOYMENT SUCCESS
Thus, when I say the following week was less eventful, I don't mean to say it was less significant. The weather was poor upon our return from camping so the kids watched a lot of movies while the adults cooked and drank beer. My favorite weekend in Jacksonville always the Springing the Blues festival, a weekend of free music at the oceanfront amphitheater and they would be here for the Friday night opening. We've attended this event most years, but it was till raining Friday so we toured the Budweiser Brewery instead. This might sound boring, especially for kids, but the short tour is actually entertaining and Corran asked more questions than anyone in the crowd. The highlight, of course, if the free beer for adults and root beer for kids at the end.
By Saturday morning, I was sad seeing so see my surrogate family go, though I'd harbored a bit of guilt all week. I am now technically self-employed, even if not yet making money, so I have to push myself. Spending two weeks of hosting some of the best friends in my life was fabulous, but I got little done and this ate at me. I tried hard to treasure this moment that can never be replicated, yet that nagging voice in the back of my head wouldn't let me be. The only way to be successfully self-employed is if your boss is an asshole!
HAVING THE TIME OF MY LIFE, ALONE
By Saturday afternoon the weather was gorgeous and I spent that day and the next  enjoying blues at the beach while tying to keep my guilt at bay a little longer. As Monday approached, though I was itching to get back to it. French Quarter Fest began Thursday—one of the biggest weekends in New Orleans–and I was over two weeks behind in my posts. Thus it was with mixed emotions that I packed up and headed back down that same droll stretch of I-10. Although many dear friends had just departed, I was leaving countless deep friendships behind to head to a city where I had only a few shallow connections. It would be a lonely return, but hopefully a productive one. I am constantly thankful to be a person rich in friendship, so striking out on my own looms as the biggest challenge of this adventure. It will be worth it, though, if people start to tune in, so help a lonely brother out and share this link!