TAKE YOUR BIKE . . . BEFORE SOMEONE ELSE DOES!
I've often been told the best way to get around New Orleans is via bicycle—albeit on a cheap one as theft is rampant. So far I've been walking all over town, unafraid to take a forty-five minute stroll to get to a bar or restaurant. This time, however, arriving back at around 5pm Tuesday with my bike in tow, I immediately hit the road trying to beat an impending storm.
Despite the darkening skies, the air was cool and dry, making for pleasant cruising. I first peddled past a potential rental (rough neighborhood, so no dice) and then down Magazine Street past its eclectic restaurants, hip bars, and enviable housing, making it to Canal Street and the French Quarter in half an hour. I tucked this nugget away in my memory, wondering if my 12 year old mountain bike would be a tempting target.
Heading back I passed a bike-friendly happy hour complete with two-wheel valet parking–I encounter something new every day in this town!–and was tempted as the hostess beckoned me to stop but was hurrying to beat the rain. This didn't stop me from checking out Casamento's, though. This famous seafood joint is where author Sarah Roahen claims they serve oysters as big as your fist, but, alas, they were closed.
IT'S NOT YOU, MY LOVELY OYSTER, IT'S ME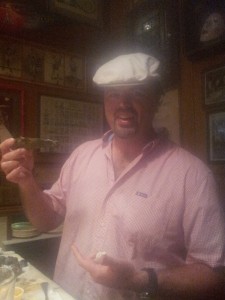 I arrived home just before the rain, which was never as heavy as it threatened, and contemplated eating the leftovers I'd brought to save money. It was lonely, though, being back after two and a half weeks living with friends so I showered and headed out to be alone in a crowd. (I've often thought that I'd love to live in town by day to write and explore but retreat back to Jacksonville when night falls to be with friends, but that would be one hell of a commute!)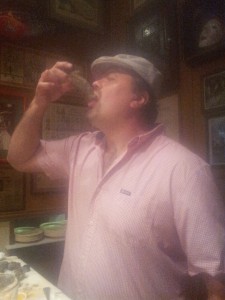 With oysters on the brain I headed to Pascal's Manale, where I'd eaten for the first time in December noting the famous raw bar where people snuggle up while waiting for a table. I purchased a beer and reasonably-priced dozen of Gulf oysters from the bartender and squeezed in to the crowded shucking station. The shucker worked furiously, delivering the salty treats one at a time, and they arrived fresh and plump. I retrieved  some horseradish and instantly regretted piling on too much as it seared my nostrils. I was impressed, though, for this meant it was fresh and high quality.
I should have been in heaven.
But the long bike ride had prepped my stomach for carb loading rather than raw protein that tasted of the sea.  Sorry Pascal's: It's not you; it's me.
Changing tactics, I headed to Mia's Balcony, a bar I'd stumbled into just before closing on St. Joseph's Night, flush excitement from my sightings but famished. I had grabbed a beer and chatted with the young co-owner while enjoying an excellent soft-shell crab po-boy. She promised it was early in the season so the crabs would gradually get larger and more delectable.
Thus I returned expecting better but instead found a bumbling guy behind the bar who forgot to even bring a napkin and silverware and vanished even though the place was empty. My sandwich arrived with a tiny little crab fried to the mocha color of a good roux but bad seafood. Okay, this time it's you!
THE CARDINAL RULE OF NEW ORLEANS
As I retreated home to write, read, and call it a night, I don't mean to imply it had been a bad night. I enjoyed a lovely bike ride and dinner had been decently. It just hadn't met expectations, as happens in life. One of my favorite song lines is:
Life is what happens to you while you're busy making other plans–John Lennon
While failed expecatation are an occurrance elsewhere, they seem to be an absolute truth in this town where nothing runs quite like it should. I keep re-learning this lesson to the point I'm beginning to believe it's the cardinal rule of New Orleans: Plans and expectations will lead to disappointment but if you're open to the new and unexpected, magic will always strike in ways you can never anticipate.
COFFEE FIGHT CLUB AT KREWE DU BREW
The next day I dug in to catch up on the blog. Setting my alarm for 7 a.m., I wrote for several hours before returning to Slim Goodies for a late breakfast. It was a beautiful day and I didn't want to go home, so headed to a coffee sh
op that had caught my attention the night before beside Mia's Balcony with its sign where the owner declared nothing was better than a cup of his coffee . . . except for a few exceptions in fine print including his wife (smart man!) It made me laugh and the place looked funky and inviting; plus, if I were going to spend this beautiful day on the computer, at least they had a little garden out front where you could sip coffee on couches and watch the St. Charles Street cars amble by.
When I arrived back at Krewe Du Brew, the sign had changed to document the rules for 'Coffee Fight Club' and, chuckling, I posted a photo to Facebook which instantly went mini-viral through friend sharing. Inside, the shop was spacious and comfortable with high ceilings, tidy tables, and plenty of plug-ins for the tech age. The barista was engaging and welcoming, lacking the quiet pretension of some 'hip' java purveyors; it's good to feel welcome.
The Southern Pecan coffee I ordered was excellent, having a tinge of flavor without being cloying and was not over-roasted and over-brewed like the trendy sludge you can't escape these days (over-roasted coffee and over-hopped beer are my gustatory white whales! Put on some clothes Emperor Starbucks and Pontiff Potent Pale Ale.)  Sinking into the outdoor couches of what was quickly becoming my future regular coffee shop, I soaked in the inspiration of this warm, slightly humid spring day until my battery and heat tolerance both wore down, then retreated inside for a refill and refreshing fresh-made Italian soda.
Taking a minute from blogging to check out the French Quarter Festival schedule in Offbeat, I offhandedly commented to the barista how overwhelming the choices were at events in this city. All the patrons in the room, quietly engaged with their machines, suddenly looked up and laughed. A conversation struck up on how there' always a festival or parade in New Orleans that seemed almost choreoraphed like characters in a movie musical abruptly perking up to sing. Ironically, the lady sitting behind me was on the production crew of a major motion picture that had just wrapped shooting. She'd soaked in as much of the city as she could, but admitted to missing the St. Jospeph's Night Indians so I told her about the photos and videos I'd posted and gave her a card, crossing my fingers that she'd check it out.
PULL OVER TO MAKE SLOW, SWEET GROCERIES
On my way home I pulled over and did something I'd never done in New Orleans.
Not, not pick up a Bourbon Street hooker! Get your mind out of the gutter, pervert!
I went to the grocery store, or 'made groceries' as goes the local vernacular. For financial and health reasons, I needed to start eating in, plus I will never feel like a local until I start cooking at home and act like I live here. My wallet, waistline, and heart are all going to explode if I kept eating out twice day.
I've mentioned before that the place I'm staying lacks a real stove or refrigerator so I only brought in two bags, vowing to put anything back that didn't fit. Picking up some fresh greens for salads, fruits to snack on, and some breakfast items was a simple act of domesticity but quietly therapeutic as I try to settle in a new city for the first time in a decade.
So returning home, I stayed in doing 'homely' stuff—I took an hour walk down the St. Charles neutral ground and worked out with light weights, I ate leftovers I'd carried back, and I read on my front porch while my roommate's dog chased passing cyclists. It was the newly-domesticated calm before the re-touristed storm: Tomorrow was the start of French Quarter Festival, one of the biggest weekends of the year.