UP CLOSE, PLANTED, & CUTTING LOOSE
Whereas Day 2 of French Quarter Festival was my day to wander, I planned to stay planted for Day 3. A succession of local legends would pass across the Abita Beer Stage by the river Saturday so I arrived well before arguably the greatest current New Orleans performer took the stage at 2:15. When I arrived, local legend with Mardi Gras Indian roots, Donald Harrison, Jr. was in the midst of his set and the crowd was thick. I slowly pressed into the crowd, finding an open spot near the front where I watched him perform flanked by masking Indians (my dang sixth sense!)
Saturday was also my day to indulge. Signs and announcements constantly beckoned patrons to keep the festival free by not bringing outside food and drink. I'd done my duty the two days prior, visiting a few food booths and even having a couple of beers Friday after my dry first day; Saturday, though, I cut loose. Citing my starving artists status, I snuck in a few bud lights, but no worries. By the end of the day I'd brought financial balance to the Force with multiple food purchases and a couple of daiquiris that left me with a healthy buzz and sense that I'd truly participated in the full experience.
KERMIT RUFFINS: CLOWN KING OF NEW ORLEANS & MULTI-GENERATIONAL JUKEBOX
ABOVE: Kermit's 7-year-old daughter sings "Somewhere Over the Rainbow"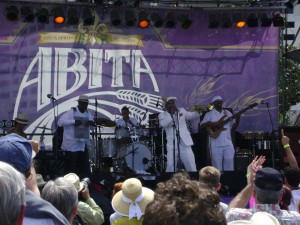 When Kermit Ruffins & the Barbecue Swingers went on at 2:15, my excitement was palpable not because I hadn't seen them before, but because I couldn't see them enough. Kermit Ruffins was a founding member of the Rebirth Brass Band but struck out on his own to expand his sound, harboring a love of classics such as "Ain't Misbehavin'" and "Black and Blue," that are too delicate for brass band interpretation. Heavily influenced by Louis Armstrong, Kermit has become his modern-day counterpart, bringing the joy back to jazz.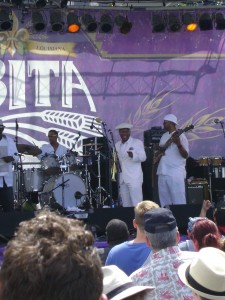 A class clown on stage bubbling over with infectious wit and enthusiasm, he is a sheer force of personality that makes everyone in the crowd feel like friends from way back in his back yard for a barbecue and jam session. His signature phrases beckon fans to come along for the ride, "All Aboard!" then urges them to keep the good times rolling, "We par-tee-un!" Don't let the good-times persona fool you, though, Kermit is a skilled musician and veritable multi-generation jukebox and deep reservoir of musical knowledge, comfortable swinging from Fats Waller or Duke Ellington to The Black Eyed Peas or a rap when not performing clever, catchy originals.
ABOVE: A young boy gets jiggy  with it as Kermit Ruffins slides in a little hip-hop in between jazz standards.
I've seen him perform probably twenty times since stumbling upon Swing This! at a listening station at the now-defunct Virgin Music Megastore after Jazzfest 1998 and his set never gets old. If you're in town, Kermit Ruffins and the Barbecue Swingers are first and foremost on my must-see list and, if you're extremely lucky, eat some of the best soul food you'll ever have at Kermit Ruffins' Treme Speakeasy where he performs every Sunday and Monday–but arrive early because word has gotten out.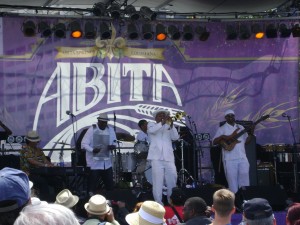 Today Kermit and the band came out in all white and had the enormous crowd moving the entire time. Kermit is so beloved the crowd will indulge whatever he throws their way, and he often opens the stage to young musicians who want to try their hand. Today he invited out a couple of elegant young female vocalists  and one old cat who sang a soulful rendition of "Blueberry Hill." He is most proud, though, when his daughters take the stage and today beamed as his 7 year-old daughter came out to sing "Somewhere Over the Rainbow." The crowd went wild.
ABOVE: Kermit leaves them clamoring for more with his medley: "Down in the Treme/Do Watcha Wanna/I Wish"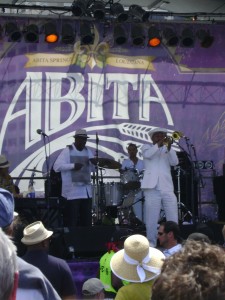 Afterwards, he announced with his typical wry smile, "Don't know how to follow that, but we're gonna come up with something," then went into a rousing medley of the theme song from "Treme," Rebirth's signature "Do Whatcha Wanna," and Stevie Wonder's funk classic "I Wish." Kermit knows how to own a crowd and the Treme theme has appropriately become standard to his repertoire as the HBO show has elevated his profile nationally. It's much deserved recognition. So pick up a CD ("Those damn CDs," he always says from stage with clownish consternation, "I can't seem to get rid of all those damn CDs. Get 'em while I'm hot, cause I may not be hot tomorrow!"), download a song, or get to New Orleans and catch a show. I promise you'll wind up in a better mood. You can't listen to Kermit Ruffins and not get infected by his joy for living.
LITTLE FREDDIE KING LEAVES THE NINTH WARD: LOOPING & RIFFING AT THE OPEN AIR DANCEHALL
ABOVE: A sample of Little Freddie King's looping, danceable blues.
Next on stage came local blues legend Little Freddie King. Whereas Kermit is omnipresent in the city, King rarely leaves the Ninth Ward so I was surrounded by fans eager for this appearance. King's blues linage is deep. Cousin to Lightnin' Hopkins, he jammed with Bo Diddley and John Lee Hooker and received his nickname playing bass for Freddy King.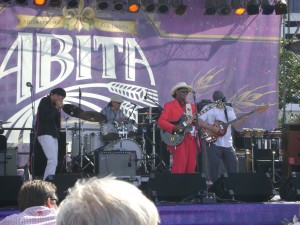 As opposed to the muddy, introspective, meandering blues of neighboring Mississippi, Little Freddie King plays an upbeat dancehall blues that could easily accommodate a blazing horn section. The highlight of his performance was a rendition of his namesake's "Hide Away," one of the most danceable blues instrumentals ever recorded. The crowd was on their feet, shaking the entire show as King leaned toward looping, infectious riffs rather than blazing, meandering solos. Another day, another hidden gem in this diamond mine of a city.
DAVELL CRAWFORD: THE PRODIGAL SON GETS SLICKY WITH IT
At Jazzfest circa 2000, my brother and I stumbled upon a young pianist we'd never heard of, Davell Crawford, who blew us away with his stomping, rollicking, New Orleans gospel-meets-honky-tonk piano. I immediately bought his latest CD and several songs from it landed on my best New Orleans playlists. Then he seemed to disappear.  I quit seeing his name on the performance cubes and didn't encounter his music anywhere.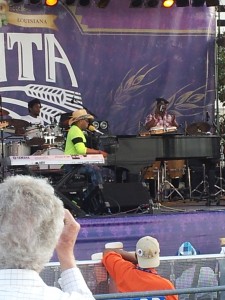 This past Mardi Gras, Crawford was the cover article of Offbeat. Apparently he had fled to New York where he makes a good living gigging but hasn't released a lot of music. He is now, though releasing a new CD and making multiple returns to the city. I was eager to hear him perform.
This issue of musicians leaving for New York is a major thorn in the city's musical pride. Many of the city's most famous musicians are famous because they left for New York: Wynton and Branford Marsalis, Harry Connick Jr., Nicholas Payton, and Terrence Blanchard to name a few. The city feels, rightfully so, that it has a tradition deserving of a major recording studio and national label support. Local legend Professor Longhair who's rollicking gospel/honky tonk piano style is often cited as the big bang from which the modern New Orleans sound emerged, never recorded a proper studio album until literally the end of his life–it shipped the day after he died. Things have gotten better in recent years, though, ironically because of the publicity created by Katrina. Scarcity drives demand and suddenly the nation was afraid the sound they enjoyed on vacation but didn't buy on CD would be wiped out. Yes, Treme has done wonders, but no Katrina, no Treme. Still, there' s a long way to go but this prodigal son's return is a sign of better days ahead.
The crowd he'd come to play to was thick with friends holding signs and telling me what a great guy he was–this must have been one social guy before he left–but when he hit the stage he seemed to have left something behind in the Big Apple. He opened with "Iko Iko," the fiftieth rendition so far during the festival, yet his version felt more slick than authentic. That rowdy, rambling piano man I'd seen over a decade ago had been replaced by a slick showman that was more Broadway than bayou. Maybe it was just the day or my mood; I hope to catch him again in hopes of finding that spark I'd once heard. Today, though, I wandered off halfway through the set to get some grub.
FLASHBACK: SPOTTING BAD GRIS GRIS
I have often referred to my trip last December where I packed so much into so short a time. Most of it was magical, but one moment was mythical in its insanity and discomfort. For reasons unknown, a casual acquaintance had recommended a local tour guide. When my friend and I showed up at St. Louis Cemetary #1 for our tour, though, she was late. Upon arrival, she was upset that the church closed the cemetery so early, perhaps justifiably, but then let out an hour-long deluge of curses and F-bombs aimed at the Catholic church and Pope, blowing right over my Catholic friend's objections. She yelled at other tourists and tour guides who neared our invisible circle of insanity; got in our face and challenged us if we asked questions–"Well, what do you think mister?!; told rambling, incomprehensible stories laced with fragmented bits of history that we puzzled together the next day listening to a sane tour guide; and kept petting Marie Laveau's tomb, saying thirty times, "She's wonderful. We love her," but never saying WHY!!!
I've interned on the psych unit of a major teaching hospital and worked with populations with severe autism and behavioral disturbances. Extreme personalities don't bother me. But this woman freaked me out! I wanted to ditch her when we got caught in a crowd letting out of church but my friend held us back. It was two of the most uncomfortable hours of my life. And I had to pay for it!
And why do I bring this up now?
I've been in New Orleans for two months and made no new acquaintances outside the person I live with. I've run into no one twice or met anyone I know. And Saturday at any festival is always the most crowded (people have Sunday off too–why do they stay away?!) So, as Davell ended his set on Saturday, amidst a crowd as thick as August flies on West Virginia roadkill, who of all people do I spot?!? You guessed it. I texted a photo to my friend in amazement and then ran. If you see this woman, for god's sake do the same!
BONERAMA, BABY! WHO SAYS YOU CAN'T ROCK ON THE 'BONE?
ABOVE: Bonerama rocking it to "Hard Times"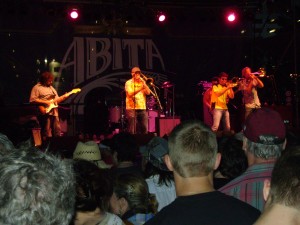 The first time I saw Bonerama's name written on the chalkboard at Mojo's Kitchen, a Jacksonville restaurant and blues bar, I rolled my eyes. They were from New Orleans, though, and I'd scoop up just about anything from New Olreans during my post-Katrina absence. Besides, the promo said they had won Offbeat's 'Best Local Rock Band' award multiple years running. Skeptically, I bought my ticket and was blown away.
It sounds crazy fronting a rock band with three trombones, two of which swap lead vocals, but backed by a guitarist who worhips Jimmy Page, a funky bass player, and a solid beat, these guys deliver chops that are far more serious than their name. As I've watched their popularity grow, catching them multiple times over the years, their set has increasingly relied more on funk originals than classic hard rock. Although the originals are excellent, I still miss the days when they'd rock The Who or Zeppelin on three trombones. That first time I saw Bonerama in that small club, you could literally feel your flesh vibrate to the power of the driving horns on "When The Levee Breaks," and I've also seen them do an amazing rendition of "Kashmir" and they played "The Ocean" beside the ocean at DeLuna Fest in Pensecola last September, which I found cool in my nerdy way.
ABOVE: Bonerama closes out their set with some rousing funk rock.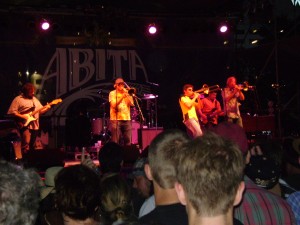 They still 'Get the Led Out' on occasion, but not tonight. They were playing a local festival so kept to regional funk and jazz-rock, though it was an excellent set as always. Some of these guys came from Harry Connick's backing band and, like most local acts, gig around with each other. Their recording backing Better Than Ezra with John Gros on organ from last Jazzfest is classic. So, needless to say, these guys can play.
Still, as good a writer as I am, how do I describe a funk rock band led by three trombones, sometimes even playing through an effects pedal and backed by a would-be Jimmy Page?! Just watch the video and enjoy. And next time you're in town, email and I'll meet you at a show!