RETURN OF THE ROOKIE MISTAKE
Day 2 of French Quarter Festival was my day to wander, explore, and discover since there was no one on the schedule I was itching to see until the oft-mentioned Dirty Dozen Brass Band closed out the stage on South Peters Street at 7:30.
Again I spent a leisurely morning Friday before parking and making the thirty minute walk to the French Quarter. Since I didn't have any agenda, it was the perfect day to meander and check out the more intimate stages on Bourbon and Royal Streets. While the St. Peters Street stage near the river is in a wide median and faces down the street and those beside the river at Woldenberg Park are on an open lawn that can hold thousands, the small stages in the heart of the Quarter face across the street, focusing more on the house bands from local bars and accommodating crowds in the dozens instead of thousands. As I wandered down Bourbon, however, there was one problem: I hadn't examined the schedule closely enough. These small stages didn't start up until Saturday!
SHARON MARTIN: ONE LIVELY DIVA
Instead I wandered into Jackson Square where another large stage catered to the wide-open expanse of this famous park.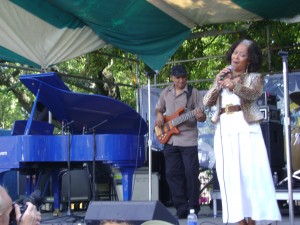 Sharon Martin, a singer I'd never heard of, was on stage. I tried to read about her on my Android app but unfortunately her entry was garbled. Well, I don't know where she came from, but she caught my attention in a hurry! It wasn't so much her vocal performance, which,  don't get me wrong, was excellent. She wasn't quite Irma, but had a solid knack for putting her own jazz-R&B hybrid stamp on numbers from across genres such as  "Mr. Bojangles" (see video), "I Will Survive," and "Georgia On My Mind." Yes, I would stay for her singing, but I couldn't leave because of her performance.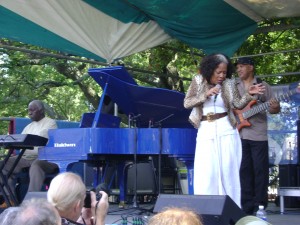 Sharon Martin didn't sing with her vocal chords and diaphragm–music poured out of every muscle in her body! As she belted out tunes, she spun and dipped and crouched and pointed, keeping me planted to see what she would do next; I was mesmerized by her dramatic facial expressions. This lively diva should be playing major stadiums if for no other reason than that people in the nosebleed sections could see her every demonstrative move and expression. If you don't have time to watch the video then at least peruse the pictures below. You can almost hear them sing!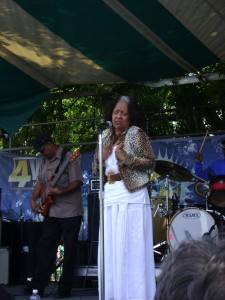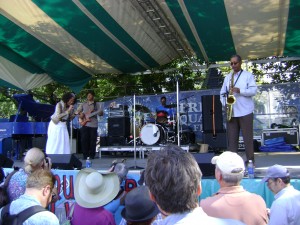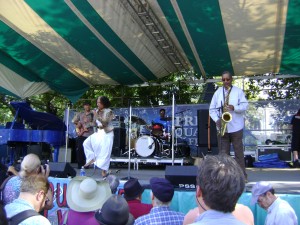 WANDERING AROUND: THE WORLD'S LARGEST OUTDOOR CAJUN TAPAS
Before leaving the square I checked out the ring of food booths, choosing a Barbeque Shrimp Po-Boy from Dickie Brennan's Bourbon House. It was good, but honestly, BBQ Shrimp is a local excess I can't seem to love. In New Orleans, Barbecue Shrimp means cooked in butter with spicy seasoning and, though it sounds great and always tempts me, I find the heavy-handed treatment masks the flavor of fresh local seafood. Maybe I just haven't found 'the one' yet. I'm sure I'll be tempted again.
But trying food like this is almost as much a part of local festivals as the music. I know many people who love that cheap, greasy carnival food from traveling trucks, but at French Quarter Festival and Jazzfest they carefully screen vendors from local establishments. As I stated yesterday, restaurants of all price ranges and styles from around the Quarter participate in this event, so it's a great chance to try, say, Galatoire's without putting on a dinner jacket. The festival bills this feast as The World's Largest Jazz Brunch, but the portions are reasonably sized and priced so you can snack all day, making it more of the World's Largest Outdoor Cajun Tapas.
Yesterday I was thrilled to stumble on Crawfish Bread, a treat I'd not had outside of Jazzfest where it's legendary. As opposed to the BBQ Shrimp, this is much better than it sounds. The bread is the key, falling somewhere between crusty, light Cuban bread and heavy focaccia, which is sliced; stuffed with a blend of cheeses, cajun spices, and crawfish tails; pressed to form a nice crust; then wrapped in foil to steam until all the goodness oozes together.
Crawfish Bread is rarely seen outside of Jazzfest, and walking around the Fairgrounds you'll constantly overhear: "Have you had Crawfish Bread yet?" or "I've been told I have to try the Crawfish Bread." I've even heard attendees lamenting at other festivals in other states: "Man, I wish they had Crawfish Bread!"
Thus my simple yet sinful treat yesterday had been an unexpected thrill; today, my po-boy was satisfying if not thrilling, so I contentedly wandered on through some French Market shops on my way to the last set of stages at the Old U.S. Mint. Passing a bookshop, I spotted The Classic Tales of Brer Rabbit. My friends Marquis and Brooke who talked me into moving here are expecting their first son any minute and these are the tales I most remember my mother reading to me (I still love to declare "Anything but the briar patch!" when someone tries to convince me to do something I'm dying to do anyways!). When I ducked in to buy it as a gift, the clerk upsold me on what is turning out to be an excellent history of local music: Up From The Cradle Of Jazz: New Orleans Music Since WWII.
Next door I spotted a pair of WVU Mardi Gras beads–when I've looked in the past I've found about every school but–and figured I needed a pair to go with my WV Gumbo persona. Sporting my new purchase, I fled to hear more music before something else caught my eye.
SOUL PROJECT NOLA: GALACTIC ASPIRATIONS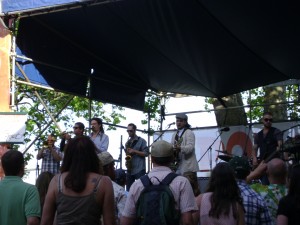 During my brief but intensly packed December visit, I'd caught Soul Project (sometimes billed as Soul Project NOLA) at Blue Nile where they had us shaking to some excellent soul and modern funk, reminding me of early Galactic. I was glad to see Galactic, one of my favorite local bands, influencing the next generation, and my friend was so impressed she bought their CD.
Today they were playing the Popeyes: Esplanade in the Shade Stage. Backed up against Esplanade and shaded behind the towering U.S. Mint building, it lived up to its name. The ample, tree-filled lawn offered a comfortable spot to rest, but I arrived in time only to catch their last three songs. Apparently, though, I'll have plenty of opportunity to catch this hard working band again: "I haven't seen a Thursday night TV show in 7 years," declared the singer, promoting their regular gig at Cafe Negril.
PAPA GROWS FUNK: GETTING SKANKY FARMING THE FERTILE FIELDS OF FUNK
I wandered back downtown to catch Amanda Shaw, a ridiculously young and talented Cajun fiddle and singing prodigy, and though the show was good, I hated standing on the hard asphalt in the crowded confines of St. Peters Street. I was planning to stay for the Dirty Dozen, but, having a sheet to spread on the grass but no chair, I fled to the Abita Beer Stage where I caught the tail end of Chief Bo Dollis, Jr. As I watched this beaded and feathered legend dance on stage, I started to believe I had the sixth sense: I see Mardi Gras Indians!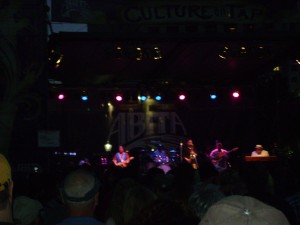 To close out my night, I settled in to watch local funk legends Papa Grows Funk who are apparently in the process of disbanding. I've seen their singer and organ player, John Gros, add a wonderful funk tinge to Better Than Ezra shows several times, but this is the first time I'd caught his band. From the moment they hit the stage, Papa Grows Funk harvested the fertile fields of funk like the pros they are, but I couldn't get into it. Listening to the above recording in retrospect, I should have. It's good stuff. My heart must have been set on The Dirty Dozen Brass Band, though, so I wandered over to catch the end of their set.
THE DIRTY DOZEN BRASS BAND: FROM INNOVATIVE YOUNG MEN TO DIRTY OLD MAN
When The Dirty Dozen Brass Band hit the scene in the 70's, they reinvented the genre, adding funk and R&B–and later hip-hop and rap as they emerged–into traditional marching funeral jazz. Now the hip marching brass band is one of the most prevalent ensembles in the city, with young upstarts playing impromptu shows for tips all throughout French Quarter Festival. In fact, you'll catch such bands playing in the streets any night of the week. (See A Typical Wednsday in New Orleans.)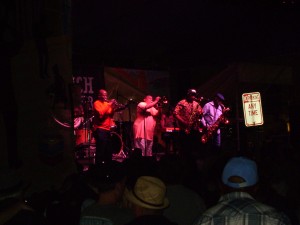 The Dirty Dozen has evolved over the years, though, passing driving funk on to the young cats. The kinetic shuffle of "My Feet Can't Fail Me Know," the only top ten hit by a brass band, has given way to polished but vibrantly funky modern jazz. Replacing their two marching percussionists with a drum kit due to departures, they are now tied to the stage but still bring the energy and the party. I'd list them just behind Kermit Ruffins and their proteges Rebirth Brass Band as must-sees when in town.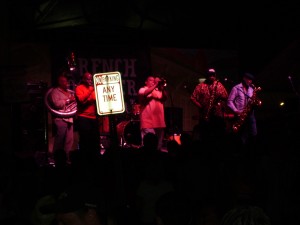 It was during their performance at Jazzfest last year that Marquis and Brooke turned to me as I one-man-second-lined with my t-shirt swinging in the air and said "Dude, why don't you just move here." For those who missed the story (WHY Mardi Gras For A Year?), I had come to Jazzfest heartbroken and emotionally flat, only to be reinvigorated by such performances. Before we'd taken off that morning, WWOZ played the Dozen's classic rendition of "(I Used To Love Her, But It's) All Over Now." I danced around The Captain's living room (Marquis' dad) declaring: "This is my new theme song!"
Later, at the show as my soul stirred back to life, the Dirty Dozen proved they still could get down-and-dirty, keeping their youthful sense of humor in their old age, closing out with their baritone saxophonist singing the closing track from their new CD: "Dirty Old Man." Back in the present at French Quarter Festival, after the few excellent jazz numbers that I caught, they again closed with: "I'm a dirty old man, dirty old man, dirty old man; and I feel like spanking somebody."
It was a fitting close to another great day and, as they let young women on stage to again grind with the gray bearded baritone, I thought back again to last Jazzfest when we returned home and put on the Dirty Dozen's new CD while Marquis called out, "Hey, dad: We found your theme song too." We were all soon crying, doubled over with laughter as The Captain nodded, picked up a bourbon and cigar, and started to dance. Watch the below video and you'll understand why everyone who meets him loves The Captain.