WIDESPREAD PANIC: MAKING RAIN FOR LA
The Thursday opening to Jazz Fest's second weekend is considered 'locals day' and tends to be a more laid back affair. The rain that had started Sunday, however, was still lingering and on and off showers that morning and afternoon kept the crowds even thinner than usual for the only Thursday of the festival. By the time perennial favorite Widespread Panic hit the stage, though, the fairgrounds were full. Their faithful wouldn't be denied and this top-tier jam band delivered a solid show of jazz and funk inflected southern rock, stretching out leads like taffy on a weaving loom.
ABOVE: Widespread Panic opens their Jazz Fest set with "Climb to Safety"
Widespread Panic once released a live album called Night of Joy whose title is a shout out to New Orleans literary gem A Confederacy of Dunces and which featured the Dirty Dozen Brass Band who today preceded them on the Acura stage. Their ties to this city are strong and they are regular Fest favorites, thus Thursday they delivered a night of joy to a soggy crowd, invoking the right vibe with their inspiring opener, "Climb to Safety." Then, as the skies opened up again, the band–I'm hoping spontaneously–launched into "Hatfield," with its lyric: "Hatfield, you made rain for L.A." Although the song references the city, today it was co-opted for the state by the same initials as an appreciative crowd danced with unfettered joy in the rain and mud.
A SOPHMORIC MISTAKE LANDS ME IN THE B3 WOODSHED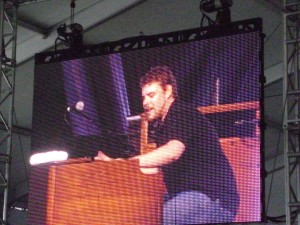 I can no longer dismiss my screw-ups as rookie mistakes. I've been in town for months, attended Jazz Fest in three different decades, and enjoyed thousands of concerts. Thus, I should have known to double-check my bag even though I could have sworn I put my ticket in the night before. I conducted a full inventory before departing but somehow tickets slipped my mind. Fortunately I had driven my truck to within a ten minute bike ride rather than huffing from all the way Uptown since I had to leave early to pick a friend up at the airport. Still, I cursed myself the entire return trip even though the delay only cost me about forty-five minutes. As I drove back for the second time, WWOZ was streaming live from the fairgrounds.
ABOVE: A snippet of "Fake-out" on the Hammond B3 Organ
It can be difficult to meander this crowded and spread-out festival without a plan but WWOZ allows listeners to hop between stages in an instant. They were currently broadcasting 'B3 Woodshed' in the Jazz Tent that combined the talents of two up-and-coming talents on the Hammond B3 organ. As I re-parked my truck, the rains began again so I sat listening in safety until the shower died down and then raced to the gate on my bike to catch the end of this set that otherwise would never have caught my attention. This instrument may very well be the catalyst that allowed jazz to take the radical turn that became known as funk, for there is no instrument funkier. If you don't know the Hammond B3 by name you do by sound, and a sweet sound it is. I took two short snippets just to give you taste. The first is an original entitled "Fake-Out" because of it's many unexpected chord changes and the other a rendition of Duke Ellington's classic "Caravan."
ABOVE: A snippet from Duke Ellington's "Caravan" on the B3
JOHNNY SKETCH & THE DIRTY NOTES: ZAC BROWN WITH A ZZ TOP BEARD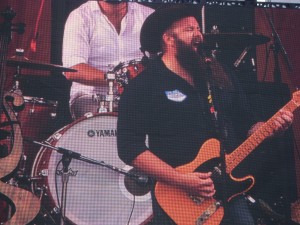 Since moving to town I have heard quite a bit of buzz about Johnny Sketch and the Dirty Notes. They have been interviewed on WWOZ several times and are always an entertaining listen. Having formed in 2001, they are slowly gaining a national following so I bypassed several other tempting options to head to the Acura stage to catch their performance. It was a worthy choice.
The first thing that surprised me about the band was how hard they rocked. Their name lends the impression of one of the jazz/funk oriented units that litter this city, but these guys pounded out hard-edged funk rock with traces of reggae. Their vocalist, who looked like Zac Brown in a ZZ Top phase, had a solid voice and commanding stage presence. While more blistering guitarists have taken this stage, he possessed a unique and catchy sense of funk phrasing on the lead guitar.
ABOVE: Johnny Sketch and the Dirty Notes perform a reggae and polka influenced number on the Acura stage
Ironically, the keyboard player from The New Orleans Suspects was part of his backing band (though the camera man for the stage-side screens never lingered on him long, as though he really were in hiding!) My review of the Suspects last weekend stated that they were a solid outfit missing a star presence out front–their Keyser Söze. Well, this Suspect found his man in Johnny Sketch who had the stage presence that made you want to watch. The Dirty Notes didn't strike me as immediately catchy or enduring as Honey Island Swamp Band,  a newer outfit, but they're the next tier down and I look forward to catching them again. It's been a long time since Better Than Ezra and Cowboy Mouth first hit the scene and it's nice to see that New Orleans is once again learning to rock.
NEW FEST FOOD FAVORITE: TROUT BAQUET OR CRAWFISH BISQUE?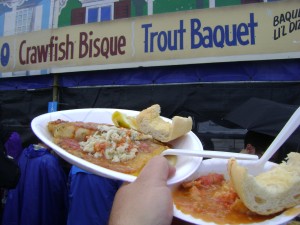 I only made one trip to the food booths this day but it was a satisfying one. The chilly, wet weather had me craving soup so I went for the Crawfish Bisque at a small row of booths tucked away beside the Blues Tent that I usually miss. As I stood in line, though, I saw people walking away with an amazing plate of fish. Since the combo was $12, a considerable savings, I decided to do both.
The Crawfish Bisque was rich and creamy and served over rice–a solid and satisfying meal but not an instant favorite; but the Trout Baquet . . . oh, the trout! It was fresh and bursting with that unique trout flavor that I grew up with, yet the filet was huge. I've never seen trout this big. And this was no diet fish. The plate was swimming in butter but the crust was perfectly crisp, breaking through to white, moist and flaky flesh. As if not perfect enough, a dab of lump crab meat topped it off. I met people in line who said they come back for it every year. I'd be back before the weekend was up!
THE DIRTY DOZEN BRASS BAND: KINGS THAT WON'T ABDICATE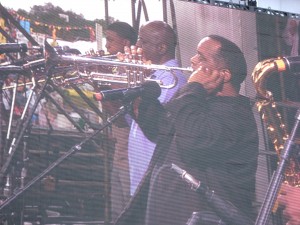 Last weekend I declared The Soul Rebels the new Heavy-Brass Champions of Da 504, with the caveat that they're far from surpassing the Dirty Dozen or Rebirth Brass Bands historically. The Soul Rebels are currently on top of their game, mixing timely Hip-Hop with traditional brass band sounds; still, these two older bands are far from stagnant. Rebirth won a Grammy last year, the first for a brass band, and the Dozen released an excellent new album, Twenty Dozen (Dirty Dozen's rendering of 2012–get it?!) As they took the stage today, I was forced to reassess my bold declaration. These guys may have started their journey in the 70's, but every time you hear them it's clear that their reign is far from over.
While benefitting from an injection of youth on keys and trombone, the rest of the Dozen's horns are original to the band. It's impressive to keep a group together this long and more impressive that their sound is always fresh and contemporary. I can't hear the Dirty Dozen and stand still. You could strap me down in psychiatric restraints and drug me into a haze, yet my pinkie finger would still involuntary second line if these guys were playing within ear shot.
ABOVE: The Dirty Dozen Brass Band performs the infectious "Tomorrow" from Twenty Dozen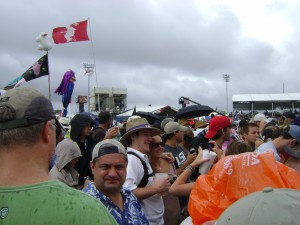 I recorded the infectious "Tomorrow" from their latest release just to spread the infection, a piece that sounds nothing like a phone-in by a band living on past glory. "My Feet Can't Fail Me Now" was the first and only brass band song to ever chart in the top ten way back in the 70's, becoming their signature tune for decades, yet they don't even play it anymore–when I've seen them. Yet, with "Dirty Old Man" off Twenty Dozen they've crafted a new catchy, funky crowd-pleaser to anchor their show for the next four decades. In discography, no brass band comes close to competing with The Dirty Dozen. Rebirth has a few classic must-have releases, but have been spotty over the decades. The Dozen, though, has explored different territories and experimented with new sounds like any legendary band. In fact, while their peaks may not rise to the heights of legends such as Dr. John or The Neville Brothers, the consistent quality of their releases over the decades rivals anyone in the New Orleans recording tradition. These guys just don't release lackluster material and on stage they don't put on half-assed shows. Hats off to the once and future kings of Da Brass!
WIDESPREAD PANIC: JAM BAND MEAT AND POTATOES
ABOVE: Widespread Panic, "Blue Indian"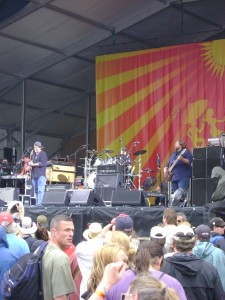 I'm completely ass backwards when it comes to Widespread Panic (which won't surprise any regular readers.) Widespread Panic is one of two big heirs to the Grateful Dead's legacy, a southern rock yen to Phish's bizarro New England college rock yang. Thus, as one of the top jam bands of the day, most people came to know them through live shows, commonly complaining the albums failed to capture the magic.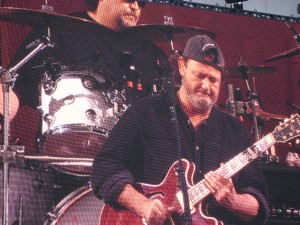 I, on the other hand, stumbled onto the band when I found Bombs and Butterflies tucked away in an old girlfriend's CD collection. I'd heard of but not heard the band and instantly dug the album. I gobbled up their early releases and played them heavily. To me, in the studio they were more heirs to the Allman Brothers, one of my all times favorite, with a more experimental edge. I never was able to catch a show until the mid 00's and by this time guitarist Micheal Houser had tragically passed away from cancer. I had heard live recordings of his pyrotechnics, though, and the new guitar player just didn't seem to capture the same magic while their setlists meandered though obscurities that left me puzzled. Unlike their entire fan base, I loved their recorded output but was left cold by their live shows.
Jazz Fest, though, was my second chance to see Houser's eventual permanent replacement, Jimmy Herring, and he's finally rekindled the spirit of the band (though I still regret never seeing Houser.) It was a solid set marked by excellent song choices such as "Little Lillie," "Walking (For Your Love)," "Blue Indian," "Makes Sense to Me," and perhaps their best number, penned during an early 90's MLB strike, "Rebirtha."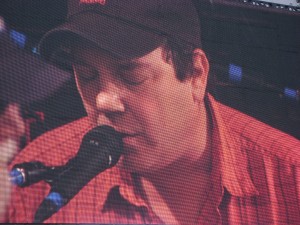 Despite the fact that they're a jam band, there aren't a lot of surprises in a Panic set. No two setlists are ever the same and no two songs played the same, yet there are no crazy changes of directions that leave you scratching your head or your jaw dropping in awe. What they bring is solid songwriting and melody around which they deftly jam with lyricism and originality. They'll never be my favorite, but will always rank highly in my crowded musical pallet. Although it would be nice to see singer John Bell smile every once in a while and look like he's enjoying himself, there is no doubt that this band is in it for the music and not for posing. The musical landscape would definitely be strengthened if a little Widespread Panic spread amongst the masses.