GOD AND THE JAZZ & HERITAGE FOUNDATION KEEPS THE PEACE
I broke up with Dave Matthews fans at Jazz Fest 2001. Although I'd seen Cowboy Mouth several times before that first Fest of the new millennium, I was stoked to see them in this setting where everyone plays their best, especially locals triumphantly returning for the hometown crowd. However, as I tried to reach the Ray Ban Stage (now Acura) the day of their performance, the Dave fans had gotten there early and spread out giant blankets, staked off expansive areas, and generally crowded everyone out. Half the blankets were empty, awaiting late arrivals or just hogging space, and as I tried to tip-toe my way along the edges–they'd block the walkway–I was yelled at and harassed at every turn. For the offense of stepping on the corner of one blanket, a girl jumped up, slapped my rear, and called me a 'fat ass.' I couldn't get anywhere near the stage, but the people up front all had their backs turned, ignoring every other act and talking over the music as they waited. Even Cowboy Mouth, used to a hometown reception, got disgusted and stopped mid-song near the end of the set, dropped their instruments, and walked off stage. I applauded. In that moment, DMB fans became the Newman to my Seinfeld, and I'm not alone. Dave Matthews day is greeted with groans by Jazz Fest fans far and wide.
ABOVE: Dave Matthews opens his set with "Seven"
This year, though, God and the New Orleans Jazz & Heritage Foundation worked at mending fences. At some point between my last Fest in 2003 and my return in 2012, the Foundation instigated new rules: No blankets larger than 6'8″, stakes were banned altogether, and approximately the first fifty yards in front of all the major stages became standing room only. These changes have done wonders to the accessibility and comfort of the festival. If you want to sit all day and wait you can, just not up front crowding out fans of other bands and forcing artists to play to turned backs. God also interceded today. Rain at a music festival might sound like a bummer, but it can be a blessing in disguise. It thins out the talkers and posers so that only true music fans remain. Thus, I was able to get a good spot at the Acura Stage for Better Than Ezra and stay for The Nevilles and even, yes, the Dave Matthews Band. I could even leave for food or toilets as needed. The Dave fans who braved the rain were pleasant and good-natured and I enjoyed the show, even though I maintain that Better Than Ezra is by far the better 90s band. Yet, thanks to the rain and the Jazz & Heritage Foundation we all co-existed peacefully as I enjoyed one of their favorite bands and they one of mine.
BETTER THAN EZRA: KINGS OF NEW ORLEANS
ABOVE: Better Than Ezra opens another "Good" Jazz Fest performance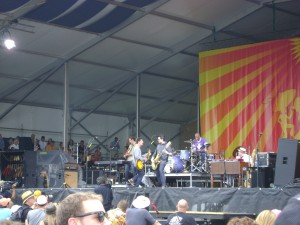 Sunday morning started with a downpour, so I stayed inside working on the blog and waiting for a break in the deluge after making a point of getting to Jazz Fest early the first two day. Because of the rain, I missed two early acts I'd heard of but not heard: Hurray for the Riff Raff, an up & coming indie band, and Raw Oyster Cult a collection of local greats like The New Orleans Suspects but with a much better name–maybe the best name of Fest! Apparently the latter managed to play between downpours but by the time I hopped on my bike to weave through the puddle filled New Orleans streets I barely arrived for Better Than Ezra's 1:40 set.
ABOVE: BTE crowns the "King of New Orleans"
If you've tuned in to this blog at all you'll know that I'm a big Better Than Ezra fan, so I won't go on too much. Instead, I took some videos to give you an idea of what they're like live (and hope the guys don't object!) I've been a fan ever since catching them at 1999's Jazz Fest and still get excited to see them to this day. They have excellent songs that vacillate between witty and introspective and are comfortable on the stage, bantering with the crowd and goofing off like they're having twice as much fun as the audience. Most of all, there's just an energy in the air when they play that you have to be there to experience.
ABOVE: "A Lifetime," a great bit of rock-n-roll melodrama about stealing your dead girlfriend's ashes
I miss the days when Better Than Ezra headlined the Gentilly Stage (I don't know if they headlined Acura when "Good" ruled the airwaves) but the advantage of playing before acts in the current limelight is that they win over new fans every year. You can see it happen around you. Last year, a large crowed was gathered at Gentilly waiting for My Morning Jacket, half with their backs to the stage. As BTE tore into their inventive power-pop, you could see people gradually perking up and turning around until by the end of the show the whole crowd had their hands in the air. As I said above, Dave Matthews fans can be tough, but at least BTE came up in the same era for their fans to recognize "Good" and "Desperately Wanting." A healthy contingent of BTE fans pressed up front and, at first, some of the DMB folks look surprised that these fans sang along to every word of "Good," "King of New Orleans" or "Extra Ordinary" with the same gusto that they sang "Ants Marching" but, true to form, BTE had the entire crowd on their side by the end. Perhaps those DMB fans didn't see the light and flock to the BTE camp, but at least they glimpsed it.
ABOVE: BTE likes it "Juicy" (If you're wondering where you've heard this, probably in a commercial or two!)
FEST FOOD DAY 3: SOFT SHELL CRAB PO-BOY, PHEASANT, QUAIL & ANDOUILLE GUMBO, AND WHITE CHOCOLATE BREAD PUDDING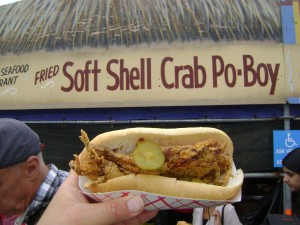 It was already late afternoon, so I left after BTE to chow down. I had tried the Fried Soft Shell Crab Po-Boy in the past but was underwhelmed. This year, though, the crabs looked larger and more plump as I saw them cruise by and, since this is one of my favorite foods, I decided to give it another try. I might have settled for the catfish, but it was $7 and the crab was $10. Sorry, but catfish should be half what a soft shell is. I was pleased by my choice. It wasn't as good as the soft shelled crabs at Mothers, but it was a good soft shell and that's always good by me.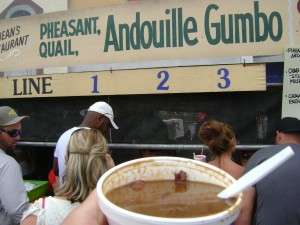 I was still hungry so decided to go for soup to pair with my sandwich. The Pheasant, Quail, and Andouille Gumbo sounded decadent so I gave it a try and was well-rewarded. It was one of the best gumbos I've had, and I'm a gumbo snob. The meat was sweet and tender and the sausage of high quality. The roux was a rich blend of complex spicing and smokey flavor that improved as you dug to the bottom. Gumbo is the one thing that I cook–hell, probably the one thing I make or do period–that I feel I do better than anyone else's. This and Mr. Bs are close seconds.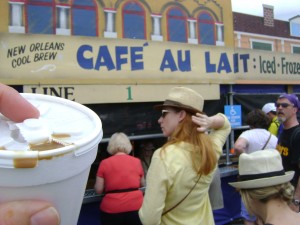 My feast nearly put me to sleep during the next set, so I ventured back later for a Cafe Au Lait. I was still a little munchie, too, having barely eaten breakfast, but wanted something to go with my coffee.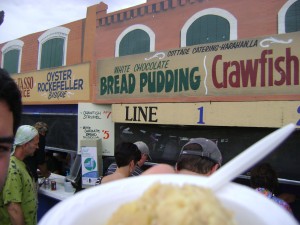 I usually skip desert at Fest, but the White Chocolate Bread Pudding had caught my attention earlier and I gave it a try. It was the right treat for the right time, but nothing wildly original. It's hard to make bad bread pudding–even buffet places like Golden Corral tend to do a decent one–and this one was slightly above average. I'd seek it out if I were in the mood, but not make a point to track it down.
THE NEVILLES: NEW ORLEANS ROYAL FLUSH MISSING THEIR ACE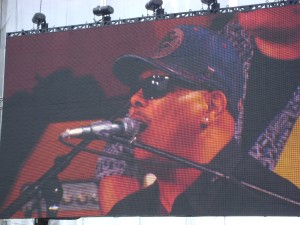 The Nevilles are New Orleans royalty, but the fact that they were playing before Dave Matthews and not closing out this stage the final Sunday of Jazz Fest as is their traditional place at the throne is an indication of a kingdom in decline. The most nationally known brother, singer Aaron Neville, recently struck out on his own, prompting The Nevilles to focus more on funk over the ballads Aaron excelled at. He'll be closing out the Gentilly Stage next Sunday.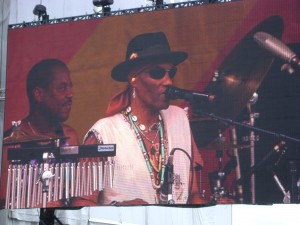 Unfortunately, I never caught the Neville Brothers on a Jazz Fest Sunday, usually flying out that evening. That era has ended and I missed it. The new incarnation is looking towards the future, pulling in more and more of the younger Nevilles (the stage was packed!), but it didn't seem they'd yet figured out how to make the transition. It's funny. I heard songs such as "Hey Pocky Way" that they made ubiquitous all throughout the fairground but not in their set. Their classic material will always be, well, classic, but today I felt like I'd missed out on that era. Much like Allen Toussaint the day before, it was hard to figure out what to make of the show. You know you're watching a legend, but you don't feel it. Perhaps it was missing Aaron, and at one point they wished him well, saying, "He's doing his thing and we're doing our thing." After the show, the announcer kept repeating: "The Nevilles: Stronger than ever!" If it's true, though, you don't have to say it.
DAVE MATTHEWS: DON'T DRINK THE WATER (JUST DANCE IN IT)
ABOVE: Dave Matthews, "Shake Me Like A Monkey"
As Dave took the stage, the clouds hadn't yet opened up but the skies were quickly darkening. Still, it was the most relaxed I'd been around a Dave Matthews Band performance. I know a lot of DMB fans, so by no means would I say that they are all obnoxious, but there is a strong contingent of spoiled yuppie faux hippies who worship Dave. I've had a couple of run-ins with this breed of fan–one documented above–but the rain and rule changes seemed to weed out that contingent, leaving only the true music lovers in attendance today. It was a jolly, as opposed to entitled, lot and when the skies opened up during "Don't Drink The Water," Dave's edgiest piece, it was a magical moment.
ABOVE: Dave Matthews, "Proudest Monkey"
For the most part the rain killed everyone's inhibitions and the crowd danced around jubilantly in the thick and smelly mud (it wasn't horse feces I was smelling!) A few people complained when the umbrellas went up, but otherwise it was a good-natured show. I was glad to catch a couple of Dave's better songs, "Jimi Thing," and "What Would You Say," and it's nice to see him playing the latter. "What Would You Say" was his first hit and he refused to play it for years, yet it's one of his catchiest tunes which is a plus in a show that can drone on (Dave isn't known for his hooks). Besides, it bothers me when artists refuse to play the songs that made them famous. I admire artists who rotate their setlist and I get if you don't want to play it every night, but with so many artists desperate for just a whiff of attention, it seems ungrateful to resent your fans for falling for one of your songs. But Dave has softened and so have his fans. I'm still not a fan and feel like he's been blessed with fortune beyond his talent, but I could at least relax and appreciate the music for what it is.
ABOVE: Dave Matthews, "Rooftop"
POSTCRIPT: GLIMPSES OF A KING
Dave was playing a two hour set so I snuck off in the second hour to glimpse a true legend: B.B. King. I love the blues and had never seen him, mainly because he's started charging a King's ransom for shows with tickets approaching $100 at the Florida Theatre in Jacksonville. People complain about Jazz Fest prices and, though steep, they're a steal as opposed to the blackmail most artists charge to catch a glimpse these days. In advance Jazz Fest is a little over $55 or $65 at the gate. It was $20 when I began attending, and the price hike hurts, yet I couldn't see B.B. King or Dave Matthews separately for that, and definitely not get up close, yet I got to see BTE and The Nevilles too. Fleetwood Mac tickets are in the hundreds elsewhere but I'll catch them next week for $55. So, comparatively, it's still a steal.
And thus, I couldn't pass this chance to see B.B. King as he may not make it until the day that I do! It was still drizzling when I arrived and the Blues Tent was packed. I couldn't get close enough to hear the music leaking out, let alone see. I finally weaseled my way to the side where I found an angle to intercept a few sound waves. It was enough just to soak up a little sound, for B.B. King's guitar tone is pure honey. No one sounds like him, and although blues isn't my favorite genre, for pure tone of his guitar B.B. has the best touch ever.
Slowly people trickled away and I made it into the tent just before the skies opened up again. It was a thrilling end to the first weekend, being in the presence of a King. I barely could see the screen and the sound wasn't great so far back, but royalty is meant to remain at arm's length. He ended with a rousing rendition of "When the Saints Go Marching In," but unfortunately the rain didn't end with the song. As I waited for the rain to taper enough for a soggy half-hour bike ride home I turned around and found Offbeat's new editor hiding from the rain directly behind me. It was great luck, as I'd just stopped in last week to introduce myself in person. We chatted about who we'd seen and who we had avoided, and I took the chance to pitch a few ideas. I guess it's lucky to be in the presence of a King!
(Below: Bonus video of Dave Matthews, "Jimi Thing"
<iframe src="https://www.facebook.com/video/embed?video_id=10151580486316797″ width="320″ height="240″ frameborder="0″>