JOHN MAY-ER MAY NOT MATURE INTO A FEST-WORTHY HEADLINER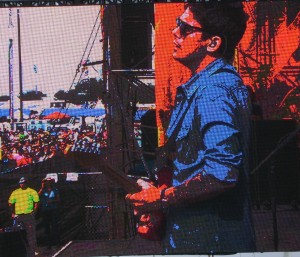 I May-er may not be guilty of burying the lead in the past, so as Jazzfest 2013 gets under way I'll begin at the end. John Mayer was headlining Day One on the Acura Stage after having to cancel last year due to throat complications. I have to admit, if there had been an intriguing offering elsewhere on the fairgrounds (I've never seen such slim pickings during the headlining hour) I would have ended up there.
My best friend Todd, of wedding hangover fame, is a huge John Mayer fan and took me to see him at Milwaukee Summerfest six or eight years ago. While the young star displayed glimpses of talent, both his performance and songwriting seemed immature; worse, I felt immature sitting on the lawn in the rain amongst tweener girls yelling "I love you John!"
I don't know if this famous gaffe machine has matured as a human being, but I was pleasantly surprised that John Mayer has grown up as a musician, putting on a gritty, bluesy rock-n-roll show for the discerning Jazzfest crowd. It was a pleasant surprise to end a day that was average by 'New Orleans Jazz & Heritage Festival' standards but still better than the day anyone else on the planet had–Jazzfest is for me now what Christmas was as a child.
ABOVE: John Mayer's sound matures, "I Don't Trust Myself (With Loving You)"
THE NEW ORLEANS (USUAL) SUSPECTS: WHERE IS KEYSER SÖZE?!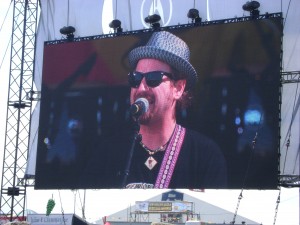 Jazzfest 2013 opened at the Acura stage with The New Orleans Suspect, a band whose primary flaw is in their name which draws comparisons to classic crime noir film: The Usual Suspects. In this movie the police round-up the 'usual suspects,' ie. all the folks that have the necessary skills, after a major crime occurs. They suspect one of them is criminal master Keyser Söze, but, it turns out, they were missing the elusive, brilliant leader.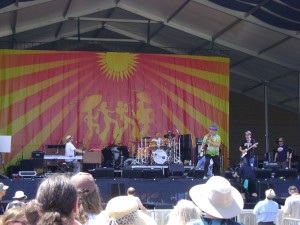 The New Orleans Suspects are a similar collection. Their driving funk and jazz influenced jam band rock is propelled by Neville Brothers legend 'Mean' Willie Green on drums and Radiators' Reggie Scanlan on bass while two Dirty Dozen Brass Band veterans take the lead: guitarist Jake Eckert and saxophonist Kevin Harris. This is a fine collection of musicians and I'd be impressed if I'd seen them in, say, Jacksonville, but in a town and event so saturated with quality music, it becomes difficult for bands to find an edge. Great musicians in New Orleans are like hot blonds in Hollywood. Anywhere else in America you're a perfect 10, but here you're a 9.999 and that one thousandth of a point is enough to keep you from getting noticed.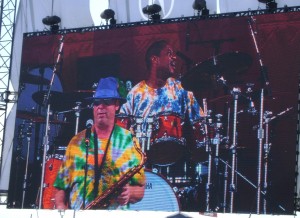 If you are a fan of skilled jamming you'll love these guys, but they had no solid material or star performer to sustain my attention. So, while they have rounded up the usual New Orleans Suspects for a killer a backing band, they're just a collection of wandering musical thieves without a Keyser Söze to take the lead.
PAUL SANCHEZ & THE ROLLING ROADSHOW: ROLLING REDEMPTION & LETTING THE DOMINOS FALL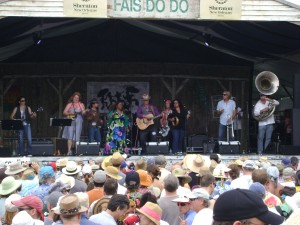 I earlier documented my disappointment with seeing Paul Sanchez at French Quarter Festival without Cowboy Mouth. This didn't stop me from wandering to the rustic Fais Do Do Stage next–a venue that hosts Cajun, Zydeco, and Louisiana roots music–to catch his act again. Maybe it was that my expectations were already punctured, that this down-home setting fit him better, or that everyone plays their best at Fest, but this show had a more relaxed, free-flowing energy. He definitely had a more complete band with him– a Bonerama bone and booming tuba definitely gave the sound a lift.
ABOVE: Paul Sanchez welcomes Fats Domino's grandson to the stage to perform his song, "Angel"
With the Rolling Road Show, Paul Sanchez has turned himself into the Ringo Starr and His All Starr Band of New Orleans. Like the former Beatle, the ex-Mouth collects a rotating cast of characters to perform with–not behind–him, allowing everyone to perform their solo work. Today Paul hardly sang at all. Highlights included bassist Mary Mary Lasseigne (who also did a stint in Cowboy Mouth) singing her bouncy hidden gem "Rebecca Sunshine" with its silly but infectious rhymes (I say yes and she says no / She don't like Cinemax or HBO) and Paul introducing Fats Domino's grandson for his Jazzfest debut. A Rolling Road Show is much more genteel than a Cowboy Mouth rock-n-roll tent revival, but not a bad way to spend a Friday afternoon under the low-hanging Louisiana sun.
CHARMAINE NEVILLE: CLASSICS SONGS, MODERN RENDITIONS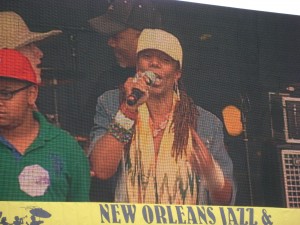 The name Neville will get you far in this town and Charmaine is a well-established local draw. Near the end of the Roadshow's set I swung by the Congo Square Stage next door, which focuses on African-American traditions that don't fit under the Blues or Jazz Tents, to catch a glimpse. As I arrived, she was performing a rare vocal rendition of Duke Ellington's classic "Caravan" before ending with a stuttering, sped-up version of James Brown's, "It's A Man's World," assuring the ladies while introducing the song that the opposite was in fact true. By turning the song on its head, she made it her own and I got the sense she made a career on putting an unexpected spin on such classics. She is worthy of an audience and I wouldn't resist going to see her, but she didn't appeal to my tastes enough to actively seek her out. Then again, it was two songs.
FEST FOOD: COCHON DE LAIT PO-BOY, OYSTER & CRAWFISH TRIO, AND FRY BREAD
The food at Jazzfest is as much a draw as the music, with the vendors specially selected and returning year after year offering many dishes that are difficult to impossible to find outside of Fest. During Paul Sanchez's set I stood by a local eating Crawfish Monica, a Jazzfest food legend consisting of spiral pasta in a crawfish cream sauce. "I can't decide what my first meal of the year should be," I confided. He laughed, "I know what you mean. I live a few blocks away and look forward to this all year." He pointed to his pasta. "This is my second helping already! I started with the Crawfish Sack, Oyster Pattie, and Crawfish  Beignets platter." I had my mind set on the Cochon De Lait po-boy, though, which I'd heard raved about for years but had yet to try, as I headed to the food booths.
Last week I tried Cochon at the upscale restaurant by the same name, learning this Cajun pork preparation involves roasting a suckling pig over a pit and then shredding it and forming patties which are usually pan-crisped. I enjoyed my Cochon at Cochon but wasn't blown away. I don't know if it was the magical setting, the soft French bread, or the sweet, mustardy bed of slaw but the Cochon De Lait Po-boy was love at first bite! It was succulent, juicy, flavorful and spilling out of the loaf. This immediately shot near the top of my list of Fest food favorites.
Still, thanks to my musical neighbor, I had that classic favorite oyster and crawfish trio stuck in my head; thus, I headed back after the next act. The Crawfish Sack consists of a rich stuffing placed in a filo-type wrapper, synched at the top, and flash fried. The Oyster Pattie is a rich oyster stew placed inside what appears to be a hollowed out biscuit, except that it too has a layered filo flakiness. Finally, the remoulade covered Crawfish Beignets have a crispy crust and spicy, moist interior, and would be called fritters or hush puppies elsewhere. I wolfed down this rich and starchy trinity of decadence before thinking to take a picture.
On the way back I stopped to get an herbal iced tea to wash it all down–underwhelming–and then passed the isolated booth manned by the Houma Indian tribe that has for decades boasted 'fry bread demonstration.'  I had ignored this outlier for years but for some reason today stopped for a piece of this hearty, crisp Native American mix between a funnel cake and elephant ear. I coated it with honey and powdered sugar as suggested and scolded for enjoying it so much as I walked back to the Gentilly Stage to fall into a food coma.
SOUL REBELS: UNDISPUTED HEAVY-BRASS CHAMPIONS OF DA 504!
ABOVE: The Soul Rebels light it up with original "2013"
In between food forays, I caught the Soul Rebels at the Gentilly Stage (think of this as the large amphitheater in town and the Acura Stage as the giant arena). These guys first grabbed my attention at French Quarter Festival where I only caught a partial set, but today I was ready for the Full Monty, and they delivered.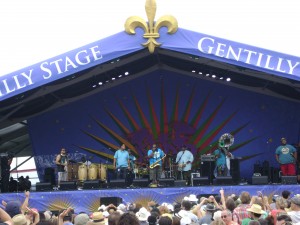 The Dirty Dozen Brass Band reinvented this genre in the 70s and 80s and the Rebirth Brass Band took it to the next level in the 80s and 90s. These two bands are still performing and will always be favorites but, though I'm not ready to declare the Soul Rebels better than these guys in their heyday, they are the best brass band in town right now for capturing and channeling the spirit of modern music. Not that the other two have stagnated, but Soul Rebels are on top of their game. Historically, the older acts still loom larger, but in the here-and now, the Soul Rebels are the Undisputed Heavy-Brass Champions of Da 504!
ANDERS OSBORNE IS BORNE AGAIN (AS DUANE ALLMAN?!)
ABOVE: Anders Osborne goes Allman on "Three Free Amigos"
Anders Osborne is a stereotype of musical addiction and redemption, but his playing is anything but cliché. Born in Norway, he was drawn to New Orleans decades ago where he was hailed as a rising star. His Camelot was completed by marrying local fiddle-and-song darling Theresa Anderson. It all went up in smoke, however, through a long period of drug and alcohol fueled self-destruction either causing or caused by (chicken or the egg?!) his marriage's termination.
After squandering so much potential, Anders Osborne finally cleaned up and resurrected his career with his raging, aggressive blues and confessional songwriting that pulls no punches. Much like I described Sharon Martin singing with every muscle her body, I've never seen anyone give themself so entirely to their playing. Anders' fretwork pours from every ounce of his core as he bounces and bobs on stage, squinting and grimacing, at times looking like he's passing a kidney stone. He can be elegant and ethereal, yet the music often floods from his guitar in aggressive waves of sonic assault that can make a non-thrash metal fan a little uncomfortable. Other times he'll lose himself in a psychedelic trip leaving you wondering if he even remembers an audience is watching. One thing is certain, though: You will always be challenged and surprised by Anders Obsorne.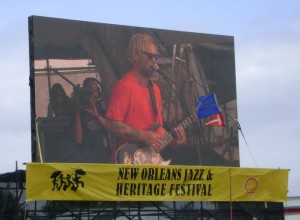 I first saw Osborne a few years ago at Springing the Blues in Jacksonville. This free festival hangs its reputation on catching rising stars rather than paying established ones, and my buddy Brian Thompson and I were blown away his charging energy and originality. His confessional songwriting can be as jarring as his sonic assault–he used and abused a lot of people during his drug addled years and confesses with stark honesty as he seeks absolution–and no two shows are ever the same. Today he was sparring with a worth opponent on guitar and, as opposed to his more aggressive sets, he explored more melodic, reflective landscapes. At times it were as though I was watching the second coming of Duane Allman as he conjured bluesy and inventive dueling guitar solos. The above video of his "Three Free Amigos" is ten minutes long, but worth the time. Although it starts as breezy southern rock, it builds into a furious dueling lead where not one single note is wasted. I'm not a lover of all extended jams–either say something relevant or move on to the next song!–but today Osborne wrote the book on promise, pain, descent, and redemption.
GARY CLARK JR.: NOT OS-BORNE QUITE YET
I had planned on venturing back to the Acura Stage next to see local voodoo rock legend Dr. John, but there was buzz in the air at Gentilly about Gary Clark Jr. His bio on the Jazzfest app (technology at its best!) said he rose to renown with electric Jazzfest and Bonnaroo performances last year and was invited to perform at the White House alongside Mick Jagger, B.B. King, Jeff Beck, and Buddy Guy, prompting Obama to remark, "He's the future." That's heady company so I caved to my curiosity.
All I can say is that Gary Clark Jr. has all of the chops but no steak to sink your teeth into yet. You could hear him channeling the two big Jimmys, Hendrix and Page, with a post-Soundgarden bite, but he has yet to find a coherent voice. This is how I would expect Anders to have sounded before his songwriting and musical imagination caught up with his talent. It'll be a joyous day of music when Clark is Os-borne again. Until then, I should have went to see the Doctor!
JOHN MAYER GROWS UP (THE GEEK GETS HIS MOJO WORKING)
ABOVE: John Mayer, "Age Of Worry" (A descendant of "My Big Mouth"?!)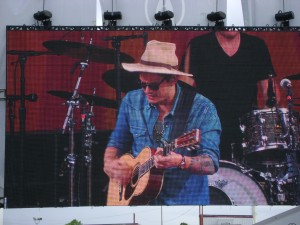 As this first Friday of Fest drew to a close I was reluctant to see John Mayer again– I'm not alone in being turned off by his immature songwriting and antics. He is the Lindsay Lohan of rock interviews and more than one person cried "But he's such a douche!" when I confessed to catching his act. Still, there is always electricity in the air for whoever headlines the Acura Stage.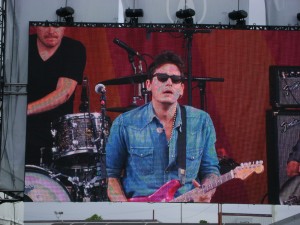 Mayer's early work was at times charming in its immaturity. It's good to know that the big star was once an awkward nerd. Hey, I'm still a writing and music nerd and I love hanging with nerds; but Mayer wasn't a fun, self-deferential geek. He was more the obnoxious, offensive dork that was always grating, combative, and offensive. How prophetic did "My Big Mouth" turn out to be on his first record?! Traces of songwriting ability were there on early cuts such as, "No Such Thing," which does a decent job capturing that rock-n-roll theme of 'I don't want to blend in' for a new generation. Still, the hint of promise was overshadowed by groan inducing posturing.
ABOVE: John Mayer, "Slow Dancing In A Burning Room"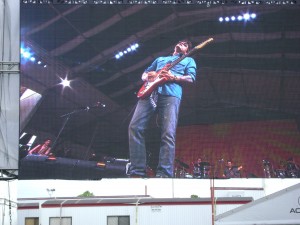 The greatest example of these early musical missteps has to be "Daughters," which somehow garnered major airplay. Here, he sings of a girl abandoned by her father as if father's only abandon female children. Oh, but Johnny pleads: "Girls become lovers who turn into mothers, so fathers be good to your daughters too." I would get it if this were India and we were aborting female fetuses because males fit better into our caste system, but last I heard 'daddy's little girl' was the law of the land here. But hey, daddio, your little girl is going to grow up to get laid and pregnant some day so treat her good so I don't have to work so hard at it. That's why we should be good to little girls. Thanks for the wisdom, Johnny. Even Britney Spears cringed at that embarrassing career move.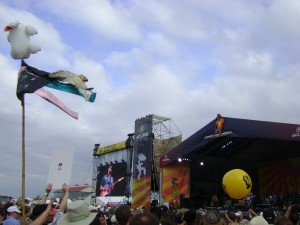 Perhaps he has grown up a bit, though,for he eschewed the bubble gum pop of his first two albums altogether at Jazzfest; and dating movie stars and hanging out with blues gods has helped his presentation, too, though it's hard to accept the illusion created by his tattooed arm, styled hair, and the chain hanging down his open shirt knowing his past.  Fortunately, his music got a makeover too.  A third of his set was devoted to gritty, rootsy covers, the highlight being a scorching rendition of Muddy Waters' "Got My Mojo Working," as well as an excellent take on the Grateful Dead's "Going Down the Road Feeling Bad." His fretwork has become more soulful and blistering as his natural talent ages and matures.  By also tackling "Can't Find My Way Home," by Blind Faith he definitely showed nerve. He took on Muddy Waters, Jerry Garcia, and Eric Clapton and passed the test (though didn't by any means approach or surpass them.)
ABOVE: John Mayer is "Waiting On The World To Change," but not rolling up his sleeves
The originals he offered displayed maturing songsmanship, as well, including hits "I Don't Trust Myself (With Loving You)," "Slow Dancing In A Burning Room," and "Waiting On The World To Change." (Though the latter is another example of his vexing attitude. Trying to change the world may be a futile endeavor, but at least previous generations tried. His protest song simple states he and his friends don't agree with this shit–don't think they don't care–so they're all sitting around on their asses waiting for it to change.) When the announcer introduced Mayer as one of our greatest musicians and greatest songwriters, it was grand hyperbole. This stage has hosted Bob Dylan, Bruce Springsteen, Tom Petty, Billy Joel, The Eagles, The Allmans, Pearl Jam, and the Foo Fighters to name a few. John Mayer is still not in the company of these legends, but he has grown up enough to play alongside them.