BACK WHEN MEN WERE MEN (WITH WOMEN'S HAIR)
I began July in a Frenchmen Street bar sipping a cold Corona (not to be mistaken with a Cocharona!) and thinking back to a cheesy Survivor song beloved in my adolescence, "Too Hot To Sleep." As the month closed, another song from that same seldom recalled album was stuck in my head: "Rhythm of the City," for after a rough start I was finally easing into the rhythm of French Quarter living.
A GOOD WEEK FOR GUMBO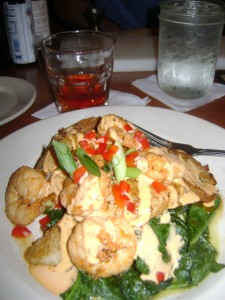 Things finally calmed down after my 4th of July visitor and subsequent busy week, and I gradually got back to doing everyday things like 'making groceries' at Rouses Uptown, stopping by Dick & Jenny's next door first to give their cuisine a second try. I've become comfortable eating alone at the bar and ordering (relatively) light—an entrée only, fish with spinach. It was excellent, though this will never be my go-to spot as it seems to be for many locals.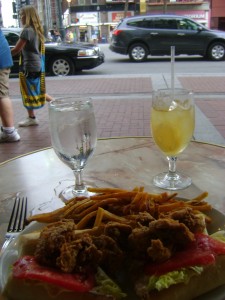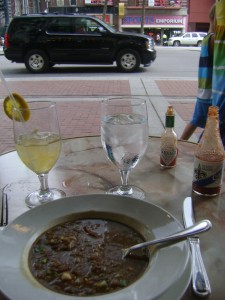 The following days were spent writing and wandering the Quarter, eating out less and focusing on lunch when I did. One afternoon I stopped by Palace Café, a famous spot I'd never visited, and sat outside in defiance of the summer heat watching the traffic pass down Canal Street. Their gumbo was one of the best I've had in the city and the fried oyster po-boy was stellar, as was the lemon & thyme ice tea to wash it down. Best of all, since it was lunch, the price was right.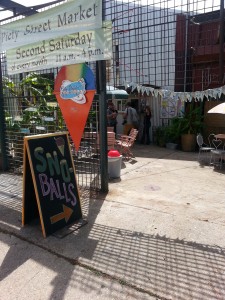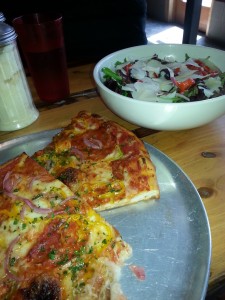 I also spent more time on my bike and started venturing out further at night. Living in the French Quarter can feel constricting at times, so comfort with night biking to distant neighborhoods is a must. During daylight, though, I finally got around to exploring Marigny and Bywater where the houses are beautiful but the roads rougher than the unpaved mining paths I grew up pedaling down. During one afternoon blogging break I wandered into Pizza Delicious where their slices lived up to their reputation as the best NY style in the city. In the afternoon heat, though, Piety Street Sno-balls called to me from across the road. As I sat and let the spoonfuls of gossamer ice soaked in an excellent homemade wild cherry syrup melt on my tongue, I lounged in one of their lawn chairs with a book listening to the owner of Siberia music club catch up with friends and cave to the pleas of a visiting musician to book him. It felt like a very local way to spend an afternoon.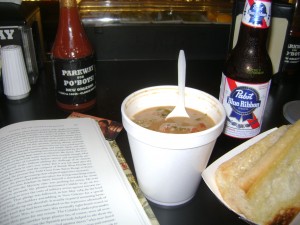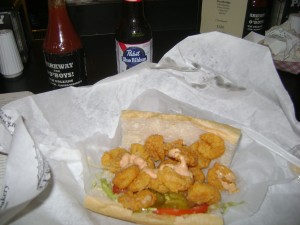 One evening later that week I road up to Parkway Bakery on my friend Pat's suggestion where the hyped fried shrimp po-boy was another standout but the gumbo a revelation, jumping ahead of Mr. B's and Palace Café to tie for 2nd with the Pheasant, Quail, & Andouille Gumbo at Jazz Fest. (Behind my own, of course!) It was a good week for gumbo.
WHERE EVERYBODY KNOWS YOUR (OR HEMINGWAY'S) NAME
I was also catching onto the rhythm of the nights. I avoided the temptations of overindulgence or staying out ridiculously late, but would head downstairs every other night or so to hang out with a few regulars and Sparky, the bartender, at the bar that had just opened up below me and to write. I was always a night writer in my youth. When the sun set my imagination fired on all cylinders. The older I get, though, the dumber I am after dark. It felt nice to catch a little bit of that old magic. I never had more than one or two, just enough to sip while I wrote between interruptions by chatty, curious tourists.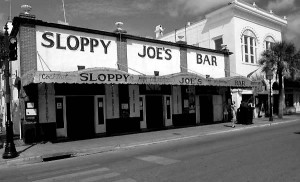 There are several famous bars on my block I feel it would be 'cool' to frequent (Molly's at the Market, Turtle Bay, etc.) but, though Spitfire is new, it's nice to have a place feel like your own and be perhaps part of establishing a Sloppy Joe's of your own. And I already have a few good stories to build the its legend on, such as the night a trashed and trashy girl who claimed to have biked from the Lower 9th wandered in to repeatedly pat me down like a TSA screener. At first I laughed her off and even accepted when she bought a shot, but she—and in no way alluringly—became increasingly aggressive, loudly and repeatedly calling me fat while trying to grope anywhere I wasn't quick enough to throw a block. (I guess it's time to wean my po-boy obsession! My call to arms has become 240 by 40!) When the bartender cut her off, she became beligerant and began to loudly protest the tyranny until he finally escorted her out. Once she was gone everyone in the bar had a laugh and I didn't know whether to be flattered or embarrassed. How often do girls get thrown out of bars for drunken groping?! I doubt Papa Hemingway dealt with that at Sloppy Joe's!
OGGLING THE BLUES AND GOOGLING PINK WIGS
I also spent a few nights back on Frenchmen, most notably catching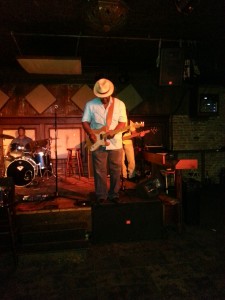 Blues for Sale again with guitarist Ed Wills whom I previously mentioned playing the same guitar as I (with a touch more skill. ) You don't catch a lot of smoking Chicago blues in this jazz, funk, and delta blues town, and I have to have a beer and listen a while every time I see this guy. It's a treat to have such an unknown talent play down the block twice a week. (Maybe there's another story there, Offbeat . . . .)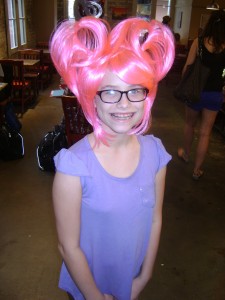 I also had plans to meet my Baton Rouge friends one Sunday. Chris Tusa drove all the way to town and parked before getting called back home for an undisclosed task. Later that afternoon I tried to meet my other LSU writer friend, Daren, with his wife and kids at the aquarium. It was already 3 p.m. by the time I arrived and the line was so long I missed the I-Max they were waiting in. So much for the off season!  I wandered around until the movie was over and after they rushed through the aquarium before it's 5 p.m. closing I joined them at Café du Monde before poking around local shops. Daren's daughter had decided she needed a pink wig to do the French Quarter properly and we were having no luck so I jumped on my phone and, sure enough, Googling 'pink wig in the French Quarter' turned up multiple options. We found a wig shop a few blocks away and he later texted me a picture just to let me know she now wore it everywhere she went. I'm sure the specialty wig shop wasn't cheap so at least it's getting good use. Sorry bro!
THE LITTLE THINGS (AND THREE BIG ONES)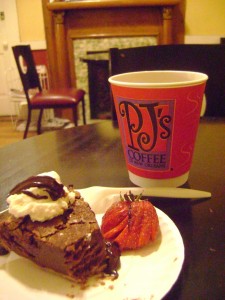 July passed quickly and pleasantly if largely uneventful. It's the little things that make a place a home. I was cooking more. Eating better. Feeling stronger and getting back in a steady exercise routine. Worrying less about my truck and coping with the street cleaning schedule. I was sitting on my balcony more either strumming guitar or people watching. (Or chatting with my next door neighbors who, every weekend, were there for a different out-of-town bachelor party.) The interview with Sarah Roahen was definitely the month's highlight, giving both the blog and my confidence a boost. I was finally making some significant connections and another local writer, Tom Piazza, agreed to meet with me sometime in August. Overall, I was hitting my stride.
Two other significant events that month traced back to Roahen: One a ritual learned from her book and the other a discovery from the interview. Emulating the 'Red Beans on Monday' ritual she was so eager to attend ever week, I invited the few people I know over the last Monday of the month. Although only two guys showed up, it was a smashing success. Then, the Sunday after the interview I attended the food 'pop-up' Sara described to illustrate the phenomenon.  The barbeque was excellent and worth the trip, bringing my home to Jacksonville a bit, but the pie turned out to be one of the best slices I've ever eaten . . . .