'HILLBILLY HEMINGWAY' FINDS A ROOM WITH A VIEW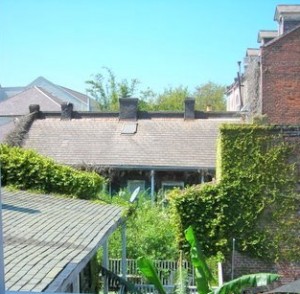 Good news! I found a place to live after months of dead ends and frustration. And it's in, of all places, the French Quarter. I never thought I'd ever actually move there, largely searching in more residential neighborhoods like Irish Channel and Lower Garden District, but responded to an ad on a whim. The rent was reasonable and the roommate was going to be mostly absent, staying with her daughter, so when she responded with pictures that included this view I had to check it out.
Although skeptical as a lady dropped me the key from the third floor balcony, allowing me to let myself into the narrow wire and pipe ridded service ally, I was instantly seduced by the Hemingway-esque panorama when I topped the stairs out back. The bedroom for rent would look out to this view as does the bath, and most of those rooftops are part of a convent; Debra, the lease holder, assured me it's quite quiet. The view inside was equally as charming.
The rustic exposed brick contrasted nicely with quaint country kitchen motif and the living room was decorated with a woman's touch in just the way you'd expect of a funky Quarter quarters. In its quirkiest touch, a porch swings hangs just inside the wide French Doors that open to the balcony overlooking the hubbub of Decatur street just across from the French Market—a perfect perch for people watching and collecting stories. It seemed just the kind of place that a writer would live and since I'm more or less trying to dream, conjure, voodoo, and teleport myself into being an actual economically viable author, I might as well 'dress' the part.
WE'RE ON A MISSION FROM GOD, MA'AM
If there were any doubt left that I should take the place, as I revealed my 'West Virginia Gumbo' roots, my potential part-time roomie did a double take. "I'm from Boone county," she said, letting her WV accent show just a bit. We fell into excited conversation and when I revealed that I am about to launch a novel set around a fictional version of a now-infamous mine in which my grandfather once worked—a novel started a decade before the Upper Big Branch Mine made the national news with its tragic explosion—she did another double take. Her extended family has worked in that mine for generations and she had an uncle who retired two weeks before that blast. Us clannish hillbillies stick together; it was a sign from God.
ABSENT MINDED PROFESSORS & TOW TRUCK TRAUMA
Living in the French Quarter will have its challenges and I'll be a little sad leaving Uptown, although my place there posed a different set of challenges. My current digs has a lovely front porch where I sit and read or play guitar while the neighbor's dog barks at me. That neighbor turned out to be John Fohl, former guitar player for Dr. John who is launching a promising solo career, so the dog just has discerning tastes. John is a nice guy, as are all the other neighbors. My roommate has been gracious and helpful as I settle into the city, and when she decided to renew her lease, it allowed me to stay longer than planned which in turn allowed this lovely gem fell into my lap. And one thing I certainly haven't had to worry about Uptown is parking!
When you mention French Quarter living, parking is inevitably the first issue broached. Debra assures me that with a local parking permit it's really not that bad. Others have warned, though, everything from 'You'll drive around an hour looking for a space' to 'Your truck will likely be stolen' (though in the condition it's in, that could be a blessing in disguise!) I'm most worried about the street cleaning Tuesdays and Thursdays. This is just the type of thing this absent-minded professor will forget, resulting in a towing bill I can't afford.
I have craved a truly urban existence my entire life, though. I love to walk or ride my bike as part of my daily routine. There is something natural and beautiful about the pacing and you truly connect with your surroundings. I largely lived like this while pursuing my Master's in Occupational Therapy at Virginia Commonwealth University and have been doing a great bit of it since moving to New Orleans, but will be thrilled if I'm able park my truck off site somewhere and use it mainly for trips out of town. I'll be fine with most things, though I wonder if the few small local groceries will be a viable option. I'm sure they're expensive and possess limited organic produce, which I use to offset my Creole indulgences. It'll surely be something to write about!
BYOB (BRING YOUR OWN BOWL)
Now that the hubub of French Quarter Festival and Jazz Fest are past and I look forward to beginning the next chapter of My Year of Mardi Gras, I am back in Forida for a brief visit to catch up with friends, nab some needed personal possessions, and rock out to a Beatle in Orlando. This distance allows me to reflect and wax poetic over the first trimester of my adventure; thus I plan on doing a few short posts about the challenges and limitations of my current living environment as well as on the simple moments of beauty and small routines that make a strange city start to feel like home.
New Orleans is a city tied to ritual and routine, so it's easy to fall into the that natural rhythm if you're open. Red Beans on Monday is one of those traditions with deep roots that I've embraced. This was a great way to merge my love of cooking to New Orleans's deep culinary culture. The execution, though, is also a great illustration of the limitations of my current home as well as why so many are willing to deal with this city's challenges for a chance to bath in its rich culture.
No matter where you live in New Orleans there are trade offs and my young roommate has done admirably well making the most of a limited situation as she tries to establish herself in the city—our shower lacked a handle for the first two months I lived there until she put her foot down with the landlord—but I feel a little like I'm living in a college dorm again. Case and point is cooking red beans on a hot plate with only a plastic plate for a cutting board, a dull knife, and a floppy plastic spoon for stirring. Not that I'm complaining. This is an adventure and adventures suck without challenges that lead to great stories; plus, it's a reminder that not everyone lives in a comfy middle-class sleeping box equipped with all the latest power suckers from Home Depot. So please check back for some Red Beans on Monday as I document a little of what it's like to transition from a New Orleans Tourist to New Orleans Tenant. And be sure to have your bowl and spoon ready—it promised to be a meaty stew!