YET YOU WON'T FLOCK TO SALT LAKE CITY, WILL YOU?
In my last post I mentioned how the New Orleans 'Red Beans on Monday' tradition was both a conduit for my transition from New Orleans Tourist to New Orleans Tenant as well as a metaphor and illustration of the peculiar challenges that unique to this peculiar place. Let's face it, while people who grew up here tend to be hopefully devoted to New Orleans and others like me fall in love and flock here, this city has its share of infuriating and frustrating quirks to go along with its inviting and captivating quirkiness.
One of the best editorials I read regarding post-Katrina ineptitude (I could kick myself for not clipping it) was, I believe, in the New York Times. It was about a year or two out and the public outrage was growing as corruption and blunders came to light regarding the distribution of relief and rebuilding funds. Yet the author pointed out that dysfunction and corruption have always been present in the city. Its untamed spirit and unpredictability is what draws scores of fascinated visitors, many of whom choose to stay and embrace the madness. He wasn't arguing that improvements and reforms shouldn't be made, but just that you can't expect to entirely tame New Orleans, especially when it's that rebel, lusty nature that draws you in the first place. If you want neat and orderly, he concluded, go to Salt Lake City—but you won't, will you?!
WHEN THE SAINTS GO MARCHING IN . . . MAYBE THEY'LL BRING A BROTHER A STOVE!
Thus, the challenges of my current living arrangement aren't universal yet are indicative of the type of trade-offs anyone moving to this city makes unless you're Anne Rice or Sandra Bullock (and even wealth can't fix a lack of groceries near or people peeing on your million dollar French Quarter condo nor can it make the city government run smoothly…or at all!) The rest of us have to decide whether to give up square footage for location or basic amenities for affordability.  In the shotgun house where I'm living now one big trade-off my roomie, Nancy, sacrificed an actual kitchen for lower rent.
As I said before, she has adapted admirably but it still blows my mind that someone would put a property up for rent while feeling a refrigerator and stove were optional!
RED BEANS ON MONDAY, DORM STYLE
Yet Nancy has assured me I'll get by and I have, making simple meals on our dual hot plate and toaster oven and fixing salads when, on rare occasion, the dorm style refrigerators don't freeze and ruin all my produce! This is all simply dabbling, however. On the Monday between French Quarter Festival and Jazz Fest I finally embarked on my first true culinary endeavor: Red Beans on Monday. Using a dull knife and one of our two plastic plates for a cutting board, I chopped my Cajun Trinity (onion, green pepper, and celery) along with fresh thyme and rosemary while searing a couple of juicy pork necks in olive oil.
There is no air conditioning in the kitchen so fortunately it has been a mild spring and I wasn't sweating too profusely as I added the vegetables to the sizzling meat, kicking up a delicious smelling steam. There is a window unit in my bedroom and one in Nancy's adjacent to the kitchen. When I ask her how she survives in the summer she shrugs and says: "People make due." True dat.
Thus, making due in the not-yet-insufferable heat, I cooked down my herbs and Cajun trinity and then added the kidney beans and chicken stock. This mixture has to cook for several hours and I wait until near the end to add my andouille sausage; so while it cooks down let me finish my tour, ending out back for the flip side of Red Beans on Monday: laundry day.
NEVER MIND THE SASQUATCH TIP-TOEING THROUGH YOUR BEDROOM
The 'shotgun houses' common in New Orleans are so called because of their long and narrow design resembling the barrel of a shotgun. In this straight procession of rooms (most houses consist of two 'barrels' that rent separately) there are no hallways so you must walk through one room to get to the next. From the front porch, the first partition is my room where I'm currently sleeping on a futon until I find a permanent place and move my bed–just another concession in my 'back to school' adventure. There is no door between my room and a small living area, just an open archway. The door at the back of this livingroom  opens to my roommate's room with the bathroom immediately on your right. You must cross through Nancy's room to get to the kitchen and, as she is a young woman who bartends late in the French Quarter and sleeps late, I feel a bit like a perv tip-toeing through her room in the morning as she lay curled up in the sheets to make my morning coffee!
The kitchen on the other side is ill equipped though Nancy is young and just starting out, thus doing the best she can with what's available. There are two dorm style refrigerators, one square and one a bit taller, that inevitably freeze my lettuce although nothing actually freezes if you put it in the little freezer area!!! As if eating healthy in this town weren't difficult enough!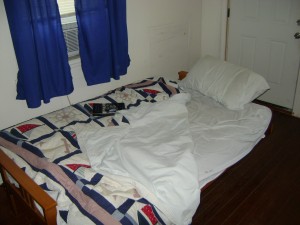 For dining there are two spoons, forks, and butter knives, two plastic plates, two glasses and a bunch of Mardi Gras plastic cups, one coffee mug, and some other miscellaneous items. After my first trip back to Florida I returned with a couple of mugs–one that has since been dropped and broken–but, considering the lack of dishwasher, embraced the wisdom of everything in twos. Need a spoon, wash one. Next time, though, I will bring back a wooden spoon. The plastic spoon I use to stir my thickening red beans merely bends in half, barely disturbing the flow. The metal spatula in the drawer does little better and, as there is no plastic spatula and one heavily scratched non-stick skillet, these would be a few more essentials to retrieve if I were staying.
AFRAID OF HOSPITAL BILLS, NOT SPIDERS
The kitchen leads out the back door, through which Nancy comes and goes, to a small laundry shed. Shed is an appropriate word for this thrown together space but I'm not complaining: A washer and dryer are major luxuries in this town. My only worry is of the big brown spiders that materialize out of thin air inside–I'd hate to think of what is lurking out here. Don't get me wrong–I'm not afraid of bugs, just praying these aren't Brown Recluses as I'm health insurance-ally challenged these days.
And thus laundry leads us full circle because, for as my first batch of 'Red Beans on Monday' cooked (I've made red beans on Saturday in Jacksonville, but it's just not the same thing) I followed the tradition faithfully and did my laundry. You see, from what I've read Red Beans on Monday came about because Monday was traditionally laundry day when that was an all day chore. (Thank you Maytag Man!) This is a heavily Catholic town and there was no cooking on the Sabbath (though the Sabbath is actually the first-ath) so leftovers weren't an option. Red beans, however, were locally abundant, filling, cheap, and could cook all day. Thus the tradition was born to wake up on Monday, put on a pot of beans, and then eat off them throughout your busy day.
IF THE POOR CAN DO LAUNDRY ON THE MONDAY, SURELY THE WEALTHY CAN FIND LARD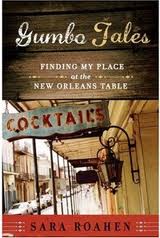 Where I grew up in West Virginia stewed pinto beans were the diet staple, but I despised this bland, sparsely seasoned mush until I went to college and found the pot of beans on the salad bar was the only offering that actually tasted like the food item it purported to represent (the sliced beef roast glistened green and silver like a Rainbow Trout for heaven's sake?!) Red beans, though, are seasoned with herbs and vegetables, stewed with smokey pork bones, and loaded with spicy sausage. It's not health food, but it's good hearty eating. Sarah Roahen, in her oft-cited book Gumbo Tales, claims her neighbor's are the best in the city. I've never been invited over, but the ones Kermit Ruffins cooks at his Treme Speakeasy before his Monday night shows are the best I've had.
Strangely, the second best I've tasted are at Popeyes, and I'm virulently anti-chain and anti-fast food. It sounds crazy, but I've read many snobby food writers and web board posters touting their mysterious goodness. What? Fancy restaurants can't afford lard?!?!?