HAVE FRIENDS, WILL TRAVEL
Despite my frequent misadventures, my time in New Orleans has been amazing—at times transcendent and at times trying but never boring and always providing opportunities to grow. Besides, embracing the unexpected and insane isn't in the fine print when you move to New Orleans—it's in bold print italics and double underlined! Thus, the bizarre housing hunt, sketchy characters, and failed expectations merely enhance the story and add a little humor. The one true challenge, however, has been attempting to start over socially. In the ten years I lived in Jacksonville I developed a rich and diverse collection of funny, intelligent, kind and supportive friends. Such connections can't simply be replaced, yet the biggest challenge of living in north Florida was maintaining my connections with not only family but friends from high school, college, OT school, and camp I'd left behind in the mid-Atlantic triangle of West Virginia/Virginia/Maryland, not to mention a sister that lives in Massachusetts and a best friend in Wisconsin. So in moving to New Orleans, I've compounded this difficult distance once again.
I am outgoing and unafraid to strike up a conversation, so I have met literally thousands of people since moving to town. Still, I don't 'fall in' with groups easily. I can hold a superficial conversation with nearly anyone, yet don't instantly sync with whoever is in the vicinity like some people seem to. It takes me time to find well-rounded people I 'click' with, and thus the hardest part of this move has been a feeling of isolation at times. I've sown some seeds of friendship that may grow, but mostly still operate on my own. This was already weighing on me a little before moving to the French Quarter, and then suddenly I found myself adjusting to a new environment feeling ill when my phone died,  severing my contact with even friends from afar.
MANLY CHEESESTEAKS, WILLING GUTTER PUNKS, & OTHER GENTEEL CONVERSATION
Thus, by the time my second Sunday in the French Quarter arrived I hadn't spoken to anyone in days except for some brief encounters with my unexpected roommate, and our conversations centered on topics such as how he was from Philly and could make some real man food if I got tired of salads, how I'd appreciate he ask before taking food, or the 19-year-old gutter punk (his words) he hooked up with before going to Africa who was up for anything. Anything! I'll stop there.
Thus, I was excited that my friend Daren Dean, the professor and writer from LSU who I'd met through Chris Tusa, was coming down. His wife was working, so he apologized that he had to bring his kids along but I didn't mind. I used to work with kids and, besides, I was eager for any human contact.
THE (RIKERS) ISLAND OF MISFIT TOYS
Unfortunately, the previous night I had awoken after dozing only an hour or two, staying awake until 5.a.m. hacking and watching Bones reruns on my computer. Once I finally did pass out, I didn't stir until around 10:30 at which time I turned on my computer, and found several Facebook messages from Daren saying he was leaving Baton Rouge at around 9a.m. I didn't have a phone to contact him with so Facebooked back not knowing he didn't have a smart phone. I live on the third floor and sleep in the back of an apartment that has no buzzer, so I didn't know how we were going to meet up. At 11:00 I finally got up, put on a pot of coffee, and walked into the living room to open the shutters. When I stepped out onto the balcony, Daren and his kids were standing downstairs waving. It was fortunate timing, though I learned he'd given up earlier and went to get something to eat.
I walked down to let him in and he introduced his daughter, Claira, who felt she'd fit right in the French Quarter dressed like Cleopatra—fair enough—and his son, Finn, who was carrying a toy gun and some building blocks he called his 'bombs'—perhaps not the best idea. As they played, then teased, and then fought in the living room, Daren and I had coffee and talked about writing and publishing while I said a silent prayer we wouldn' end up detained by Homeland Security or under fire by an alarmed and hyper-vigilant NOPD!
VERBALY WASTING AWAY AGAIN IN MARGARITAVILLE
The kids quickly grew restless so we walked over to the Cajun & Zydeco Festival but soon had to move on to the Creole Tomato Festival in the French Market where the kids were pacified for a while browsing through that festive combination of flea market and tourist trap.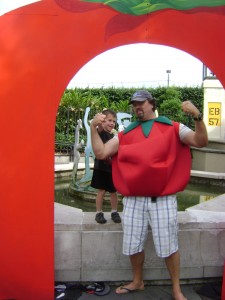 Soon the kids grew hungry, though, so I suggested Margaritaville since most other places in the area were seedy bars. The food was predictably unimpressive, but the kids happy with fries and chicken fingers, Daren was happy that they were calm and corralled, and I was happy checking out the Buffett kitsch and soaking in the tunes. Plus, it was a good opportunity to sit and talk, and boy did I talk! After so many days of isolation, I felt as though someone had turned on the faucet and then broke off the handle. Daren just moved here last year from Missouri and spends a lot of time with the kids, so he was an equally enthusiastic verbal sparring partner.
PLAYING KETCHUP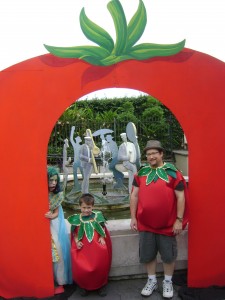 After our late lunch/early dinner, I was walking back with the Dean gang to their car at Jax Brewery when we stumbled on the kids booths for the Tomato Festival. A little face painting and a few art stations extended the visit and when we emerged on the other side, we found a photo area equipped tomato costumes. It took some coaxing, but I finally got Daren to dress up with Finn, then took a turn for some good blog photos of myself, laughing as I felt I was in one of those old Fruit of the Loom commercials. Sometimes it's the simple pleasure.
Seeing father and son dressed up like tomatoes reminded me of a horribly corny joke I have to share. Feel free to contact me with groans and hisses:
A mother, father, and child tomato were walking down the road when the son kept falling behind, prompting the father to stop every few minutes to tell him to walk faster. The son eventually lagged way behind and the father finally lost his patience, walked back, and squashed him with his fist, yelling: "Ketchup!"
A QUIET END TO A PEACEFUL DAY . . .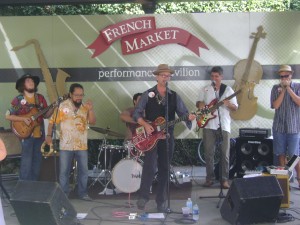 After seeing the Deans off, I stumbled on Paul Sanchez playing a small stage for the Tomato Festival. After catching Sanchez sans-Cowboy Mouth at The French Quarter Festival I'd said I wouldn't go out of my way to see him solo but would definitely catch him if convenient; well, I keep stumbling on him and am growing accustomed to seeing this talented 'Cowboy' outside 'The Mouth.'
Near the end of his set, I wandered over to catch the end of the Cajun and Zydeco Festival and had to smile when I saw a man wearing a tag on his hat that said 'Music Lover.' During my Jazz Fest reviews I told of how some people show up at the Economy Tent year after year and stay the whole festival. Well, this guy has not only been in that tent every time I've peeked in, but I've seen him at French Quarter Fest, every Wednesday in the Square I attended, and any other public event or festival I've stumbled into. I may love music and do a lot but this guy is dedicated! He has grown to be a minor celebrity in my mind so I had to stop for a photo and to express my admiration for his gusto.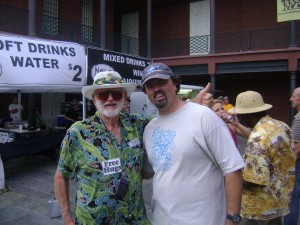 When the music finally ended this 'Music Lover' headed home feeling contented. Although there were two festivals going and a Paul Sanchez sighting, it had largely been a lazy Sunday, but such typical days are what I need to fill in the holes between the Jazz Fest, Mardi Gras, and extraordinary nights on Frenchmen, and Daren is definitely a quality person so I was enjoying getting to know him. Thus, as I settled in for the night, I felt at peace with life in the French Quarter.
But of course that couldn't last.
. . . NOT!!!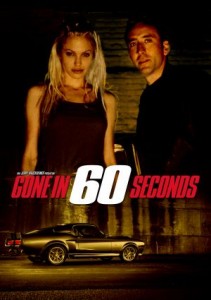 I (delusionally) expected T-Mobile to deliver my phone in the next day or two, at which time I'd have to return the dead one. I hadn't moved my truck since my trip Uptown Thursday to visit the T-Mobile store and attend book club at McKeown's. When I searched for the broken phone, I realized I must have forgotten it in my truck. Someone wandering by, though, wouldn't know it was junk so at 11:30 that night I took a brisk stroll four blocks up Gov. Nichols St. where I'd left my truck four blocks away three nights prior.
I was 100% certain of the corner I'd parked on, returning the next morning to double-check that I wasn't in violation of any street signs or makers, yet when I arrived Sunday night there was another car parked where I'd left my truck. I stood frozen, my jaw dragging on the pavement. My heart raced as I reached for my phone to call the police, and then remembered I no longer had a freaking phone!!!
NEXT ARTICLE