"THEY FILL THE FAIRGROUNDS AS MY FORTUNE COMPOUNDS AND SAY 'MAN, WHAT ARE YOU DOING HERE?'"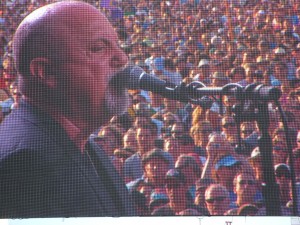 Billy Joel ended his Jazz Fest 2013 set with his most famous and self-referential song as over 100,000 fans sang along. Jazz Fest knows how to pack in six digit crowds and Joel, the consummate entertainer, knows how to reduce the largest crowd to an intimate gathering around the bar's piano. This is one of the last great classic rock artists I had yet to see and he didn't disappoint.
ABOVE: The "Piano Man" closes out the night with the world's largest sing-along
Both Joel's voice and playing were still in perfect form, and from the start he engaged the audience with an easy banter, acknowledging his aging boomer status by pointing stage right and saying, "I know what you guys are thinking: 'Damn, he looks old!'" Then, in one of numerous corny jokes, he continued, "I'm starting to look so much like my father my mother is starting to hit on me." More people groaned than laughed but all were charmed that he felt no need to be too cool for school. Next he apologized to stage left, where I was positioned, for having his back turned as he rubbed his bald dome: "At least you're getting good head." It was the same lame yet strangely entertaining banter you'd expect from any piano man in any bar in any town. Clearly Billy Joel hasn't lost touch with his roots and, with enough hits to headline all three nights and not run out of material, he led the world's biggest open air piano bar in an hour and a half sing-along that warmed my soul after wandering the fairgrounds alone for two days. I was sharing a drink they call loneliness, but it's better than drinking alone!
ANOTHER BARNES BURNER
ABOVE: Robin Barnes sings "Rescue Me"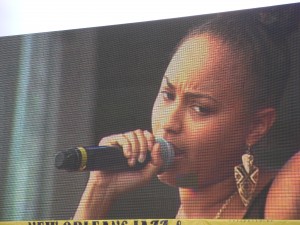 I was sweating and huffing earlier that day as I arrived at the Congo Square Stage. I'd been working on the Day 1 blog and lost track of time, so raced from Uptown on my bike and then dashed across the fairgrounds to catch Robin Barnes's set–I had gotten the green light from Offbeat to do a piece so the more I could observe her the better.  Besides, Barnes cuts loose in a festival setting when unrestrained by the confines of a swanky hotel lounge, so it was worth the mad dash in the late morning heat.
ABOVE: Robin Barne's belts Adele's "Rolling in the Deep"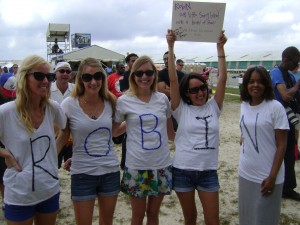 I wrote extensively about Robin Barnes after her French Quarter Festival performance and again after seeing her at the Carousel Bar, so I won't repeat myself, but it's worth your time to check her out.  Today she put on a show similar to Quarter Fest, though the crowd was a bit more dispersed at the larger stage. A group of friends, though, were pressed up to the stage wearing t-shirts spelling out R-O-B-I-N that caught the attention of every passing photographer. In the short time I've spent around her, family and friends appear important to this singer who displays a level head and positive attitude, so it's easy to root for her. I snapped a few photos and took a video sample, but was a little slow on the draw when she went into Adele's "Rolling In the Deep." I grabbed my camera again. Her version of this song is worth sharing. It was still before noon and seemed to take her voice a minute to warm up, but once she got rolling, she belted it out well enough to make the Brit proud.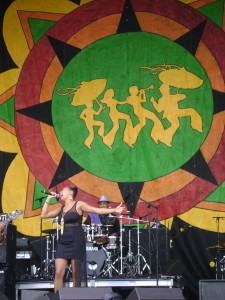 THE ECONOMY HALL TENT: WHERE THE STAGE IS THE STAR
ABOVE: Wendell Brunious performs Carnival classic "Big Chief" as the audience takes to the aisles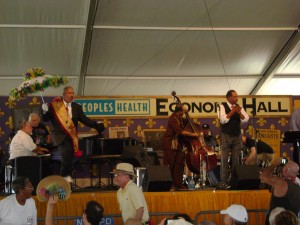 There was a lull in the schedule now where no one caught my fancy, so I headed to The Economy Hall Tent to catch legendary trumpeter Wendell Brunious who is always worth your time. A master of traditional New Orleans jazz, Brunious first came to my attention as leader of the Preservation Hall Jazz Band in the period when I was discovering New Orleans and its music. I was living in Virginia at the time where they came to visit with surprising frequency and I never missed them. Thus, I mean no disrespect when I say I came to The Economy Hall Tent, one of Jazz Fest's smallest stages, for the setting as much as the performer, for here the stage–and crowd–are the stars.
ABOVE: No one can sit still as Brunious closes with "The Saints Go Marching In"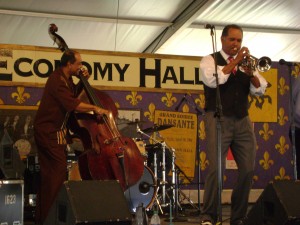 Almost anyone I know who's been to Jazz Fest will make a point of seeing one show in Economy Hall, even if they hate jazz. This tent focuses on traditional New Orleans jazz and the moment the beat hits that unmistakable 'second line' tempo the handkerchiefs and parasols come out and the crowd takes to the aisles. It is a joyous annual reunion and some folks don't venture anywhere else during the seven days of Fest. I swear there is one lady and, perhaps (I'm a little fuzzier on this one) one gentleman who have been in that tent second lining ever since I first stumbled into that tent at my first Jazz Fest in 1998! Here, young and old alike dance side by side, bobbing up and down and parade ecstatically as they snake their way through the rows. It's pure New Orleans so if you can't make it, I took some video; but be sure to wave a tissue and dance along at home!
FEST FOOD, DAY 2: CRAWFISH MONICA, SPINACH ARTICHOKE CASSEROLE, AND A MANGO FREEZE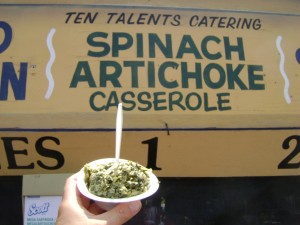 I was starting to feel hungry but decided to go with something simple, the Spinach Artichoke Casserole. This vegetarian offering is light by Fest food standards, not overwhelmed with cheese or mayonnaise like restaurant dips by a similar name. It's a light, fresh offering that isn't wildly unique but a good choice if you're looking for something flavorful that still has a vitamin or three.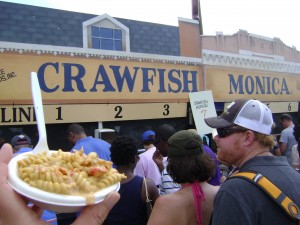 Later I returned for Crawfish Monica which I mentioned yesterday. This tempting, unique Jazz Fest staple seduces onlookers with its creamy orange spirals. Walk around with a portion and inevitably some newbie will stop you and ask, "What is that and where do I get it?" It's nothing complex, just some Cajun spices with plump, fresh crawfish tails in a cream sauce, but it blends together perfectly. I wouldn't dub this the best of Fest, but it's probably the most popular in a tight three-way race with Crawfish Bread and the Cochon De Lait Po-boy.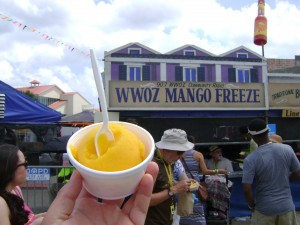 That was plenty of food for one day and, being on a blogger's budget, I was forgoing alcohol all weekend, bringing my own water to hydrate and cut costs. After yesterday's cool, overcast comfort, though, today was hot and muggy so I grabbed a Mango Freeze from the WWOZ booth to cool me down. There are several choices around the fairgrounds to ease a hot day: Sno-Balls, gelato, strawberry lemonade, and herbal tea to name a few, but I went with the Mango Freeze knowing the money goes to a good cause. WWOZ is New Orleans public radio focusing on local music and supporting local musicians. (Hint: You can stream it on your computer and they broadcast Jazz Fest.) It might be the last great American radio station where DJs play rather than having it programmed by marketers. It deserves your support.
A HELTER SKELTER BONERAMA GETS THE LED OUT
ABOVE: Bonerama gets the Led out on "The Ocean"
Bonerama is another old favorite that I wrote about after their French Quarter Festival appearance. In a landscape littered with funk and brass bands, these guys somehow manage to sound fresh and exciting. I never get sick of hearing Mark Mullins wail out "Close the Door," their jams continually sound fresh, and they are always on top of their game for Jazz Fest.
ABOVE: Three trombones go "Helter Skelter"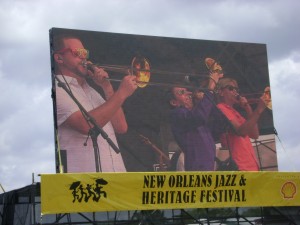 I've said before that it's hard to describe how amazing it sounds rocking Led Zeppelin on 3 trombones–one through an effects pedal–so fortunately today they obliged and offered up "The Ocean." If I weren't already in seventh heaven, they then closed with "Helter Skelter." I don't mean to diminish their original work, which is amazing, but their rocking brass covers are the gateway drug that'll have you screaming: "More trombone!" though I miss seeing them in tiny Mojo's Kitchen in Jacksonville where you could feel the energy of the sound rattle the walls when they got the Led out.
Postscript: As if the scene wasn't perfect enough, Ron and Heather from Lake Tahoe got engaged in the middle of the set. I've already had a wedding and another engagement in the blog. Love is on the scene in twenty-thirteen!
ALLEN TOUSSAINT: YOUR FAVORITE MUSICIAN'S FAVORITE MUSICIAN
ABOVE: Allen Toussaint pays tribute to Levon Helm with The Band's "Life Is a Carnival"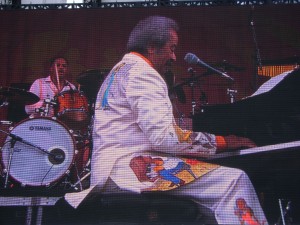 Allen Toussaint may be the greatest name in New Orleans piano after Professor Longhair and Fats Domino. Chances are, though, that a lot of readers have never heard of him. Before he took the Acura Stage to play piano before the 'Piano Man' the announcer introduced him by saying, "This guy is probably your favorite musician's favorite musician." That about sums it up. Toussaint is one of those guys who is a legend amongst musicians and hardcore fans but is often overlooked by the public like The Pixies, The Velvet Undergound, and Gram Parsons in other genres. The difference, though, is that Allen Toussaint became a legend behind the scenes as well as by performing (and probably more so). His fingerprints are all over New Orleans music and R&B in general. His songwriting and production credits are a veritable Who's Who and he's collaborated with nearly everyone who's ever graced a Jazz Fest stage it seems.
Allen Touissant is happy to sing but seems just as comfortable hiding on the keyboards with his amazing touch or working with other artists out of the public's view. I'm not always sure of what to make of legends such as Toussaint and The Nevilles who play the New Orleans songbook with such authority that it's almost like a lesson in history and technique as opposed to a performance. Still, though I might not always know what to make of it, it's always worth your time to catch a legend.
"I AM THE ENTERTAINER": BILLY JOEL CALLS HIS SHOT
ABOVE: Billy Joel opens his Jazz Fest set with "Moving Up (Anthony's Song)"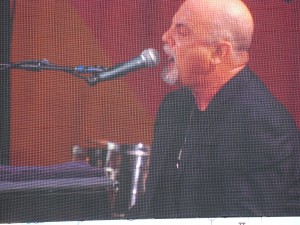 As Billy Joel took the stage and the sun eased up ever so slightly, three things pleased me: 1) His easy banter with the crowd–in the stratosphere where he lives, he could easily ignore or condescend to his audience like many stars do; 2) His playing and, more amazingly his voice, which haven't slipped one bit, and 3) The fact that a multigenerational crowd was singing along to every song. Age-wise, I was somewhere in the middle. I was just being born when Billy Joel first started making hits, but some of these kids were just being born when he made his last one.
ABOVE: Billy Joel, "Don't Ask Me Why"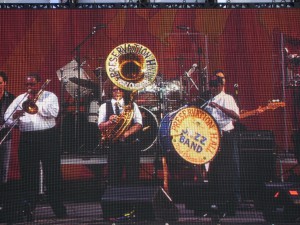 There's no doubt Billy Joel is one of the great songwriters of American pop music. He put out albums regularly for three decades that were not only great, but each was different, embracing nearly every style imaginable while creating songs that didn't sound like anyone else. And every single album had hits. That's with an 's'. It's an incredible feat, as was his ability to walk in other people's shoes. Folk songs told a story, but blues and then rock-n-roll really ushered in the era of confessional or self-referential song writing. Yet Joel was able to tell the story of struggling steel workers in Allentown, the fading fishing industry in "Downeaster Alexa" and of reuniting divorce's whose charmed life fell about after high school in "Scenes From An Italian Restaurant" and make you believe them all. These three musical short stories were highlights of his show, particularly when the Preservation Hall Jazz Band came out to play the solo on the latter. I got chills.
ABOVE: Billy Joel, "My Life"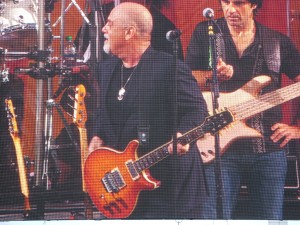 Despite his catalogue of hits, Joel played deep tracks for the faithful fans which is always nice–I hate shows that sound like a greatest hits album. He claimed that he hadn't played  the instrumental "Root Beer Rag" from 1974's Streetlife Serenade in some time but couldn't come to New Orleans without playing some ragtime. It's a furious tune but he nailed it, blowing on his fingers when done. "Zanzibar" and "Big Man on Mulberry Street" were amongst other hidden gems dusted off. It was a deftly crafted set list including at least one song from every album he ever released except for 1971's Cold Spring Harbor, his only obscure release before Piano Man made him a star.
ABOVE: Billy Joel, "We Didn't Start The Fire," the song I swear played overy morning senior year when my cousin Julie picked me up!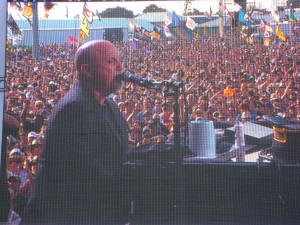 Where I grew up in West Virginia I was exposed to little outside of country music and Top 40 80s; thus, my personal aesthetic underwent two major paradigm shifts: In 1990 when I discovered the Beatles as a high school senior and in 1998 when I came to Jazz Fest and discovered New Orleans. In the years between those two events there was a long stretch where Billy Joel was in my top ten and perhaps top five favorite artists. Although my tastes have grown and shifted in directions I'd never imagined, I still come back to him from time to time and am amazed all over again at the scope of his talent. Sometimes there's a danger in finally catching an artist you've placed on a pedestal that high, but Billy Joel delivered. Early in the set he played "The Entertainer," his follow-up hit to "Piano Man." Joel was still a star on the rise when he penned this, though it seems prophetic in hindsight: "I am the entertainer, the idol of my age. I make all kinds of money, when I go on the stage." Although this is the truth of his existence, he still manages to create the illusion that he's still the humble Piano Man, bearing his soul to the lonely for tips and watered down drinks, and that's why we keep showing up to sing along.