MISSING THE FOREST FOR THE (FRUIT) TREES
For the past couple of months I've been diligently plugging away, trying to remain productive while searching for a way to bear fruit from my labor. Sometimes, though, it's easy to get so obsessed with the harvest that you lose the joy of gardening in the process. As my frustration grew and I doubled down my efforts to get something back from my writing, I started to fear I was losing focus of the reason I moved to New Orleans in the first place—I was missing the forest trying to harvest the fruit trees. Between my holiday travels I was only in town for two weeks (and one weekend), but it started to dawn on me that I needed to step away from the keyboard and reconnect with all the reasons I began this adventure, searching to revive a bit of my dormant Christmas spirit in the process.
RED BEANS ON MONDAY SATURDAY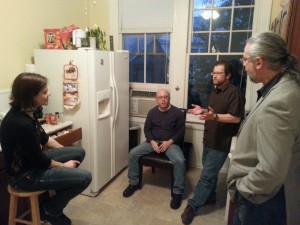 One tradition I've managed to maintain is 'Red beans on Monday,' but my writing friends from out-of-town can never make it. This is apparently a favorite, though, of Margeaux who helped so immensely with my novel, so at my gumbo party we hatched the plan to gather one Saturday when the semester was over for Tom, her husband, teaches at Tulane (though they live across the lake in Mandeville,) and my other oft-mentioned writer friend, Daren, teaches at LSU. This plan came to fruition on a Saturday in the middle of the month as we gathered in my kitchen around a pot of simmering pork-infused legumes, sipping wine and beer and sharing our literary woes. There is something casual and inviting about huddling in the kitchen while food cooks, and conversation seems to flow just a little more easily; thus, we didn't retire to the dining room with our bowls of steaming goodness until well after dark.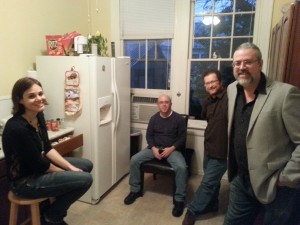 The original plan had been to go see friend Robin Barnes sing at a local hotel lounge after dinner, but babysitting (I hear) is a rare commodity, and everyone's children tagged along so we opted to stay in. Daren's daughter, Claira, spent the day lost in pre-teen fantasy with Tom and Margeaux's daughter, Alicia, while Daren's son, Finn, kept himself entertained on my Macbook—apparently his natural state. Such youthful energy was a welcome addition, squeezing a little Christmas cheer from this well-entrenched Grinch, and nothing rejuvenates the soul like good wine and good conversation with good friends. The next morning I awoke with my spirit restored and vowed to get out of the house to re-fall in love with New Orleans.
LITERARY DAYDREAMS AND REVERENT BAWDINESS
I was flying to Boston on Friday and originally planned on holding off my wandering until later in the week, but by Tuesday afternoon I couldn't sit still and concentrate so I headed out on a long walk, cutting through Tulane's campus and catching the streetcar along St. Charles after nearly an hour of channeling my restlessness. Although driving is quicker, the streetcar is a better way to hook into the slow pulse of the Crescent City.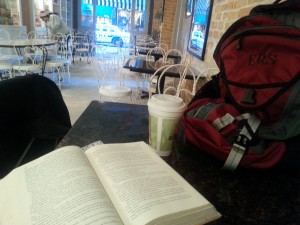 Upon arriving downtown, I had planned on doing some holiday shopping in the funky shops and galleries of Royal Street, but I'd spent close to two hours walking or standing on the bus and streetcar (as part of the streetcar line is still under repair), so as I plunged into the French Quarter, Café Beignet called to me as I passed. The warmth of rich café au lait in this quaint café too much to resist. As I settled into this rustic brick shop with a book in hand, I melted into one of those picturesque moments I envisioned when this blog was but a daydream.
After a luxurious book break, I wandered on down Royal Street, soaking in the lights and Christmas music while slipping into the role of tourist as I uncovered a few treasures to bring family during my travels. I didn't linger too long, however, for I wanted to check out the lights along Jackson Square that had captivated me last Christmas before attending the free classical Christmas concert in the historic St. Louis Cathedral.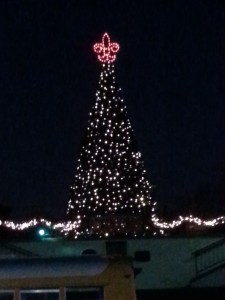 You wouldn't think a southern city so devoid of snow could invoke such a mystical holiday vibe, but there is a special feeling hovering in the air this time of year when the normally bawdy French Quarter suddenly grows soft and reverent. Just as I remembered, the lights sparkled and glistened in the fog of Jackson Square while across the road by the river an elegant Christmas trees topped with the fleur-de-lis stood sentry.
MEMORIES—REAL & IMAGINED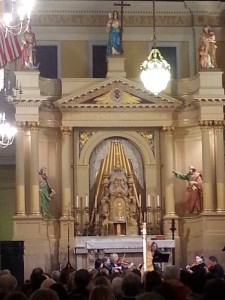 A few minutes before six I slid into one of the crowded benches inside Jackson Square's majestic, historic church. As I settled in, a small string ensemble introduced themselves and began to play. As much as I love music, I admit that I don't have sufficient appreciation for classical. It is lush and beautiful, yet I am drawn to the rough edged blues aesthetic where expression trumps precision; nevertheless, the ethereal cry of the violins, soon joined by a spry and dancing harp, mesmerized me and conjured a disjointed trickle of memories and images such as browsing Christmas shops filled tiny villages while such delicate melodies played overhead, exploring cottages in colonial Williamsburg decorated with apples, pine, and popcorn, and crowding near roaring hearths with spiced cider in hand. It was hard to distinguish memory from fantasy, so I embraced it all as part of my past—real or imagined.
After this initial novelty wore off, I thumbed through the holiday city guide handed to me at the door, reading how area restaurants were offering Reveillon menus—traditional four-course holiday feasts. As the music wound down, I rushed around the corner to the Gumbo Shop, partly because their Catfish St. Peter caught my eye but mainly because it was the cheapest one listed!
TABLE FOR ONE, HOLD THE JUDGMENT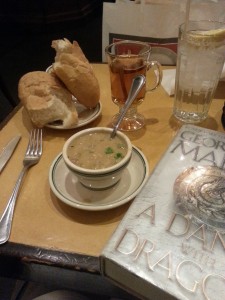 Having already chosen my four courses while sitting in St. Louis Cathedral, I rattled off my choices to the friendly waitress and ordered a hot spiced rum. Sometimes when you dine alone the waitresses seem extra nice, and I wonder if they are taking pity on you or are just forcing a grin so as not to provoke the crazy person dining alone. Either way, I've never been shy about going out solo, so settled back in with my book and enjoyed my tasty, steaming rum.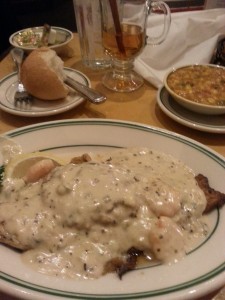 Oyster and artichoke soup came out first and was solid if not exceptional. The salad that followed was only romaine lettuce with a few flakes of carrot, but I quickly forgave the paucity of vegetation when I tasted the a surprisingly delicious blackberry and walnut  dressing. The main course of Catfish St. Peter exceeded expectation, consisting of grilled catfish topped with a crab cake and topped with a creole cream sauce. The fish was fresh and not overcooked, the crab cake pure and flavorful, and the cream sauce rich but not overbearing. I topped the meal off with a decent bread pudding, though the complimentary coffee with mulled rum that my smiling waitress brought with it was a delightful lagniappe.
PRESERVATION OF MORE THAN A HALL: REMINDING MYSELF TO REMIND MYSELF
Glowing from one of those meals that remind you why you love New Orleans, I walked down the block to Preservation Hall where I surprisingly hadn't visited since moving to town. I've been a longtime fan who's visited as a visitor and seen the Preservation Hall Jazz Band touring ensemble countless times in Virginia and Florida, yet this was the first time I took advantage of the opportunity to catch this legendary traditional jazz (not Dixieland) revolving-door ensemble in the spur of the moment. If you've never been, Preservation Hall opened in the sixties to preserve this old style jazz, and is just a cramped, rustic room with a few benches. The toe-tapping, soul-lifting, saints-marching melodies played nightly, though, have turned it into hallowed ground. Although the set was disappointingly short, the band delivered as always. This was more my style and I exited with a spring in my step.
Wandering around the corner to Bourbon Street, I passed Fritzel's Jazz Pub, one of the few jazz venues you'll  find on Bourbon, and doubled back. Preservation Hall had whetted my appetite from some old style jazz and I settled into this old-style European pub to chat with "Sweet Georgia Brown," visit "St. James Infirmary," and float "Up the Lazy River."
When the band took a break the spell was broken and I wanderd on to Lafitte's Blacksmith Shop, my usual French Quarter bar, to enjoy it's normal candlelight ambience enhanced by Christmas lights. It was around midnight by the time I wandered back down Bourbon with its lit up trees and lit up tourists to catch the streetcar. As we lurched homeward, I opened my book to keep my company, thinking of the cover of the recently reviewed Booklover's Guide to New Orleans. I hadn't had much to drink, but felt a warm glow in my gut and reminded myself that I needed to remind myself why I love this city more often.