WOOKIE PANTIES IN A FURRY WAD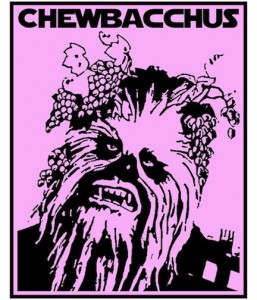 Last week I wrote about my meeting with the Krewe of Really Awesome Parodies (and subsequently caught some K.R.A.P. on Facebook—choose your descriptive verbs carefully.) Despite some good-natured ribbing (at least I hope it was good-natured!), the reaction from Chewbacchus was mostly positive, particular from my new K.R.A.P.ateer compatriots; and even if a Wookie or two got their intergalactic panties in a furry wad, at least they were paying attention!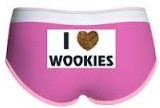 Having finally made a few inroads, I headed back out Wednesday night for a Chewbacchus 'open build' night where Krewe members gather to create throws (the beads and other freebies tossed out during parades), work on floats and contraptions, or simply drink beer and supervise. There seemed to be a few supervisors at the Den of Muses that night, but that's the beauty of NOLA: industry is respected but in no way expected.
MESSY LUMP OF GOOEY GOODNESS
On my way to Marigny for the 6:00 session I made a quick stop at the French Market to do a little last minute Christmas shopping. Alas, things were closing up by my 5:30 arrival, but I had already offered up my dollar to the meter so decided to revisit my old neighborhood of Nightmare on Decatur Street fame.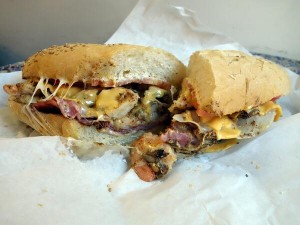 Sunday I had visited my friend Yoda Pat (who recommended I look into Chewbacchus before I even moved here) to watch the Saints debacle in St. Louis. As we jawed about food (a New Orleans tradition), I admitted that I never made it to Verdi Marte during my 3 months living around the corner from the tiny but famous grocery and deli. I'd been there before as a tourist, but plans to drop in when I lived nearby always evaporated into cooking at home or going out for realsies. Because of our conversation, though, Verdi Marte was on my brain, so I walked over and grabbed a six pack of beer, a bag of Zapp's Voodoo chips, and an All That Jazz—their junk po-boy with grilled shrimp, ham, turkey, cheese, mushrooms, tomatoes, and 'Wow Sauce.'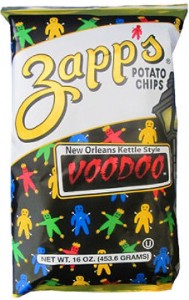 The smell of my po-boy tormented me as I resumed my trip to the Den, arriving right at six. Things hadn't swung into action so I waved at William and Overlord Ryan, who were holding a small meeting of key Intergalactic personnel, and took a seat to scarf down my dinner. Although my goal was to mingle all higher ambitions were forgotten as I tore into this messy, drippy, gooey monstrosity. I find it difficult to compare po-boys because I always wonder if it's fair to compare the simple fried seafood offering some spots specialize in to the messy, creative amalgams like at Verdi Marte (and my waist and wallet can't afford every option on every menu!) All I can say is that this was one of the best sandwiches I've ever sunk my teeth into, second in po-boy supremacy only to perhaps the BBQ Shrimp at Liuzza's by the Track.
And though I usually try to avoid potato chips, the Zapp's Voodoo I treated myself to were a divine accompaniment. New Orleans is like Texas and New York in that many natives assume everything from there is the best iteration that could possibly exist. Though overstated, this is true in some cases and Zapp's Voodoo chips are the best damn potato chips in the universe!
VILLAINOUS VERBIAGE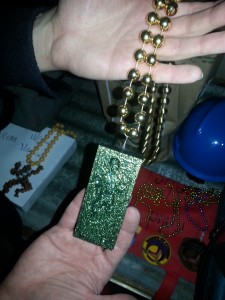 Having satiated my animalistic Wookie hunger, I walked away from my half-eaten po-boy (whispering sweet promises to return) to check out the sweeping, soaring melody of the Chewbacchus band at work. As they paused, I introduced myself to Doc, the bandleader (I think). After my last post he'd taken exception to my 'struggling to learn' verbiage and, always willing to take my medicine and get as well as I give, I presented myself for penance. He admitted he'd just been ragging on the post but was good-humored about the whole thing. And, to be fair, the theme was coming together nicely, whereas longtime blog readers will remember that my guitar skills are so impressive that when I briefly lived across the street from John Fohl his dog would  drown me out barking when I'd sit on the porch and play!
DARTH ESQUIRE SAYS: DON'T DRINK & SCISSOR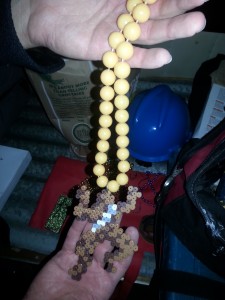 As I wandered back over to the shop, Red Shirt William came over to say hello, showing me some impressive examples of throws such as a Han Solo in carbonite and a dancing Wookie made with perler beads (which I had never heard of!) By this time Chrissy had arrived, as well, and set me and a couple of other K.R.A.P.ers to work cutting up burlap sacks for bandoliers—the sash Chewbacca wears across his chest—to throw during the parade. I grabbed a pair of scissors and immediately started snipping, but my lack of any practical skills became readily apparent. Although I'd just opened my second beer, I cut a line that looked like I was trying to keep it straight at a DUI checkpoint after an all night bender. I decided to fold the burlap and cut along the crease. Yeesh, Napoleon. I need some skills!
As we cut, I chatted with Chrissy and learned that she was tour manage for Galactic and previously (and shortly) for Cowboy Mouth. These are two of my favorite NOLA (or anywhere) bands, and so I passed time pumping her for stories. Although her scintillating tales of the rock-n-roll lifestyle could turn the city upside down, a Wookie never tells. (Though he may exaggerate.) Really, though, it was interesting to hear a band's perspective on venues such as the new Civic here in town or Freebird Live! in Jacksonville where Galactic plays every January. It's a different view from the other side.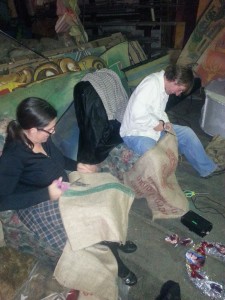 I also had a chance to chat a bit more with Overlord Brett, who apparently came across as the Darth Vader of my last post. He laughed it off, though, saying busting each others balls was part of Chewbacchus (though I wouldn't recommend trying on a real Wookie!) As we chatted, I learned he was not a founding  Overlord but attended the first open build for 2011's initial parade and has been involved ever since. Later Kirah and Ryan told me Brett had super-nerd stores of knowledge so when in the second year they realized they needed help running things, Brett was the obvious choice due to his dedication, knowledge, and legal expertise—Brett is an attorney. Which means there's some truth to that Darth Vader shit!
THE (OVER)LORD SAID: IT SHALT BE CALLED CHEWBACCHUS. AND IT WAS GOOD.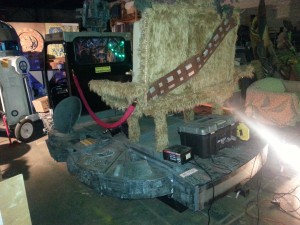 As I chatted with Overlord Ryan, having grown bored with scissors, he was working on a fire-breathing contraption that will have Tokyo quaking in its boots. Kirah, who was supervising, also joined in and I quizzed them about the Krewe's formation. Kirah said that in 2010 she had a visitor in town who, after the Bacchus parade, said he enjoyed it but expected there to be more cosplay (costume play) and nerdy contraptions involved in Mardi Gras. "If that were the case," Kirah quipped, "it'd be called Chew-Bacchus!" Genius!
A few months later she was talking to her friend Ryan, a welding artist, at Saturn Bar. She knew he had a hobby of making sci-fi contractions for comicon and the like, and as they exchanged Mardi Gras ideas and opinions Kirah looked at him and said, "I have one word for you: Chewbacchus." Ryan's eyes lit up and what had been offered perhaps in jest became an instant reality. Once they announced their new organization membership instantly mushroomed, with several hundred nerd-tabulous revelers participating the first year. Per Darth Brett, Esq. they're expecting 800 to 1000 this year.
Rock on nerds!
EPISODE VI: RETURN OF THE GEEK GUY
As I wandered the shop I stopped to admire a golf cart on a Millennium Falcon base, overheard a dozen Dr. Who references, and laughed at Kirah admitting to coming out of the nerd and alien closets. (I applaud her courage and hope the planet is ready…I'd hate to see her locked away in District 9!)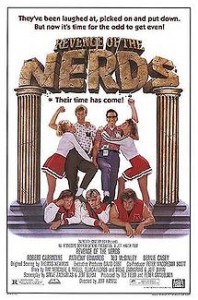 I've often written that I love New Orleans for its willingness and compulsion to collaborate, participate, create, and connect. It's unlike any other place I've ever been. Chewbacchus takes this to a new level, incorporating a trend that I'm pleased to see sweeping the nation as a whole. As I grew up a shy, quiet, sci-fi obsessed kid who didn't realize he was bigger than the other kids on the playground (Literally—no one told me. How was I to know?!), I was teased and taunted with geek and nerd labels. In the information age, though, brain rules brawn and nerd culture has come to the forefront. Kirah is not alone in coming out of the nerd closet (and anyone who wants to come out flamboyantly can always enter the Chewbacchus annual fashion show in January: Set Your Phasers to Stunning!). The Revenge of the Nerds is now absolute. The Empire of the Jock is waning. Geeks rule. All Hail the Sacred Drunken Wookie!