THE WEEK BEFORE THE NIGHT BEFORE CHRISTMAS (AND ALL THROUGH THE MARIGNY)
The Tuesday before Christmas Eve Tuesday I'd set out like a Hobbit on an unexpected journey to rekindle my holiday cheer and reconnect with New Orleans. I'd originally planned to do this meandering the following day before the Intergalactic Krewe of Chewbacchus open build session at the Den of Muses, as written about last week, but having already found my inspiration I didn't feel the need to arrive downtown early; however, when things wrapped up around 9pm I once again caved to my wanderlust.
One of the joys of my summer in the French Quarter was living two blocks away from Frenchmen Street, though since summer is off-season I wasn't able to fully take advantage of it. Now I live all the way across town and seldom make it over there. Thus, with the Den of Muses around the corner in Marigny, I couldn't pass up the opportunity to visit.
RON WHITE'S JAZZ DOPPELGANGER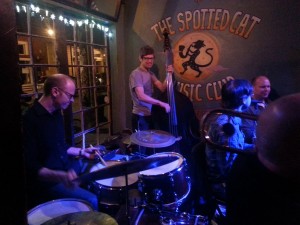 As I approached this bustling hub of music clubs destined to someday be recalled with the same legendary reverence as spots like Storyville, it seemed odd arriving from inside Marigny rather than crossing over from the French Quarter. Thus The Spotted Cat is the is the last club I check out, being at the 'end' of the street, but tonight it was my first stop. This small club specializes in traditional jazz and roots combos and I rarely if ever have seen a bad band there. If this locale oft featured on Tremé were at the start of the street I likely would have rarely made it further, as nearly proved that case that night.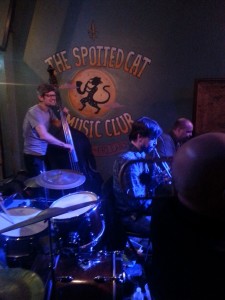 As I stepped inside, the place was remarkably packed for a Wednesday night a week before Christmas and I almost retreated. The crowd was going wild, though, and the energy radiating from the small stage was immediately palpable. I spotted an abandoned doorman's stool right beside the stage and settled into the only free spot I could find.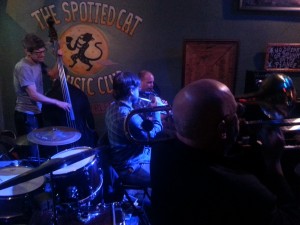 As the small ensemble burned though high-octane trad jazz, I had to lean out the door and read the whiteboard to learn their name: Orleans 6. Although I know nothing about them, they struck me one of those revolving door combos formed to give sidemen in other bands some extra work, though they gelled together remarkably well. The audience was even more impressed than I was, cheering them on as they traded raucous solos. Although every member was an accomplished musician, a gray-haired man in a sports coat puffing a fat cigar that looked a little like Ron White of Blue Collar Comedy fame with a similar devil-may-care demeanor was flying across the keys with a spry and furious ease. It was one of the better pyrotechnic ivory displays I've seen in town, and if I see this fleet fingered Ron White on the keys again anytime soon, I'll most certainly find myself planted on a stool again.
WALTZING WITH THE WOLFMAN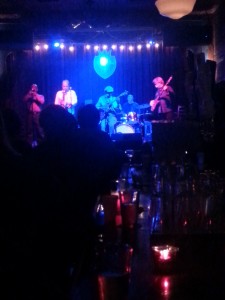 After the Orleans 6 wound up their set I wandered across the road and two doors down to d.b.a. Early on in My Year of Mardi Gras I wrote about a magical 'typical' Wednesday I spent on Frenchmen Street, centering on my plan to catch Walter 'Wolfman' Washington during this standing Wednesday night gig at this soon-to-be-legendary club. As I settled on a stool ten months later, Washington seemed a bit tired and subdued. As he paused to catch his breath, his bandleader explained that he'd recently been under the weather, then went on to relate how he'd recently calculated they were well into the thousands for appearances at this weekly gig. With that kind of consistency, the Roadmasters possess enough chops to weather an ailing frontman, and they carried the show to another fine performance with a little help from their friends sitting in on guitar and vocals. In between, Washington still found it in him to rise to the occasion. So if you're in town on a Wednesday night, you can't go wrong waltzing with the Wolfman.
THE JESTER KING OF TREME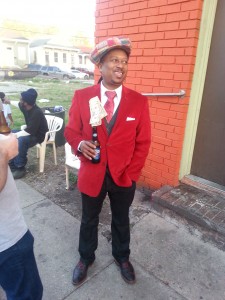 Thursday my focus was on completing chores before flying out Friday, but as I took a blogging break that morning to check Facebook I noticed that Kermit Ruffins had posted an invitation to his 4:30 birthday party at his Treme Speakeasy. It sounded like the kind of spontaneous adventure I'd moved to town for, but I had mindless errands to run and felt I should try to be productive that evening after two nights of celebration. As I found myself in line at the post office at 4:00, however, my good intentions quickly eroded beneath the holiday crowds. Stamps could wait. I handed a letter for my LA OT licensure to the clerk and hopped in my truck, fighting rush hour traffic to Basin Street on the edge of the now famous Tremé neighborhood.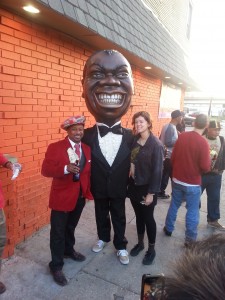 Four-thirty seemed early for a party, but as I crossed the road from my parking spot a crowd had already formed around a flaming grill where oysters were being offered up raw or chargrilled. Kermit was holding court nearby in a red jacket and colorful golf hat only he could pull off, and I am always amazed at the easygoing swagger of Ruffins. He rules New Orleans like a king while smiling and joking like a jester. He's so happy and good-natured it would be easy to underestimate him, but the man is an encyclopedia of American music and builder of a local empire. He disarms everyone around him with his humor, thereby recruiting them as loyal subjects.
Nearby, someone was dressed in a giant Louis Armstrong head taking pictures with visitors, and it struck me as the perfect tribute. Kermit is the true heir to King Louis, having figured out how to similarly package staggering genius with a universally loved persona, thus making the complexity of jazz an accessible expression of joy for the people rather than an intellectual exercise for a devoted few.
FULL BELLY, CLEAR CONSCIENCE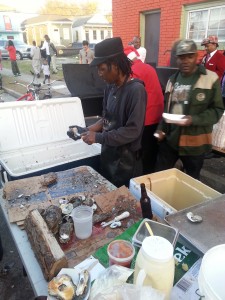 I soon headed inside to buy a beer at the bar, but the jazz band was still setting up so I headed back outside where I realized the oysters were on the house. Shyly at first, I nabbed a few raw on the half shell—some as big as the palm of my hands—eventually braving the long line for the excellent chargrilled oysters the crowd was jostling for. I felt a little, though, like I was crashing the party, but Kermit had posted the invitation and, besides, I've bought most of his CDs and admission to countless shows, so I gradually warmed up to the gracious giving and tipped generously.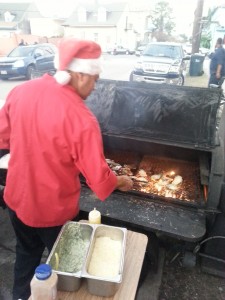 By the time I made it back inside, I had no qualms enjoying the mini po-boys being carved from several racks of beef that had been stuffed with garlic and roasted for the occasion. The band had started up as I lingered at the table chatting with Kermit's mother, and as I subtly danced in the corner my belly was full and conscience clear!
HOW THE GRINCH SOULED CHRISTMAS
The band was set up in front of the same tree topped with one of Kermit's red hats where I'd seen him play last Christmas. It was his birthday, though, so he was taking the night off. An excellent band was playing in his stead, though, lead by a swing singer with one of those girlish, twenties-style high-pitched voices ala Squirrel Nut Zippers that I find so enchanting. (They also featured the same trumpet player from The Spotted Cat the night before.) Mixing in holiday standards with old style jazz, they had the crowd swaying and cheering and even coaxed the birthday boy on stage for a couple of duets.
As the evening wore on, Kermit changed into a Hugh Heffner worthy robe and danced with his new bride as the elated crowd cheered him on. Pure joy radiated from every corner. Per the local tradition, countless dollar bills were pinned to his shirt and I added to the collection, thanking him for making the coolest city in America even cooler.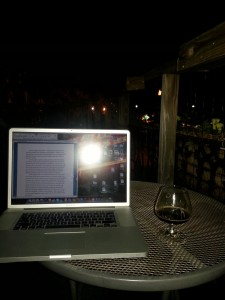 Last Christmas I'd visited with a dear friend and we'd spent a magical evening in Kermit's Treme Speakeasy listening to him play "Christmas Time Is Here" from a Charlie Brown Christmas in front of that tree as we feasted on some of the best red beans, catfish, and fried chicken we'd ever had is perhaps the best Christmas memory I've had in a decade, for the holiday had lost most of its luster in my 30's, and once again, Kermit managed to make this Grinch's heart grow just a size or two. I had dropped by only for an hour or two  but ended up staying until things wound down. It was approaching 10pm as I drove away and I didn't want to lose that magic, so stopped the Avenue Pub, found a perch on their balcony overlooking St. Charles Avenue, turned on my computer, and attempted to convert my feelings into words as the streetcars passed below. All the while Louis Armstrong ran through my mind, singing, "It's Christmastime in New Orleans . . ."
Merry Christmas Ya'll!