BLOGGING BY FIRELIGHT
Tonight, after three longs days of driving, I'm spending my second consecutive night in Hannibal, Missouri, having merely traveled the two miles to town and back today. Taking the day off to bask in history and walk in the footsteps of—in my opinion—America's greatest writer feels luxurious after my whirlwind trek from Lake Itasca.
As I write these words I'm basking in a warm, orange glow: my first ever act of blogging by firelight. I'm camped just a few hundred yards from the cavern where Samuel Clemens got lost as a child, an incident that he would recreate as central plot point in his breakthrough novel: The Adventures of Tom Sawyer.
Blogging by a campfire may seem like an odd juxtaposition of the elemental and artificial, but it feels rather romantic. I'd like to think Mark Twain would approve.
BAD LUCK=DIVINE PROVIDENCE
I'd arrived in Hannibal late in the afternoon on the Fourth of July after spending the previous night in Iowa, too rushed to relax as my idealistic visions of cooking dinner on a scenic bluff gave way to hurriedly pitching my tent while daylight faded as I munched on veggies and lunch meat. I knew I'd have the entire next day to explore Hannibal, though, so that afternoon allowed myself to relax before heading into town for the fireworks.
I'd been worried that the campground attached to the Mark Twain Cave Complex would be an ugly tourist trap, but the sites were open, grassy, and attractive and the grounds and facilities well maintained and clean. Plus, $20 a night during a holiday weekend sure beat four times that for a grimy motel. There was certainly no seclusion in the wide-open field with a smattering of trees, but this merely promoted a social atmosphere and I'd get to know my neighbors to either side and across the road before I broke camp. My bad luck at being turned away from the state park twenty-five miles to the north now seemed like a divine act of providence.
A TRULY UNIQUE & UNREPLICATED ACT
I am of the ilk that finds cooking sublimely fulfilling when you have the time to relax and do it right—and cooking outdoors is a whole new level of bliss. Thus, once my tent was erected and the site organized (okay, so I'm slightly anal), I unpacked my Coleman stove and began preparing a feast worthy of the nation's birth, improvising a concoction that would, quite appropriately, span America both geographically and socio-economically.
Before leaving New Orleans I'd prepared chicken in a West Virginia ramp marinade (ramps are Appalachian wild onions that grow on mountainsides only in early spring), and now browned the portion I hadn't used in Itasca on the camp stove. Next I chopped and added some Cajun trinity (onion, celery, & green pepper), dumped in a can of tomatoes, and sprinkled on some Tony Chachere's Cajun Seasoning. To transform this stewed chicken into a meal, as a final touch I added the remainders of a partially used bag of quinoa I'd brought as an afterthought. Once the quinoa absorbed all the juices (and some added water) it puffed up into a hearty, scrumptious, and singularly unique camp casserole.
Hillbilly meets Cajun meets trendy west coast yuppie grain (seed, actually) that is grown exclusively in South America. There are few times in life when a person performs a theretofore unperformed and likely never to be replicated act, yet I felt confident that this dish had never been made before and never will again if mankind survives another ten thousand years.
FODDER FOR THE IMAGINATION OR A UTILITARIAN INDUSTURIAL BARRIER?
After dinner I relaxed with a book, cigar, and a cocktail. Before departing Itasca, a couple of Canadians had offered Jesse and me some Bud Lights (which I gave away) and a bottle of Mango Peach Vodka that they couldn't bring across the border. As I now mixed the vodka with club soda, my paranoid side worried it would be laced and I'd promptly begin seeing dancing mushrooms. Instead, my tolerance merely proved to paltry since giving up carbs and—largely—alcohol. This, combined with the cigar (for I am by no means a regular smoker) left my head spinning!
Once the meadow quit rotating, I drove into Hannibal where they were celebrating Tom Sawyer Days over Fourth of July weekend. I feared parking would be a nightmare but found spot just a few blocks from the levy where people were already gathered even though the fireworks wouldn't be shot from a barge on the river this year due to flooding.
All I knew about this celebration was that they would paint the sky at nightfall like everywhere else in the nation. I did pass a traveling carnival that when I returned to my truck that night would be brightly lit with whirling rides, flashing midway games, and luminescent trailers plying funnel cakes and cotton candy. Earlier–I'd learn the next day–they had held their annual pageant anointing the official Tom Sawyer and Becky Thatcher costume interpreters for the year from the ranks of local middle schoolers who make their own costumes. I'd also miss the jumping frog contest (kids catch their own) and wheelbarrow races as I explored the museum complex. That evening, though, I was content to wander the streets of this historic town in the waning hours of daylight.
First, though, I pushed through the crowd on the levy to glimpse the waterfront that had captivated the imagination of a young Samuel Clemens. Instead of romantic, bustling wharf, I found a utilitarian and industrial barrier that was now inundated with muddy, brown water. Towards Lover's Leap, the legendary bluff that marks the town's south border (and where the fireworks would be shot later), there was a small park but its trees and picnic tables were also underwater. I stood for a moment shaking my head. It was only Friday night and yet the weather service warning I'd heard that morning in Iowa predicted the river wouldn't crest until Tuesday afternoon.
The next day I'd call to book a riverboat cruise but the automatic message informed that tours were cancelled until at least July 14th because of rising water!
Tom Sawyer, young Samuel Clemens's alter ego, loved the circus and was fascianted by modern diversions, so I believe Mark Twain would approve of this anachronistic spectacle!
THE HOME OF MARK TWAIN FRIED CHICKEN (AND OTHER SINS AGAINST LITERATURE)
As I wandered along Main Street, I worried that this mecca I'd longed to visit for so many years would turn out to be a disappointing tourist trap. In truth, Hannibal and the Mississippi River as Mark Twain presented them were already a memory when he wrote his masterworks, mostly while living in Connecticut. In many ways, this world never existed at all except in the romantic and vivid imagination of a young Samuel Clemens, who had a knack for seeing beauty and wonder in the ugly, mundane, and even violent. The most polite nickname for the Mississippi predating Twain was The Wicked River. Where Twain saw adventure and the triumph of the human spirit, earlier writers saw danger and uncertainty that bread coarse and cruel men. (Most of the women in the territory were prostitutes.) Yes, his works vividly describe the violence, cruelty, injustice, indifference, drunkenness, debauchery, foreboding wildness, and absolute lawlessness of the Mississippi frontier, yet it's all filtered through the romantic and awestruck wonder of youth.
Furthermore, by the time Twain 'invented' the river of our collective imagination it had already been tamed and commodified. Then, with the rise of the industrial age, this wild river became the carefully controlled and heavily polluted drainage ditch of the heartland. Therefore, I had coming seeking something that perhaps only existed for a few magic years in the eyes of a single mischievous boy with a romantic eye and uncanny ear for language. I had come seeking something that perhaps could never be found.
The plethora of tacky shops that instantly leapt out at me, trading not only on Twain's name but those of his most beloved characters, caused my twinge of trepidation to rise as swiftly as the river just a hundred yards away. Shops full of cheap trinkets and antiques that often bordered on junk were named after Tom, Huck, Aunt Polly, and even Puddin'head Wilson. Becky Thatcher had an ice cream parlor. Injun Joe a campground. Twain himself had—to name a few—a cinema, a boulevard, several gift shops, a riverboat, a lighthouse, and a memorial bridge. Such crass commercialization was a favorite target of Twain, and his first major work, The Innocents Abroad, launched him to fame by lampooning the crassness of American tourists as he joined an excursion to Europe and the Holy Land. I can't imagine what he would make of this mess.
However, when I passed the Mark Twain diner—"Home of Mark Twain Fried Chicken"—I had to chuckle. I'd give $100 to hear what Mark Twain would say about that!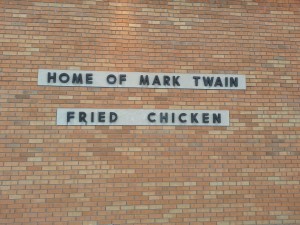 LEMONADE STAND SALVATION (ROSE COLORED FUNHOUSE-MIRRORED GLASSES)
As I ducked in a few souvenir shops and topped the levy from time to time (hoping in vain to find a wistful view of the river), I tried to immerse myself in history and walk in the footsteps of one of my all-time heroes. Main Street itself runs for only about a mile between two bluffs, and the one opposite Lover's Leap had a picturesque memorial lighthouse dedicated for Twain's 100th birthday near its summit and a statue of  Tom & Huck at its base.
After pausing for a selfie, I began climbing the steep stairs, passing crowds gathered for the show on the grassy ledge where the road and bridge once crossed before being converted into a park. The long climb cleared my head, and the views of the river began to erode my cynicism. The shores were still wild and green as the muddy swatch snaked to the horizon, and just south of town a large island divided the flow—perhaps the one Tom and Huck made their pirate fortress?
A residential neighborhood lay atop the bluff were more families were gathered awaiting dusk. It was an all-American vision of a backyard barbecue on the Fourth, complete with a child's lemonade stand that looked like Lucy's Advice & Psychiatry booth from the Peanuts cartoons. Charles Shultz, like Twain, is a lifelong idol for his genius to stir my inner child while addressing grownup concerns, and I laughed heartily at the note on the abandoned booth, causing the families to all pause and size me up like a madman.
"Closed: Be Back Soon" said the crayon sign hastily taped over the menu. I don't know why it struck me as so funny, but I knew Charles Schulz would approve, just as I knew that Mark Twain would ironically delight in having fried chicken named in his honor. As I soaked in the lovely views of the romantic river below, I realized that somewhere between the absurd capitalism of a greasy diner and the cutely budding capitalism of this unexpected lemonade stand what I was seeking was all around me. I just had to look at it all through the rose-colored funhouse-mirrored glasses that Twain would wear if he were alive today.
VERNACULAR OF A NATION COALESCING BEFORE THEIR VERY EYES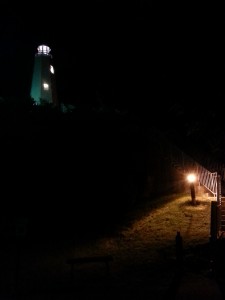 After my lemonade stand salvation, I took another lap of Main Street—it's that short—viewing the stretch of corny commerce with softened eyes. There were only three bars in town, but I was surprised at how riotously packed they were. I considered piling into one, but instead climbed back to the lighthouse to catch the view at dusk (and because it was the only exercise I'd gotten in three days!) before settling on the rock wall above the Tom & Huck statue.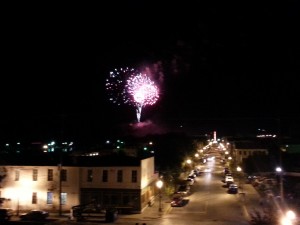 During my drive I had been listening to The Adventures of Huckleberry Finn (the Great American Novel, in my opinion) on audio book, and as I sat with my feet dangling over Huck's head I decided that feasting on Twain's language—sweeter, juicier, and more American than an overripe watermelon—would be a more fitting tribute than any patriotic soundtrack I could assemble on my IPod.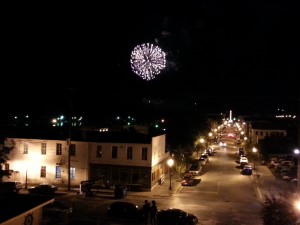 The lights of town now twinkled below, concealing modern embellishment in shadow and thus allowing me to ride the language into the past and see the streets as Twain saw them. As I journey backwards, bursts of red, white, and blue split open the sky in celebration of a nation whose vernacular a boy from those streets captured like no one ever had (or has since).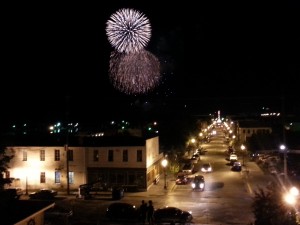 In fact, Twain's language was so uniquely American that the poetic cadence was often lost on contemporary critics still trying to carve an American art from from the stone of European tradition. They dismissed him as course and inartistic Yet they were too blind by bias to see the identity and vernacular of America coalescing before their very eyes. Over a hundred years later this rich and timeless language whispered in my ear as a monument to the American spirit.
When the phosphorescent painting finally faded from the sky the crowd dispersed, but I had found my sweet spot and sat alone dangling feet over the hillside like it was Huck Finn's rafts and continued following him on his journey down the river while watching for ghosts floating in and out of the shadows between the hazy streetlamps below. Occasionally, an enthusiast would set off a rogue round of fireworks, and it felt like a show staged exclusively for me. Of all the Fourth of July's I've ever spent, I've never felt so connected to the essence of what makes this nation great.