WE'RE NOT IN DISNEYLAND ANYMORE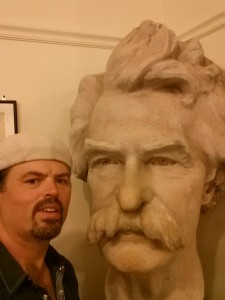 "[My parent's] first crop of children was born [in Tennessee]. I was postponed–postponed to Missouri. Missouri was an unknown state and needed new attractions."
The Fourth of July had been beautiful, but I exited my tent on the 5th to gray, foreboding skies. (Side note: After a lifetime of camping I've concluded there is no graceful way to dismount a tent!) The forecast had promised no rain until Sunday, so I clung to hope as I cooked breakfast and headed into town.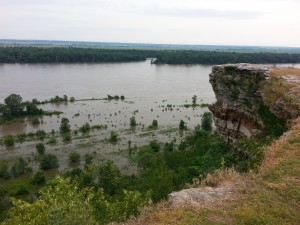 I drove up Lover's Leap on my way in to view Hannibal from opposite my perch last night. The widening river snaked between the rolling hills below—shrouded in a gray haze—and faded into the horizon. It was readily apparent that the minor flooding of the previous day had worsened overnight.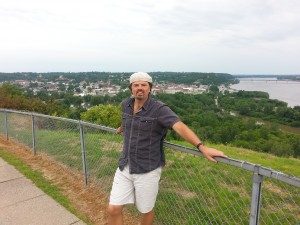 Once downtown I headed straight for the Mark Twain Museum, a half dozen preserved buildings along a cobblestone block on the north end of Main Street and a modern facility further downtown. The tour starts at Mark Twain's childhood home, complete with a white picket fence that claimed to be the very one Tom Sawyer rented out. I'd been incredulous the previous evening, but the museum did a good job of using artifacts and quotes from Twain's autobiography to illustrate how Tom Sawyer's adventures were based on the childhood mischief of a young Samuel Clemens and how other characters were unapologetically drawn from real people Clemens knew.
"I don't know anything that mars good literature so completely as too much truth. Facts contain a great deal of poetry, but you can't use too many of them without damaging your literature."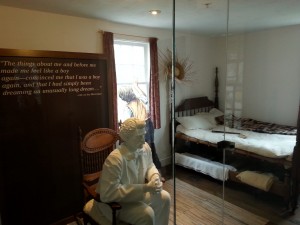 The house up the hill really was the childhood home of 'Becky Thatcher,' and Twain remained friends with her (I forget her actual name) until death. The shack further on truly was the home of the street urchin who inspired Huckleberry Finn. These weren't hokey Disneyland fabrications; these structures were in fact accurate historic preservations that once housed the quirky souls Mark Twain immortalized.
HANDIER TO TAKE IT
"Be good and you will be lonesome."
Because writers can be a bit introverted, I always assumed Tom Sawyer was a composite of kids Mark Twain observed and admired as a child. As I made my way through the exhibits I was both shocked and deeply satisfied to learn that Tom's greatest adventures had been inspired by the writer's own life. Much like his most beloved character, Twain had been a fast talking rapscallion who was attracted to trouble yet skilled at talking his way out of it.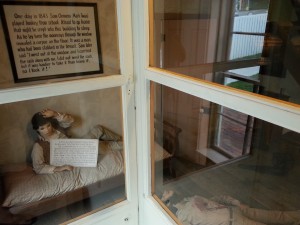 Twain's father, a failure in business, was still highly respected and town constable, and you exit the Twain home to the constable's office across the road. Although you can only view the interior through a couple of widows, the exhibit highlights a story Twain was fond of telling involving a fright he received as a young boy. One day after skipping school, young Sam snuck into his father's office to sleep and avoid the whipping he'd receive at home. Unbeknownst to him, that day had seen the first murder in Hannibal's history—a stabbing between two friends/farmers arguing over a plow—and the body had been stored in the back room until a coroner could be fetched.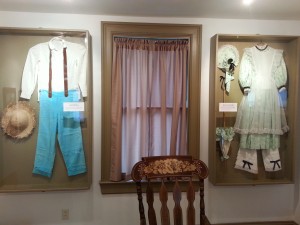 As Sam curled up on the bunk he noticed a dark shape on the floor straight out of a young boy's nightmares. The moon slowly slid across the window, first illuminating a hand and moving up the arm, finally reaching the dead man's face. Sam faced the wall in terror, turning back to sneak glimpses until the light finally reached the bloody knife. He promptly  rushed out the window taking the sash with him.
"I didn't need the sash, but it was handier to take it than to leave it."
THE LOGIC OF A CHILD SHAMES A NATION
"Go to Heaven for the climate, Hell for the company."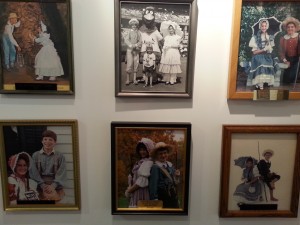 Just up from the Constable's office sat the 'Becky Thatcher' house featuring framed photos of Tom & Becky costume interpreters through the decades and the text of a radio address 'Becky' gave after Twain's death. Although she admitted that young Samuel Clemens was charming and mischievous just like Tom Sawyer, she admitted that no one had a notion he'd grow to be a great writer.
Further up the hill sat the home of the real Huckleberry Finn—a simple, poorly-furnished two-room shack (yet you wouldn't expect anything more.) On the bare walls hung plaques featuring quotes recalling how children were told to stay away from the uncouth boy who lived here…which of course made him an irresistible hero. 'Huck' also had an older brother who, despite being dirt poor, hid a runaway slave on an island outside of town, ignoring a hefty reward for his capture to sneak food to him until he was able to move on. This act of selfless humanity by someone shunned by polite society would one day inspire Twain to write his masterwork: The Adventures of Huckleberry Finn.
In the novel, Huck runs away with the slave Jim and can't bring himself to do 'the right thing' and turn him in and prevent him from 'stealing' his children from their 'rightful owners.' Huck sees a human being where society merely  sees property, and thus is tormented by his 'sin.' In the end, Huck risks hellfire rather than betray his friend as 'moral' society dictates; thus, through a child's simple logic Twain shamed a nation.
LITERALLY THE SHIRTS OFF THEIR BACKS
"To succeed in life you need two things: igorance and confidence."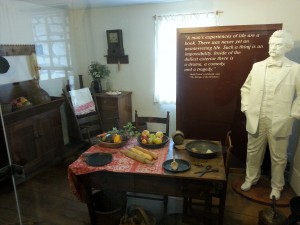 Sometimes I wonder why it's such a thrill to walk in the footsteps of our ancestors though the world we're seeing is not the world they knew, yet the hours I spent in Twain's world stirred something in my soul, connecting me to the past while firmly grounding me in the present. Feeling so emboldened, the sudden drizzling rain failed to dampen my spirits as I rushed to the museum downtown.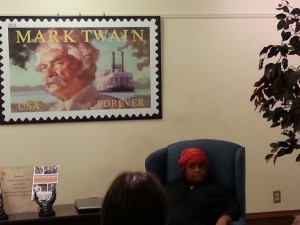 The downstairs of this modern facility consisted of multi-media summaries of Tom Sawyer, Huckleberry Finn, A Connecticut Yankee in King Arthur's Court, and Roughing It. While the videos and animatronics would be great for kids, it was a bit It's A Small World for me.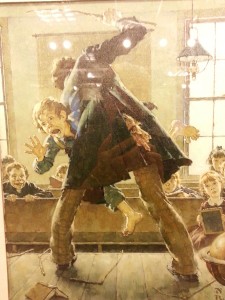 Upstairs, though, I eagerly waded into the collection of relics from Twain's riverboat days and preserved photos and articles spanning his life. In the lecture hall a historical interpreter shared a story that Mark Twain recorded as told to him by a freed slave who during the Civil War through happenstance ran into one of the sons who had been torn from her arms; she was cooking for the troops and he was serving in the union army when a distinguishing birthmark gave him away.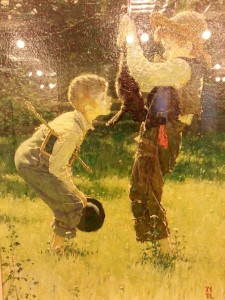 The highlight of the museum, however, was the original works of Norman Rockwell created for special illustrated versions of Tom Sawyer and Huckleberry Finn. Unlike previous artists, Rockwell journeyed to Hannibal to study the home of Twain and his childhood companions. To get the clothing correct, he even approached local farmers and paid handsomely to literally take the worn and faded shirts from their backs.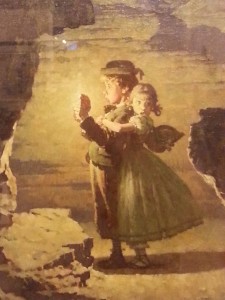 Rockwell also visited Mark Twain Cave where he made several studies. Although camping there I suspected this was just a random cavern being exploited for its proximity (for everything else in the area is named after Twain), but Twain not only frequently explored this web of underground passages, but had gotten lost there, just like Tom and Becky.
FORBIDDEN SUBTERRANEAN FRUIT
"Get your facts first and then you can distory them as you please."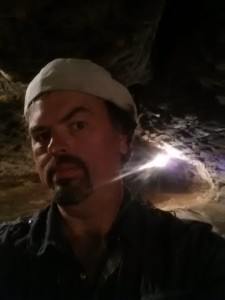 Bleary eyed from hungrily lapping up Twain-icana, I headed back out in the rain for a late lunch at the quaint Planter's Café before sinking into the rustic couches of the excellent Java Jive Café. (How could a writer not write when he's visiting Mark Twain's hometown?!) I can't verify if the Java Jive is the oldest coffee house west of the Mississippi as it claims, but it's surely among the best; however, I couldn't stay long, for the last tour of the Mark Twain Cave departed at 7:00 and having realized its legitimacy (it's even included on the National Registry of Historic Places) my visit wouldn't be complete without it.
(Besides, I too was fascinated with caves growing up, and some of my best memories of college and grad school were of learning about a new uncharted cave and immediately rushing off with flashlights and backpacks!)
HOW NOT TO BURY YOUR DAUGHTER
"It is better to keep your mouth closed and let people think you are a fool than to open it and remove all doubt."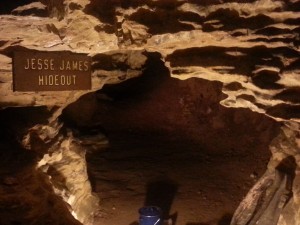 Like in most commercial caverns, our tour began with an explanation of the geological forces that led to its formation (though if you're a Biblical literalist, tour guide of a geological wonder may not be your best job choice, as our guide punctuated every scientific nugget with a snide "Or so geologists claim….") The history, though, was they reason we were all there and it didn't disappoint.
Although we only traversed a simple loop, the passages crisscrossed constantly like a spider web, making it easy to imagine how young Samuel Clemens got lost. And while my favorite stops were of course the chamber where Rockwell painted his study and the room whose ceiling had fissures in the shape of an X and a ? like Injun Joe used to mark his buried treasure in Tom Sawyer, I was surprised to learn that Jesse James once used this cave as a hideout after robbing a train nearby. Although the section where he'd signed the wall was roped off, our guide assured us multiple handwriting experts had verified his signature.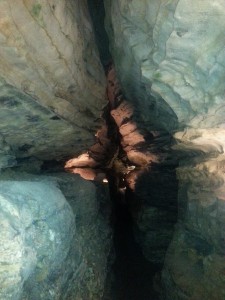 The weirdest incident, though, involved a doctor who believed a human being could be petrified underground. After being turned down by every grieving family in town, an opportunity presented itself when his fourteen-year-old daughter died suddenly. Later, when children first stumbled onto the copper container full of a homemade chemical stew and a preserved boy they were terrified, but soon returned with friend and siblings to pass on the fright for a laugh. When kids started pulling the girl up by the hair and shining a light in her face to punctuate ghost stories, though, adults finally caught wind and petitioned to have the body removed!
So it may not have been the biggest or most fascinating cavern I've ever visited, but the history was hard to beat!
A BREATH OF LITERARY FRESH AIR (CAMPFIRE TALES & TIKI IDOLS)
"If you tell the truth, you don't have to remember anything."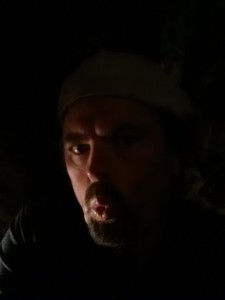 As I reflected upon my weekend by the fire that night, my neighbor joined me with a few of his boys. It was quickly apparent we shared adventuresome spirits. As we swapped life stories his unfolded like a modern day Dickensian tale. Having grown up in a carnival family, he'd eventually bought the operation from his parents and travelled the nation until 9/11 when, at age 34, he felt called to join the Army Rangers. His three years of service included parachuting into Northern Iraq on nights so dark and removed from modern light pollution that the full Milky Way burst from the heavens in all its splendor like Huckleberry Finn described while floating down the Mississippi. Although his first marriage fell apart while he was oversees, he returned and soon remarried. Between adoptions and both marriage he now had ten children, and he and his wife had a successful gourmet coffee business that allowed them the flexibility to travel and nurture their adventurous souls.
When he joked, "We're kind of a Brady Bunch," I immediately shot back, "Well, tell your boys if they find a Tiki idol in the cave to leave it alone."
He shook his head in bewilderment. Apparently he hadn't seen that episode. Sigh.
I had intended to turn in early before another long drive, but my new friend was well-read and shared a similar philosophy of embracing life and finding a way to make things happen rather than finding excuses, so we wound up chatting until the last log of our combined stash flickered out in the wee morning hours.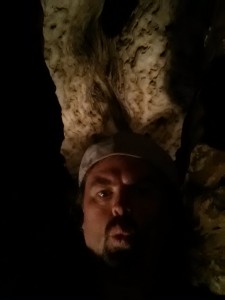 Not that I minded. Traveling alone, I was grateful for the company and the literary air I had been breathing the past two days had me in a nostalgic mood. What better waay to end a visit to a literary landmark than to sit by a fire and weave a few classic stories of your own?!
"The fear of death follows from the fear of life. A man who lives fully is prepared to die at any time."