FOLLOWING THE RIVER AGAIN (THEORETICALLY)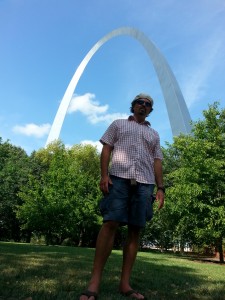 Although I stayed up late chatting with my neighbor, I was up early the next morning to meet an old friend, Matt Gregg, for the 1:00 Cardinals game in St. Louis. So after heading back to the Java Jive to book a room via their internet (any excuse for great coffee) I headed south along the river.
At least theoretically.
As I left town it was immediately clear that flooding had worsened overnight. After the second major detour around a flooded small town I steered away from the rising waters.
CASINO QUEEN: A MUSICAL LANDMARK (OR NOT)
Casino Queen / My God you're mean

I've been gambling like a fiend / On your tables so green

Casino Queen.
On their debut album, Wilco—a band with Midwestern roots—included a song called "Casino Queen." When I booked a hotel in Illinois (singer/songwriter Jeff Tweedy's home state) just across the river from the St. Louis Arch, I was shocked to learn that the Casino Queen was a real place.
Arriving just before noon, I relayed my surprise to the lady behind the desk, but she was unmoved. She hadn't heard of the song and didn't care if I was going to the 1:00 game and hanging out downtown afterwards—check in wasn't until 4:00.
Casino Queen. My God you're mean.
Shortly after I locked my luggage in storage, Matt arrived to join me on the free shuttle to the stadium. He was nervous about visiting notoriously rough East St. Louis, but I assured him there is no safer place on the planet than a casino. I figure if someone started scaring off customers and interfering with the mob and their money then 'my God you're mean' would be a gross understatement!
BEHIND ENEMY (THIRD BASE) LINES
As we boarded the shuttle, I felt out of place amongst the Cardinal fans even though I'd chickened out on wearing my Cubs gear. Matt, who grew up in Iowa, admitted he was a Cubs fan too as we caught up on a decade and a half of milestones while realizing that we hadn't seen each other since summer 1997. Now we were reunited behind enemy lines, lost in a sea of Cardinal red.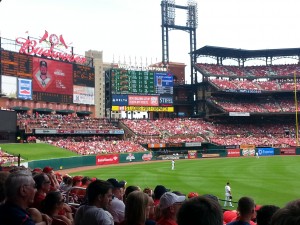 It wasn't our first foray into a strange land, though. During his first and my second summer at Camp Easter Seals-East in 1996, he, Jesse, and I were all dating girls from London who'd come to work for the summer, so for New Years 1997 we traveled overseas to see them. It was one of the best trips of my life, and I remember often feeling like I was in an MTV reality show: 3 American country boys (West Virginia, Iowa, and Minnesota) date 3 urban British girls. And hijinks certainly did ensue—we had a thousand starched Brits singing camp songs in Trafalgar Square in the waning minutes of 1996!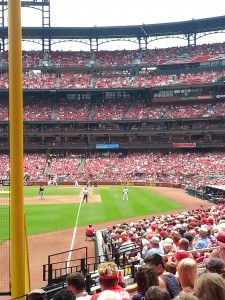 Alas, summer romance never lasts (especially overseas summer romance), but Matt is now married with two kids, having moved to St. Louis two years ago after over a decade in Portland working for Nike. Since I've spent the last decade artfully failing to get married and have kids we had a lot to catch up on, losing interest as the Cardinals quickly fell behind.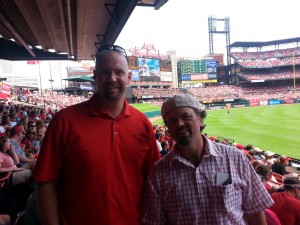 Still, it was a beautiful summer day and I'll visit any Major League ballpark, even if it means seeing the hated Cardinals. To tell the truth, I don't loath the Cardinals. I respect—and covet—their success (though I wouldn't mind seeing it wane a bit.) I actually have more of a viscerally hatred for the Marlins, who were delivering the drubbing, for I will never forget the 2003 NLCS.
The Cardinals finally made it interesting with a small rally in the bottom of the 9th, but it quickly petered out and I headed to the Arch feeling little satisfaction in the Cardinals loss since it meant a Marlins win.
Love is fickle but hate is forever.
BRILLIANT BRANDING & MAJESTIC JOURNEYS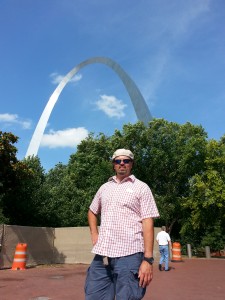 Without the Arch the St. Louis skyline would be forgettable, so as I eagerly posed beneath it I was struck with the brilliance of the branding, for I didn't even bother to tag my location when I uploaded the photo to Facebook. New York has the Statue of Liberty; San Francisco the Golden Gate Bridge; San Antonio the Alamo; Seattle the Space Needle. Such recognizable landmarks make a visit seem like an event. I couldn't help but wonder if my former and future adopted home of Jacksonville wouldn't benefit from investing in such an object. (And sorry, but the blue Main Street Bridge doesn't quite have national cache.)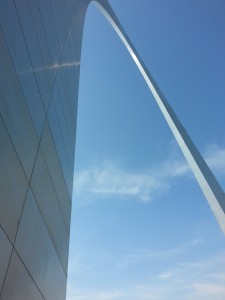 Many people may not realize, though, that the St. Louis Arch is a tribute to western expansion. (Funny, but I didn't see any Native Americans visiting!). Because the Missouri River enters the Mississippi just north of town (leading to the city's founding and prosperity), this was the starting point for the Lewis & Clark expedition, and an extensive exhibit on their journey is housed in the tunnels below, including an excellent film that costs a bit extra.
By the time the nation was founded the Mississippi River—for all intents and purposed—had been explored and mapped. (Itasca wouldn't be discovered until the next century but identifying the source was merely an academic exercise, not a matter of strategic or economic importance.) Yet in 1804 the young country, particularly President Thomas Jefferson, was hopeful that the largely uncharted Missouri River connected somewhere in the Rocky Mountains to the completely uncharted Columbia River, creating a navigable overland route to the Pacific. (Spoiler Alert: It didn't!) Although their journey forever ended the dream of a Northwest Passage, for better or for worse it opened up the American West and is remembered as one of the greatest adventures in history.
The Journals Lewis & Clark are a gem of American literature which elegantly described a landscape no white man ever had or would again witness, for settlers instantly tamed and transformed the frontier as they followed. (No native likely ever traversed the entire continent, either, sticking close to their regional nations.) You could easily spend most of a day here, but I had an appointment in an hour to ride to the top. Fortunately I'd been reading a book on Lewis & Clark during my travels (fancying myself as a modern explorer, however silly that may be) so was able to get the gist by rushing through. The only downside was—again—the presence of animatronics.
Sigh.
CATTLE PEN IN THE SKY
Matt declined to ride to the top again but warned me I'd be crammed in a tiny, awkward capsule with complete strangers. Being a single rider sent me to the front of the line like at Disney where the tiny rounded capsules with their sliding doors that opened with a swoosh looked like something out of Star Trek—a vision of the future out of the dated past. As I crowded in with a group of giggly girls we all posed for a space pod selfie.
After the jerky ride to the top we were herded into a narrow and chaotic corridor. There was no rhyme or reason to how you progressed; it was simply a narrow, claustrophobic cattle pen with decent views of the city. (The fault of the Arch's view is that you can't see the city's signature—the Arch!) Since it wasn't clear who was still entering, who was waiting to ride back down, and who was trying to reach the oblong bunker-style windows, you had to muscle in for a view while trying not to hyperventilate in this sky-high mausoleum. Although a visit to the top is practically mandatory, I don't think I'd opt for a Mulligan.
A (HISTORICALLY) SUPREME COURT(HOUSE)
Back on solid earth, Matt and I visited a funky Cajun restaurant for dinner (which was ironic since I was taking a break from Cajun country!) in an area south of downtown with a tiny but appealing hub of interesting restaurants and music clubs. It was Sunday night, though, so it was rather dead. Not that it mattered. Matt had to get home to his wife and kids and I was exhausted from staying up late and rising early, so around 9:00 we strolled back across a bridge over the Mississippi. I was enamored by the beauty of the river at night; Matt was nervously eyeing passing cars for potential drive-by shooters, uneasy at re-approaching East St. Louis!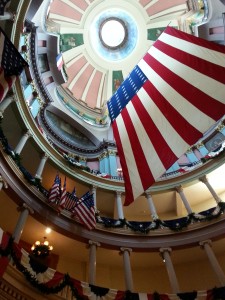 The next morning I was eager to reach Memphis, but felt I hadn't fully explored St. Louis so returned to the Old Courthouse Museum across from the Arch. The Old Courthouse frames up perfectly below the Arch for photographs, but the real view is on the inside. Its central rotunda has a series of murals painted on the domed ceiling and is draped in giant flags. It is a breathtaking setting worthy of its rich history, for this is the courthouse where Dred Scott famously filed for and initially won his freedom from slavery after passing onto free soil before the decision was ultimately overturned by the Supreme Court, solidifying slavery's grip until the Civil War. As I snuck into the end of a park ranger's tour I learned that the first lawsuit for women's suffrage was also filed here. St. Louis is known for its blues, but it's apparently also made its fair share of news!
CULTURAL IMPORT/EXPORT
I spent the next couple of hours writing in the lovely Forest Park—one of the largest municipal greenspaces in the nation. I was perched across from the art museum, which is free; unfortunately it's also closed on Mondays. The zoo was also in the park and free, but I wasn't interested. I was, however, tempted to stay another night for a performance of Porgy & Bess at 'The Muny,' the park's giant performance arts center.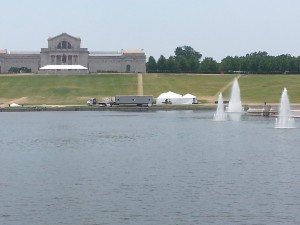 By all accounts The Muny is a top-notch facility hosting world-class performances. In fact, it appeared St. Louis had a robust cultural scene with museums, concerts, and theater advertised everywhere. It seemed to do an excellent job of importing culture. On the flip side, I never got the sense that, like New Orleans, St. Louis had a strong creative vibe that spurred creativity and exported culture to the rest of the world. This made St. Louis seem a nicer place to live (excepting the crime) than to visit. There was a ton of great stuff to do, it just wasn't anything you couldn't find elsewhere.
Still, I was sad to leave without visiting The Muny, especially since I was crossing back into southern Illinois. Although I wanted to glimpse where the mighty Ohio spills into the Mississippi at Cairo, I would once again learn that compared to rural Illinois, a historic outhouse is culturally rich and appealing.