As French Quarter Festival 2013 ended I was exhausted (I know, wah! wah!), but needed to focus on posting on all four days anyhow. In the two-week lull before Jazzfest, I was suspended somewhere between New Orleans Visitor and a newly settled resident. Thus, I spent the next week wondering the city like a vagabond, searching for regular spots, trying to make connections, and looking for where I fit in.
MONDAY: MANSION LIBRARIES & DAT DOG
Feeling 'funned out,' I left my room Monday only to exercise, working furiously to get my first French Quarter Festival post up. That evening, feeling closed in, I walked to a local branch library located in an old mansion for a change of scenery.
Finding a seat in a back corner, I died laughing when the first book I spied upon looking up was Joint Custody With a Jerk. I snapped a picture and sent it to my brother for whom I once wrote a song entitled "My Brother Married the Devil" before a divorce that, unfortunately, didn't end his misery due to, well, joint custody.
As closing time approached and my stomach growled, I gave into my baser impulses and went to a trendy spot around the corner called Dat Dog specializing in gourmet sausages served hot dog style. Sausage choices include crawfish, alligator, and duck sausage but I chose the hot sausage based on the cashier's recommendation. Part of the lure of Dat Dog is the gazillion toppings choices, but if overwhelmed you can just ask the chef to work his magic. I did so and my sausage arrived loaded with chili, bacon, mustard, and other delicious stuff I didn't slow to fully analyze CSI style. It was one of the worst things I've put into my body in years and one of the best bits of processed meat I've ever put in my mouth. No wonder the place is always packed. And I couldn't make a dent in the ridiculous order of fries so on the way home was hoping to run into a throng of homeless people!
TUESDAY: BULLET'S GOES FROM LOCAL HAUNT TO LOCO HIP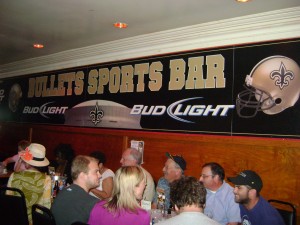 After another day of writing, I needed to get out again so headed to Bullet's Sports Bar to see the oft-mentioned Kermit Ruffins. This neighborhood bar in an area that's s little rough but not horrendous has hosted Ruffins on Tuesday nights for decades and is known for its friendly, local feel.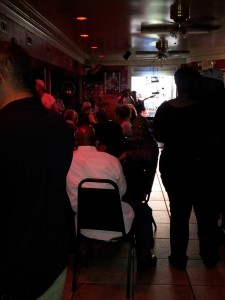 On an episode of Tremé, however, a character working at an upscale hotel was commanded not to send tourists out of the French Quarter, but when some thrill-seeking guests pressed him, he sent them to Bullet's. The group had the night of their lives, not returning to their mission trip until late the following afternoon causing a panic and the character to get fired. Talk about hipster caché! The place instantly went from neighborhood dive to international hipster haunt.
It was busy this night if not uncomfortably packed. I initially sat with some snowbirds from Michigan who gave my seat away when I went outside to buy a plate of the excellent barbecue smoking in the alley so found a seat at the bar beside an animated and interesting couple from L.A. He told me funny stories of being a public defender and representing the downright dumb and I gave them tips on the city. All's well that ends well.
WEDNESDAY: THE REVIVALISTS GET SQUARE, PORK GETS CAJUN, & I DRESS DOWN FOR A SMOKING CLUB
By Wednesday the pattern was set. Blog all day and flee when burnt out. Leaving a little earlier, I returned to Wednesdays in the Square, which I documented previously, to catch The Revivalists who I discussed in my last post (lead singer meets guitarists while playing on front porch.)
The lead singer looked liked Better Than Ezra's Kevin Griffin from a distance, though The Revivalists had a much fuller sound than that older New Orleans trio. The dual guitars, horns, and pedal steel were all manned by skilled musicians but the collective wasn't near as innovative or original as BTE. Still, they have a huge, enthusiastic following in town and their star is rising. Offbeat recently voted them 'Best Rock Band of the Year' and their sound slowly grew on me. I'll check them out again at Jazzfest.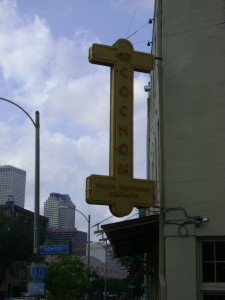 Speaking of rising stars, Cochon has consistently been voted 'Best New Restaurant' by multiple publications since opening a couple of years ago It's also on many Top 10 lists, period. Cochon is a type of Cajun slow smoked pork that's then molded into patties and pan-fried to a crisp coating. Since it's their namesake, I ordered the dish and, though succulent and well-balanced against its bed of braised, pickled cabbage, I prefer Mojo Barbeque's smoked, pulled pork back in Jacksonville which costs half as much. Yelp! recommended I start with the alligator tail, claiming it was remarkably tender. The flavor of the garlic aioli was excellent and the cubes of meat were well-fried yet it was as chewy as any other alligator I've had. It was a good meal, but I didn't get the fuss. I did, though, connect with a blogger who's been on the road since 2001. My hero!
I had never been to the famous Carousel Bar in the Hotel Monteleone where where bar seats actually slowly rotate around the bartenders in the center and was way under-dressed for this swank spot full of couches and comfortable chairs beyond its rotating novelty, but I had heard The Smoking Time Jazz Club on WWOZ and liked their sound. I didn't want to go home, so made the trek with my laptop, found a comfortable seat, and worked with the band in the background.
The Smoking Time Jazz Club's traditional swing is reminiscent of The Squirrel Nut Zippers without the alternative accents. Their retro good-times swing incorporates a good deal of call-and-response banter like the more brassy and frenetic Big Bad Voodoo Daddy, though this group is propelled by jaunty Django-esque (Rheindhart, not Unchained) guitar. The singer is also, apparently, a competitive swing/tap dancer. He invited several women from his dancing troupe to partner with him during the performance and, perhaps unintentionally ungraciously, outshined them all.
THURSDAY: OYSTERS AT CASAMENTO'S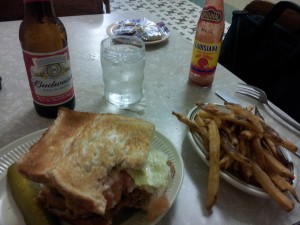 After my big Wednesday, I felt subdued again Thursday ventured out only for a bike ride and to grab dinner at New Orlean's most famous spot for oysters: Casamento's. Their menu and decor are minimalist. They do raw oysters and fried seafood in a plain white tile diner. That's about it.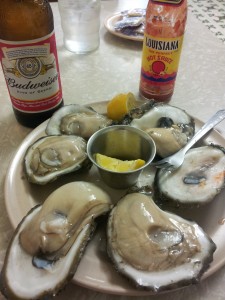 I ordered the oyster loaf which was great but still didn't stand out like champion of the world, although I thoroughly enjoyed the raw oysters I had as an appetizer. I'd taken time to settle my stomach after today's ride, so, though the oysters were no larger or fresher than Pascal's Manale's (in fact, Pascal's were probably superior) I enjoyed them infinitely more. Heck, the horseradish wasn't close to as fresh or hot as Pascal's Manale's. Timing is everything!
FRIDAY: ROBIN BARNES DIALS IT DOWN AND LETTING THE DOGS OUT AT JEAN LAFITTE'S BLACKSMITH SHOP
Friday I headed back to Carousel Bar to meet with Ashley Lanaux, the publicist I'd met through my Krewe of Rocckus article. I was there to check out Robin Barnes again, this time with a formal introduction from Ashley who represents her. Ashley was integral in the entire KoR event so I had chatted with her a bit then. As we sat and enjoyed Robin's set, which was more subdued in this formal hotel as opposed to her wide-open festival tour-de-force, we chatted about the music industry. It was fascinating to hear an insider's perspective on the business side, being such a passionate fan of the product-side. Ashley is young, energetic, and knowledgeable, plus it was just nice to have a friendly, familiar face to chat with after weeks in mostly isolation. Besides, chilling with someone connected made me feel like I was finally making connections.
Robin stopped by to chat between sets and was just as animated and engaging in person as on stage. "Don't you just love her," Ashley said as he waved and scurried away to flirt with her fans. "She's the kind of person you want to succeed." I agreed. She had a diva's voice but none of the attitude. Ashley explained that it takes a lot of touring and hard work to succeed as a musician. "A lot of artists think they release an E.P. and then just get signed by a label, but it isn't like that. And Robin isn't like that. She's willing to do the work." Obviously so. After playing from five to eight here, her second weekly gig runs from nine to midnight at the Windsor Court. That's a lot of singing!
As Robin Barnes's set ended, Ashley excused herself to go let the dogs out. I wandered out into the French Quarter, deciding to continue my quest for the perfect oyster loaf on a whim. I'd read that upscale Antoine's offers an excellent fried oyster po-boy topped with foie gras in its casual Hermes Bar annex so I stopped in. Things started that innocently. I hadn't set out with intentions to follow Ashley's lead and let the dogs out in the French Quarter that night!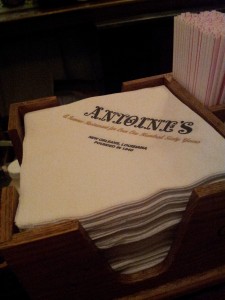 Tired of beer, I ordered a Knob Creek on the rocks and solicited stories of working in the Quarter from the bartender until the oyster loaf arrived. The sandwich was hot and full of flavor, and the soft bread was a nice contrast to the crusty, hollow offerings in most restaurants. The bourbon tasted so good I ordered another, spotting they had one of my favorites: Blanton's. In two and a half hours at the Hotel Monteleone I'd had only a beer and a sazerac, but now I was buzzing after two quick bourbons.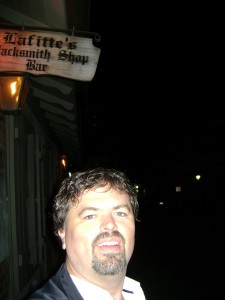 I've made it clear that I don't like Bourbon Street, but if there's one cool bar left there it's Jean Lafitte's Backsmith Shop. This old, block structure claims to be the oldest bar in America. They've never installed electric lights and once boasted no electricity at all but sadly have caved in to the times–the cash registers I can accept but the daquiri machines are an abomination!
The allure of this spot tucked down Bourbon Street past where most tourists wander is its candlelit ambiance. Supposedly they make their hurricanes from only fresh fruit juices so I ordered one and headed to the piano where I fell in with a group of tourists from Houston. They were crying out for a Beatles song, which is always alright by me, but when the pianist wouldn't comply I joined in their heckling. Someone else requested "Patience" by Guns-n-Roses, the entertainer said he wouldn't do that one "this early in the evening." I've never met such a finicky piano man–your job is to be a human juke box!–and we had great fun giving him hell.
As we swapped funny stories, my Texan friends explained that Chartruese is the only color named after a liquor and ordered us all shots. Afterward, they wandered off and I fell in singing happy birthday with a group of tourits from . . . ? . . . who were in town for their friend. I often get quiet and shy when wandering the city alone, but suddenly I was everyone's friend and made sure to meet everyone in the place.
I could swear Bourbon was a staight street when I arrived, but walking back it zig-zagged like the WV mountain roads I'd grown up on. It was a long way back to the streetcar.
SATURDAY: MAKING GROCERIES . . . AND NOT MUCH MORE
Remarkably I wasn't hung over Saturday. Well, at least not sick. I was in a fog all day and tired from not sleeping well. I went for breakfast at a place called Coulis and ordered an excellent take on eggs benedict with pork debris instead of Canadian bacon and a jalapeno corn cake instead of English muffin. "This could be my new Slim Goodies" I told the waitress. She frowned. "We're much better than Slim Goodies." I'd say not better, but equal and different.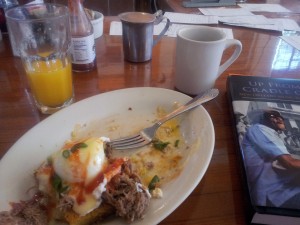 The reason I thought it could be my new regular spot is because I stopped on the way to look at a litte efficiecny in back of a home. It was a nice neighborhood and, though only 400 square feet, the room was open and had lots of natural light, a full kitchen, was clean and inviting, and had a nice back yard. I called my realtor Tara and asked her to get me in ASAP. I was certain I wanted to apply for it.
After breakfast, I went to Rouses, the upscale local chain to 'make groceries' again. This store was huge and the layout was unfamliar so that accounts for some of the time it took me to get around. But I was also feeling foggy and couldn't think straight. There was a girl giving out samples in the deli and I passed her a half dozen times. She looked concerned as though I was stalking her, but I just couldn't figure out what I needed to buy!
The most interesting part of the trip was my realization that even my reusable grocery bags were purple, gold, and green through complete happenstance! Purple=Justice/Community Hospice, Gold=Power/American Occupational Therapy Association, and Green=Faith/Publix Supermarkets.
Fortunately my week of diligence had allowed me to finish my French Quarter Festival articles because I was too groggy to do anything productive after struggling to put away groceries. I spent the rest of the day on my fouton watching TV on my laptop.
SUNDAY: THREE SQUARES AND HOUSING FRUSTRATION CONTINUES
Sunday I got back to work on my writing and, for the first time since being in town, ate all three meals at home culminating in a shrimp boil for one.  Our two tiny dorm-stye refridgerators were stuffed and needed clearing out, plus I needed to save money. Besides, I still felt like domesticating after my week of living dangerously.
I had awoken feeling optimistic, waiting on the call to go see my future home. I was starting to envision a future, settling into home as opposed to temporarily squatting in someone else's home. I loved the location closer to downtown where the best bars, coffee shops, and restaurants were, and it was much more open and bright than my deep, dark shotgun house.
Tara called late that afternoon. It had just been rented out. What the @#$! is it with trying to rent housing in this town?!?